Date: August 21, 2023
What is Outbound Calling?
An outbound call is a call made by an organization's call centers to understand customers' preferences, assist customers, improve relationships, or facilitate sales. Outbound calls greatly influence branding, market perspective, relationship building, and company growth. 
This article will cover how outbound call centers function and how organizations can use them to manage their existing and upcoming customers. But let's begin with the basics of inbound and outbound calls.
What are Outbound Calls and Inbound Calls?
Despite outbound call centers being around us for over three decades, many still wonder "what is outbound call and inbound call." So let's answer this first. Inbound and outbound calls are both associated with contact centers. So while inbound calls are initiated by a customer or a prospect trying to reach the organization (through an inbound call center), an outbound call is initiated by representatives in a call center.
Inbound vs. Outbound Calls: How organizations use them
Typically, a call center has separate departments taking care of their outbound and inbound call services. Inbound call centers manage all the incoming calls to a business, which can be concerns or queries from their existing customers regarding their product or service. This is why an inbound call center only has a greeting script.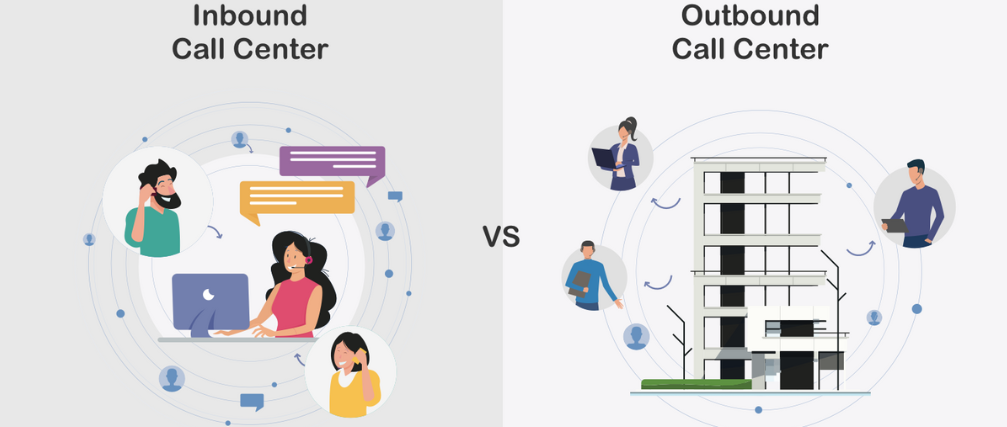 (Source: happyfox)
Inbound call centers may also get calls from customers or clients trying to upgrade/modify their plans or orders and even from prospective customers. On the other hand, outbound call centers initiate outgoing calls to existing and potential customers to understand market preferences, improve sales figures, follow-ups, etc.
The following table offers an insight into the purposes of inbound vs. outbound calls in organizations: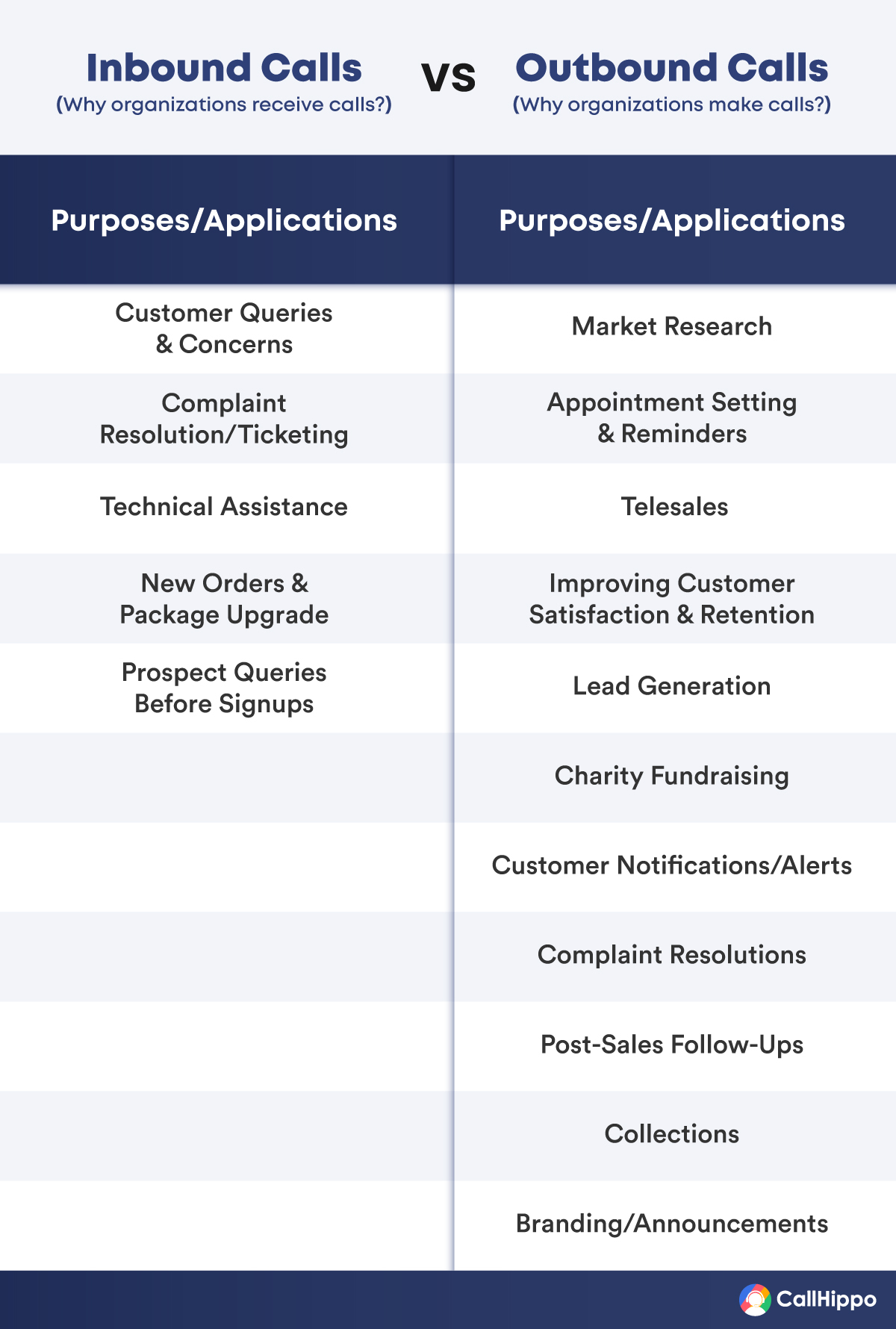 Now that we have some idea about what is outbound call and know what is the difference between inbound and outbound calling, let's learn about 'cold calling' – the most common reason why organizations make outbound calls.
What is outbound cold calling?
Cold calls are referred to as outbound calls where an agent reaches out to potential customers who haven't expressed any interest in a company's services or products. This means that the person receiving the outbound call on their phone isn't expecting any call from the organization or isn't "warmed up" to the idea of receiving the call on their phone. Hence the name 'cold calling.'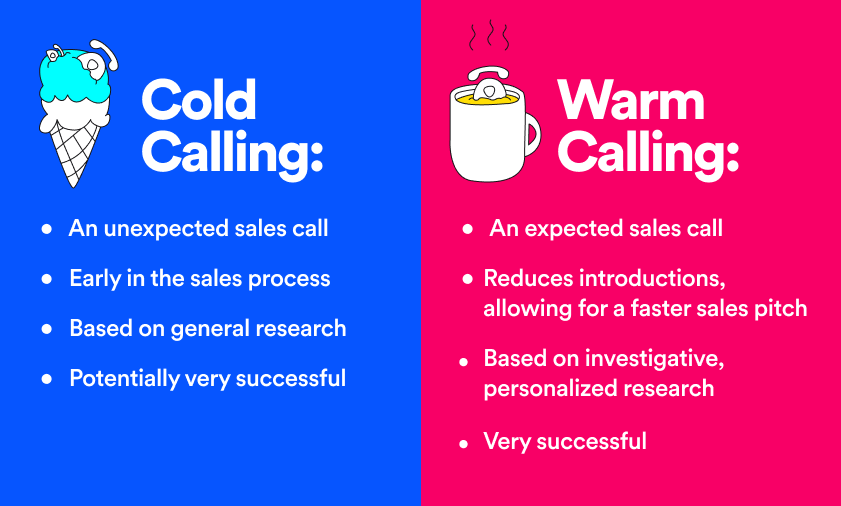 (Source: lusha)
Cold calls are often carried out through outbound call centers to engage prospects, generate interest in one's products/services, improve customers' experience, and close sales. Outbound calling service offers an efficient and cost-effective means to personally engage with prospects and encourage them to try out products or services they may need.
How to make outbound calls more effective?
Outbound calls can have varied objectives, but there are several best practices followed by organizations to make outbound calls more effective and improve their outcomes. Unlike inbound call centers, outbound agents have to initiate the call and get the results/information which they desire. Hence we have compiled a list of best practices below for call center agents to make their outbound calls more effective.
1. Creating a call flow to map customer experiences
A call flow is an outline that call center agents need to follow for making an outbound call. It comprises the questions that need to be asked, actions that need to be taken, which pieces of information the agent needs to cover, etc. It also covers what outbound agents need to say when questions are asked from the other end. This saves time and resources for the contact center while ensuring positive customer experiences.
2. Using outbound call sales scripts:
Any outbound calling service is incomplete without the use of sales call scripts. As opposed to call centers offering inbound call services, outbound call centers have to initiate conversations, build credibility, and influence individuals, which can be pretty stressful.
Firms that offer outbound calling services require scripts to instill confidence in their agents and guide them towards successful outcomes. However, rigidly sticking to a script in outgoing calls can make agents sound monotonous and robotic. Hence, call scripts must be flexible to make conversations sound natural and organic.
3. Outlining goals & KPIs:
For any outbound call center strategy to succeed, it is essential to have well-defined goals and metrics to track progress. Agents working in outbound call centers should also be aware of the Key Performance Indicators (KPIs) to understand how well they have achieved the desired results.
There are several crucial KPIs, including conversion rate, occupancy rate, and average call handle time, that outbound call centers monitor to map their agent performance. As a result, they help improve the performance of the outbound call center and its agents while improving the overall efficiency of each unit.
4. Drafting appropriate call lists:
Outbound calls can be made much more effective if one has a list of qualified and verified leads. Such leads, who desire the product or service, are likely to turn into paying customers through persuasion and reasoning by your outbound call center agents. 
Researching prospects and knowing what they want, their background, location, industry, etc., before outbound sales calls allows sales reps to close deals much faster during an outbound call. Customer Relationship Management tools can often do this, which track and store customers' information in a centralized database.
5. Engaging prospects
With both inbound and outbound calls, training your agents to engage with prospects and customers is necessary. Outbound call agents must learn how to understand a prospect's mood and intentions through their tone and choice of words. At the same time, sales reps must also present a decent image of the organization they represent while making outbound calls.
6. Using professional outbound call management software
Choosing the right outbound call management software ensures that you can reach out to your potential customers properly and at the correct time. Selecting professional call center software like CallHippo will enhance your outbound calling service and improve your ability to manage (and monitor) multiple campaigns while enjoying a host of valuable features.
What Are The Key Features of Outbound Calling Software?
Outbound calling software must have a few features which are absolutely necessary for making, distributing, and assessing outgoing calls, which are mentioned below:
Automated dialing: Call centers can save of a lot of time if the call center software can automatically dial numbers from a given list. This also reduces manual effort and reduces the possibility of errors.
Intelligent Distribution

: Having calls distributed to agents based on the query of buyers is a great way to improve the efficiency of an

outgoing call

center. When calls are sent to candidates who are most well-equipped to solve a certain type of query, resolutions are much faster and more appropriate.

Integrations with CRM

: Does your call center software integrate smoothly with your existing CRM system? If not, it is time to make a switch.

CRM integrations

with your call center software can greatly reduce your workload and save organizational time. This will also allow you to store all customer information in a centralized manner, facilitating easy access to their records.

Reporting and analytics

: A good call center software allows you to understand customer preferences and agents' efficiency through a range of reporting and analytical tools. Not only can you monitor productivity in real-time through analytical insights, but you can also understand which of your services/products are most (and least) appreciated by users.
Choosing The Right Outbound Calling Software For Your Firm
Automatic transfers/dialers, intelligent call distribution, CRM integrations, call recording/monitoring, and advanced reporting and analytics are a few must-have features that make for a good outbound call center software. Professional solutions like CallHippo empower your organization to use the above features and more through flexible and affordable calling plans for all business sizes.
CallHippo offers real-time reporting, campaign management, automatic call distribution, sentiment analysis, and call analytics to help you understand customers' preferences and map the productivity of call agents. Their services are ideal for international inbound and outbound calls and are known to help struggling businesses progress smoothly through their services and 24×7 support.
Conclusion
Outbound calls are a great way to stay in touch with your customers and gain new ones. They can be used for numerous reasons starting from branding to market surveys. However, to make outbound calls more effective, you need to have the right calling software by your side. 
There are thousands of outbound call software available in the market today but only a handful offer the right balance between features, flexibility, and affordability. CallHippo is one such rare VoIP solution that helps contact centers capitalize on both inbound and outbound calls. It offers top-tier features at the most affordable rates, helping businesses of all sizes make the best from their outbound and inbound calls.
We hope you got your answer to the outbound call meaning; if any thing else you want us to include in this blog, let us know in the comment section, please.
WORDS THAT MAKE SENSE!
Read The Most Well Researched & Insightful Articles From CallHippo Team