Home » Outbound Call Center Software
Best Outbound Call Center Software to Improve Customer Experiences
Outbound Call Center Software With Pre And Post Telephony Task Automation
With CallHippo, you can buy outbound call center software in less than 3 minutes from anywhere in the world. Sign up now for the best-in-class outbound call center solution that assists you in handling all business-related calls. CallHippo provides the perfect solution for your business needs with unparalleled, affordable, and efficient software on the block!
What Is Outbound Call Center Software?
Outbound call center software comes with automated call-dialing features, which significantly takes the load off from your contact center agents, as they do not have to spend time making calls. The result will improve productivity and efficiency!
Outbound calling software also allows agents to focus more on interacting with customers. At the same time, the software algorithm automatically dials the next number, manages the call queue, and helps predict the availability of the customer service agent.
CallHippo's outbound call center software for small businesses is a comprehensive solution for your contact center's outbound calling needs. Treat it as a comprehensive, ready-to-use solution loaded with features such as click to call, call whispering, autodialer, and CRM integration. Let us explore this solution in detail.
What Is An Outsourced Outbound Call Center?
Companies outsource their outbound calling to call centers, which employ trained agents to talk directly to customers.
Outsourcing outbound call centers help you cut down on costs, increase customer satisfaction, and improve the efficiency of your sales team. Outbound call centers are highly skilled professionals who are trained to be polite and professional on the phone.
While outsourcing your outbound call centers, you don't have to worry about hiring, training, and managing your own call center. Instead, these professionals handle all calls, whether they're inbound or outbound. In return, you pay them an agreed-upon amount per call.
What Is An In-House Outbound Call Center?
Having an outbound call center in-house is that it provides better protection for your trade secrets. For example, if you want to collect customer feedback and use it to improve your business, you can follow up with your in-house call center agents and ask them to only talk to your customers about specific topics. An outsourced call center will almost certainly require employees to tell other customers or prospects about what you're working on, which would result in competitors gaining useful insights.
Another advantage to in-house call centers is the more direct connection you'll have with your customers. And by better, we mean more direct. Your outsourced call center probably won't give you direct access to your agents, limiting your ability to influence how they're communicating your brand messaging.
An in-house outbound call center will also provide you with more information you can use to improve your products and business operations. For example, you can collect feedback and answer customer questions directly from your customers, which will give you valuable insight into their wants and needs. This feedback can then be used to upgrade your products or services or to make strategic changes to your business.
In addition to providing better protection of your company's trade secrets, an inbound call center can also provide you with a more personal communication experience. Customers enjoy talking to a real person, and this sense of familiarity can boost both your customer service and your business's bottom line.
Benefits Of Outbound Call Center Software
Outbound call center software provides an array of benefits not just to customer service representatives but also to business owners. While the agents do not have to waste their time dialing calls manually and reaching voicemail or worse, getting no response at all from the other side, business owners reap the benefits of streamlined operations and better productivity.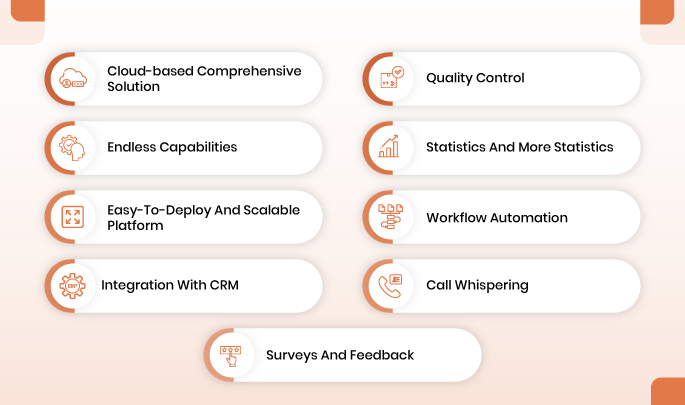 1. Cloud-based Comprehensive Outbound Call Center Solution
Automation of your outbound call center and streamlining overall operations are just a part of the benefit plan. A telephonic campaign like sales can bring in more business and help earn more revenue through this very easy-to-deploy solution.
2. Quality Control
Outbound contact center solutions offer integrated quality control features like call recording that can help raise red flags at the right time and train resources accordingly.
3. Endless Capabilities
Call-scripting, pop-up notifications, call-back feature, etc. add to the list of reasons you should go in for the outbound calling software.
4. Statistics
With statistics for everything from agent to campaign success rate, conversion rates, productivity matrix, and so on, it's easy to get your hands on real-time analytical figures.
5. Easy-to-deploy And Scalable Platform
Our software comes as a ready-to-deploy customizable solution that can be installed on any device and in any geography. Use softphones or headphones, the choice is yours.
6. Workflow Automation
You'd be surprised to know how much time and effort gets wasted per day in mundane, repetitive tasks, and how it hampers the overall productivity of your agents. Outbound call center solutions can automate routine tasks and allow you to manage different marketing campaigns effortlessly.
7. Integration with CRM
Features like click to call, screen-pop, search filters, and many more result from the seamless integration of the software tool with the CRM and other third-party vendor platforms.
8. Call Whispering
With the call-whispering feature of automated outbound calling software, you could shadow an agent on a real-time call to Speech Analytics them or train them. The call recording perk helps agents review bottlenecks during a real conversation.
9. Surveys and Feedback
Because no business can grow without happy customers, send out automated surveys to post the calls and collate feedback to smooth out any irregularities.
Features Of Outbound Call Center Software
What Is The Outbound Process?
As the name suggests, an outbound process is more focused on outgoing than an inbound strategy. It is a process where your team reaches out to your potential customers rather than receiving incoming requests.
For instance, your business is looking for new leads. The outbound contact centers reach out to potential customers over a phone call, make the first move and explain your product/ service. Since this entire activity is outgoing, it is known as an outbound process.
You can access the best VoIP phone services from any part of the world without worrying about losing any of the important business calls.
One important aspect of small business VoIP phone service is that it does not require any gigantic setup. Once you have bought the desired virtual phone number, you can instantly start accessing it. All this requires is 3-minutes of your time and a mobile phone with an internet connection to start making and receiving the calls.
How Does Outbound Calling Improve Customer Experiences?
Outbound sales calls are a powerful way to establish personal relationships with your prospective customers. Having an outbound sales campaign does more than drive revenue — it also builds brand loyalty and generates positive word-of-mouth.
Outbound calls tend to be more effective than inbound calls. When a customer receives an inbound call, they have little control of the conversation. Unless they pick up or answer, the sales representative may keep calling until the customer agrees to talk. Outbound calls allow sales representatives to initiate a conversation.
Using outbound calling, businesses can reach potential customers without interrupting their day. Sales representatives can schedule appointments with customers that are convenient for them. By choosing when to call, sales representatives can make sure they contact someone available and willing to talk.
Outbound calling strategy often results in higher conversion rates. When customers receive an outbound call, they're usually more willing to talk. Sales representatives can ask questions and demonstrate that they're interested in helping the customer. This allows them to gain trust and build a relationship.
By using outbound calls, sales representatives have more time to educate customers. Outbound calls allow sales representatives to demonstrate product features, explain the benefits of using those features, and clear up any confusion. By educating customers, sales representatives increase the likelihood that customers will make a purchase.
In a gist, outbound calls empower businesses to welcome their customers, offer proactive customer service, omit to call queues, improve retention, and more.
Why CallHippo?
1. Increase Call Pickup Rates
Increase call pickup rates with CallHippo's dynamic caller ID. Reach out to prospective clients and increase conversions. Say goodbye to technical hassles with CallHippo's cloud-based platform. You can choose to route calls anytime and anywhere and even route multiple numbers to a single phone.
2. Increase Agent Productivity
Leverage CallHippo's power dialer to eliminate manual dialing and make upto 100 calls per hour. Get access to the best call recording and call analytics tools and train agents to serve customers better and convert more leads.
3. Manage Large Volumes Efficiently
With exciting features like call routing, call transfers, and smart switch, you can easily handle large call volumes and ensure no call is missed. Say goodbye to lost calls and delays with CallHippo!
4. Drive Engagement
Help your agents get access to relevant customer information and personalize each call. Analyze customer feedback and use it to better serve them and train your agents. Go the extra mile with CallHippo by providing value-added services to your customers and drive engagement.
Summing Up:
At CallHippo, we offer top-of-the-class features like power dialer, CTI (Computer Telephony Integration), call routing, call whispering, CRM, and other third-party vendor platforms integrations, workflow automation, etc. Get in touch with us and allow us to inject a new lease of life into your business operations. You won't regret it!
Set Up Your Phone System In 4 Easy Steps
Buy Virtual Phone Numbers of 50+ Countries. Start Making and Receiving Calls across the globe.
1
---
Buy Numbers
Buy numbers from around the world
2
---
Add Users
Create your team and invite agents
3
---
Start Calling
Start Calling and Receiving Calls around the World
4
Track Calls
Get detailed caller insights and identify the best prospects
Frequently Asked Questions
What is an outbound call center software?
An outbound call center software is a tool to automate outbound calls. The four call modes – preview, progressive, predictive, and manual-are suited for all businesses, from small to large enterprises.
From where can I get CallHippo's outbound call center software solution?
Sing up on our website and purchase a plan as per your preference. The software can be downloaded on any web browser immediately after purchasing it. Enter the list of phone numbers, and you are good to go!
What do I need to run the outbound call center software on my systems?
VoIP and phone lines are all it takes to get the ball rolling. CRM integration can be leveraged to display customer information to the agents.
What are the important features that must be present in outbound call center software?
Though CallHippo offers many features, an effective outbound call center software must have:
Automatic dialer / Power dialer
Call analytics
Call forwarding
Call queuing