Date: August 23, 2023
Call Center IVR offers a plethora of benefits to businesses of all kinds. It helps them handle caller interactions, save time, and reduce operating costs. Where customers expect an immediate solution to their problems in today's fast-paced world, an IVR in call center helps achieve faster issue resolution. It also enables businesses to exercise control over their call volume. 
In this guide, you will get an in-depth understanding of how IVR systems can empower your business. 
What is IVR System for Call Center? 
If you are wondering what does IVR stand for in call center or IVR call center meaning, you must understand that it is nothing but Interactive Voice Response. For one to perceive the benefits of IVR system, it is necessary to understand the IVR meaning in a call center.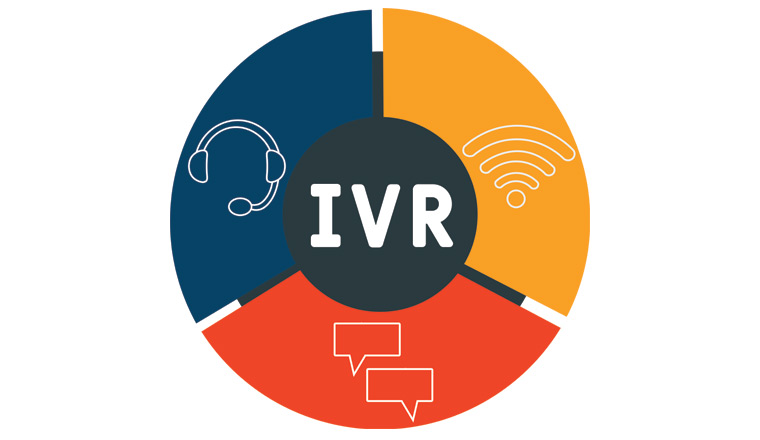 IVR system is an automated customer service solution that lets businesses interact with customers through pre-specified responses.  Businesses and call centers can customize their IVR interaction with the caller. When configured appropriately, the call center IVR systems can potentially increase the first-contact resolution rate to ultimately enhance customer satisfaction. On the other hand, they reduce agent burnout and improve overall business efficiency. Sometimes, even a highly staffed call center may become overburdened. Interactive Voice Response Systems help organizations handle high-volume calls effectively. 
IVR call centers reduce congestion by offering relevant information to customers based on their responses to the pre-recorded questions. If the queries are too complex to be solved by the IVR in a call center, they connect customers to the appropriate customer support agent. This reduces the burnout of agents and helps them invest their effort and time in solving complex issues. So, IVR systems remain the most sought-after by businesses and call centers when they endeavor to offer a better experience to their customers. 
How Does IVR System for Call Center? 
Now that you know the IVR definition in a call center, what is IVR in a call center, and what does IVR stand for in call center, let us jump ahead to understand how it works. 
The IVR system becomes customers' first contact point when they approach the customer support agent. The IVR system's main objective is to gather customer input and information. Based on the inputs, it directs them to the right agent so callers can resolve their queries quickly. IVR system navigates the callers through a pre-defined menu and routes their call based on the response received. 


Following are some of the key features and functionalities of the IVR systems that call centers can leverage to achieve their objectives. 
1. Personalized messaging
A typical call center IVR system first plays a recorded message to greet and welcome the caller. This message adds a personal touch to the caller and enhances their overall experience.  
2. Multilevel menu
The IVR system then presents the menu and guides the caller through self-service prompts. The caller will either find an answer to their question themselves or be directed to a skilled representative who can handle their queries. The input of the caller determines their call journey.   
3. Voice recognition
There are two different ways in which customers can offer their responses to the IVR menu. Dual-tone multi-frequency signaling is the most commonly used option, where caller responses are based on the numbers they press on their dial pad. Another option is to seek voice input using a directed dialogue system and speech recognition to read the caller's response to the IVR menu. The built-in speech recognition technology has the ability to derive information by processing the words spoken by callers.
4. Skill-based routing
Based on the response received from the customer, the IVR technology directs them to take self-service action and offers the information requested by the caller. If the issue is complex, it routes them to the most qualified agent. This way, the call is routed to the agent who is better equipped to solve the problem. 
How do call centers use IVR systems? 
Customers in today's fast-paced world seek solutions in no time. IVR systems help businesses stay connected to customers and solve their issues as and when they arise. In addition, IVR systems can be used by businesses to enhance their customer service quality. 
Because call centers often endure a high volume of inbound and outbound calls, IVR systems have become their must-have. With a well-thought-through IVR strategy, call centers can harness IVR systems in myriad ways. 
Following are some common use cases for IVR in a call center.
1. Handle inbound and outbound operations
IVR systems are the key to inbound operations as they dictate the first level of interaction that happens when a customer attempts to approach the business. Using IVR technology in a call center helps handle inbound calls efficiently. 
IVR systems are mainly used to manage inbound calls but can also handle outbound operations. Outbound IVR systems have the ability to make mass calls. Businesses should leverage the benefits of IVR systems to reach a large number of prospects at once. 
2. Skill-based routing
When a business handles calls that deal with a broad range of products and brands, it should be able to distribute the call flows. In addition, appropriate routing helps call centers improve their first contact resolution rates. 
IVR call centers are augmented by automatic call distribution (ACD) solutions.  Interactive Voice Response system in a call center can be tailored to support multilevel menu options. This way, the call centers can collect the needed information before routing it to the agent. Based on specific information like language, department, or level of agent experience, ACDs route the call to the right agent. 
3. Round-the-clock support
With IVR systems, businesses get to handle customer inquiries around the clock. Even if the agents in a call center are occupied and unavailable to take a call, the IVR system's self-service options provide the caller the needed information.  
4. Enhanced automation
IVR call centers have the potential to automate call center tasks that can be solved without agent intervention. For example, helping customers figure out their account balance or answering a frequently asked question does not always require an agent. By automating these tasks, call centers can minimize agent burnout. They can also invest their productive time in handling complex tasks. 
5. Automated callback
When customers do not have the patience to wait in the queue, the IVR call centers often record caller information and automatically schedule a callback. This reduces the length of call queues and also the pressure on the agents. 
Benefits of Using IVR System for Call Center
With IVR systems, call centers can unlock a broad range of benefits. Following are some of the key benefits that call centers can harness by implementing IVR systems. 


1. Improve your first contact resolution
According to a Zendesk report, 68% of customers feel annoyed when their call is transferred from one desk to the other. IVR helps call centers solve this problem by routing the caller to the most appropriate agent right at the first stance. 
First contact resolution is a key metric that determines the efficiency of call centers. As IVR systems use skills-based routing, calls are mapped to the most appropriate agent based on the inputs received from the customer. This means the call is directed to the agent who is skilled enough to solve the problem. Because the call is handled by the most capable agent, the issues are most likely to be solved in the first contact. An HBR study shows that when there is a quick response to their queries, customers feel heard. A quick resolution of customer issues boosts business revenue in the long run. 
2. Minimize operating costs
IVR call centers help businesses improve their overall efficiency. Because it has the power and potential to distribute the calls among the team, it can replace customer service agents. Moreover, call center IVR systems are highly affordable. When we weigh the cost against the benefits of call center IVR systems, the RoI shows that they are worth the deal. 
3. Enhances your ability to handle peak periods 
When it comes to handling calls during a peak period, the challenge that call centers endure is real. IVR call centers help handle operational challenges when there is a sudden influx of incoming calls.  
IVR call centers handle high-volume calls efficiently by providing self-service options where they can seek information to questions that do not need agent intervention. Using the automated call-back option in the IVR system, call centers can schedule a callback with the caller who is waiting in the queue. This helps reduce the agent's burden during peak periods.
4. Call prioritization
Though all customers are important to a business, there is always a value attached to each of them. Businesses cannot afford to put their high-value customers on wait. With IVR in a call center, it is easy to assign priorities to high-value customers. So, when they call, the high-value customers are moved to the top of the queue. Because IVR systems are capable of handling simple issues through self-service options, they prioritize calls that require urgent support. 
5. Reduce manual errors
Traditionally, calls were routed to the agent based on the concept of first come, first serve. This manual assignment of calls could result in an error and reduce efficiency. It also impacts the quality of customer support. By assigning calls to agents based on their skills, the call center IVR systems improve customer service quality.
6. Enhanced call center metrics
Traditionally, the effectiveness of a call center is measured by various metrics. Right IVR systems help call centers improve on a lot of these metrics and KPIs. Because IVR systems route the calls to the best agent who can resolve the query, the first call resolution amps up. 
IVR call centers direct the callers to either a self-service option or motivate them to wait in a queue. Sometimes, they also schedule a callback. This reduces the call abandonment rate of a call center. IVR systems collect relevant information before directing the call to the agent. This improves the agent utilization rate. 
Tips to Enhance Customer Experience Using IVR 
When used right, IVR systems can improve the overall productivity and efficiency of a business. Following are some tips that you can adopt to enhance the customer experience using IVR. 
1. Always offer an option to connect with a live agent.
When you set up a call center IVR, ensure that you give the option to connect with a live agent. Though IVR presents a self-service option for callers, it might not have the ability to handle complex problems. So, connecting to a live agent helps when the caller struggles to navigate through the menu and find answers to their question. 
2. Provide multiple options when there is a queue
Waiting in a queue to talk to the live agent can be exhausting when there is a high influx of calls. You should consider providing them with alternatives that keep the caller engaged. Ensure that they feel positive about the call and the brand. 
Before the IVR places the customer in a queue, you may consider providing callback options or leaving a voice mail so the agent can respond later. This improves customer satisfaction as they have the option to wait in the queue or request a callback. 
3. Keep your main menu short.
Always keep your main menu short and succinct. Ideally, it should not be longer than 30 seconds. A long menu with too many options may confuse the caller. The frustration may increase the call abandonment rates and impact customer service quality. 
4. Using a human voice takes you a long way.
The ultimate objective of using an IVR in a call center is to enhance the customer experience. The pre-recorded voice of the IVR platform is the first point of connection with the customer and, perhaps, your official spokesperson. If the voice sounds too robotic, callers may find it difficult to connect with the brand. Try to keep the voice as human as possible, so callers get a feel of communicating with a real person and not a robot. 
5. Pass information during call transfers
A common frustration among callers is having to repeat the same information to various agents attending to the query. So, ensure that the information received by the IVR is passed on to the agent, so the caller does not have to repeat the information during call transfers. 
Explore Our Video : Call Center Phone System
FAQs:
1. What does IVR stand for in the call center? 
The IVR acronym in call center stands for Interactive Voice Response. To know the IVR meaning in a call center, you must understand the basics of IVR systems. It is an automated system that allows customers to seek information through a pre-defined menu. Based on the input from the customer, the IVR system guides them to take either a self-service action or routes the call to the most qualified agent. This reduces agent burnout during peak periods, increases first-customer resolution, and reduces call abandonment rates. A well-designed IVR system helps call centers to improve customer satisfaction and the productivity of customer service agents. 
2. What are the different types of IVR? 
Basically, there are three types of IVR systems.
Self-service IVR

Hosted IVR 

Agent-assisted IVR
Self-service IVR is an automated system that is useful in handling high customer volumes without transferring the call to the live agent. It has the ability to identify and resolve caller inquiries on its own. The self-service IVR system transfers the call to the live agent only when it is unable to offer the information the caller is seeking.
The IVR system hosted on online software platforms is called hosted IVR. By using hosted IVR systems, call centers can handle callers beyond office hours. 
Agent-assisted IVR systems improve the performance of self-service IVR by involving an agent in the call journey as soon as an issue arises. The agents take stock of the situation and direct the automated system components to meet the caller's requirements. 
3. What is an IVR code? 
An IVR code or IVR number enables seamless business communication using self-service technology. Based on the input from the caller, the IVR routes the caller to the most qualified agent. Traditional IVR systems relied on dual-tone multi-frequency tones. Now with the evolution of speech recognition technologies, it routes callers based on the information provided by the user.
 4. How is IVR testing done?
IVR systems are built using a blend of complex technologies, software, and hardware solutions. As there is an increased chance of an error, IVR systems should be tested before putting them to use. There are different types of tests, some of which include the following.
Load testing

Stress testing

Feature testing

Experience testing

Spike testing

Regression testing. 
Though the core purpose and objective of each test vary, they keep a check on the waiting time, menu structure, and customer perception. 
WORDS THAT MAKE SENSE!
Read The Most Well Researched & Insightful Articles From CallHippo Team