Date: September 27, 2023
Today's competitive marketplace demands that businesses offer their customers the best service possible. By investing in a credible IVR service provider, your business can benefit from call routing, increased professionalism, reduced business costs, more efficient customer service, and prioritized calls. 


( Source: ivrcloud )
IVR can dramatically streamline a contact center's performance, mainly if used with customer relationship management (CRM integration) software. Still, it is not a good match for every business model. IVR systems offer complex, specialized functionality and are packaged differently by different vendors.
In this guide, we'll cover the following topics to help you better understand what systems are best suited to your needs:
What Is An Interactive Voice Response Software?
The IVR system is a call management system that helps you route callers to the correct department. These systems play a prerecorded or AI-enhanced message that guides your customers through a series of menus.
IVR systems can be inbound and outbound, with outbound systems proactively sending your customers text messages.
A robust IVR solution allows callers to check account balances, pay bills, or schedule calls without speaking with an agent. In addition, artificial intelligence will enable it to learn customers' needs and direct them to the appropriate locations without navigating menus.
The result is a more customized customer experience, reducing operational costs and improving customer satisfaction.


Expert Advice
"When choosing an IVR (Interactive Voice Response) provider, there are several factors to consider to ensure that you select the best one for your needs. Firstly, evaluate your business requirements and choose a provider that offers the necessary features to meet them. Consider the provider's reliability and uptime, as well as their customer support and service level agreements. Look for a provider that offers customizable options to ensure that your IVR system fits your specific business needs. Lastly, review the pricing structure and compare it to other providers to ensure you get the best value for your money."
6 Best IVR Service Providers of 2023
Brand Name
Rating
Key Features
Pricing
CloudTalk
- Call recording
Call queuing
IVR
Call transfer
Call monitoring
- CloudTalk Starter: $20 /month
- CloudTalk Essential: $25 /month
- CloudTalk Expert: $40 /month
CallHippo
Call forwarding
Call recording
Voicemail
Text messaging
Basic: $0
Bronze: $16 /month
Silver: $24 /month
Platinum: $40 /month
Nectar Desk
Automated Speech Recognition
IVR
Call recording
Call routing
Call analytics
CRM integration
$29/month/user
Genesys
Inbound call routing
Call analytics
Call scripts
Genesys Cloud CX 1: $75
Genesys Cloud CX 2: $110
Genesys Cloud CX 3: $140
Twilio
Call transfer
Ticket management
Call recording
Number portability
Starts at $1 per active user
A robust IVR system eliminates the need for a live agent by allowing customers to use voice commands. A reliable IVR will also incorporate features like CRM integrations and will be available at the base plan of the business phone system. In this review, we identify the five leading IVRs to let your staff handle tasks that an automated system can't handle.
Among the most effective IVR solution for small businesses, these are our top recommendations:

There are several features in CloudTalk's IVR solution that would suit most organizations. These include speech recognition, customer relationship management (CRM) integration, and niche features like outbound IVR and a user-friendly IVR call flow designer. This is one of the best IVR number provider.
With the IVR call flow designer, you can optimize the customer contact experience to make it as smooth as possible for the customer. For example, you use it to create IVR menu branches that meet customer needs directly.
Features
Enhance your customer support with advanced call center features like call queuing, call recording, call masking, 3-way calling, and more.

Automated call routing based on predefined criteria

Build custom fields to capture relevant information about your customers and data essential to your business.

Smooth integration with CRM, e-commerce, or helpdesk tools
CloudTalk Pros and Cons

IVR application available at all plan tiers

Call forwarding from IVR solution

Guaranteed uptime only with Custom plans

Inability to record options using text-to-speech
Additional Features
Forward-to-phone (from IVR): This allows customers to make calls directly to a representative's phone, which is ideal for businesses with mobile agents. A growing number of companies embracing work-from-home helps customers reach the right person regardless of how their business has changed.
Customers' IVR surveys: This helpful survey tool identifies trouble spots in your menu setup. You'll receive daily, weekly, or monthly email reports that display survey results in an Excel document.
You May Also Read : The Best USA Virtual Phone Number Providers

CallHippo is considered as the best USA virtual number provider and One of the leading IVR service providers due to its single-level and multi-level IVR systems, which ensure high-level productivity and improve customers' experiences. CallHippo has the best IVR systems and is perfect for small businesses looking to give their customers a great brand experience.
Features:
Provide uninterrupted support 24×7 via record messages and provide instant query resolution.

Easily guide your customers through a categorized menu with options for submenus to help them navigate their queries.

Call recording in real-time to monitor and maintain quality benchmarks.
Intelligent call routing system to connect callers with the appropriate agent.
CallHippo Pros and Cons

Unique call system with virtual numbers

Great voice quality

Occasional Bugs

The IOS app could use some more features
Additional Features
Multilingual IVR: Multilingual IVR will help you support your customers in several languages.
Call forwarding: Users may select to have calls forwarded to one or more phones so they can remain reachable even when on the move.\

DialerHQ offers IVR (Interactive Voice Response) services offering a range of features and solutions for businesses looking to streamline their customer interactions.IVR systems are essential for handling and rerouting incoming calls, enhancing customer satisfaction, and boosting operational effectiveness.
DialerHQ operates on a cloud-based infrastructure that ensures high availability, data security, and easy access from anywhere with an Internet connection.
Features
Ability to route calls so that they go to the right agent or department depending on predetermined criteria 

Advanced voice recognition technology to understand and interpret customer inputs accurately.

Multi-language support catering to a diverse customer base.

Seamless integration with other communication tools like CRM platforms, call center software, etc.
DialerHQ Pros and Cons

Improved customer experience by reducing wait times

Automation minimizes manual interventions and reduces the workload on agents

The platform has initial setup and configuration issues

A steep learning curve for non-technical users
Additional Features
Advanced Speech Analytics:

The platform analyzes speech patterns, sentiment, and keywords to identify trends, customer preferences, and areas for improvement.
Intelligent Call Queuing:

The feature enhances call management efficiency and customer satisfaction by assigning calls to the appropriate agent, reducing wait times, etc. 

With features such as call monitoring, call whisper, and call barge, nectar Desk is well suited for contact centers. Such features are critical for both agent training and customer contentment. 
A function like a call barge is also relatively rare for a contact center provider. It lets you take over an agent's call to ensure a top-notch customer experience.
In addition to having their carriers for phone service, call centers also tend to have IVR solutions. Nectar Desk understands this by incorporating a Bring Your Own Carrier (BYOC) feature.
Features
Speech and dual-tone multi-frequency (DTMF) signaling input: Customers can select their options from a menu or speak to the system directly to be directed.

Design your menu system with a Call flow designer.

Automated Speech Recognition (ASR) and Text-to-Speech (TTS)

Make telephone calls over the traditional IP network using any IP/Soft Phone that is convenient for your business.
Nectar Desk Pros and Cons

Unlimited call recording & Inclusion of IVR at all plan tiers

Inclusion of Call barge, whisper, and monitoring at base tier

Only the top tier offers an uptime SLA

The base-level consists of only three queues
Additional Features
DTMF & speech input: Customers can dial in using their touch-tone keypad or speak to be routed via the system.
Call flow designer: This function allows you to set up your menu system, make changes to your business hours, and configure where and how calls are received for your contact center.

Genesys Cloud focuses on advanced customer engagement and contact center management. Its most noteworthy features include artificial intelligence (AI)-based voice bots, chatbots, and speech-enabled IVRs that personalize customer relationships.
Genesys is one of the few providers that delivers platform APIs at the base level. In addition, Genesys Cloud is one of the few IVR providers that offers both on-premise and cloud-based IVR solutions. An on-premise IVR is particularly beneficial for organizations with an IT department and web server setups. Genesys is a very good IVR number provider.
Features
Quickly and effortlessly host conversations across multiple channels.

Leverage AI (artificial intelligence) to deliver customer insights and easily manage workforce engagement (WEM).

Choose from a wide range of native components, an expansive partner ecosystem, and open APIs to construct your ideal solution.

Additional features include manual dialers, inbound calls handling, IVR scripts agents can use, call queue management, call logging and recording, and real-time chat for streamlining customer queries and improving business communication.
Genesys Cloud Pros and Cons

Let agents manage contact channels from a centralized point

Add-on professional services available for system maintenance and updates

Expensive

No progressive features like AI and chatbots
Additional Features
Omnichannel routing: The system allows your business to follow up with customers via their preferred channels, including emails and text messages. This makes this provider one of the few in this guide to offer outbound IVR, allowing proactive and personalized customer communication.
Employee engagement: The platform provides tools for tracking their employees' performance and learning modules and gamification tools for key performance indicators (KPIs).
You May Also Read : Best Virtual Phone Number Providers in 2023

In contrast to some of the providers in this guide, such as Genesys Cloud, Twilio Flex is built nearly entirely on APIs; this means that Twilio Flex is extremely customizable if you have a dedicated development team inside your IT department. Your team crafts an IVR setup that incorporates all the IVR menus and self-service options that work for your particular business.
When you upgrade your Flex project, Twilio offers a plan-less option with pay-as-you-go pricing that varies depending on your needs. By default, Twilio provides 5,000 free active user hours that can be added as needed.
Features:
Build intelligent voice assistants using pre-built AI templates and powerful NLU tools.

Let clients make PCI-compliant purchases over the phone via self-service or agent-assisted interactions.

Easily integrate different channels into your IVR to reach customers in the medium that suits them best.

Use a serverless contact center solution to seamlessly escalate customer interactions to an agent.
Twilio Flex Pros and Cons

Basic drag-and-drop functionalities

Transparent pricing model

Mandates coding experience

Limited free support
Additional Features
UI customization:

The developer included several APIs so you can extend your system's functionality. That makes it one of the more scalable providers on our list, adding more functionality as your IT team grows.

AI chatbots & voice bots:

The platform provides intelligent routing for enhanced customer experiences.
How Does IVR Software Work?
IVR systems work by serving as a virtual assistant for your business, allowing callers to self-serve quickly. IVRs and human assistants perform many of the same tasks, including:
Gathering contact information from callers

Identifying the reason for the call

Directing the call to the suitable department or agent

Forwarding the call to the appropriate department/agent
IVR system achieves two primary objectives:
By providing automated menus for self-service, these systems empower consumers to accomplish tasks without assistance from support agents.

In conjunction with an automated call distribution system (ACD), an IVR system helps route customer calls to the right agent when self-service options cannot meet the customer's needs.
Let's suppose, if a customer reaches out with a query related to billing, the call will be routed to the right agent (controlled by the ACD system) in that department.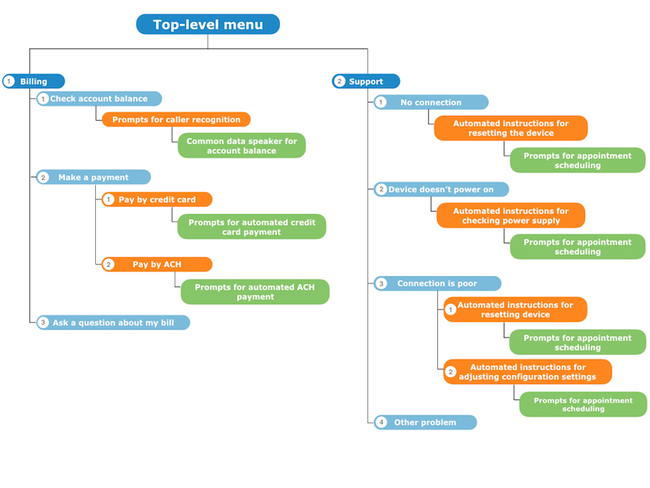 ( Source: softwareadvice )
An IVR system follows a tree-like menu structure called a "menu tree." For example, if a caller chooses "support," they'll be redirected to IVR menu options that include self-service options for support issues (e.g., how to reset a device). The call will be transferred to support if these options do not meet their needs.
IVR Features To Watch Out For
When choosing your IVR solution, understanding what these features do and how they benefit your business and customers can help you make an informed choice.
Drag-and-Drop Call Flow Design
This feature allows the admin to update and edit call paths within the IVR system using drag-and-drop. 
This simplifies the call flow design process because admins can make edits such as adding new agents, new phone numbers, or new pre-recorded menu options without writing complicated code or creating lengthy logic flow.
Call Forwarding
The call forwarding feature routes an inbound call to multiple phone numbers/devices so that the caller does not require to hang up and dial different numbers separately.
For example, when an agent does not respond to their desk phone, the call is routed to their smartphone, home phone, voicemail box, or another agent. Call forwarding provides greater flexibility and mobility for remote teams.
CRM Integrations
Incorporating CRM tools into your IVR system can provide agents instant access to caller information with automated CRM call pops, which appear instantly when a customer calls your company.
CRM solutions offer essential caller and customer information, as well as detailed insight into the overall history of each customer.
Call Queuing
Call queues help you organize your business operations and manage your daily call volume by dispatching callers to specific departments and agents. 
To avoid keeping customers on hold, these agents and departments are classified according to their skills, training, and roles within your company.
Auto-Queue Callbacks
Callers who don't want to wait on hold in lengthy call queues can schedule a time of their choosing to receive a callback when an agent is available using the automated callback feature.
Outbound and Inbound Support
Today's IVR systems allow inbound call routing and outbound calls, such as the option to play pre-recorded messages, giving callers a chance to interact proactively with the system. 
This is popular in appointment scheduling and confirmation, surveys, and political campaigns, to name a few.
Call Routing
The IVR system should support a variety of call routing strategies based on predefined criteria. Some types of call routing your system should support include:
Skills-based Routing:

Routes calls to the most appropriate agent with expertise and training relevant to the caller's issue.

Time-based Routing

: Routes calls based on agent location, current time, and agent schedule, ensuring that the caller can talk to a live agent at the time of the call, even if they are in different time zones.

Relationship-based routing:

Routing calls according to existing relationships between agents and callers/clients, ensuring VIPs are prioritized and pushed to the front.

Routing by Round Robin:

All agents have a fair shot at answering calls, and work is divided equally to avoid overburdening them. The first call goes through Agent A, followed by Agent B until all agents have had their turn.
Call Recording and Transcription
Call recording allows admins to evaluate not only the quality of customer service that agents provide but also the effectiveness and efficiency of their current IVR menus and call paths.
Admins can either automatically record calls or do so on-demand. With call transcription, admins or automated analysis tools can search for common patterns, recurring words, and phrases, making IVR optimization more manageable than ever.
Call Scripting
Call Scripting is creating preset IVR menu options by writing and recording scripts. You'll need intuitive call scripting tools to save, record quickly, and replace existing menu options. As with call flow design, call scripting tools should have drag-and-drop functionality.
The internal script database allows agents from other departments to jump in and assist team members when call queues or call volume increases exceptionally high. 
Call scripts are pre-written instructions that individual agents can follow when interacting with customers based on specific issues or needs.
You May Also Read : Call center IVR- Everything You Need To Know
Benefits of Using IVR System
IVR systems are often the first contact between a caller and an organization when dialing into a call center, so their tone of voice and ease of use can significantly affect how they perceive the organization.


( Source: intalk )
Using an appropriate IVR can provide several benefits for the call center. Adding tools like automated callbacks, IVR self-service, IVR voice recognition, and text-to-speech can provide additional help.
Intelligent Call Routing
By linking IVR technology to your CRM, calls can be intelligently routed based on the caller's number. This allows calls to go automatically to the last consultant who was spoken to.
VIP callers can be put at the front of the call queue, or calls can be routed to a particular consultant who speaks a specific language – the options are endless.
Optimized routing for your customer journey can reduce abandonment rates and queue times for calls and provide tailored IVR callback options during exceptionally high call volume.
Disaster Recovery & Busy Times Support
Multiple contact centers technology allows callers to self-serve and leaves messages in times of high demand due to emergencies or seasonal peak activity.
Simple tasks can be automated, such as general customers calling and questions regarding account information, order status, or payment due dates, relieving pressure on customer service agents.
During these peak times, IVR services can provide messages through multiple messaging channels and menu options that can be modified quickly and easily. In addition, disaster recovery can be significantly facilitated through IVR services.
During emergencies, a pre-programmed alternative route can be activated so that selected calls are routed to alternative call centers or employees working from home during extreme weather or epidemics.
Enhances Customer Experience
Inbound IVR systems (and outbound IVR calls) have traditionally had a negative reputation. Poorly designed IVRs can frustrate customers with clunky designs and complex messages.
Still, IVR solutions are revolutionizing the customer journey with clear statements reflecting an organization's brand, providing an effective self-service tool.
To improve the client journey, customer information must be seamlessly transferred and presented to the appropriate agent when the caller needs to speak to one. This dramatically improves productivity and reduces frustration with the process.
Also, with well-crafted IVR software and more advanced IVR systems (a system able to recognize spoken words or is "speech-enabled"), callers can self-serve outside of your standard hours of operation, enabling your company to be available around the clock. 
An IVR also enables you to create rules for routing certain callers to a specific department for faster service or special needs. Based on previous interactions, the criteria used include customer status, debt level, and perceived vulnerability.
Improves Morale & Team Collaboration 
Callers can self-service routine requests and questions using an interactive voice response IVR, allowing agents to handle more complex inquiries via multiple channels.
This improves efficiency and will enable agents to spend their time on more meaningful tasks instead of repetitive tasks like checking account balances, confirming appointment times, and collecting payments.
IVR phone calls can be used as part of an outbound mode with Text to Speech (TTS) to make special offers, send messages of welcome or reminders, or perform collection calls without pulling agents away from other duties.
Automated Speech Recognition (ASR) with voice recognition allows you to understand callers' needs quickly and accurately. ASR responds to their request immediately or refers them to a live agent with all of the caller's relevant information pushed to their screen, saving time.
Important Terminologies You Need To Know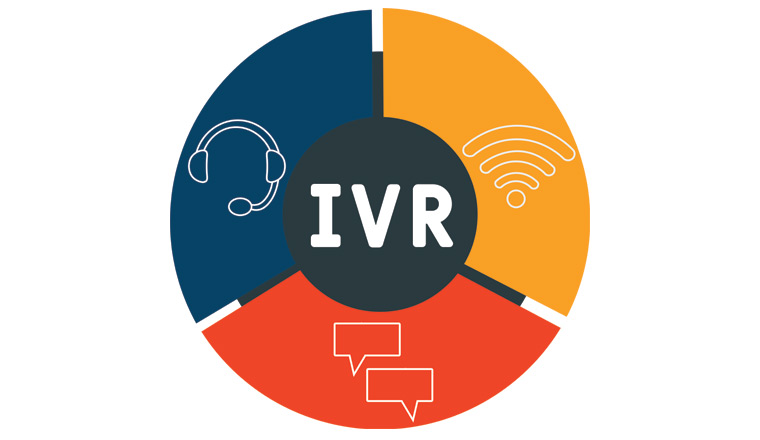 ( Source: callcentrehelper )
The following list includes standard capabilities offered by most IVR systems and advanced capabilities available through niche vendors or integration with other contact center applications:
IVR multilingual support:  Offers multilingual support for IVR menus, recognizing spoken responses in multiple languages.
Retrieval of data from a Web server:

This allows agents to access customer information from a Web server to verify response input (e.g., comparing a spoken account number against a stored account number) and other assistance.

Computer telephony integration (CTI):

Information from the IVR system is dispensed to an agent upon request so they can better assist the caller.

ACD System Integration: Data collected from the IVR can also be used to prioritize calls within queues and distribute calls among agent skill groups (if the ACD system allows for skills-based routing). Alternatively, users can enable options such as on-hold music and estimated wait times to keep callers on the line by using data collected from IVRs. 
Visual IVR Designer –

An IVR design tool that lets you drag and drop graphical elements to create IVR call flows (the menus that callers pass through as they choose to support sales, billing, etc.).

Text-to-speech (TTS)/Common Data Speaker – Text-to-speech enables the system to read out loud information from databases to the customer (payment history, account balances, etc.) rather than simply playing recorded prompts.
Text-to-speech also helps developers create IVR prompts. In a more basic version of data speakers, only highly structured IVR data can be converted into speech, such as dates and numbers.

Customer satisfaction surveys: These surveys can be collected using IVR surveys, allowing callers to voice or touch-tone their satisfaction levels with the agent or the IVR system.
These surveys can then be fed into contact center reporting tools to provide visibility into key performance indicators.
Outbound IVR/notification systems:

These can send outbound notifications through voice, email, fax, SMS text, etc. Voice notifications also include IVR self-service options that can assist the caller in resolving the issue (e.g., paying an unpaid bill.

Visual IVR: This technology allows customers to navigate a visual representation of an IVR menu on a website or within an app running on a desktop, laptop, or smartphone.
Many vendors do not yet support this technology, but a handful of niche providers specialize in integrating visual IVR functionality with solutions from major contact center providers.
IVR Setup: Best Practices
Follow the below interactive voice response (IVR) setup best practices to make sure both customers and agents benefit from your IVR system:
Keep prerecorded call prompts and menus short

Ensure your prompts are clear and easy to understand (hire a voice professional if necessary)

At any time during an IVR interaction, provide an option for switching to a live agent

Keep IVR scripts and menus up to date

Ensure easy access to customer data by integrating third-party CRM tools

Let customers plan automated callbacks rather than remaining on hold

Provide several alternative routing methods in case the desired agent is not available

Make sure your menus/announcements are practical by using automatic analytics/recordings
Bottom Line
Business leaders are constantly striving for ways to improve operations. By using an interactive voice response system (IVR), you can enhance your brand image in countless ways and provide top-notch customer service to everyone interacting with you. Therefore, a robust IVR platform would be critical to your business's success.
Keeping your IVR design up-to-date with changing times is another essential aspect. An IVR is an enhanced customer service tool and should be used as such. Being flexible and dynamic will result in increased customer retention.
IVR solutions have become essential, but they are even more critical for managing customer needs than setting up an IVR system. Choosing the right IVR service provider will enable your company to handle incoming calls without involving your agents needlessly.
CallHippo is one of the best IVR service providers we covered in this guide, and all the other providers provide robust IVR options that will keep your customers delighted.
Additionally, CallHippo offers different plans for small and large businesses to make one right for you. The free program is perfect if you're starting, but if you work for a large corporation, you should contact the sales staff for the best deal.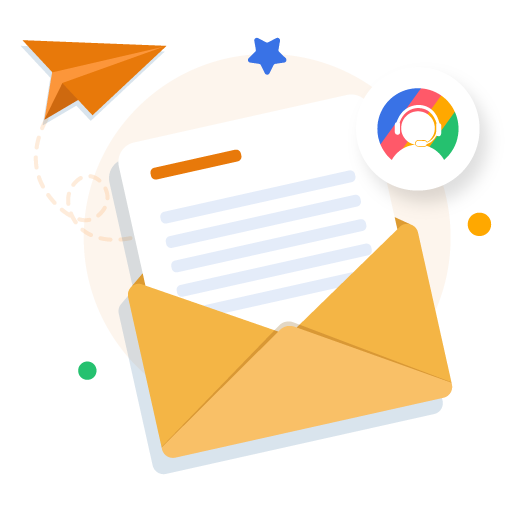 Let's Stay in Touch
Subscribe to our newsletter & never miss our latest news and promotions.

+21K people have already subscribed