Date: October 20, 2022
While the traditional way to call (using telecom services) is still prevalent, internet calling is getting more popular day by day. More than normal users, businesses use internet calling to reach their customers across the globe. 
However, choosing the right internet calling tool is vital to the success of your business. And we have made it easier by handpicking the best business phone systems in 2022.
10 Best Internet Calling Software Solutions In 2022
The best internet calling software makes long-distance calls pocket-friendly and helps provide the best possible experience to customers (via advanced features like call barging, analytics, interactive voice response, and voicemail). 
Our best internet calling software list includes CallHippo, 8×8, RingCentral, Vonage, Nextiva, and more. Let's dig deeper into it.
1- CallHippo
One of the leading business phone solutions providers, CallHippo, allows you to buy local and toll-free numbers from more than 80+ countries. It has a range of impressive features and offers great customer support. Users can customize tones or greetings for callers and receive alerts when they receive messages. 
It also comes with an easy-to-use mobile app. The CallHippo mobile app is simple, intuitive, and user-friendly. It is also compatible with diverse platforms such as Android, Mac, Windows, and iPad.
2- 8×8
8×8 has established itself as a powerful communication tool, helping businesses overcome various operational challenges while fulfilling all their communication needs. 
With its intuitive user interface, advanced features, and secure platform, it allows you to enhance customer experiences. It also lets you make unlimited calls and integrates with Microsoft Office and Google Calendar.
8×8 has recently launched Conversation IQ, which helps uncover insights, coach your agents, and ensure that all interactions are professional and consistent.
3- RingCentral
RingCentral is yet another popular cloud contact center software that allows you to send messages, and makes audio and video calls. It works seamlessly with any internet-enabled device, such as a phone, laptop, and desktop. Furthermore, it supports all the operating systems: Windows, iOS, and Android.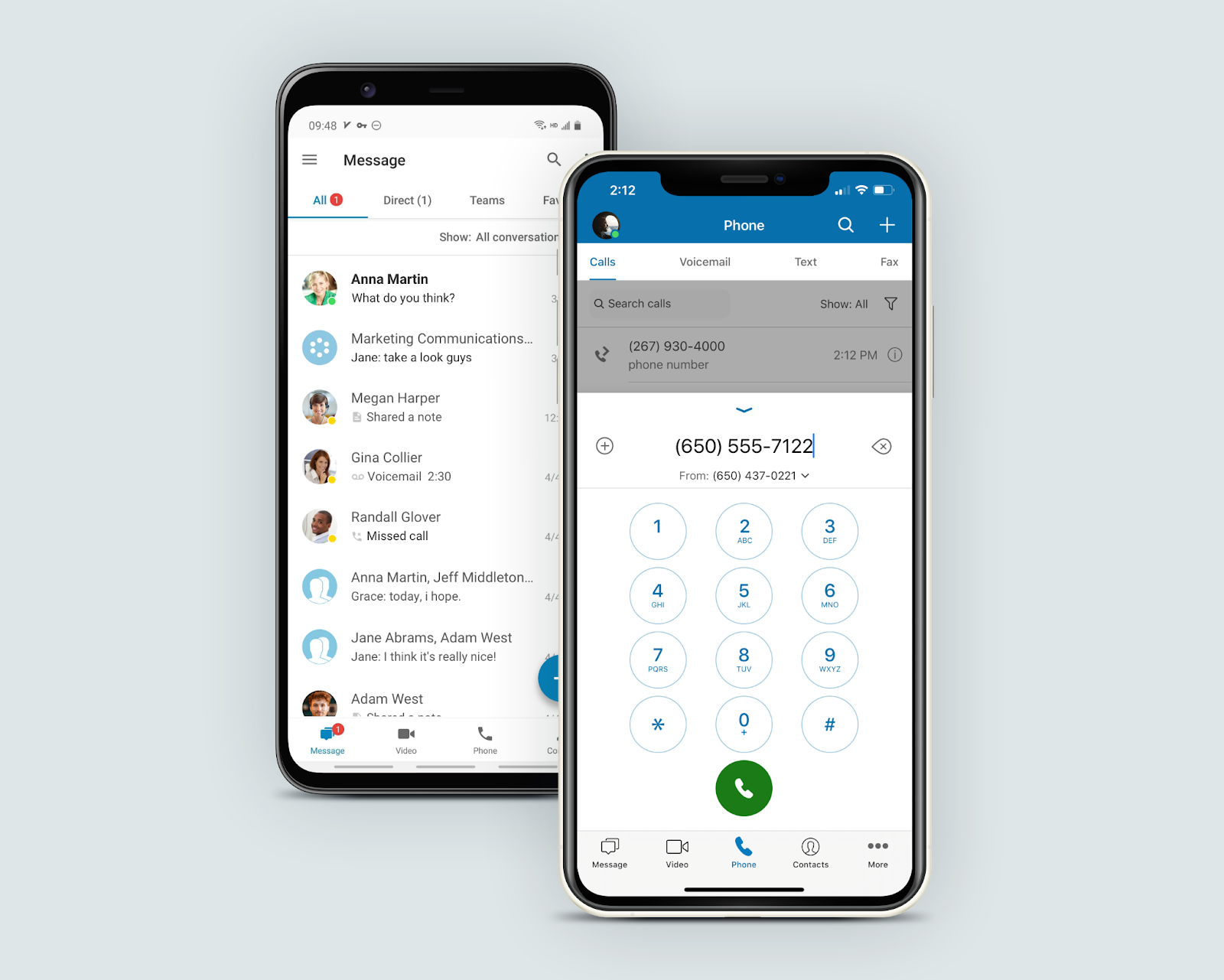 ( Source: ringcentral )
RingCentral is easy to use and has impeccable security features. It comes with a free trial that gives you access to all its features before you choose the best plan for your business. 
RingCentral has features like screen sharing, meeting recording, integration with G-suite, and Office 360. It also features an easy device switching mode that helps the user keep pace with their tasks and not miss out on anything.
4- Vonage
Vonage is a cloud-based business phone system that allows you to make calls and send messages with no additional infrastructure costs. It helps boost your team's productivity with features like call recoItsasswordless authentication, private voice communication, etc. 
What makes Vonage different from other internet calling software from other tools in this list is that it helps deliver an omnichannel experience across all digital channels: voice, email, live chat, SMS, social media, and SOS.
5- GoTo Connect
GoTo Connect is one of the highly customizable virtual phone systems that allow you to create your own fully-featured PBX. It's easy to understand, and its intuitive dashboard offers you in-depth insights into your team's performance. 
Whether you're in the education, healthcare, automotive, law, or wealth management industry, GoTo Connect unlocks greater efficiency for your organization. It is packed with tons of powerful features, such as advanced ring strategies, pre-call announcements, unlimited call queues, wait time announcements, etc.
6- CrazyCall
CrazyCall is a web-based calling service that allows businesses to provide superior sales and customer service to their customers. It comes with a handy extension that will enable you to streamline your sales management campaigns.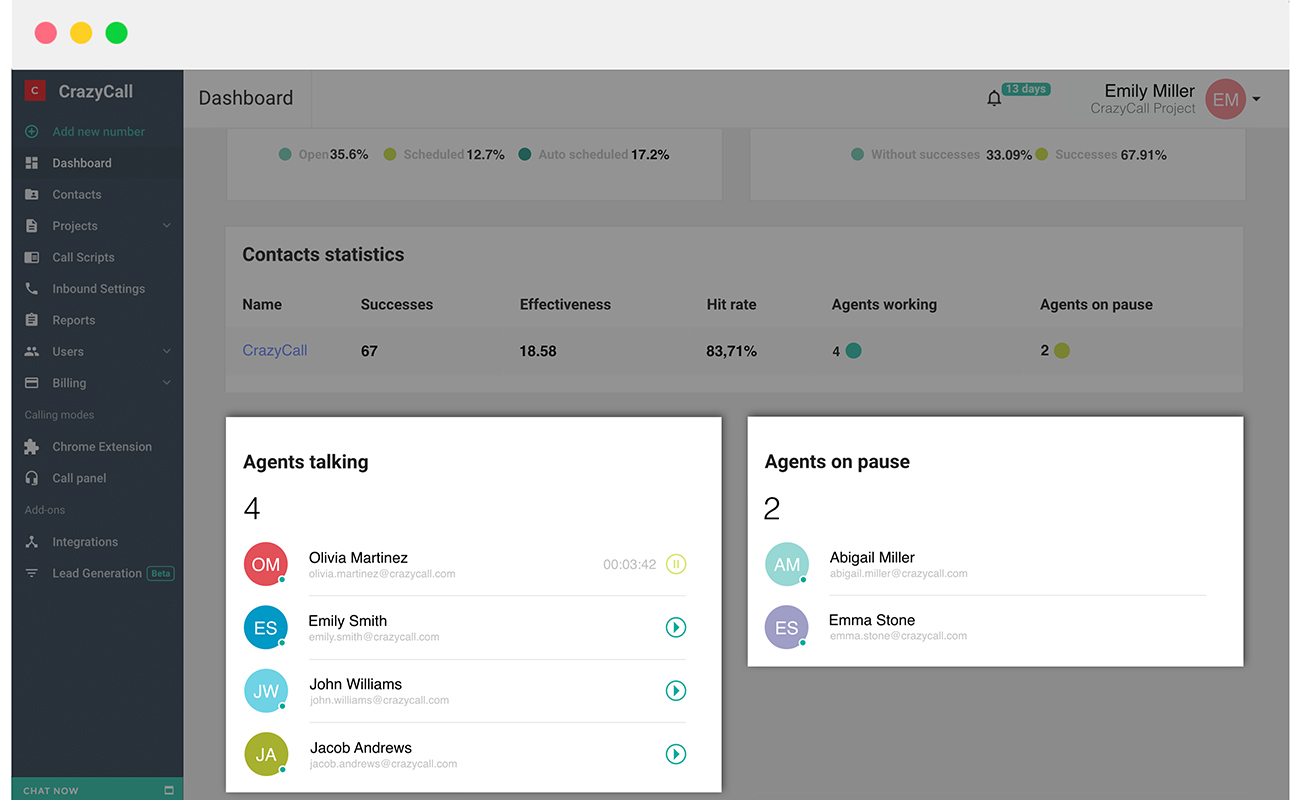 ( Source: comparecamp )
Its auto dialer feature lets you make hundreds of calls with a single click and manage your call efforts using call scripts, call recordings, call monitoring and conference calls. 
Furthermore, its smart callback widget allows your website visitors to request a callback and connect with you effortlessly.
7- Ooma
Ooma's VoIP service has been helping many companies reduce their hefty telephone bills for quite some time now. It also has a mobile application through which you can access calls from anywhere and at any time. All you need is a high-speed internet connection and an internet-enabled device. 
Although Ooma comes with all the standard features, its user interface is intuitive, making it easier for you to adapt to the system quickly. Moreover, its virtual assistant helps you address common customer queries and redirect calls to the right person easier.
8- Nextiva
Nextiva is the most popular VoIP phone system in the US. Its easy-to-use interface coupled with advanced features is what businesses love. The primary features of Nextiva are call recording, team messaging, and auto-attendant.
Furthermore, it integrates with numerous tools, including HubSpot, Salesforce, and Microsoft Teams. 
Nextiva has carrier-grade data centers that enable them to ensure 99.999% uptime, so you don't miss even a single call. However, it is a little more expensive than most of the tools mentioned in this list. 
9- Aircall
Aircall offers cloud-based phone systems for customer-centric teams. You can set up the system in four easy steps: Sign up, connect your tools, start using, and analyze the performance.
Aircall allows you to set up multi-level IVR menus, skill-based routing, live call monitoring, and more. Furthermore, sales teams can use it to close deals quicker with features like a power dialer, click-to-dial, real-time coaching, etc.
10- MightyCall
MightyCall is yet another flexible cloud-based phone system that lets you customize your call flows with clear and simple visual flowcharts. They offer 24/7 support via live chat, or you can reach them over the phone to resolve any issues.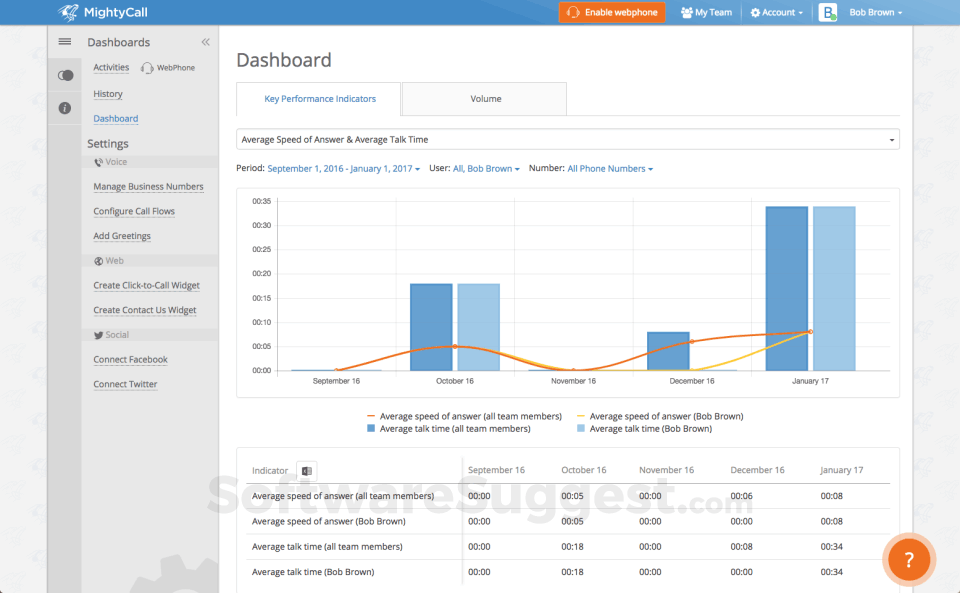 ( Source: softwaresuggest )
With more than 14 call features, it helps companies provide better customer care and facilitates internal cross-department communication. It has a flawless user interface with a mini CRM functionality, which is more than a good bargain for small and mid-sized businesses.
Wrapping Up
VoIP technology has disrupted business support. Companies can save as much as 75% on phone bills by switching to VoIP from traditional phone lines. Besides, they come with features that empower you to deliver the best experience to every individual. 
That said, try any of the business phone systems in this list as we've handpicked them based on features, usability, and customer service. 
Let us know if we've missed any of the best virtual phone systems in the comments section!