Date: August 3, 2023
The world is a global village.
Ever wondered what this means? The term global village means that the internet and other electronics bring together all parts of the world.
With businesses and social relationships scattered globally now more than ever, international calling is an essential medium to communicate.
What are the means that you use to stay connected? Do you need help with it? Fret not, we have got your back! But, first, let's check out different ways to make international calls with international phone numbers.
How to make international phone calls?
Let's start with the most standard way of placing a call. Before mobile phones and the internet, the traditional method in the 1960s was to put an international call through a landline. However, it wasn't as simple as it is right now. You needed multiple codes/prefixes to place a call correctly.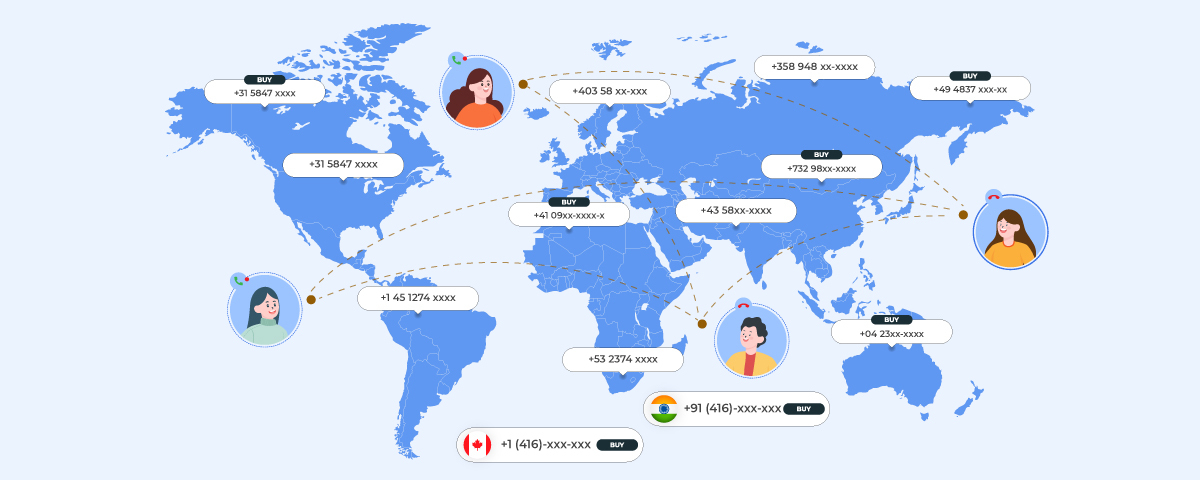 International dialing prefix
International dialing prefixes are different for every country. You have to dial the prefix of the country you are placing the call from. For instance, the dialing prefix for the landline in the states is 011.
Country code
Next, you have to find out the correct country code. The country you are placing the call to. If you want to call china virtual number then The country code for china is +86.
City code (area code)
Similarly, most of the countries have broken down their contact number into an area code. So, if you want to dial a number in Graz, Austria phone number, the area code would be 316.
Local number
Finally comes the local number. It usually consists of 5 to 8 digits. Are you wondering what happens if you directly dial a local number? You can do that if you connect with someone in the same area code, or your call might not go through.
Here is an example for placing an international call through a landline
Pittsburgh (USA) to Morelia (Mexico)
International dialing prefix: 011
Country code: 52
City code: 443
Local number: 123-4567
What you dial:011-52-443-123-4567
Phew, long process, right? Well, technology has come a long way. We no longer depend on wired landlines. Instead, mobile phones are to our rescue today.
But calling cards can be equally laborious. You need to go through multiple connections or get a pre-paid sim for the same. But that isn't the end of it. Every call you place is going to drill a hole into your pocket. So how do we go about it?
Do you miss that sweet feeling when you don't need to count on minutes and calculate the costs while making an international call? Well, the internet and smart devices together can do the magic for you.
Today, there are plenty of messaging and calling applications that require your email address, a decent internet connection, and an intelligent device to place an international call for free.
CallHippo is one such alternative to calling cards, which lets you place an international call at a very minimal cost. It uses Voice Over Internet Protocol to communicate.
Well, the benefits aren't just limited to free calling, but you can also get a virtual number with the help of such applications. A physical number of any country you want, without being present in the country.
Businesses in the United States reached a total of 41.6 million, that is added over 35 million VoIP lines in the eight years between 2010 and 2018.
How to get your international calling number with CallHippo?
CallHippo has a straightforward 4 step process to get any (50+) country's virtual phone number, whether it is Ireland virtual number, Canada, UK, Australia, Israel phone number, Singapore, or USA phone number. You get your virtual phone number in less than 3 minutes with us!

Let suppose, if you wants to buy a Singapore virtual phone number than you have to follow this straightforward process-
All you need to do is send in your details through our form with three components: the company's name, email ID, and phone number. Our seasoned technical team will handle the rest of the process, and you will have your number in no time.
Interesting, isn't it? The cloud business telephone systems are highly beneficial for professional use as well. Let's learn a little more about it.
Features of international calling applications
Most of these phone systems are specifically designed for customer service, and hence apart from making and attending international calls, they have numerous features.
Advanced call management
A feature that lets you manage all the incoming calls. You can fast track, block, hold, route, and do more to your calls. Manage your customers and improve your effectiveness.
Call analytics
This is one of the best features and benefits of any international calling application can have. Call analytics provide you data and help you understand your customers better. For example, learn the best time to call the preferred length of their conversation and more with it.
Organizations are already using call analytics to reduce average handle time by around 40%.
On-hold music
A feature that entertains your callers or even informs them about your latest campaigns with a personalized message. This feature helps you keep your prospects engaged while they are in the waiting line.
Power dialer
This is one of the unique features provided by CallHippo. It empowers your teams to shoot up their productivity by cutting down the monotonous task of dialing a number after every call. Instead, you can upload a sheet, and the application will dial and distribute the calls by itself.
Call recording
You can now eliminate the tedious task of taking notes, maintain the quality of your calls, train your employees, and more with this feature. In addition, this feature enables you to record calls abiding by the legal regulations by simply adding a disclaimer that the call is being recorded.
Smart switch
Are you facing problems with your current internet connection? Well, you can switch to a different network while you are on a call. The intelligent switch feature was specially designed to avoid any interruptions.
Well, the list doesn't end here. Features differ from application to application. Are you ready to make VoIP international calls to streamline business communication without any hesitation? Well, then the first step is to evaluate your calling needs and research for the fit accordingly.
How are you planning to go ahead with your international calls? Do let us know in the comments below.
WORDS THAT MAKE SENSE!
Read The Most Well Researched & Insightful Articles From CallHippo Team