Get Singapore Virtual Phone Number
With CallHippo you can buy Singapore virtual phone number for business in less than 3 minutes from anywhere in the world. When you make outgoing calls your Singapore virtual phone number will be displayed to your customers. You can receive incoming calls by forwarding your phone number or through our app. Sign up now!!
Awards and Reviews
Buy Your Singapore Phone Number In Less Than 3 Minutes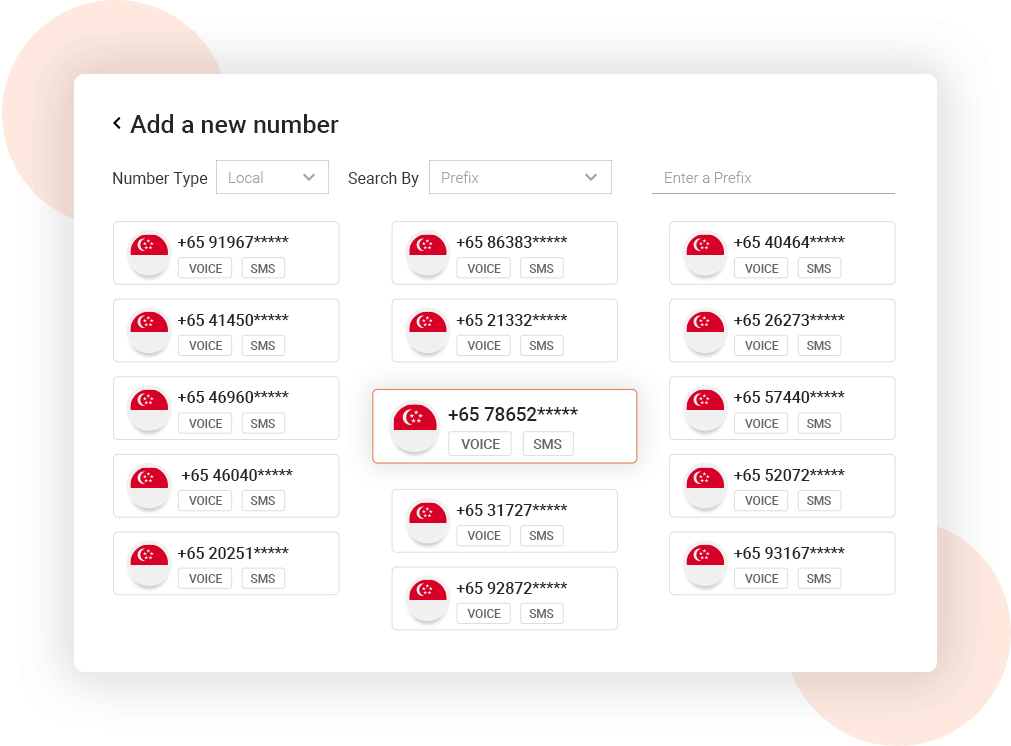 Stay Connected All The Time With Singapore Virtual Phone Number for business
Singapore has been ranked as one of the leading countries for ease of doing business. Is it also tempting you to explore its market? Are you worried about your communication with prospective customers there? Relax, we at CallHippo are there to assist you with the best services to buy Singapore phone numbers.
CallHippo– Your premium service provider for Singapore virtual phone number online and Singapore toll-free number
Stop thinking, just contact CallHippo and our expert team will be there to assist you. And guess what, it will take you less than 3 minutes to set up a cloud telephony service in Singapore for you.
Why Do You Need a CallHippo Virtual Singapore Phone Number Online?
An illusion of local existence for business.
Affordable rates.
Numbers with an area code of the city you want to operate.
Unlimited access by providing you with any number of phone numbers.
Access to DID services.
Telephone Numbers in Singapore
Telephone numbers in Singapore are governed by their National Numbering Plan, which is regulated through the Info-communications Media Development Authority (IMDA). The small geographical size of the island country prevents Singapore from having any area codes. Therefore, all telephone and mobile numbers in the country belong to a single numbering area and come in the same eight-digit format.
Singapore phone numbers are categorized based on their first digit, thereby providing ten possible categories, six presently in use. The typical format is +65 XXXX XXXX, where +65 denotes the country calling code. Though it does not have any trunk call prefixes, Singapore has ten international call prefixes, which are 021, 020, 019, 018, 013, 011, 001, 002, 008 & 000.
Singapore also has four different numbering schemes & formats, which are:
3XXX XXXX: For Corporate & Business IP or VOIP numbers
9YXX XXXX: For Singapore Mobile Numbers, Data Services & Prepaid Numbers
6XXX XXXX: For residential & PSTN IP Telephony Services
8ZXX XXXX: Mobiles, Prepaid Numbers
Here, 'X' denotes any number from 0 to 9 'Y' denotes numbers from 0 to 8 & 'Z' represents numbers from 1 to 9
What Country Code does Singapore Use?
As mentioned above, the country calling code for Singapore is 65. Hence, when calling a Singapore phone number from outside the nation, callers must dial + 65, followed by the destination numbers. When inside the country, people can EMIT the +65 and only dial eight-digit numbers.
Benefits of having Singapore Phone Numbers
So why are Singapore's virtual numbers so sought after? Here are a few advantages that your business can get with a Singapore phone number:
Reach newer markets and customers
Expansion of business prospects in Singapore
Keep your remote offices connected
Increase lead generation & sales
Provide support to customers via local & toll-free numbers
Create & maintenance a local presence for your company
Improve your brand's credibility and image
Route calls worldwide using stable internet connectivity
Set up your business phone system in a breeze
Schedule a free product consultation call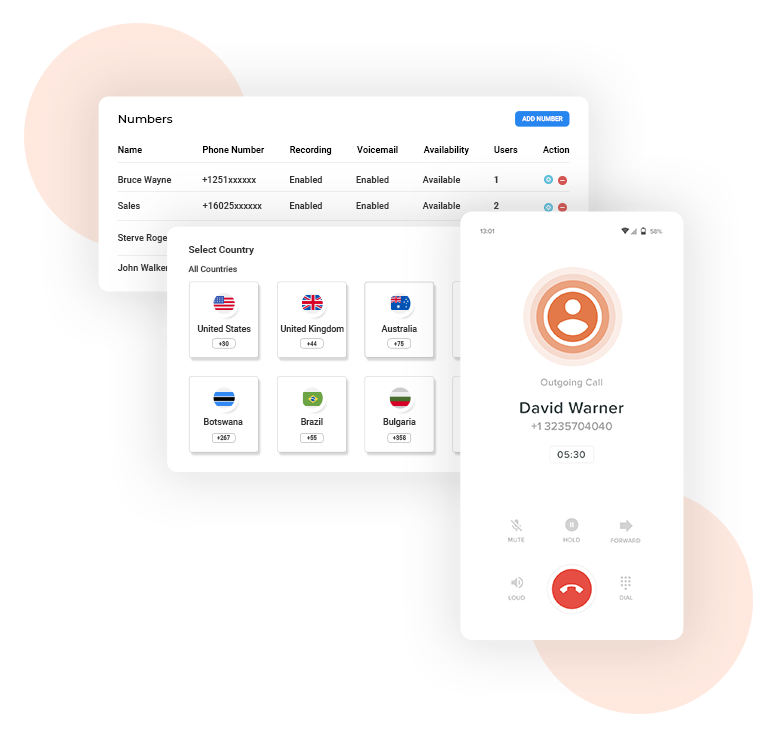 How It Works
Get Your Singapore Virtual Phone Number
Drive your business on a global level with a virtual phone number.
Set Up The Number Of Users
Add multiple no. of users as per the needs.
Start Making Calls
Setup your phone system in less than 3 minutes and start calling.
Get Your Virtual Number For Singapore
Select The Country (Singapore)
Choose the city/state for the required number.
Select Local Number Or Toll Free Number
Give your business a unique identity by Singapore toll free and local number.
Get Your Own Singapore Virtual Phone Number
Get your Singapore Phone number starting at best price.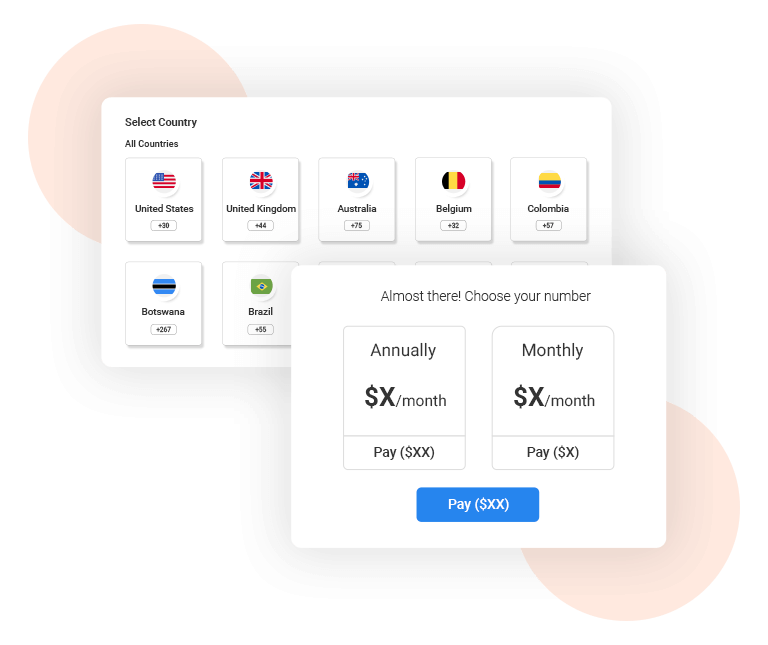 How To Get A Singapore Phone Number?
Acquiring a Singapore Virtual Number is easy if you know what you will be using it for. Firstly, we would recommend choosing a trustworthy provider of business phone systems who can provide you high voice quality, reliable service, and instant assistance. Moreover, it is advisable not to go for a long-term commitment and try out a few renowned providers first. You can opt for a basic plan first and see how it caters to your needs before switching to a better plan or provider. All you will be meeting to get started is documentation which is the standard KYC procedure for acquiring any Singapore phone number.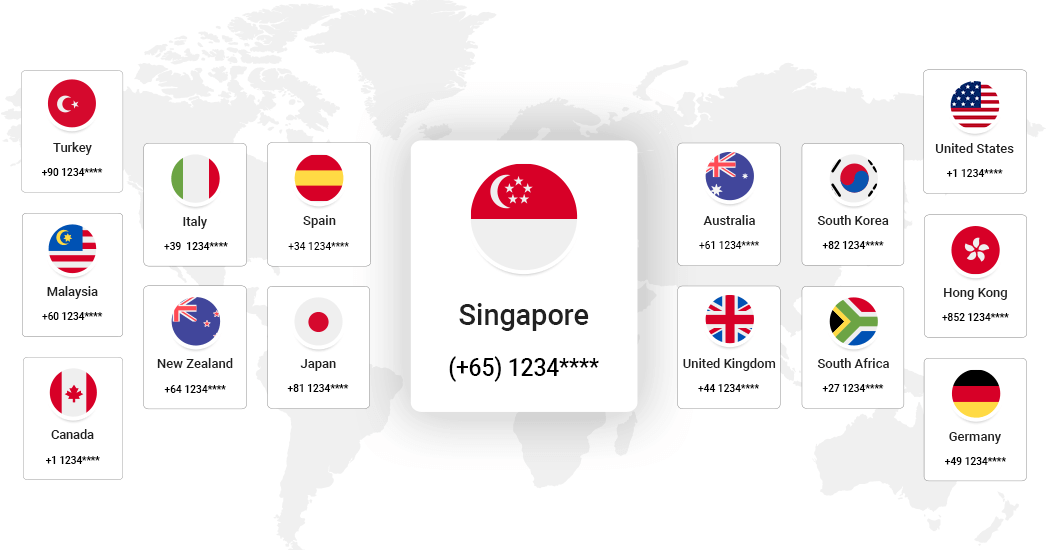 Even if you are located outside Singapore and want to start a business there, you get a Singapore phone number by choosing a provider with international call forwarding capabilities. Once a provider is chosen, you can start off calling and receiving calls in a few simple steps. The best service providers typically have a large number of Singapore phone numbers available for instant online activation.
Sign up for an account with CallHippo.
Select Singapore as your preferred country.
Select a state/city.
Choose the package of your choice and make a purchase.
And you are ready to enjoy CallHippo's services relating to calling in Singapore.
Singapore Virtual Number Pricing
There are both international and national Singapore virtual phone numbers that offer monthly and yearly services. Depending on your business requirements, you can buy a group of Singapore virtual numbers of different price ranges.
Get Pre and Post Telephony automation with CallHippo
Schedule a free product consultation call
Automate pre and post telephony tasks with CallHippo's 100+ app integrations
Frequently Asked Questions
How can you buy Singapore phone number? When you get a Singapore phone number will help set up a virtual office Singapore that will helps you address the complaints, concerns, and any other issues from the customers. As a result, leads to improved brand image.
It's pretty simple to buy a Singapore DID virtual number as described below:

To get a Singapore phone number, you need to sign up with CallHippo ad fill in your details in the sign up form. Then select Singapore as your country of choice, and select your city. Finally, you need to choose your Singapore virtual number online, and make a purchase.
Through CallHippo's advanced features, you can add your virtual phone number to your CRM of choice. That way, you will be able to maintain customer base and organize any interaction (including calls) effectively. As a result, your business will convert more phone calls to sales.
It's easy to buy a toll free number from CallHippo.

You just need to follow these steps:

Create an account with CallHippo.
From the sign up form, add your preferred number.
Choose Singapore as your country and choose your city or state.
Make the necessary payment and the toll free number will be ready for use in less than 3 minutes.
Setup Your Phone System In Less Than 3 Minutes