Date: September 22, 2023
"Get closer than ever to your customers. So close that you tell them what they need well before they realize it themselves".
This famous business quote by Steve Jobs highlights how vital understanding your customers is in order to ensure business success.
Getting a sense of consumer needs and tastes in today's volatile market ensures that your brand remains relevant to customers and can retain your market share. However, the real question is, how do you 'get close' to customers?
There are numerous ways in which companies collect information about their customer base. Online surveys, landing pages, digital forms, and user feedback are well-known tools for understanding customers' opinions and preferences. Based on the insights, companies adjust their promotional strategies and create marketing campaigns that entice customers.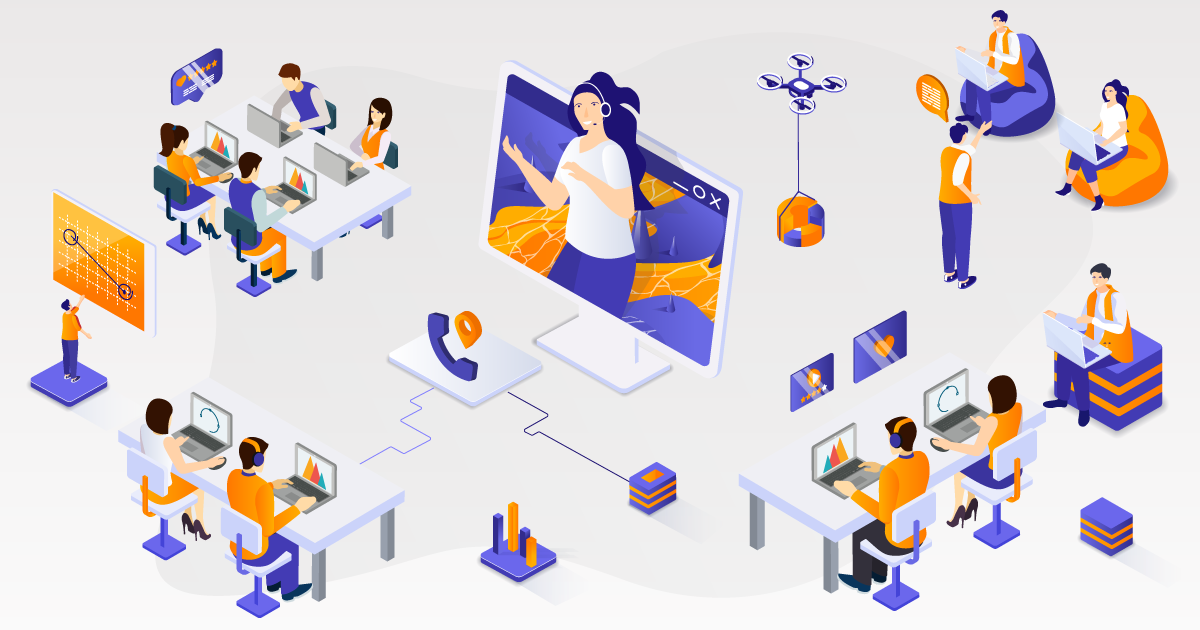 However, consumer feedback is a pricey and challenging affair with limited efficiency. But what if you could understand your customers better using your existing resources and gain critical insights without shelling astronomical amounts annually? Sounds too good to be true, right?
Tracking your customers' calls can be a highly beneficial way to understand their tastes and needs. Utilizing the call records from your organization's call center, you can extract vital information about their perception, motivations, and expectations, helping you customize your branding efforts. 
When the right insights offer the proper guidance for your brand to progress, the chances of your success increase manifold.
But what exactly is call tracking? What are the benefits of call tracking, and what are the key call tracking metrics in 2023? Let's find answers to all of these questions in this blog.
What Is Call Tracking?
Call tracking involves listening to customers' previous interactions and gauging their mindset and perceptions. It usually requires company representatives to derive information from call recordings, which helps companies improve marketing strategies.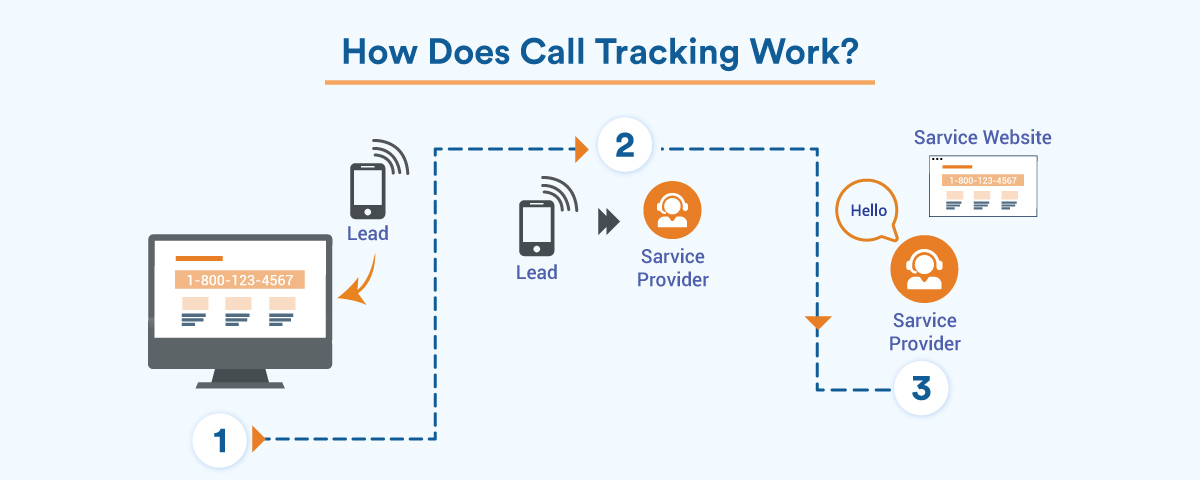 Call tracking can be an effective way to improve marketing campaigns and provide customized solutions to customers. By analyzing the performance using call tracking metrics, businesses can improve consumers' perception and provide exceptional service by finding faults in their existing systems. However, call tracking is easier said than done.
Listening to all previous call records, noting down key insights, and creating reports isn't feasible manually. Moreover, it is a time-consuming affair requiring a lot of workforces. This is the reason why companies use 'Call Tracking Software.'
You May Also Read : How Does Call Tracking Work and Its Importance
Why Use Call Tracking Software?
Using call tracking software, thousands of calls can be analyzed swiftly and efficiently, providing vital data regarding customer preferences. Therefore, it is always better for the business to invest in the best call tracking tools and get the most out of them.
Rather than just 'listening to calls, VoIP call tracking software tracks specific keywords, speech patterns, and customers' tones to understand their likes and dislikes. Ultimately, through the thorough analysis of campaign performance using call tracking metrics, one can guide an organization towards success by providing real-time analytics and support for handling customers based on their previous data.
The software also helps measure the effectiveness of sales calls and calculate your ROI for each campaign.
Importance of Call Tracking For Businesses
Under wide-ranging marketing activities, often you tend to use your phone numbers as call-to-action so that people who need what you offer can contact you directly and quickly. And when you start receiving calls from those campaigns, the next step is to perform an analysis.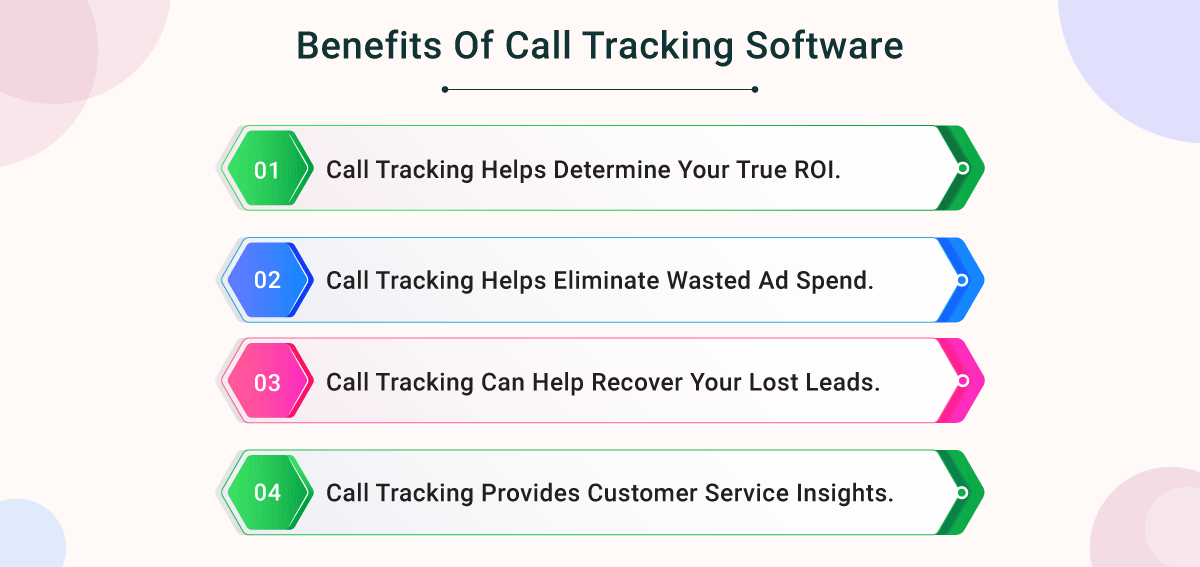 This is when call tracking comes into the picture. In addition to the basic information such as the location and query of the caller, there are numerous other parameters associated with tracking calls. The main advantage here is that it gives you deep insights into how well your campaigns are converting.
Evidently, the importance of tracking the telephone calls you receive lies in the fact that these callers are the high potential hot leads as compared to the rest of your targeted audience.
They are already interested in and require your products or services. Moreover, receiving a call and its associated details gives you a precise working contact point of the lead.
In addition, it helps you decipher the results of your marketing campaigns and efforts leveraging multiple call tracking metrics. Having established the vital importance of calls, it is indispensable for any business to track the calls they make and receive. If you are wondering why the users would turn to calls while making a purchase, here is the logic.
Ways To Incorporate Call Tracking Into Existing Marketing Strategy
Depending on the type of business you run, you target audiences across the board. Basically, your marketing strategy includes billboard ads, magazines, newspapers, online ads, website, email campaigns, and such likes.
Over and above, your phone number is flashed everywhere. Then how would you identify the source that converted the call? The answer is by using different trackable numbers for different sources. Additionally, there are several touchpoints you can begin call tracking with.
1. Keyword Level Tracking
Your phone number is displayed at a possibly infinite number of places. To name a few, you have your own website, landing pages, social media, yellow pages, online business directories, and so on. So you might as well receive a good number of calls from these channels.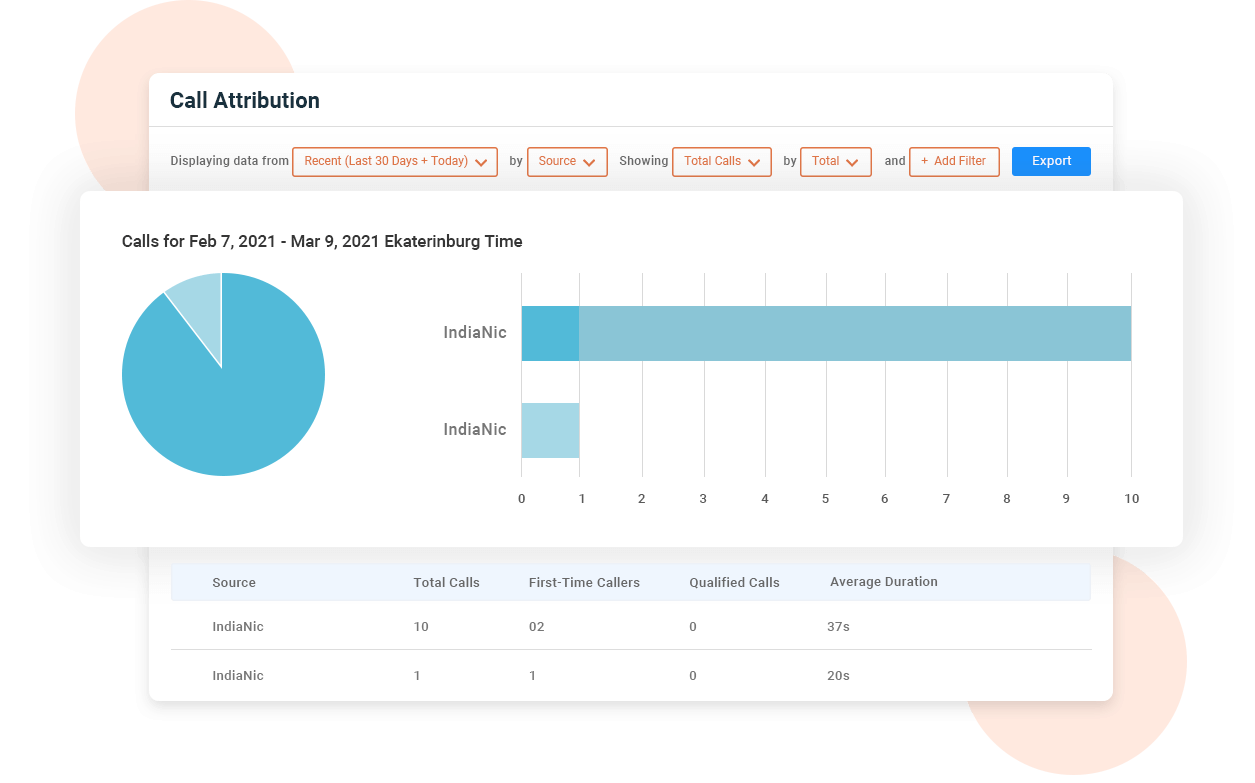 Therefore, before everything, you need to solve for what search brings them to your page and what search query returns them your contact number. Once you have figured out what words they used while searching, you can have access to high-performing keywords that you must compete on.
Additionally, using other call tracking metrics such as landing page analysis, you can even know what keywords are not driving calls and thereby stop spending our advertising money on them. Sounds like a good plan to optimize your call-acquisition campaign? It indeed is.
In terms of SEO and PPC, if you rely on Google AdWords, you can even figure out how effectively organic SEO (Search Engine Optimization) is performing and driving calls.
2. Tracking Email Campaigns
Test and test until you find out if your email campaigns are the ones that fetch you multitudes of phone calls. Here are a few questions that you can use to find it out.
Are you putting traceable phone numbers in the email itself?

Are you directing the reader to a landing page where you are displaying a number with the 'call us now call to action?

Did the caller say that they called you after reading an email you sent them?
You would need systems to process this data and come to the right conclusion for how good your emails are doing in order to make the reader dial your number. All you need to do is to perform rigorous testing. You can,
Run A/B tests,

Run real-time scans,

Keep a watch on the lead activities in your CRM,

Identify what triggers calls most,
There could be more to the right testing process as per your data and business nature. However, towards the end, if you are able to find out the right trigger, you can create a winning strategy, allocate more resources to execution and simply drive more business.
3. Analyzing With Google Analytics
Your advertisement campaigns can be best measured when you have all the right analysis tools. Google Analytics is one of them. In addition, using multiple traceable phone numbers in your campaigns would help you identify how well they are performing.

( Source: webeminence )
In addition to that, Google Analytics will offer you more insights on the sources of calls, organic visits, goal conversions, and more that you may use to revamp your marketing strategy. Basically, the idea is to know where the telephone inquiries are coming from.
4. Improving On-Call Experience
When people are interested in calling you, it becomes your liability to designate smart agents who can convert the sales calling lead. This is why call tracking needs to be combined with relevant call tracking metrics analysis and quality enhancement attributes in order to make the leads call you again.
Precise call routing is your ability to quickly transfer the call to the right person who can address the caller. Implement integrated systems that enable your team to communicate internally and rapidly pass calls between one another.
Call attending aptitude: Your team needs to be well trained to handle calls. They should know when to expect a call from a prospect, when to call back and follow up, prospects' background details, level of interest, and all the adjoining important information. This would simply lead to effective communication and quick call conversions.
Call recording can be used to reflect on how the agent performs on call, his strong and weak points. More importantly, recordings can be used to know what needs to be improved in the team's call handling skills. They can even be used as a reference while training the team on communication expertise, identifying leadership potential, and the best ways to answer the lead's queries.
Managing calls: You need to ensure that each call you receive gets a response. To achieve that, you can ensure accurate call distribution among the teammates and even set up an auto-responder message for the caller. This is a must when you aim to deliver impeccable customer service and calling experience.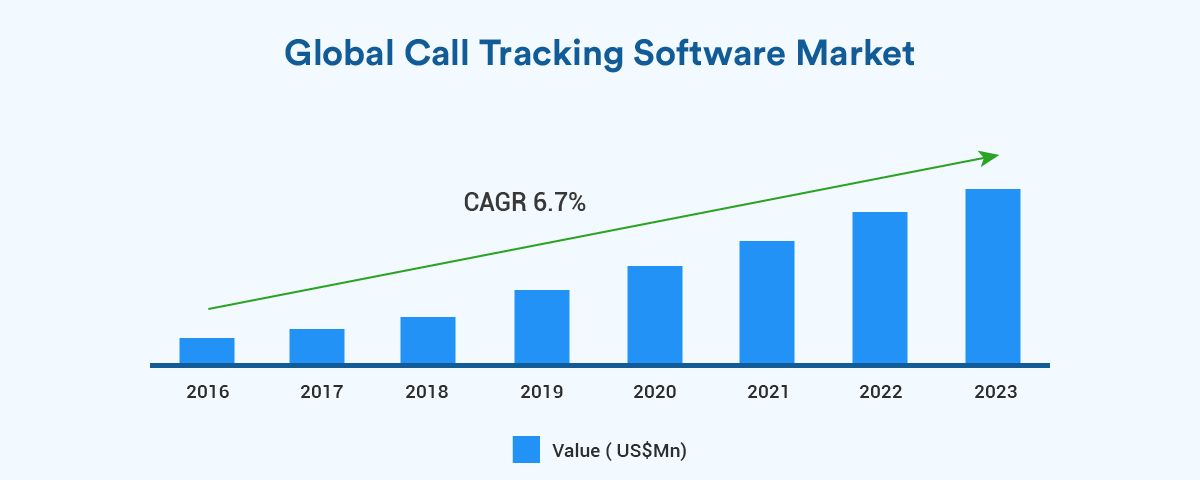 Call labeling would help you identify hot prospect callers who are highly interested in your products and services as well as the spam callers.
Consequently, marketing is a vast domain whose effects are well spread over sales, business development, and your organization's brand. Phone calls are an important instrument used by consumers that need to be paid attention to by today's marketers.
If applied effectively, these call tracking strategies will eventually enhance marketing ROI, as explained below.
How Effective Call Tracking Improves Marketing ROI?
Every organization wants to maximize its profits and gain more from its marketing investments. Call tracking can be a powerful tool in marketing to improve ROI and campaign effectiveness.
It helps you get greater returns from your marketing campaigns with substantially low investment and efforts. Let's get to know how call tracking aids businesses:
1. Provides Relevant Data
Since each organization is unique, its unique pain areas must be adequately addressed. With call tracking, you can customize the call tracking metrics you want to track. Besides, you can also track which of your customers need your product and eyeing competitors.
Data-assisted sales calls also help sales executives effectively target customers by providing useful information in a timely manner. This can help streamline your efforts, get better outcomes, and make the most of your investments.
2. Tracks Campaign Effectiveness
Using software for call tracking, you can analyze multiple calls simultaneously and determine how effectively a campaign runs. You can quickly discover the factors that are working in your favor and the ones that aren't.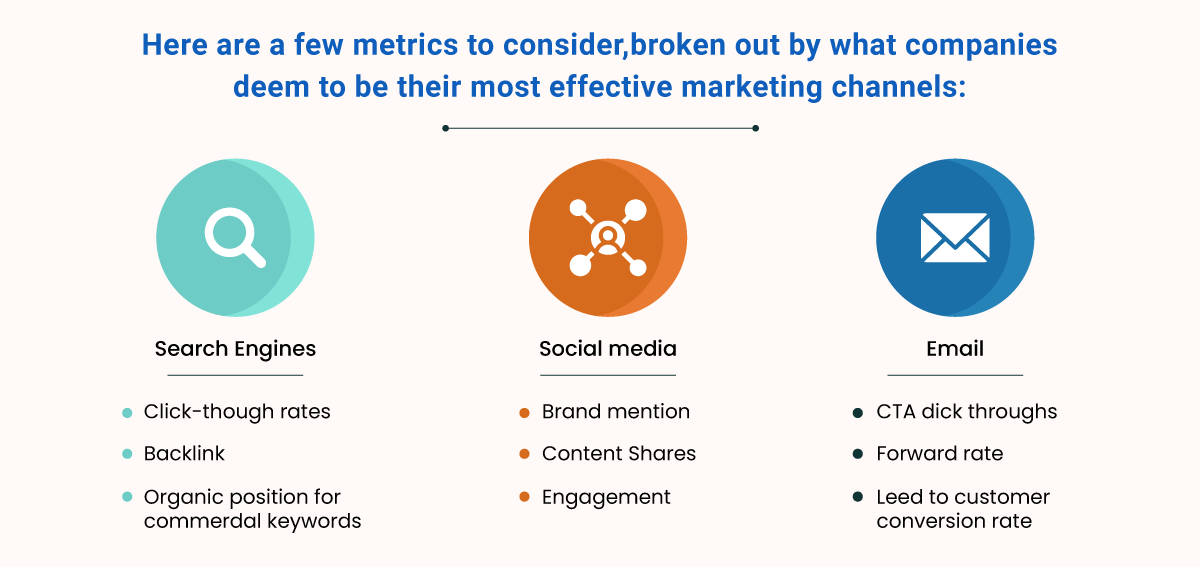 Moreover, the best inbound call tracking software helps you tabulate your findings in real-time via call tracking metrics, helping you make quick amendments. Thus you can curb unnecessary investments in campaign strategies that don't serve you well and fund more profitable ones.
3. Identify Strategy Flaws
Call tracking also helps you identify where you are going wrong with your marketing campaigns. Through correlating the positive and negative responses of customers, you can identify where you are going wrong.
Later, based on the information received, you can train employees better, modify speech and rhetoric, prevent your agents from making mistakes, and provide better service to customers. 
So this is how effective or well-defined call tracking contributes to increased marketing ROI.
At the same time, businesses must accurately assess performance to ensure that their strategy is on track. The following are the 10 call monitoring metrics you must consider to assess campaign effectiveness correctly.
10 Important Call Tracking Metrics In 2023
To get the most out of your call tracking software for lead generation, you must first identify the KPIs that influence productivity, customer engagement, and online/offline marketing campaigns. Here are some key call tracking metrics to consider:
1. Call Volume
This is one of the most fundamental call tracking metrics that you need to pay attention to as it gives insights into the scale of your inbound calls. Call tracking tools will help you avoid tedious manual calculations as all call data is automatically recorded and stored. You can view call patterns by the hour, day, week, month, or year.
How to Calculate Call Volume?– Call volume is simply the number of inbound calls that a team or call center receives in a specific timeframe.
2. Average Call Duration
Longer calls do not equal more positive results. Call tracking can help you record the length of each phone interaction. Then, you can analyze whether longer calls are translating into conversions. Call tracking systems also help you identify which campaigns, keywords, or landing pages drive the most effective calls and convert leads.
How to Calculate Average Call Duration?– To calculate the mean call duration, add the total conversation time, total hold time, and total after call work time (ACWT), then divide the total by the number of calls attended.
3. Referral Traffic
Referral traffic analysis is another important call tracking metric. To gauge the effectiveness of various marketing channels, you need to capture the referral source of each incoming call. While you can use referral marketing software for this, it's important to get additional support.. Most call tracking solutions use dynamic number inserting to display different numbers on websites, landing pages, email newsletters, and social media handles.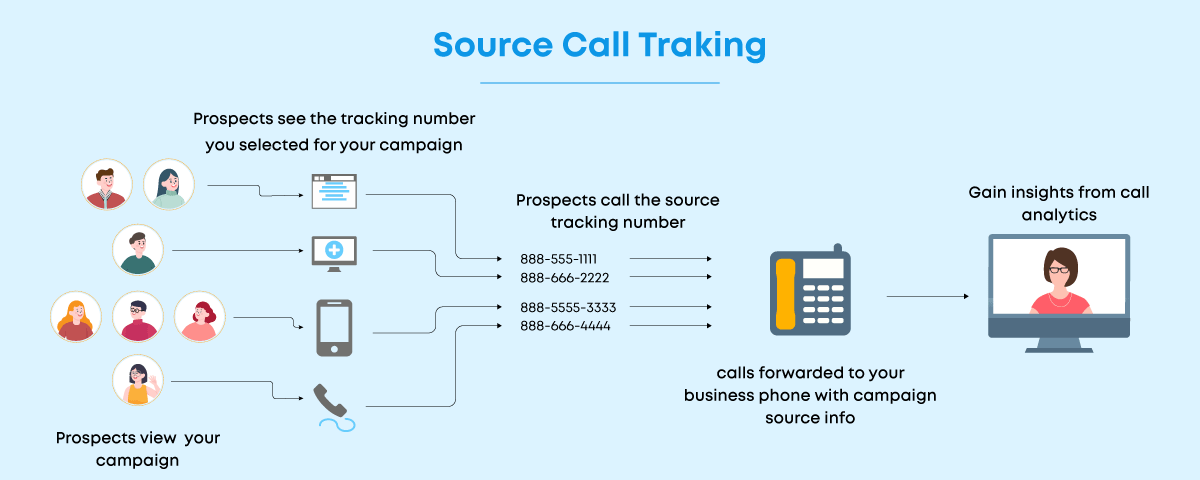 This enables you to track each phone call's referral source and attribute it to a specific campaign.
How to Calculate Referral Traffic?– You can calculate referral traffic by dividing traffic from a certain source by total traffic and multiplying the result by 100.
4. Time and Date Information
Call tracking systems let you analyze time and day calling trends to know when callers are most likely to reach out. It also helps you to ensure agent availability and know which calls are more likely to convert based on location, time, and day of the week.
Later, based on the findings, you can leverage them to display PPC ads effectively and increase traffic on slow-moving days.
5. Landing Page Performance
As we know, landing pages are often the first point of contact for potential clients. They are designed to elicit action from qualified prospects and drive conversions. Call tracking software can help you identify calls that have been made by leads following a landing page visit.
This way, call tracking helps improve the ROI of marketing campaigns and acts as a guide for optimizing further marketing campaigns.
How to Measure Landing Page Performance?– To assess the performance of a landing page, you have to analyze multiple important call center metrics such as page view, bounce rate, session duration, conversion rate, and so on. Then, based on the results, you can modify the strategy.
6. Keyword Attribution
Keywords are one of the integral call tracking metrics that let you know what grabs customer attention. When your inbound calls are driven by paid ads, social media posts, website forms, and landing pages, it is essential to find out what relevant keywords motivate your leads to get in touch with you!
Call tracking software can help you attribute keywords and phrases to each call so that you can fine-tune your strategy and increase conversions exponentially.
7. Peak Hour Traffic (PHT)
Peak Hour Traffic (PHT) is the next call tracking metric on our list. This is a key performance indicator (KPI) in BPO that describes when the call center experiences the most call traffic or call volume during the day. This allows businesses to plan ahead of time and arrange enough call agents to handle the high volume of calls during that time period.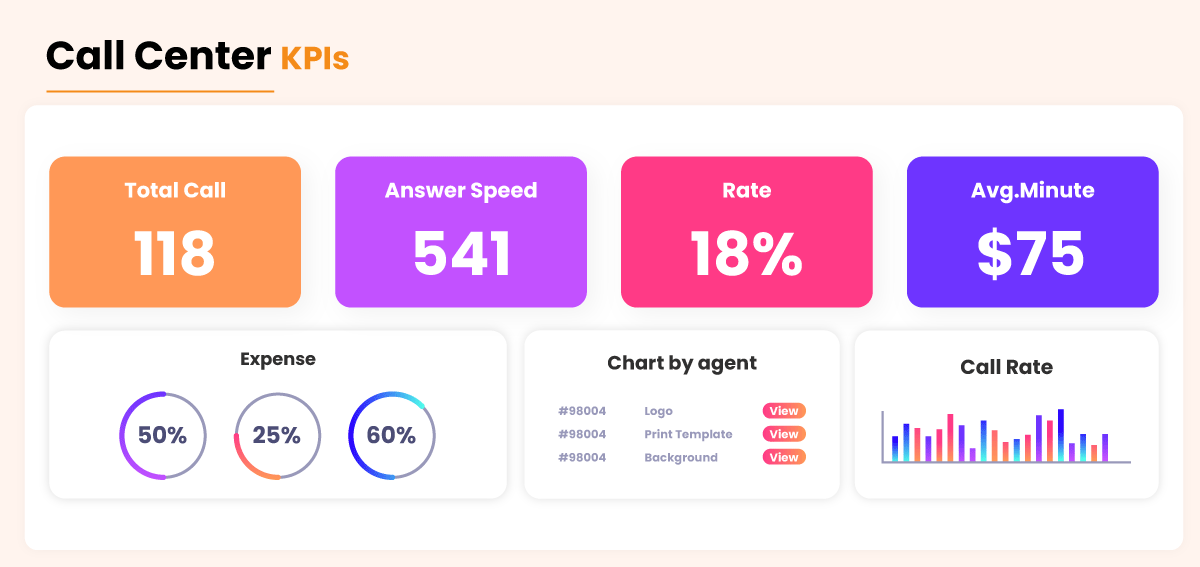 How to Measure Peak Hour Traffic?– There is no method or formula for calculating PHT. All you have to do is track the call volume every day for a few days to see what time of day you have the most call traffic.
8. Dropped-Call Rate
The dropped-call rate is one of the key call tracking metrics that contact centers use to assess network performance. The dropped-call rate (DCR) is the percentage of phone calls that were ended due to technical issues before the communicating parties had completed their conversation.
The cause could range from limited coverage to poor signal quality to network congestion and outages.
How to Measure Dropped-Call Rate?– To calculate the dropped call rate, divide the total number of dropped calls by the total number of calls received and multiply the result by 100.
9. First Call Resolution (FCR)
FCR or First Contact Resolution refers to those calls when an agent resolves a customer's query on the first call. It's yet another important call tracking metric for measuring agent operational efficiency. In fact, in a support-based call center, FCR is one of the Call Center KPIs used to assess agent performance.
When you solve a customer's issue on the first call, they are more likely to be satisfied with your service and offer positive feedback. The industry standard for ideal FCR is 70-75%.
How to Calculate First Call Resolution Rate?– FCR can be calculated by calculating the number of requests resolved by an agent on the first call in a certain time period.
10. Average Handle Time (AHT)
The average handle time (AHT) is the amount of time it takes a call center agent to complete a particular conversation or transaction.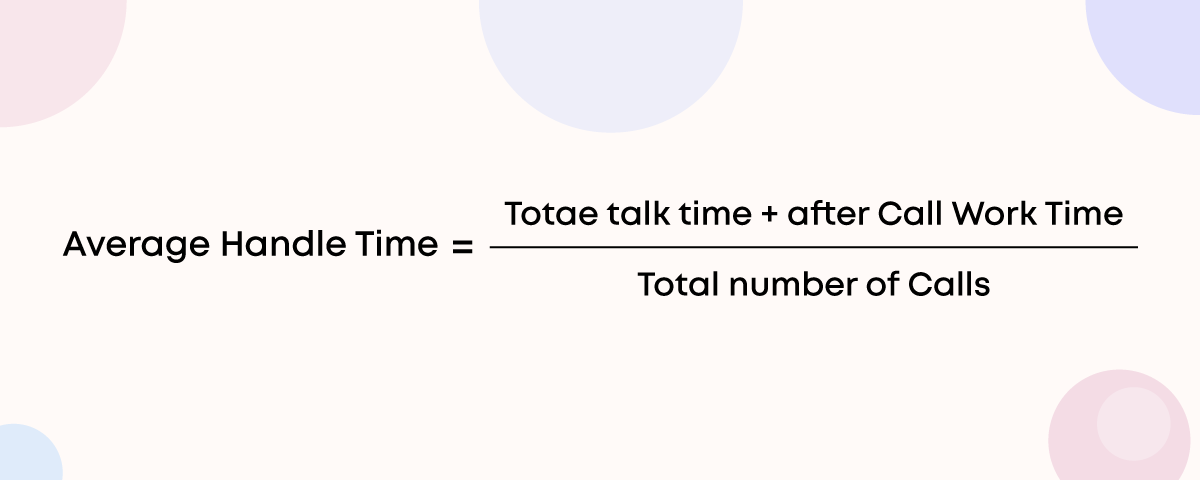 When deciding on contact center staffing numbers, AHT is regarded as one of the most important call tracking metrics. For example, knowing how long a call is expected to last allows you to properly plan the number of calls per agent. This promotes improved workload management and protects agents from being overburdened.
How to Calculate Average Handle Time?– An agent's AHT can be calculated by totaling their on-call time and dividing it by the total number of calls made in a given period.
These are the top 10 call tracking metrics to track and calculate on a regular basis. A thorough examination of all of these 10 call tracking KPIs will ensure that your contact center operations are always on track and that you get the maximum benefit. Eventually, this will help you enhance the customer satisfaction score and brand reputation.
The Bottom Line: An efficient call tracking practice offers organizations tangible outcomes that reflect the success or failure of any marketing campaign. For accurate result analysis, we recommend that you invest in a call tracking software. In addition, measure the top 10 call tracking metrics listed above. These call tracking KPIs will assist you in making the necessary decisions or tweaking your campaign strategy.
WORDS THAT MAKE SENSE!
Read The Most Well Researched & Insightful Articles From CallHippo Team