Date: September 18, 2023
Communication – is the key to success in the business world. You will be left behind in the competitive rat race if you do not follow the best practices to ensure smooth two-way communication with suppliers, partners, stakeholders, and clients.
Since there are many emerging technologies in the field of telecommunication, it is often challenging to keep pace and know what trend to follow. However, if there is one buzzword that has been making waves for quite some time now,  Business Communication Soltuons.
What is a Business Communication Solution?
The Business Communication Solution is a technology that allows you to make and receive phone calls over the internet rather than traditional phone lines. The technology converts your voice into a digital signal, compresses it, and sends it over the internet.
This modern business communication system is widely popular among enterprises due to the multiple benefits it provides, such as on-demand scalability, secure and uninterrupted transmission, improved VoIP call quality, cost-effectiveness, and more. Also, the system is simple to set up and requires only a few resources, such as an internet connection and internet protocol desk phone.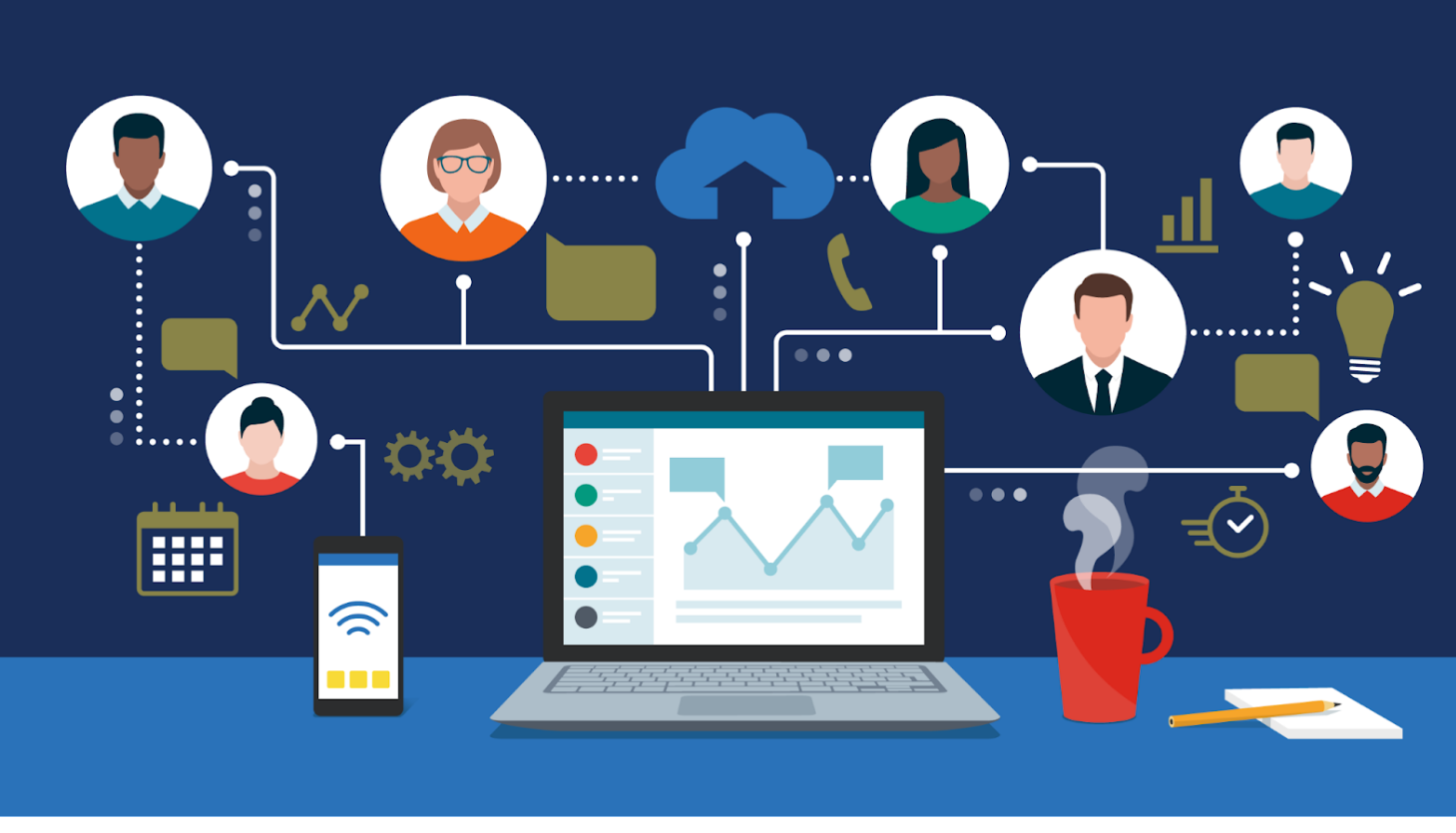 ( Source: fluentstream )
How Does Business Communication Solution Work?
Unlike traditional phone systems, which use circuit switching to connect business calls, Business communication solutions use packet switching. It converts your voice signal into digital signal packets, much like an electronic envelope, and sends them across any VoIP-compatible network, such as a local area network (LAN).
Compared to traditional phone systems, business communication systems are far quicker, more secure, efficient, and offer exceptional uptime. This will eventually ensure that your business remains operational most of the time.
Major Benefits of Business Communication Solution
Every year organizations spend millions of dollars on making international phone calls. Investing in a Business communication solution is a holistic solution that can save the company tons of money that can be channelized to more important functional domains. 
Here are some instantaneous advantages that any organization can accrue by utilizing VoIP Number(Voice over Internet Protocol) international calling for their overseas communication:
1. Reduced Calling Cost
Every organization needs to keep a strict watch on their phone bills as they may eat into business revenues. If you spend too much on communication, other functional areas will suffer due to a budget. However, any business operating in multiple geographical locations needs to make a high number of calls to partners, clients, and prospects.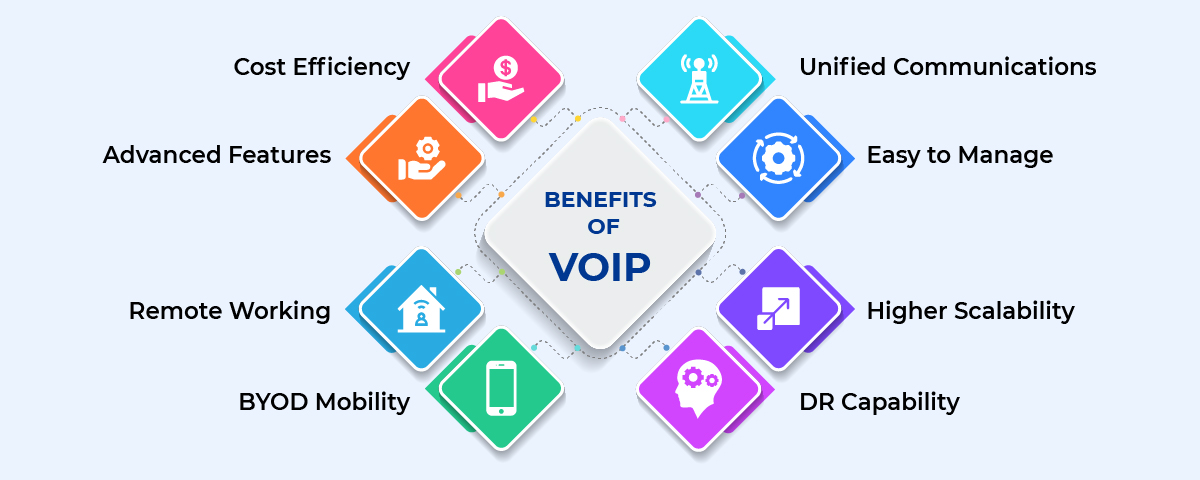 Investing in a business communication solution will facilitate seamless international calling at a reasonable price. Your service provider will ensure that you get a suitable package that aligns with your modern business communication requirements. The incoming and outgoing calling costs are highly cost-effective and will surely cut down your communication expenses by a significant amount.
2. Improved Accessibility
We live in a digital era where our customers expect 24*7 accessibility, irrespective of where your organization's headquarters are located. If you do not open multiple lines of two-way communication for your clients, they will surely view your company in a bad light and lose faith.
Investing in a business communication system means that your support representatives will be available round the clock to answer queries and provide technical assistance to clients.
There will also be no question of open office hours that are especially difficult when organizations are operating in different time zones; rather, clients can just pick up the cell phone and dial anytime that they need to connect with company representatives.
They will not have to wait in long telephonic queues; rather, they will be quickly diverted to available call agents – speedy problem resolution is bound to keep all your customers delighted and retain them in the long run.
3. On-time & Efficient Customer Service
Customer is king – businesspersons need to accept this adage and provide an exceptional customer experience. Business communication solutions can help your call agents work effectively to give superior quality support to your valued clients.
Since business communication systems can operate from any location in the world as long as there is a high-speed Internet connection, your organization will not have to depend only on the local workforce.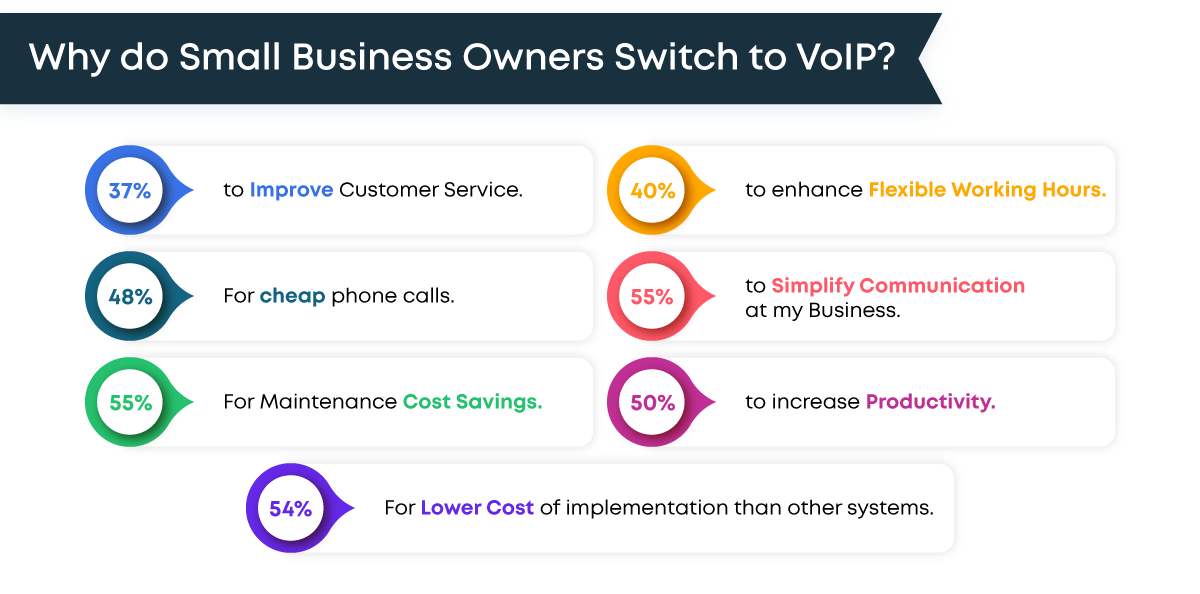 You can open a call center in any geographical region in the world and equip it with the right resources and trained staff. Virtual phone solutions largely increase remote work, facilitate seamless data sharing and team collaboration.
This ensures that customers are given first preference, and work teams collaborate effectively to give forth a high level of customer service.
4. Range of Innovative Features
Business communication solution come packed with a diverse range of innovative corporate communication features and business communication services that can give any company a substantial competitive edge in the market. For example, the call forwarding feature makes sure to divert important customer calls to available lines, so they do not have to wait in endless long telephonic queues.
Another fantastic feature of business communication systems is that it is possible to record client–staff conversations, and this is very helpful in enhancing the training quality of support representatives as problems can be well-identified.
Moreover, the Interactive Voice Response (IVR) facility also reduces the need for a full-time receptionist as customers can self-direct to a particular extension number or department.
5. Higher Workforce Availability
Today, companies need to keep creative communication flowing with customers at any time of the day. Virtual phone numbers are a real asset as they facilitate customer engagement round the clock! Clients do not want to wait for working office hours or specific timings when they can call – business communication system ensures that your loyal customer base can remain in touch instantly.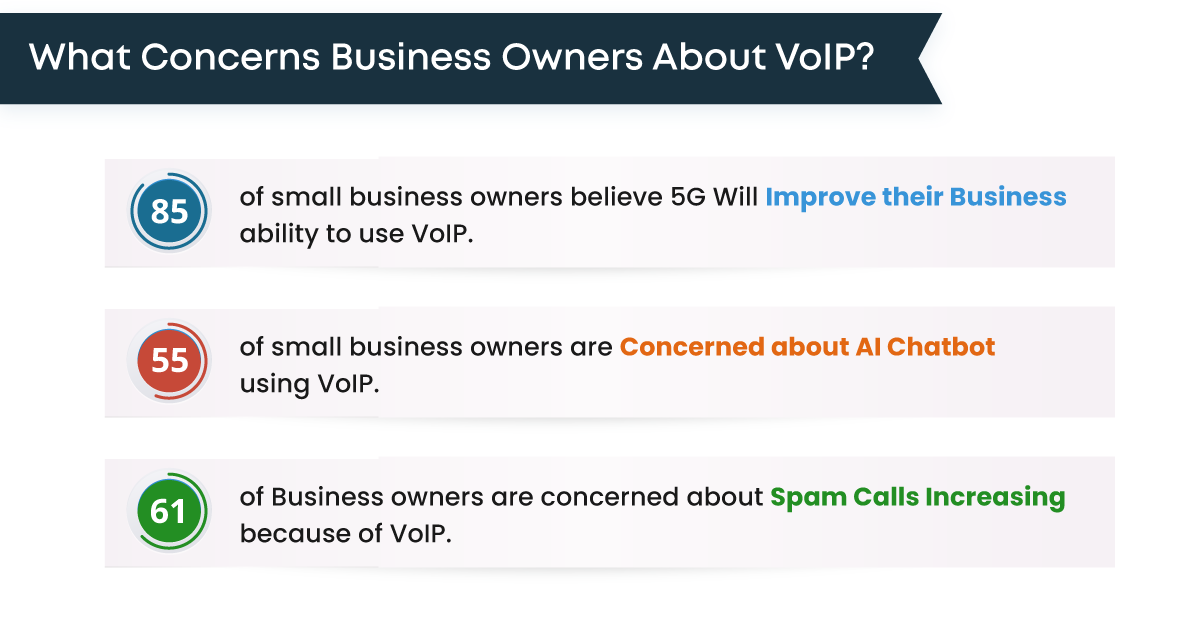 The VoIP communication system also encourages remote work as employees never miss out on essential business phone communication even if they are on the move. It is a great tool that increases flexibility and productivity on the move!
6. Low Maintenance & Quick Installation
Many people feel that installing a business communication solution is a tedious and complicated task. However, this is far from the truth, and in reality, setting up a virtual phone system just takes a couple of minutes.
Besides, it is a low maintenance process, and the best part about business communication solution is that they are highly scalable. Most credible business communication solution providers offer the option to purchase extra modules according to business requirements, and frequent upgrades are also there.
Business communication systems also boost personalization as special greetings or music can be played for clients while they are on hold. So do not worry about installing your virtual phone center, and make sure to enjoy the vast number of benefits that can take your organization to the zenith of corporate success.
7. Enhanced Communication
It is never easy to operate in different time zones. Getting a Business communication system will aid executives in planning their communication in a more structured manner. Call planner is a specialized feature that allows managers to check the time zone before making an international call.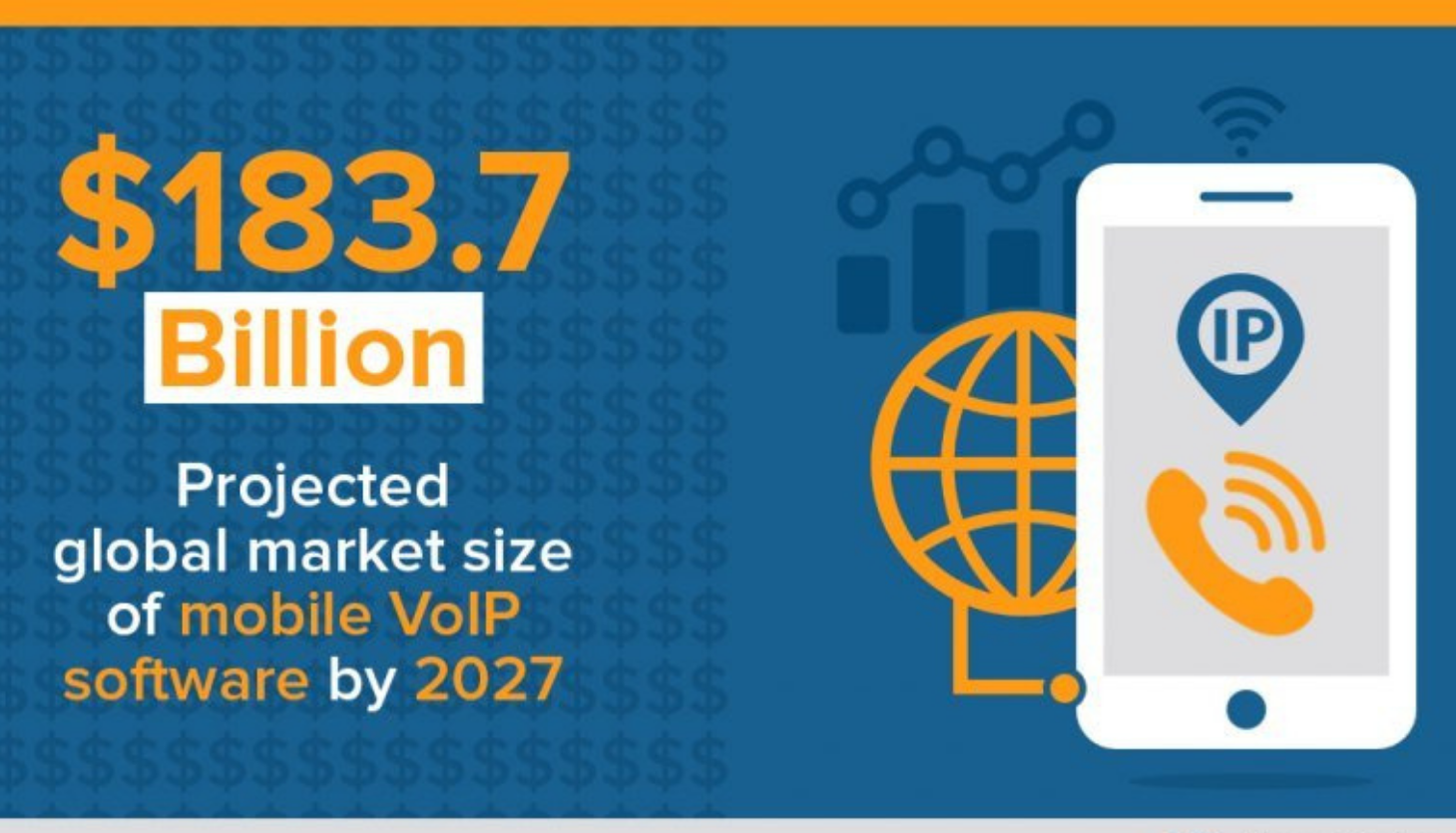 ( Source: financesonline )
It enables employees to make sure that they are making calls or planning business conferences at a time of mutual convenience, rather than a highly inappropriate time. This will give your organization a professional reputation and also allow for convenient business communication between international destinations.
Moreover, the Business communication system considerably reduces multiple operational costs. Scroll down to find out how.
How Do Business Communication Solution Reduce Various Expenses?
A. Long-Distance Calls- For business purposes, one often needs to connect across countries and make long-distance calls. The traditional phone systems used to charge a significantly extra fee for the same. However, in the case of Business communication systems, the distance hardly matters, and both short-distance and long-distance calls cost almost the same. 
Also, it is easier to use VoIPs and create connections between multiple countries. This depends on the regulations in the country under consideration. Generating the virtual number is quite easy and takes just a few minutes. This is one of the reasons why the globally-distributed businesses are shifting fast to business communication systems.
B. Subscriptions & Licenses- Everyone looks for a flexible plan when it comes to modern business communication, as taking a permanent decision might affect a business in the long run. A subscription-based model would thus come in handy, and businesses often look for monthly plans. You can check what works for your company and modify your plan accordingly.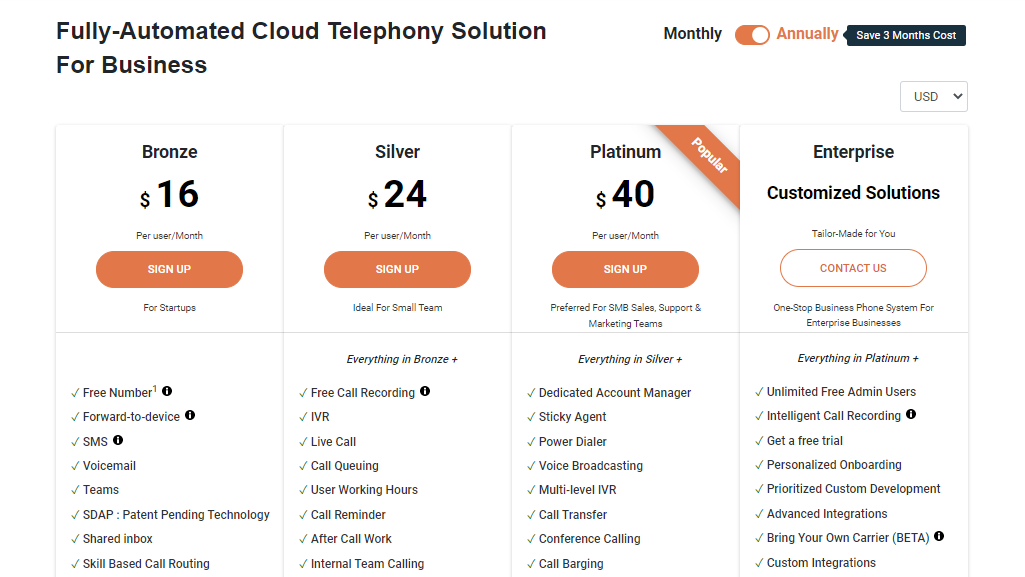 So, no need to buy annual licenses anymore! You just need to pay for the value that your VoIP communication system offers you. It also needs less physical setup, and hence, exploring what your team needs is easy.
C. Less Physical Equipment: In the case of the traditional phone system, a number of hardware components are required. Additionally, you need to install handsets all around the office, which incurs a considerable cost and involves a lot of hassles. On the contrary, VoIP communication systems do not require any such setup, and calls can take place even from laptops or cell phones.  
D. Low Maintenance Cost: Maintenance is relatively easy, as it does not involve any physical hardware. Phone damages, shorting of electric sockets, and other such problems lead to a loss of time for the staff members. However, a VoIP communication system does not require any of this equipment, meaning very little maintenance is needed.
E. Less Space Required: Since less space is needed for using VoIP communication system, the office looks more compact and clutter-free. In today's age of modern offices, people often go for a shared space for working. Reduction in space is thus highly preferable, and VoIP technology can make that happen!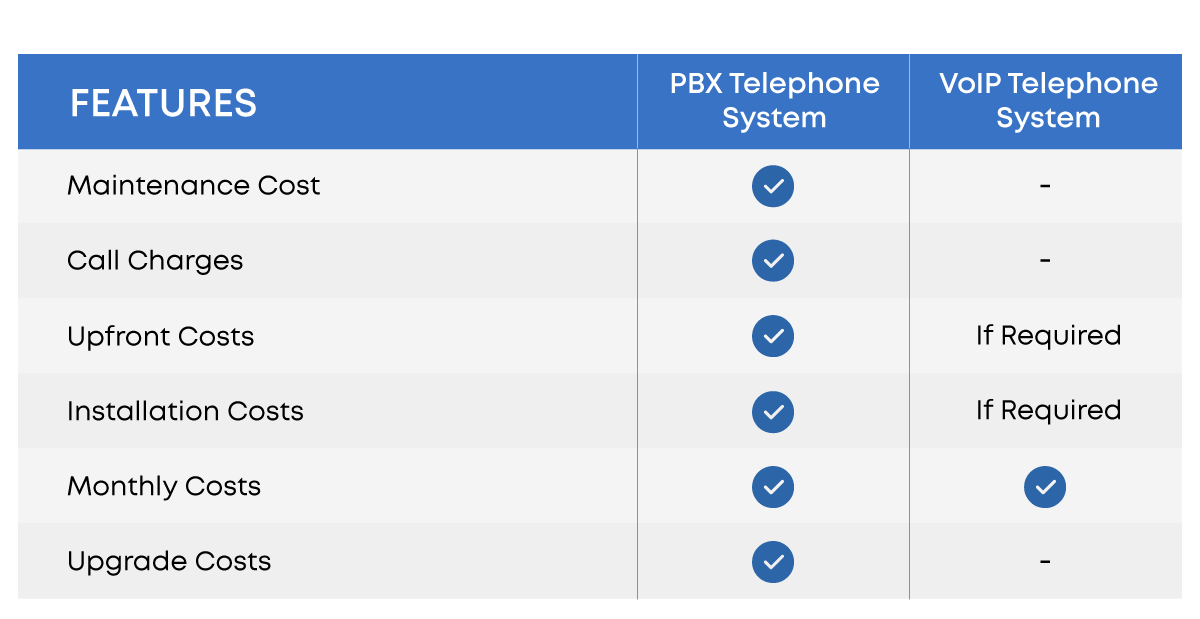 That's it! These reasons or factors should be more than enough to persuade you to switch to VoIP communication for your business. So, if you are ready to invest in a VoIP communication system and provide your organization with a cutting-edge, modern business communication solution, we have a recommendation for you.
We strongly advise you to invest in a CallHippo business communcation solution or collaborate with a CallHippo VoIP service provider because of the benefits they bring and their superior business phone system. We've outlined some of the major factors that explain why CallHippo is best for business communications. Let's take a quick look at this.
Why Should You Choose CallHippo VoIP Communication System?
The following are some of the primary reasons that justify why you should choose CallHippo over other VoIP providers.
A. The advanced features of CallHippo is one of the major reasons that make it superior to any other modern business communication system. CallHippo has novel features such as multi-level IVR, call queuing, smart switch, power dialer, automatic call distribution (ACD), call monitoring, advanced analytics, and call recording.
B. In addition to the innovative features, the CallHippo VoIP communication system offers a variety of affordable pricing options ideal for all types of businesses – small, medium, and large. The basic plan– Bronze, costs $16 per user per month, while the most premium plan– Platinum, costs $40 per user per month. The VoIP provider also offers enterprise plans for large businesses having unique requirements.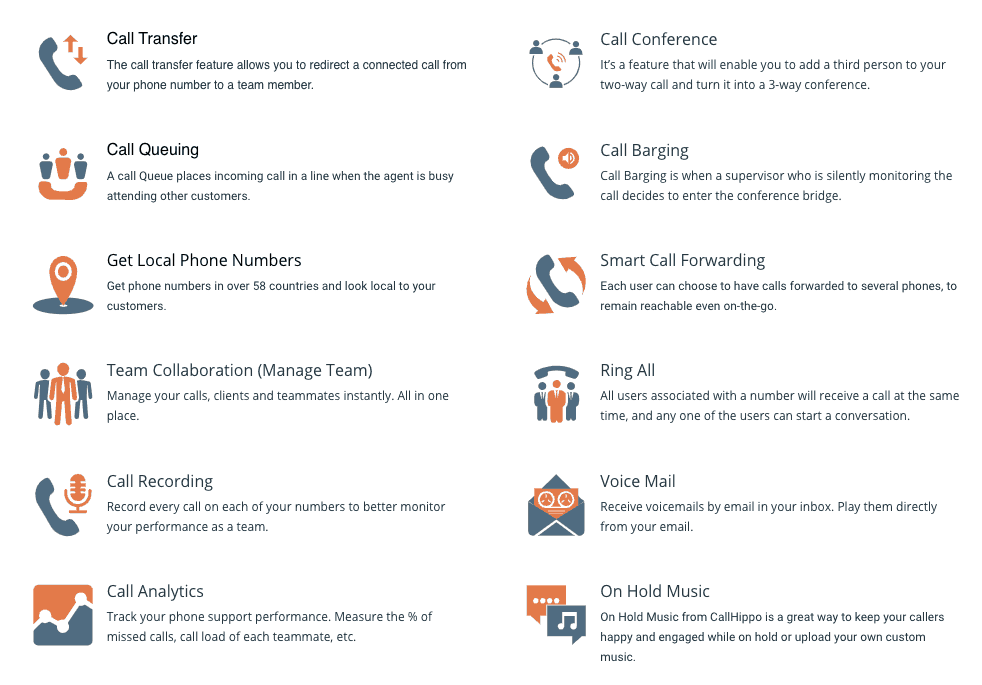 C. The CallHippo VoIP communication system is also widely available across several platforms. For example, it offers a mobile version for both Android and iOS platform, as well as has applications for macOS and Windows. The multiple versions enhance its accessibility substantially.
D. CallHippo has a global presence. It provides virtual phone numbers for multiple countries and regions, including the United States, United Kingdom, Brazil, Canada, France, South Africa, Australia, Singapore, Germany, and others. This means that the technology enables you to target each region and serve your consumers there.
E. The user-friendly interface and ease-of-use of the CallHippo VoIP communication system are the fifth reasons to choose it. The system is simple to use and can even be managed by those with little technical knowledge. Moreover, the company publishes guidelines and resources on a regular basis to ensure that users get the most out of the system.
F. The sixth and final major advantage of the CallHippo business phone system is its excellent customer service. When you collaborate with CallHippo, you can be sure about one thing– their after-sales services. Depending on the plan you select, the company provides different levels of customer support. Moreover, you can contact their technical teams through various channels such as phone, email, chat, and so on.
So, these are six main benefits of the CallHippo VoIP communication system. At the same time, getting started with CallHippo is a simple process, with only 5 steps to follow, as listed below.
Here are the 12 Best Business Communication Solution
1- GoToConnect
Packed with more than 100+ features across cloud VoIP, audio & video conferencing, GoToConnect is an ideal choice for businesses looking for a unified platform for inbound and outbound business communications. 

Highlights:
Cloud PBX (Private Branch Exchange) offers a fully-integrated communication system and the flexibility to scale up (and down). 

Call routing allows you to redirect calls to the right agent to ensure customer satisfaction.

Wait time announcement, so the customer has a fair idea of how much they need to wait and prevent frustration. 
Pros 
Robust portfolio of tools

Tiered pricing structure

Professional, one-click video conferencing
Cons 
The system setup process is a little perplexing

Poor call quality, as well as crackling and choppy audio
Pricing:
User-based pricing starts from $19.95 per user per month
Cloud PBX, custom hold music, call routing, advanced ring strategies, up to 250 meeting participants, caller ID, do not disturb, unlimited call queues, and more
2- Aircall
Aircall provides an easy-to-use business phone solution. It is ideal for mid-sized and enterprise companies. It allows admins to instantly add numbers from more than 100 countries and scale their teams according to their requirements. 

Highlights:
Greet callers with pre-recorded voice messages

Find all your numbers in one place, even if your customers are spread across the globe. 

Get a complete overview of calls that require a follow-up. 

Take or place as many calls as you want simultaneously on the same phone number. 
Pros
Cost-effective solution

Seamless integration with HubSpot

User friendly interface

Super Intuitive
Cons
Poor customer support

Constant bugs
Pricing:
| | |
| --- | --- |
| Essentials ($30/user/month billed annually) | Professional ($50/user/month billed annually) |
| Unlimited calls within the US & Canada, call recording, IVR, voicemail, click-to-dial, and more | Salesforce integration, advanced analytics, live call monitoring, call tagging, power dialer, and more |
Dialpad is yet another great alternative to 8×8. It is perfect for businesses with a major percentage of remote employees. With its mobile apps, all your employees can communicate with each other and customers on-the-go. 

Highlights: 
You can build smart call routing paths to redirect customers to the right agent. 

Its voice intelligence feature captures what was said and by who on each call. 

Allows you to send SMS, MMS, or create group chats with anyone.  

Enables you to coach call center agents with feedback from real conversations. 
Pros
Excellent call quality

Easy setup

Analytics of calls and meetings

Call, meeting, and voicemail transcripts with high accuracy
Cons
Some features are available only with an upgrade

You have to pay for toll-free numbers even with an upgrade

International messaging and fax are available only for the US and Canada
Pricing
| | |
| --- | --- |
| Standard ($15/user/month billed annually) | Pro ($25/user/month billed annually) |
| Unlimited calling, call controls (transfer, hold, mute), custom voicemail greeting, voicemail transcription, and more | All standard features, local number support in 50+ countries, custom off-hours routing, API & webhooks, and more |
4- Monster VoIP
Monster VoIP is one of the top 8×8 competitors. It provides multilingual support for iOS and Android devices. You can even use its screen sharing functionality to conduct online presentations and hold virtual meetings within the company. 

Highlights: 
With its auto-attendant feature, you can deliver pre-recorded messages or redirect calls to your smartphone. 

Its unified communications system allows you to collaborate with your team via audio and video conferencing. 

You can view and reply to customers' messages using any mobile device. 

Record calls automatically to evaluate and improve your team's performance. 
Pros
Affordable pricing

Highly responsive customer service

Can be used on any device – Windows, Android, Mac, or iOS

New features added regularly
Cons
A few instances of service outages

Issues with porting numbers from other VoIP services

Unlimited calls and messages only within the US, Canada, and North American toll-free numbers
Pricing:
Happiness ($27/month or $270/year)
Team collaboration messaging, team presence, video conferencing, unlimited calls within the US & Canada, voicemail-to-email, call recording, and more
5- CallTrackingMetrics
The conversion tracking feature makes it one of the best alternatives to 8×8. You can monitor which of your campaigns' driving calls, form fills, and chats with keyword-level marketing attribution. You can also manage your contact center on one platform. 

Highlights: 
Its UCaaS platform lets you know who is calling, their previous history with the company, and their referencing campaigns. 

Redirect incoming calls, texts, and form submissions to the right agents based on agent queues, location, and availability. 

Live listening tools to assist your staff in real-time. 
Pros:
Dial-by-name feature with all plan.

It provides unlimited storage.
Cons:
IP phones are supported only above the base plans.
Pricing:
| | | |
| --- | --- | --- |
| Business ($39/month) | Marketing ($99/month) | Contact Center ($299/month) |
| Call and text tracking, live phone, email, and chat support, basic call routing, call recording, scoring, and tagging | Live chat widget to engage prospects, conversion analytics, automatic scoring, and more | Predictive dialer, live agent performance reporting, dedicated onboard support, internal team chat, and more |
6- Ytel
Ytel is yet another great 8×8 alternative. Thanks to its all-in-one blended solution for call centers, marketing, and sales teams, you can now handle customer queries and convert prospects using the same platform. 

Highlights: 
Predicatively call customers and maximize your team's productivity by reducing the wait time between calls. 

Nurture leads by scheduling voicemails, emails, and text messages based on the disposition of your prospects. 

Receive and make calls without worrying about carrier complexities. 

Scale up or down by paying only for the minutes you use. 
Pros:
Provides exceptional customer service

Easy and quick setup
Cons:
No International free calls
Pricing: 
Human agent license ($99/month) + local phone number ($1/month)
Automated nurturing, answering machine detection, call recordings, call menus, and more
7- Grasshopper
While Grasshopper is not as feature-rich as others in this list, it still is a great alternative to 8×8. It provides extensions to each employee or department in your organization, transcribes voicemails, and 24/7 automated attendants that interact with your customers outside the business hours. 

Highlights:
Take calls from multiple people at the same time on the same number. 

Transfer ongoing calls to another number when needed. 

Analyze your agents' performance with detailed call reports. 

Provide quick updates to customers with business texting. 
Pros:
Easy to get started– simple onboarding

Even the basic plan contains the majority of the features
Cons:
Cannot manage complex business scenario

Limited collaboration tools
Pricing
| | | |
| --- | --- | --- |
| Solo ($26/month billed annually) | Partner ($44/month billed annually) | Small Business ($80/month billed annually) |
| 1 phone number and 3 extensions | 3 phone numbers and 6 extensions | 5 phone numbers and unlimited extensions |
8- Mitel 
Awarded as the best business tool of 2019 by Newsweek, Mitel is one of the top 8×8 competitors. Built on Google Cloud, Mitel combines all your communications and collaboration needs into a single solution. 

Highlights: 
Unlimited minutes per month on all plans. 

On-demand call recording to coach call center agents and improve their efficiency. 

Multi-party audio, video, and web (desktop sharing) conferencing. 
Pros
Flexible and reliable system

Seamless integration
Cons
Pricing:
| | | |
| --- | --- | --- |
| Essentials ($20.99/user/month) | Premier ($26.59/user/month) | Elite ($38.49/user/month) |
| PBX features, collaboration, conferencing, instant messaging, mobile apps, an admin portal, and more | Everything in essentials plus CRM integration, voicemail transcription, call recording, and more | Everything in premier plus archiving and operator |
9- Phone.com
Phone.com is a modern VoIP solution for entrepreneurs and growing businesses. From voice and text messaging to video conferencing, Phone.com has all the features you need to run your support and sales team successfully. 

Highlights:
Route incoming calls to one or many phone numbers based on the day and time of the call. 

Its call screening feature tells you which number was dialed with an audio message along with caller ID info. 

Greet your customer with the help of a voice tag (that helps customers choose the right option based on their issue). 
Pros
Provide international phone numbers in 31 countries

Unlimited extensions are included with all subscriptions

Browser-based video conferencing

Great mobile app
Cons
Inbound toll-free minutes are not included in the plans

Team messaging is not available

No free trial
Pricing:
| | | |
| --- | --- | --- |
| Base Account ($12.99/month) | Plus Account ($19.99/month) | Unlimited Extension ($29.99/month) |
| 300 monthly minutes, 2000 text messages, 1 local or toll-free number, and more | 500 monthly minutes, 3000 text messages, 1 local or toll-free number, premium hold music, and more | Unlimited monthly minutes, 1 local or toll-free number, premium hold music, voicemail to text, video meeting host, and more |
10- Intulse
What makes Intulse a great alternative to 8×8 is its flexibility to grow and change with your business. You can increase or decrease your extensions from one to 1,000 any time you want. 

Highlights:
Its mobile app helps you stay on top of your business all the time. 

Multi-way and conference capabilities give your team the power to connect with each other. 

Create customized greetings and IVR menus to pass crucial information to your customers while they wait in line. 

Allow your callers to dial by name or extension to reach the agent they have previously interacted with. 
Pricing:
Intulse has not made its pricing public. You will have to contact the company to get a quote. 
11- Intermedia
Intermedia combines voice, chat, and email queues into a single omnichannel experience, enabling you to offer the best possible customer service. It also provides real-time insights to boost agent-customer interactions. 

Highlights:
IVR to help customers with straight-forward concerns like checking their account balance or status of their request. 

Omni-channel routing to reach the right agent based on skills and idle time. 

Real-time dashboards to monitor live activity and agents' performance.

Send outbound voice, SMS, and email notifications so you can contact customers using their preferred mode of communication.
Pricing:
Intermedia has not made its pricing public. You will have to contact the company for a custom quote.
12- 1-VoIP
1-VoIP was built with the aim of retaining customers based on excellent service and support. All the services offered by 1-VoIP are contract-free, and they offer a 99.9999% uptime SLA (service level agreement).

Highlights: 
Extension to extension calling to streamline internal communication. 

Call parking feature to transfer the call to a designated "parking lot" extension where any free agent can take the call. 

Custom announcements to keep your callers informed about your latest offerings. 
Pricing:
Business VoIP (starting from $14.97)
Digital call forward, music on hold, extension transfer, call recording, hours of operation, virtual fax, and more. 
How To Find The Perfect Business Communication Solution?
If you are still hooked on the traditional copper wired phone lines, it is high time to make a change. Move over to business communication solution to enjoy making voice-over IP calls at the lowest possible prices ever. 
Well, the first step to find the best business communication solution is to research all the available options in an organized manner so that you are aware of the various offerings in the market.
Make a detailed analysis of your phone system requirements so that you are clear about the volume of international calls that you will be making on a daily basis. It is also a smart idea to research the various features of business communication solutions so that you are aware of what essential ones you will absolutely need to conduct routine operational transactions.

Once you have made a mental map of your communication requirements, the next step is to choose a credible business communication solution. You need to invest your time, energy, and money in a reliable provider who will be willing to go the extra mile to provide you with the best options for international calling.
Most business communication provider also customize packages to suit specific business requirements and modify the features list to make it more compatible with budget restrictions. It is important to opt for a business phone service provider that will provide excellent after-sales support and give your staff members the required training so that they can implement the new system smoothly
Steps to Get Started with CallHippo Business Communication System
Getting started with the CallHippo VoIP communication system is a simple three-minute process. All you have to do is follow the five steps outlined below.
Step 1: Sign up with CallHippo.

Step 2: Log in with the username and password, and this will take you to the dashboard.
Step 3: Click on 'Add Number' and select the US or any other countries you want to target in the 'Country' column. After that, you can filter the numbers as per your choice and select a number from the number pool.
Step 4: Make payment.
Step 5: Once you've established a centralized virtual phone number for your business, you'll need to add the rest of your team members.
After that, you must link your personal phone number to the virtual number. This enables you to make and receive calls from the country whose phone number you have chosen. That's it! However, keep in mind that the users who will be responding to the calls must first be entered into the system.
Wrapping Up
More and more companies are starting to use business communication systems due to the flexibility, reliability, and affordability it offers. However, not all business communication solution are the same. Make sure to check the features and scalability options before choosing a business communication system. 
WORDS THAT MAKE SENSE!
Read The Most Well Researched & Insightful Articles From CallHippo Team