The ever-increasing opportunities in higher education see millions of students worldwide choosing to study in a foreign country. Equally, schools and universities have opened their gates to scores of international students.
A significant need for students and educational establishments is a means of reliable and high-quality communication. Most documentation is efficient and economical through e-mail at only the cost of an internet connection. But voice communication through landlines or mobile phones becomes an expensive affair, not only during the admissions process but also on a quotidian basis.
Therefore, it is only logical that voice communication, too, has the same ease of transmission as documentation. And VoIP provides exactly this ease.
What is VoIP?
VoIP or Voice over Internet Protocol is a phone service that uses the internet instead of copper wires or cables in the PSTN networks. Sometimes also called internet telephony, broadband phone service or IP telephony, it is, in layman's terms, phone service over the internet. It is a technology which converts your voice into a digital signal, allowing you to make a call directly from a VoIP phone, a computer or laptop, tablet, etc. A report from Transparency Market Research forecasts that the global VoIP services market will peak at $136.76 billion by 2020 and touch a subscriber base of around 348.5 billion. This forecast comes on the back of rapidly evolving technological advancements, resulting in the introduction of advanced networks and increased adoption of these services.
With such massive growth, it was only a matter of time when educational institutes would start adopting VoIP, which is taking over the conventional PBX systems to become the preferred business VoIP phone system. VoIP allows three ways to do calls, including ATA, IP phones, and computer-to-computer.
What Are the Advantages of VoIP?
VoIP phone service offers a more economical, dependable, and secure communications solution to customers than the traditional PBX system. Furthermore, cloud-hosted VoIP, as the name suggests, has its hardware at a remote location and provides access to VoIP services to its customers through the internet.
How is VoIP Useful for Schools and Universities?
Handling all the admissions procedures for foreign students can necessitate speaking to them before their arrival, even interviewing them, or providing some guidance or instruction, some of which may involve a group of students. Individually calling and speaking with each would take up a great deal of administrative time and effort, not to mention the enormous cost of long-distance calling.
A VoIP Phone System can substantially bring down the cost of long-distance and international calls. International admission advisors and even the whole admissions team can use it for calling international students.
In keeping with the current environment of high expectations from parents, students, and other stakeholders and educational establishments are required to keep their communication efficient, accurate, and speedy. Traditional PBX systems are location specific, limited in features, and cumbersome in terms of scale.
VoIP Phone Systems, on the other hand, liberate you from the hassles of traditional telephony and turn it into an experience of seamless connectivity. Since such systems are hosted offsite by the service provider, schools are not burdened with costly hardware. What's more, they also come loaded with a host of sophisticated features.
 Features of VoIP Phones System
Efficient call routing and call queuing that connects callers to the right extension and reduces hold times.
Auto-attendant (IVR) that responds by providing the desired information, offering a call-back option, or directing the callers to voicemail.
Call forwarding for directing calls to another number when the staff/faculty is not available to take the call.
An ACD call routing system which simplifies call hunting and identifies the most relevant person to take the call
The conference call feature allows scores of people to join in on a conference call, whereas standard phone lines can allow only up to 3 speakers on a conference call, VoIP Phone Systems have no such restriction and, therefore, an unlimited number of people can join in on the call.
This is especially useful for admission advisors or teams for communicating jointly with several international students in a cost-effective manner. It also makes it possible for participants to join in on the conference calls from landlines, smartphones, computers, tablets, or other devices.
The Video Conferencing feature allows real-time video communication and is a great way to save time and costs.
Voicemail-to-Email is another useful feature that routes accurately transcribed voicemails automatically to a mobile phone or other data-driven devices.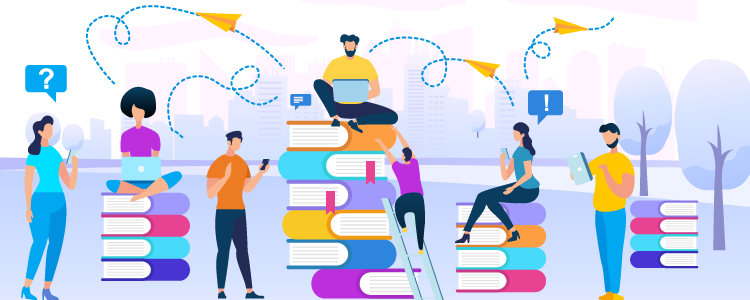 Online Phone number
The Direct Inward Dialling (DID) number is a telephone number on the internet which can be used for making and receiving calls on any data-driven device connected to the internet. An international DID number is a toll-free or local VoIP number that allows call forwarding to any location in the world. No matter which location, DID numbers forward calls to the users and the callers only pay the local tariff. Such numbers include incoming call forwarding and outbound VoIP calling features.
Virtual Phone Number and its Benefits
Virtual Phone Numbers serve to establish a local presence in various locations. Thus, school or university administrators can allow the caller to be charged at the rate of a local call, no matter where the call is made from.
Universities and schools can display a Virtual Phone Number on their website to generate more inquiries for their programs, as well as a follow-through. It acts as a toll-free number, which is free for callers and is appealing to international students seeking information. It also provides the institution's caller information (Dialled Number Information), which they can then use for global promotions of their various programs.
It is also possible to have multiple virtual telephone numbers with local area codes.
Professors or teachers can also use a virtual phone number as a secondary telephone number on their existing phone. Since this secondary number has nothing to do with a telephone line but is used only for forwarding calls to a pre-defined number, they can easily share it with students and still hold onto their private numbers.
A shift to VoIP gives educational institutes a complete business phone system.
How is VoIP Useful for Foreign Students
Being far away in a distant land means frequently longing to hear the voice of family and friends back home. Most foreign students do not usually have unlimited funds at their disposal. However, this is one expense that they cannot dispense with entirely and in foreign countries, on an international network, these expenditures can be expensive.
Consider a student from France studying in the USA. Generally, in France, as with most of Europe, the customer buys the phone and pays for the mobile operator's services every month. This is because they use the GSM network where the connectivity is through the SIM installed into the handset.
In the US though, both CDMA and GSM networks are in use. Of the major carriers, AT&T and T-Mobile use GSM networks, which means, they use removable SIM cards. However, Verizon and Sprint use CDMA. In CDMA handsets, the network details are embedded, and the phone connects to that network automatically when in range.
For instance, Orange, the largest mobile service operator in France, currently has plans costing €29 euros for 31 days for only 3 GB of internet. With add-ons like international roaming, call and text charges can take this even higher.
Or, consider a student from the USA in South Africa. Their cellular networks tend to work on different frequencies and using the phone in South Africa could be complicated, especially if it is locked to its home network. Then again, South Africa has complex regulations (RICA) for purchasing local SIM cards. Even if all this were done, the international roaming packs are quite costly. A US-based MNVO such as Ultra Mobile offers data bundles of as little as 2 GB LTE at $23 per month, otherwise charging US$0.20 per MB of international roaming.
In such a scenario, VoIP offers foreign students an excellent option, a combination of maximum phone usage at minimum expenditure for staying in touch with those at home and others whom they wish to connect with during their academic pursuits. All that they need is a smartphone connected to a Wi-Fi router at a fraction of the cost of data bundles and then install a VoIP app on it.
VoIP – The Future of Voice Communication
The field of cloud business communications holds great potential in education, not only for the cost benefits to staff and students but also for its vast capacity to integrate and work across various platforms which will serve to transform teaching and learning processes in sophisticated ways. Higher education provides several tradeoffs in service, and VoIP provides several implementations that are impossible with traditional landline services.