Date: June 21, 2023
Local virtual phone numbers allow businesses to establish and strengthen their presence in various regions. On the other hand, toll-free numbers enable customers to reach out to companies for free.
However, choosing the right one for your business can be confusing and overwhelming. So let us make things easier for you. We will explain what a local phone number and a toll-free number are, how they're different, and which one is best for your business.
What is a Local Phone Number?
A local phone number is a number associated with a specific region. The local phone numbers start with the three-digit local area code and are used by the businesses to communicate with the customers from one particular region only. 
The local phone numbers do not charge the companies for the incoming calls but only for outgoing calls. As a result, customers are more likely to pick up calls from local numbers than international numbers.
Benefits of a Local Phone Number for Businesses
Getting a local phone number for your business can benefit you in numerous ways, such as helping build a local presence, improving customer satisfaction, and enhancing business credibility. 
That said, let's understand the benefits of a local virtual number in detail.
1-  Builds Local Presence
No matter where your business is located, you can purchase a local number in any city. For example if your business is located in Belgium you can get a Belgium virtual phone number. If you're doing business in multiple cities worldwide, a local virtual number will make customers feel better about calling your business.
2- Adds credibility
Startups and small businesses face multiple operational challenges that make them prone to credibility issues. As a result, the customers think twice before selecting a startup over an established company. 
The local phone numbers improve the business credibility and help companies create trust and reliability in the specific region. In addition, it gives a sense to the customers that they're contributing to local businesses.
3- Gives a Professional Look
The last thing you'd want is to look unprofessional. When you use your personal number, that'll make you look unprofessional. However, when you choose a local virtual number, you get numerous advanced features including IVR, auto-attendant, and voicemail. These features can make even a single-person company sound like an enterprise.
4- Provides Consistency
Local phone numbers offer high consistency as these are not tied to one person. This supports remote working and ensures your employees can attend to customers, irrespective of where they are. This consistency further assures that you don't miss any calls.
5- Helps Improve Advertising ROI
People are more likely to call a local business than international companies. Therefore, you can use local virtual phone numbers in your advertising campaigns to drive more calls to your business.
How to Get a Local Phone Number?
Now that you know what a local virtual number is, let's understand how to install them.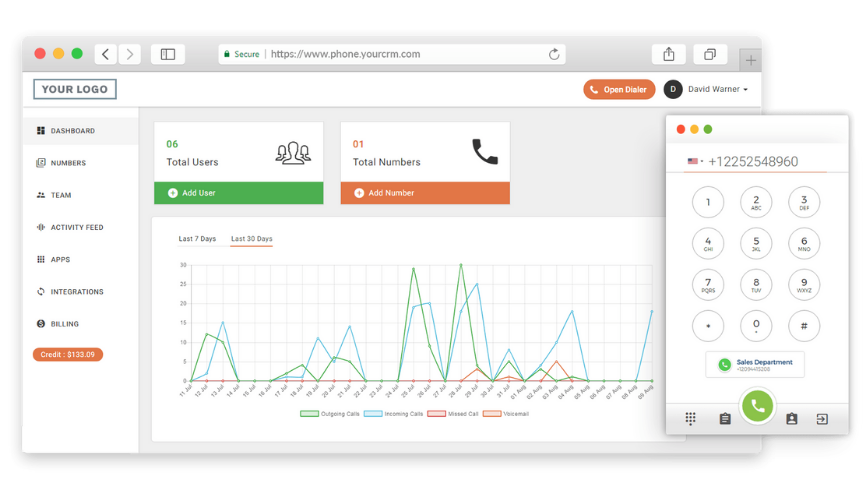 Here's how you can do that:
Step #1: Sign up with a reliable VoIP provider. 
Step #2:

Choose a local number or port your existing one. 

Step #3:

Make the payment.

Step #4

: Add your team members to the number (via extensions).
You're all set to use the number.
Drawbacks of Local Virtual Phone Numbers
Like any other tool or technology, virtual numbers also have certain disadvantages. Although it might not affect your business directly, it is good to know about them.
Calling a local phone number from a different country can be costly for your customers. Therefore, you'll need to buy a toll-free number for your customers in other countries. 

A local phone number might make an impression that you're a small business unless you prove otherwise.
What Is a Toll-Free Number?
A toll-free number is a phone number that allows customers to reach out to a business for free. A toll-free number is not associated with any city. Instead, it is linked with a country. This can help you increase your sales significantly. 
The toll-free numbers start with the prefixes like 1800 and are usually used as the business inquiry number or customer service department number. Thus, the businesses pay for both – incoming and outgoing calls on toll-free numbers.


Another reason to invest in a toll-free number is that it helps increase the chances of brand recall. For example, the toll-free number of Samsung is 1800-5-SAMSUNG (1800-5-726-7864). You can also choose a toll-free number that represents your brand and increase brand recall. 
There are two available options in the toll-free numbers, i.e., a domestic toll-free and an international toll-free number. The domestic toll-free number allows customers from a country to call you for free, while the international toll-free number lets customers from across the world reach out to you for free. 
Let's dig deeper into the benefits of toll-free numbers for businesses.
📺 Watch Now For Exclusive Insights : Toll Free Numbers – How It Benefit Your Business & Where To Get One 
Benefits of Toll-Free Numbers for Businesses
Toll-free numbers help you provide better customer service, enhance brand image, are a great marketing tool, and reduce operational costs. Let's understand the advantages of toll-free numbers in detail.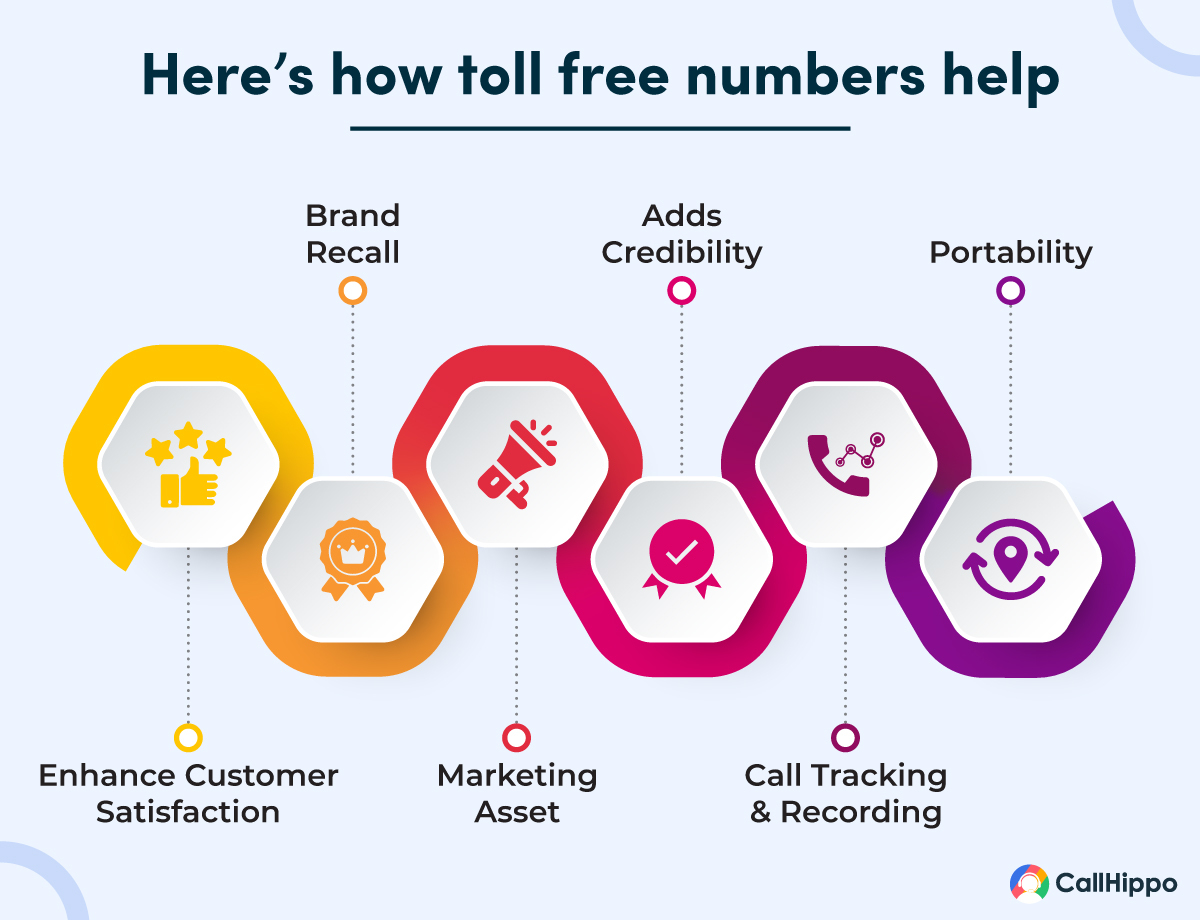 1- Improves Customer Service
Many customers prefer to communicate with the business before making a purchase. This call is the companies' first and often the last chance to convert the lead. The toll-free numbers provide much-needed support to the customers as they can reach the businesses without paying anything. This also comes in handy when the customer wants to solve an issue after making the purchase.
2- Enhances Brand Image
At the most basic level, having a free number that customers can call anytime and get their issues solved makes your company look good. Besides, toll-free numbers are recognized as business contact numbers, and any organization using them is less likely to be seen as a small-time operation.
3- Can Be Used As A Marketing Tool
Google says that many customers engage with businesses directly through the "click-to-call" feature. This means that by promoting your business using the toll-free number, you can maximize the number of callers.
4- Helps Improve Your Products and Services
Like local virtual numbers, toll-free numbers come with several useful features like call recording, call monitoring, and real-time analytics. You can use these features to gather actionable and valuable data about your customers and improve your offerings accordingly.
5- Cost-effective
Cloud-based toll-free numbers are easy to configure and accessible by businesses of all sizes. Besides, they cost less than traditional phone services. This makes it easier even for startups to acquire a toll-free number and give the benefits to their customers.
6- Integrates With Your Business Tools
You can easily integrate your toll-free number with other business applications and create a connected workplace. This will help improve the productivity and efficiency of your sales and support teams as they'll be able to access necessary customer data without hopping between tools.
How to Get a Toll-Free Number?
Now that you know what a toll-free number is and why you should invest in one, let's understand how you can get it. 
The process is similar to getting a local virtual number. All you have to do is follow these steps. 
Step #1:

Sign up with a reliable VoIP provider. 

Step #2:

Choose a toll-free number or port your existing one. 

Step #3:

Select a plan.

Step #4

: Add your team members to the number (via extensions).
You're all set to use the number.
Disadvantages Of a Toll-free Number
Toll-free numbers are not foolproof. They also have certain disadvantages, such as unnecessary calls, and are not a standalone medium for calling.
1- Unnecessary Calls
Since calling your company becomes free, it might result in many unsolicited calls. Miscreants can use it to their advantage during their leisure time. This might make it difficult for your agents to deal with people who are not interested in your products and services.
2- Is Not a Standalone Medium
You cannot just keep a toll-free number to boost your sales number. You'll also have to use local phone numbers for sales and establish a robust local presence.
Domestic vs. International Toll-free Numbers
As the name suggests, domestic toll-free numbers work in a specific country only, while international numbers have a global reach. In addition, the domestic toll-free numbers come with the least restrictions and affordable costs compared to international toll-free numbers.
Difference Between Toll Free Number Vs Local Number
Although we've discussed the two types of virtual numbers briefly above, let's look at the key takeaways from the local vs. toll-free numbers. 
Local virtual numbers help build a local presence and support your marketing efforts. On the other hand, toll-free numbers are easier to remember and convey your organization as a large enterprise.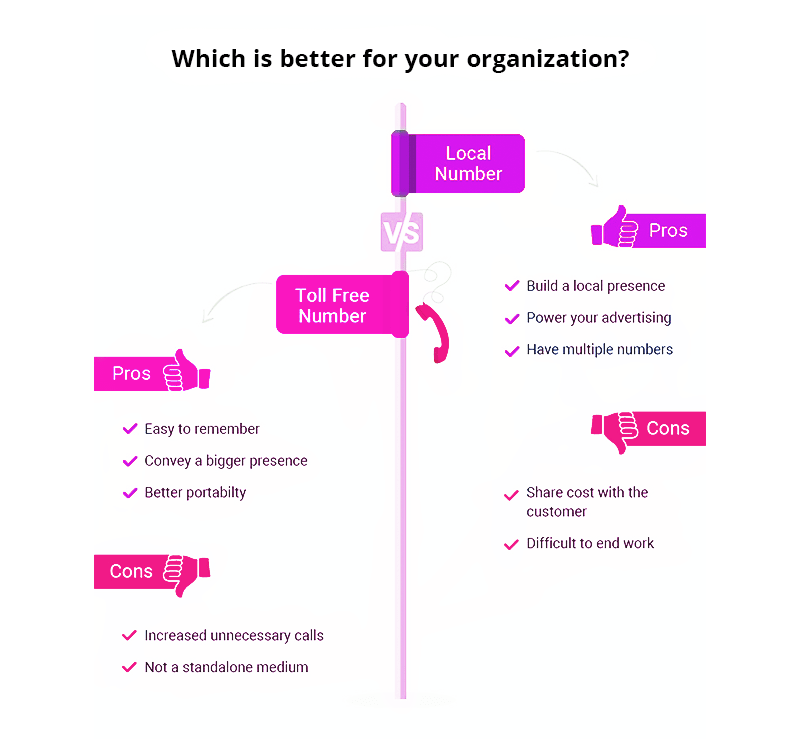 ( Source: callgear )
Local Virtual Numbers vs. Toll-free Numbers: Which One Should You Choose?
The right one depends on your business's needs. For example, if your primary audience is concentrated within one or two area codes, a local virtual phone number would be the right choice. 
However, a toll-free number can be more beneficial if your customers are spread across multiple cities and states. 
You can also get both local and toll-free numbers for your business and benefit from them. For instance, you can use local numbers for sales while toll-free numbers for support. This will help build trust with both existing and potential customers. 
You'll also have to consider the prices when choosing between local and toll-free numbers. 
Local numbers allow you to call your customers at local rates, and they'll be charged as well when they call you. However, when you choose a toll-free number, you'll have to pay for both incoming and outgoing calls.
Recommended Reading: Why Getting Toll-Free Numbers Is the Best Thing For Your Brand
Wrapping Up
Both local and toll-free phone numbers are beneficial for businesses. Weigh the pros and cons of both types of numbers before choosing one. 
Clear differentiation between the local phone number and toll-free number help establish the proper selection for your business requirements. 
In short, a newly opened business can go for the local phone number to establish its foothold in the highly competitive markets. But on the other hand, the established companies aiming at a global presence can go for the international toll-free numbers or vanity numbers to attract large audiences.
However, the good part is that you can get both local and toll-free numbers for your organization. 
WORDS THAT MAKE SENSE!
Read The Most Well Researched & Insightful Articles From CallHippo Team