Date: January 5, 2023
Enterprises are rapidly expanding their business across domestic as well as international regions. Hence, there is a rise in cost-effective solutions that improve their communication and collaboration with remote employees has increased. As VOIP tools are cost-effective, support enterprise mobility, and are favorable for wireless telecommunications infrastructure, its demand cropped up like mushrooms.
As per a survey, Voice over Internet Protocol corporate consumer users will increase to 204.8 billion by 2020, accounting for the US $86.20 billion in global revenues.
VoIP makes use of the internet to make or receive calls. One of the widely used VOIP tools for internet calling is VoIP App. It refers to a piece of software that enables you to leverage Voice over Internet Protocol features and functionalities on your computer, mobile phones, and tablets.
Before we head towards the types of VoIP App, let us cumulate the kinds of services VOIP render.
Types of VoIP Services
VoIP comes in different forms. Here's a look at some of the most popular business VOIP phone services
1. Residential VoIP Services
Here, to leverage internet calling, you need to use an adapter to connect your landline with the Wi-Fi modem. Based on the plan you opt for, you'll require paying bills either for unlimited service or for the features or minutes you use.
2. Device-based VoIP Services
It requires purchasing a VoIP device from a service provider. What you need to do is plug this device into your landline. You can then make and receive calls for free within the specified country. Thus, you can enjoy a VOIP phone number with your existing telephone set. Besides, you can free yourself from the hassle of monthly bills.
3. Software-based VoIP Services
One of the most popular and commonly used VoIP services is software-based. You can access the software-based application online directly from your browser or install it as software on your desktop. You can then use your PC's audio input and output device to talk and listen.
4. Mobile VoIP Services
Similar to software-based services, mobile VoIP service is also an application. Anyway, you have to install it on your mobile devices instead of computers. You can thus make or receive calls irrespective of where you are. The only thing that matters is you must have a reliable internet connection.
5. Business VoIP Services
You can choose between any of the two options business VoIP services offer – on-premise and cloud-based. Both of them offer a cost-effective communication solution as compared to conventional phone lines. Additionally, they provide a wide range of features – call forwarding, call transfer, call barging, call recording, ring all, voicemail, call analytics, collaboration, IVR, and more. These services are scalable, and top service providers offer complete technical support. 
On-premise business VoIP services require companies to purchase all the necessary equipment and house it in their office. It needs substantial capital investments. Moreover, companies need to take care of hardware maintenance. On the contrary, cloud based services are hosted by providers. Thus, you don't need to spend either on physical infrastructure or its maintenance and upgrades.
6. Analytics-based VoIP Services
The latest and most advanced of the lot, these help you analyze agents' and customers' speech and get several insights through a thorough analysis of calls. With the best speech analytic software by your side, you can understand users' mindsets and perceptions and simultaneously understand the effectiveness of your agents' resolutions.
There are Best VoIP apps available in the store. Each of them varies with its characteristics and features offered. Here, we have categorized different types of VoIP Apps based on their properties and functionalities.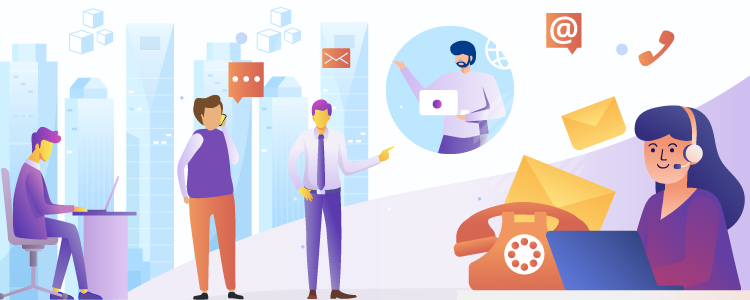 Types of VoIP Apps
1. Free vs. Paid VoIP Apps
Most of the VoIP apps are available free of cost. The free apps include those that – 
Comes along with a VoIP service

Is offered by renowned software manufacturers

Is available for benefits like an advertisement, promoting a website or line of products and services
On the contrary, paid VoIP apps come with additional features that make a call for the users to make the payment. You will require funding for a VoIP app to utilize business-related features like call recording, ring all, and more.
2. Web-based vs. OS-based VoIP Apps
Many would fancy the idea of downloading and installing an app to make calls at a cheaper rate. Well, web-based apps are those that can be embedded in your browser. An example of that is Gmail calling. You can use this app within your Gmail inbox. Moreover, when you find the need to download an app to install on your PC, you must first determine the operating system you are using. Then, you can get the app that will fit your requirements.
3. PC vs. Mobile VoIP Apps
Downloading and installing a VoIP app is not the same when you do it on your mobile device. Here, you need to log in from your mobile phone to a particular page of the given website and follow the instructions. Also, ensure that the app supports the phone model you are using.
4. Service-based vs. SIP-based VoIP Apps
Each VoIP user holds either a number or an address to get contacted. It can be a phone number, username, or a SIP address. VoIP service providers let you use the username or phone number you received at the time of registering for the service to access the app. There are some service-independent apps that you can use with any services. Such apps make use of the SIP address. If you are looking forward to using such apps, consider leveraging VoIP service with SIP protocol.
Why should you use a VoIP App?
As compared to traditional and landline phones, VoIP brings in a lot of advantages. From being pocket-friendly to being scalable, a VoIP app lets you connect with your peers in any corner of the world from wherever you are.
Entrepreneurs, freelancers, and small business owners prefer using communication solutions that they can leverage at their convenience. They prefer opting for softphones rather than staying tethered to desk phones. Moreover, sales personnel who spend most of their time traveling will always prefer mobile VoIP Apps.
Besides, with a local phone number, you can establish your business' presence at any specific city, area, or country.
As a VoIP app is the fundamental element of cloud communication system, it comes along with a myriad of features that enriches your communication experience.
What do you require for using a VoIP App?
There are no extraordinary requirements for leveraging the benefits of a VoIP App. All that you require is probably what you have.
A mobile phone, tablet, or PC

An active internet connection

Microphone and earphone or speaker

A VoIP service provider

An internet phone number that identifies you uniquely on the internet
If you have an account with a VoIP service providers like CallHippo, you get a local phone number or an internet business phone number at the time of registration. Thus, you need not bother about this requirement.
When it comes to communication, VoIP apps have proved to be beneficial with its diversified features. VoIP Apps bridges the gap between voice calls and other forms of digital communication. With VoIP apps on your phone, laptop, or tablet, you can use it just as you use other apps like Gmail, messaging platforms, and other communication channels. As it is flexible, budget-friendly, and simple, VoIP apps are the future of communication.
WORDS THAT MAKE SENSE!
Read The Most Well Researched & Insightful Articles From CallHippo Team