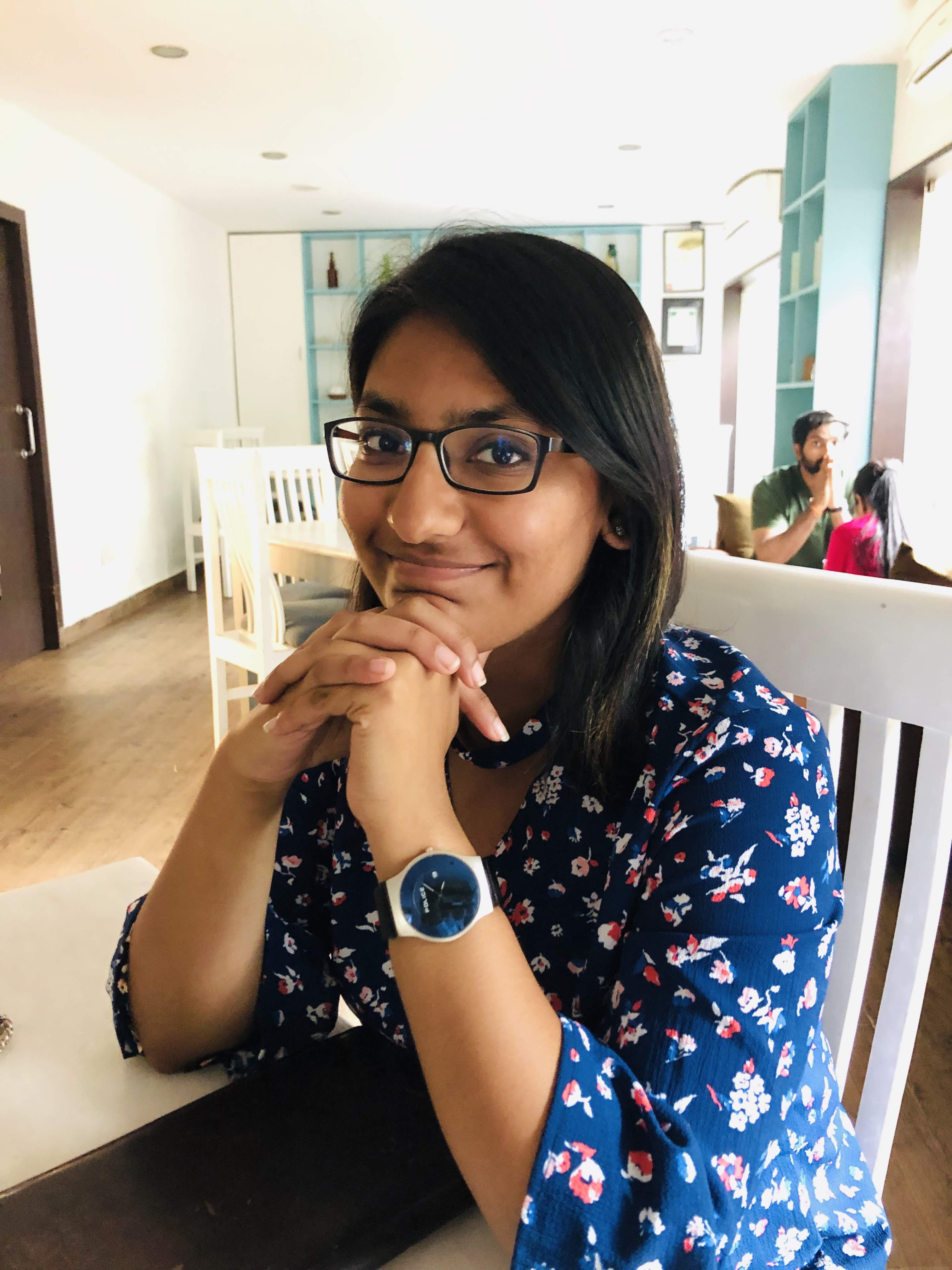 Date: November 30, 2022
The world is rapidly changing and becoming extremely tech-savvy with each passing day. Getting the latest technology on your side is probably the only way to stay ahead of the competition. A number is another such powerful tool.
The communication sector is at the forefront of change and transformation. It is incorrect to say that traditional phone communication is dying and that texting has become the new normal. However, the focus has shifted from the bulky and expensive traditional phone systems to cost-efficient virtual ones.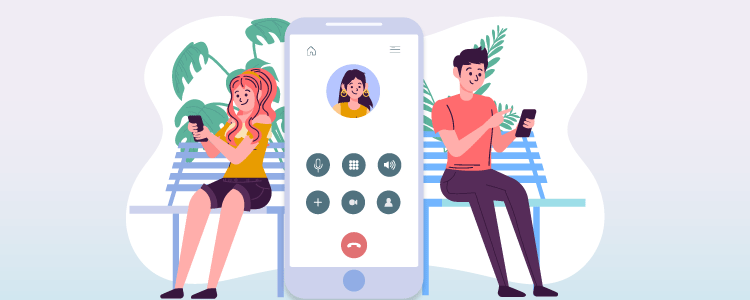 How To Get A Virtual Phone Number?
Step 1) Visit virtual phone number provider's website [Ex: CallHippo]
Step 2) Sign up with your individual or business details [Ex: Name, Email Address]
Step 3) Then Purchase virtual phone number and start customizing the virtual phone number settings according to your use case
Step 4) Once you get the virtual number , a product expert from virtual phone number service provider will contact you and help you to set up the number and will answer your questions.
Step 5) You can also call the service provider directly or fill out the demo form on their website to get a virtual phone number.
Note: By following the above process, you can get a Finnish phone number, a UK phone number, a Singapore phone number and more than 50+ countries.
Get Your Number Now!
Features of a Virtual Phone Number and why they are useful
Now that we have a basic idea of what a virtual phone number is, let us look at some of the features that give it an edge over traditional phone systems. 
1. Automatic call queuing and forwarding
When a receptionist manually attends and forwards calls, it may so happen that several calls are queued up on one employee's line while another employee is sitting idle. Using traditional phone systems, it is difficult to even distribute incoming calls among employees.

A virtual phone system has the perfect solution for this! Incoming calls are automatically forwarded to the next employee if one is busy. Moreover, if there are a large number of incoming calls, then they are systematically queued and distributed among the employees.
2. Call recording
A virtual phone system enables you to record all calls. These recordings can be used to train new employees on how to handle difficult conversations with customers. These recordings also come in handy in case any misunderstanding arises or a customer files a complaint. 
3. IVR – Interactive Voice Response
Imagine your receptionist calls in sick on a busy workday? Or if he/she becomes frazzled by the huge incoming call volume and forwards the wrong call to the wrong department? Not only does this form a poor impression on a potential or existing customer, but it also disrupts the workflow and creates chaos.
This is where an IVR comes in. It acts as a virtual receptionist and handles the entire virtual phone system. It receives incoming calls, interacts with clients to find out their requirements, and then forwards the call to the correct department. This entire process is fast, efficient, smooth, and error-free.
4. Call barging
Call barging is like a spy feature that allows you to drop in on live calls and listen. The caller and agent will not be informed of your presence. Moreover, if you feel like you need to intervene in the conversation, you can speak to only the agent without the caller getting to know, or both of them together. 
This silent call monitoring feature goes a long way in ensuring high-quality customer service. It keeps the agents in check because they know that they are being monitored. It also lets you guide an agent out of a tough situation and prevent it from spinning out of control. 
5. Call conference
Another significant feature that you can use is call conference. This means that more than one person can talk together at the same time on one call. This comes in handy when the opinion of more than one person is required. 
Post the coronavirus pandemic, a lot of businesses have gone virtual. In such cases, physical meetings have been replaced with video or call conferencing. Using this feature, one doesn't need to consult with various people one by one. Everyone can join in on a single call and put forth their views. 
6. Voicemail
Sometimes, you may miss out on an important call. The caller can now leave a voicemail for you. You can access the voicemail from your email or any other sources which are convenient for you. This ensures that you always get important messages and voicemails and never miss out on an opportunity.
There are several other features that you can use. These were just a few of them. 
Why should you opt for Virtual Phone Numbers?
By now, it must be obvious why getting a phone number could prove to be a huge advantage for your business. However, it still has some more benefits to offer you apart from the features it provides.
1. No hardware or infrastructure
The biggest advantage of a virtual phone system is that it does not require any physical components. It does not need any hardware or infrastructure. No more dealing with bulky phone systems, entangled with wires!
A virtual phone number can be used from any device with a working internet connection. Since it is completely virtual, it does not demand periodic maintenance. You do not need any physical space to store and operate it. 
2. Easily scalable
Scaling a virtual phone system up or down is extremely simple. You do not need to purchase expensive hardware or set up any infrastructure. You can simply add users to your existing system. Thus, a virtual phone system grows with your business.
If for any reason, you want to scale down your system, then you don't need to worry about storing any hardware. You can simply remove some users from your system and adjust it according to your requirements.
3. Global connectivity
Using traditional phone systems to make international calls can prove to be very expensive. Companies rack up huge phone bills every week due to international calling. However, you can connect with people across the globe using a phone number at just a nominal rate.
This is because virtual phone systems route calls over the internet. You don't need a service provider to establish connections abroad. Thus, you will only need to pay for a high-speed internet connection to make as many seamless international calls as you want.
4. Remote access
Earlier, you needed to be present in the office to take calls made to your office number. However, now you can work on the go It doesn't matter where you are, you can attend to work calls as long as you have a device with a working internet connection!
This significantly improves the workflow and prevents any backlogs from occurring. It also goes a long way in promoting the work from home culture, which enables companies to hire talented individuals from all across the globe. 
In a survey conducted by Owl Labs, it was found that remote workers put in 40 hours/week of work, which is an astonishing 43% more than on-site workers. 
How to Make and Receive a Virtual Call?
Using a virtual phone call is similar to using a regular phone number. Here's how to make a virtual phone call. 
Log in to your virtual phone number provider's account. 

Enter the number you want to call. 

Make sure to use the right extensions (country and local code). 
Here's how to receive a virtual phone call:
Keep yourself logged in. 

Keep your internet connection on. 

Pick the phone just like you would pick a regular call. 
You can even set up call forwarding to redirect all the incoming calls to your phone number. 
Note: Use your provider's web or mobile app to make and receive calls easily.

How Does a Virtual Number Works?
This phone numbers are based on the cloud. Hence they don't need a SIM card or a physical address. Instead, it uses the internet to enable telephone calls, also known as Voice over Internet Protocol (VoIP). 
Virtual phone numbers use packet switching as opposed to traditional phone lines that use circuit switching. 
This means that this phone numbers first convert your analog voice signals into digital packets using VoIP Codecs. These packets are then transmitted to the receiver's system over the internet. The recipient's device then decrypts and converts the packets into analog voice signals. 
And, all of this happens within seconds, facilitating real-time communications.
While that was the technical explanation of how virtual numbers work. Here's how it works in non-technical terms:
Suppose you're based in the US, and you want to call your friend in Sydney, Australia. 

The phone number area code of Sydney is +61 02. 

You then buy an

Australian phone number

with the Sydney area code. 

When you dial your friend's number, the call is forwarded from your Australian number, and you don't have to pay for long-distance charges. 

The same goes for your friend. When they call your virtual number, the call is forwarded to your VoIP phone line in the US. 
This happens because phone number providers usually partner with carriers around the world. When a phone number is called in a particular city, their partners in that region send the call to your provider's network over the internet. They then forward the call to your phone.
Differences Between Virtual and Regular Phone Numbers
As mentioned above, virtual phone numbers are just like regular phone numbers but with some differences. So what are those differences? How do you decide which one is better?
Let's begin with traditional phone numbers. Regular phone numbers usually require you to install the telephone lines throughout the building to each desk phone. It is owned and managed by local telephone companies. 
A virtual phone number, on the other hand, is not bound to one location or desk. You can use your smartphone or desktop to manage business calls. This means your team can pick calls using the virtual number from their desks, at home, or while traveling.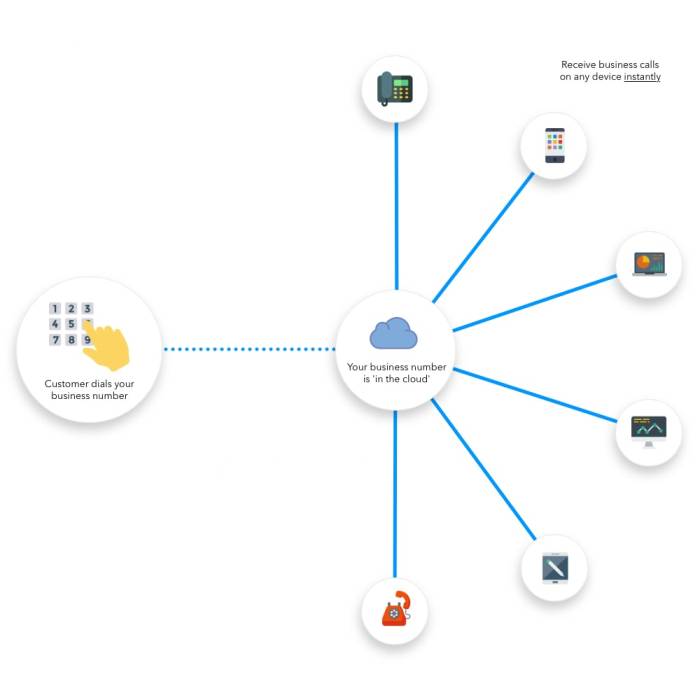 Other differences include maintenance and reliability. Traditional phone numbers often require you to pay the maintenance charges. Plus, they are prone to disruption, especially during disasters (earthquake, flood, short circuit, etc.).
Virtual numbers eliminate all these issues. Your VoIP system provider maintains them. Moreover, the providers have multiple data centers across the globe. This means even if your primary data center is affected, your calls will be routed from another one, thereby preventing disruptions.
And, this phone numbers support remote work! ?
Top 20 Virtual Number Service Providers In World
1. CallHippo

The first in our list of virtual phone number providers is CallHippo All it takes is 3 minutes to set up a virtual phone system with CallHippo. 
Besides, you can use it to integrate with 100+ tools and get access to local numbers from 50+ countries. What's more? 
It offers an easy-to-use interface, a robust backend facility, and 24/7 customer support. 
Pros:
50+ third-party integrations on all plans

Set up an account within three minutes
Cons:
Features of CallHippo
It lets you make calls from the browser

Purchase local phone numbers at the drop of the hat

Supports call forwarding, analytics, tracking recording, and queuing

Facilitates easy collaboration with your team

It helps you interact with callers, gather information, and route calls to the right agent
2. Grasshopper

Ideal for small businesses, Grasshopper is one of the best phone number providers for china. Gor with grasshopper if you are planning to get Chinese phone number. It provides you with one professional phone number that you can use on your existing cell phone or landline. 
Moreover, you no longer need to worry about porting your virtual number, as Grasshopper lets you do that without any hassle. So go ahead and handle multiple calls simultaneously by leveraging top-class call routing facilities. 
Features of Grasshopper
Provides 360-visibility of your business interactions across multiple channels

It lets you make/receive calls using mobile or desktop

Converts voicemail to text 

It helps you record professional messages and welcome your clients
Pros:
User-friendly desktop and mobile apps

Fast and easy setup
Cons:
Not recommended for larger businesses
3. Phone.com

Phone.com is an application that lets you configure your  phone number with ease. You can easily block calls by adding the number to your phone account. 
Besides, it supports forwarding and screening. Interestingly, you can use it to dial any number by name dictionary and play on-hold music to entertain your customers. 
Pros:
Includes video conferencing

Plus plan users can get a free phone number.
Cons:
Call analytics is available only in the Pro plan.
Features of Phone.com
Facilitates instant setup 

It lets you create custom schedules

Sends multiple notifications for incoming calls

Supports easy call routing 

Syncs your address book with the phone application

It helps you personalize your call with greetings, voice notes, messages, and music

Send/receive SMS on any local number

Create and organize your groups and extensions

It lets you set your unique caller ID
4. MightyCall

Designed for small businesses, MightyCall is one of the favorite virtual phone number providers of customers. It lets you decline calls, accept them or send them to voicemail. 
MightyCall  phone numbers help you in many ways in day-to-day activities. It lets you set your flow and have a clear and conversational chart. You also get access to the complete history of your communications and run your company after business hours. 
Pros:
Dial-by-name feature with all plans.

It provides unlimited storage.
Cons:
IP phones are supported only above the base plans.
Features of MightyCall
Provides unlimited calling

It lets you select a tool-free or area code number without extra charges

Allows call recording 

Listen to voicemails and get instant notifications

Make/ receive calls from your PC using a softphone.
5. Hushed

Hushed is a leading virtual phone service provider that lets you make calls, send pictures, and text clients. Moreover, the application is extremely safe and stores your numbers in a secure database. Furthermore, it automatically responds to any text messages sent to your phone number. 
Pros:
Cons:
The App UI/UX needs some improvement

Very Bad Customer Service
Features of Hushed
Lets you add and manage more than one number

Provides access to your number using WiFi/data connection

It helps you keep your conversation private and secure

Allows you to record and customize voicemail

Lets you integrate with third-party apps
6. PhoneBurner

PhoneBurner is one of the best virtual number service providers that lets you make good business sales. Not only does it help with quality conversions, but it helps you integrate with tools like Zapier, Zoho, and Salesforce. Besides, you can use it to dial from any mobile phone without any hassle. 
Pros:
Excellent customer support team to handle issues

The phone app is very easy to use.
Cons:
The desktop application sometimes freezes.

When you move your connection from wifi to cellular, sometimes disconnect the call.
Features of PhoneBurner
Lets you dial numbers from local area codes

Offers many inbound phone numbers

Allows transferring calls to any number 

Offers 24/7 support and helps you set up your account

Simplifies the process of remote sales
7. Voxdirect

One of the best virtual phone number providers and text marketing tools, VoxDirect is a must-have if you wish to scale your business. You can use it to make calls from your desktop, track calls, and read through voicemails. 
Pros:
Its has a very good clarity of recording and phone connection with clients.

Good Customer Service
Cons:
The admin portal is less user-friendly.
Features of VoxDirect
Use virtual receptionists to call 

It lets you transcribe voicemails 

Transfer calls to the right agent

Allows you to connect with actual customers
8. ConXhub

ConXhub is the most user-friendly business phone system in the market. You can use it to create multiple profiles and numbers and even make/ receive calls from various numbers. 
Pros:
A great call quality.

Very good Chat feature.
Cons:
Not easy setup

UX can be improved for iPhone users.
Features of ConXhub
Offers highest HD quality calls

Lets you forward calls to mobile phones of any phone in the world 

Provides access to toll-free, local, or international phone numbers from the country of your choice
9. YouMail

One of the best and unique virtual phone number service providers in the market, YouMail protects you and your customers from spam calls. You can use it to track missed calls, leave a voicemail and make conference calls. 
Pros:
Very easy to set up and use.

Provides good customer support.
Cons:
Not that many useful features.
Features of YouMail
Offers custom voicemail greetings

Get access to visual voicemail.

Protects your privacy with a second phone number

Automatically replies to missed callers
10. VirtualPBX

If you wish to monitor your calls in real-time, VirtualPBX can be your pick. It provides automatic call distribution (ACD) and lets you manage the call traffic of a specific department. One of the best virtual phone number providers in the market, VirtualPBX lets you customize your phone number with ease and build a strong brand image in front of your customers. 
Pros:
Easy to use and easy to set-up.
Cons:
Poor call quality.

Too many additional charges.
Features of VirtualPBX
Lets you set phone availability 

Supports audio conferencing

Forward calls to unlimited devices 

Provides Salesforce CRM (Customer Relationship Management) integration

It lets you make calls from your web browser

Provides a status indicator that helps you to analyze the status of the VirtualPBX platform
11. TalkRoute

Talkroute lets you make/receive business calls with minimum effort. You get access to a variety of your numbers to fulfill your business needs. Talkroute lets you forward or route calls anywhere, send messages to your customers, and manage voicemails. 
Pros
Available for macOS, Windows, Linux, iOS, Android, & browser

24-hour video meetings
Cons
Can't purchase DID international number.
Features of Talkroute
Provides detailed call history

It lets you customize your welcome message

Offers 3 or 4 digit direct-dial extensions

Lets you set your phone availability

It helps you manage user accounts and permissions

It is easily accessible from Android or iOS phones
12. RingCentral

RingCentral offers virtual number collaboration solutions for small and medium-sized businesses. You can use it for team messaging, video conferencing needs, and calling. 
Besides, you need not install any hardware with it, and it is very easy to install it. RingCentral virtual phone is one of the best options when it comes to HD quality calling. 
Pros:
Unlimited calls within the U.S. and Canada 

HigherPlans include 10,000 toll-free minutes
Cons:
The base plan is limited to only 20 users

Expensive for startups.
Features of RingCentral 
Provides call forwarding facilities

Lets you host a maximum of 100 participants in an online meeting

Facilitates management of both incoming/ outgoing faxes online

It is available in 100+ countries with a local dialing plan and international virtual numbers

It lets you share file tasks and files online
13. Nextiva

Nextiva is one of the leading virtual number providers in the market and offers superb quality audio and video conferencing. Using Nextiva virtual phone, you can easily send/receive SMS and text messages from your mobile app. It even offers you a local toll-free number so that you can build credibility with local audiences. 
Pros:
All plans include video calling

24/7 customer support.
Cons:
Limited integrations with the base plan
Features of Nextiva
Provides access to customer's information when they call

Get automatic feedback from your clients.

Facilitates centralized information storage 

It lets you track customer interactions and provides a real-time view of clients 

Send online fax, text message, and SMS

Supports unlimited conference calling
14. Google Voice

Google Voice is a virtual number service provider that offers call forwarding, text and voice messaging, and call termination facilities. It works perfectly on the web and smartphones. Thus, letting you make calls from anywhere. Besides, it uses artificial intelligence (AI) to filter spam calls. 
Pros:
Offers free numbers

Porting in existing numbers.
Cons:
Works only with other Google apps
Features of Google Voice
It offers excellent customization capabilities 

Automatically transcribes your voicemail.

It lets you connect with other people and organize your tasks 

GoogleVoice lets you configure your PBX(Private Branch eXchange)

Can easily be integrated with Google Meet and Calendar
15. eVoice

eVoice is one of the best free virtual phone number providers in the market. It offers call forwarding and lets you welcome your customers with studio-recorded greetings. You can even use it to read voicemails with ease. Moreover, eVoice lets you get a local number in your city and forward it to existing phone lines.  
Pros:
Every type of virtual number available: local, toll-free, vanity, and international

The mobile app comes with complete business phone features
Cons:
Vanity numbers take over 72 hours to be activated.
Features of eVoice
Facilitates remote working by providing video conferencing facilities

It lets you make/ receive calls from mobile or your desktop

Offers call recording and call tracking facilities 

Supports speed dialing

It lets you block phone numbers easily
16. Bitrix24

Bitrix24 is one of the best virtual phone number providers that offers IVR (Interactive Voice Response) and automatic dialers. It lets you greet your customers through a welcome message. Bitrix24 lets you rent numbers in 43+ countries. Besides, it offers an automatic call distribution (ACD) facility. 
Pros:
Bitrix24 is an outstanding CRM meant for social collaboration
Cons:
Plans are very Expensive

Custom support is sometimes hard to reach.
Features of Bitrix24
It lets you work with any equipment, including computers, iOS, and Android

It offers a fully featured phone system

Lets you transfer calls to other departments of your organization
17. Ooma Office Phone

Ooma Office Phone is a web-based virtual number service provider that offers call recording, voicemail, and automatic call distribution facilities. You can set it up in less than 5 minutes and even port your number with ease. 
Pros:
For startups, an entry-level plan is affordable

Usable with existing analog phones.
Cons:
Toll-free service costs extra

Call duration is not trackable.
Features of Ooma Office Phone
No need to install hardware

Offers a cloud voice and business app

Provides local and toll-free numbers 

Offers 24/7 customer support

Lets you block any calls

Manage your phone calls from a smartphone
18. Virtualphone

Virtualphone offers numbers in 120+ countries and lets you record incoming and outgoing calls. You can even use it to send SMS to your phone number. Besides, it gives detailed information of callers like local time, operating system, web browser, and geolocation.
Pros:
Call scheduling

Live chat with voice
Cons:
The web version lacks advanced features.

Limited support channels

UI/UX needs to be enhanced
Features of Virtualphone
Supports live chat with voice

It lets you forward calls with ease

Send voicemail and fax

It lets you schedule calls with ease 

It lets you place international calls with ease
19. Exotel

Exotel is one of the best virtual phone number systems for small and medium-sized businesses, startups, and enterprises. It lets you record and forward calls. 
Moreover, it lets you identify calling patterns according to the volume of calls. In this way, you can reduce instances of missed calls. Besides, it can be completely customized to suit your business requirements. 
Pros
Very easy to use and monitor your calls

Affordable rates for small businesses
Cons:
The contact Management Feature is missing

After Sales Service is bad
Features of Exotel
Provides real-time notifications when you miss a call

Offers unlimited channels of communication

Includes a visual drag and drop dashboard

It offers a visual API that works 

It lets you track your productivity through call statistics

Provides automated call distribution functionality that redirects call to the right agents

Offers detailed analytics of each call
20. Vonage 

Vonage virtual phone provides you with a scalable, flexible voice message and video calling facility. It even offers a telephone keypad for dialing numbers. You can use it to make international calls and block/unblock numbers with your online account. 
Pros
Easy and rich interface

Reliable customer support
Cons
Can be on the expensive side
Features of Vonage
It lets you link any mobile phone with your virtual phone

Lets you change voicemail PIN with ease

Supports customization of voicemail

It lets you turn on/off caller ID or call waiting for facilities with ease 

Vonage virtual phone lets you easily set up the system

It helps you quickly turn on/off the call forwarding feature
FAQs
1. What is a Virtual Phone Number?
It is a telephone number that lets you make calls without a directly connected telephone line. Such numbers are designed to forward incoming calls to other numbers. 
2. What are some of the factors you should consider while choosing a virtual phone number?
Here are some important factors you must consider before investing in a virtual phone number.
Its pricing and what features it offers.

Is it convenient to set up the virtual phone system?

Does it offer services like call forwarding, call recording, and screening? 

Does it let you keep your business and personal phone separate?

How is the quality of phone calls?

Do they offer automated attendants, or does it route callers to the appropriate line?
3. Which are the best Virtual Phone Number Providers in the US & Canada?
Some of the best virtual phone number providers in the US and Canada include: 
Voxdirect

RingCentral

Google Voice

Bitrix24

Exotel

Avoxi

Grasshopper

Phone.com

MightyCall

Nextiva

VirtualPBX
4. Why do you need a virtual business phone number?
Virtual phone numbers are very helpful while running an eCommerce store or other any business. It is one of the best ways for customers to connect with you and grow your business. 
5. What is a VoIP Number?
VoIP number is a phone system that helps you communicate with other people over the internet. These applications also let you make conference calls, send text messages and SMS and even send online faxes. 
6. Are virtual phone numbers legal?
Yes, virtual phone numbers are completely legal, and you can use them in all countries. 
7. How to get a virtual phone number in India?
Here is how you can get a virtual phone number. 
Visit the virtual phone number service provider's website

Sign up with your individual/ business details

Choose and purchase any virtual phone number and start customizing the business number settings

Once you purchase the number, the vendor will help you set up the number and will answer your questions
8. How to get a free virtual phone number in the USA?
Follow these steps to get a free virtual phone number in the USA. 
Sign up with any of the virtual us phone number service providers mentioned above

Enter your details and complete the Signup process

Once you are done, you will be able to use all their features for the trial period

Choose your business location and the major consumer hotspot

Once it is done, your virtual phone number will get activated 
Wrapping Up 
So, this was all about the best virtual phone number providers in the market. Using them can help you simplify your business operations and serve your customers better. Still not sure about buying a virtual phone number.