Virtual PBX for Businesses
One-stop Solution To All Your International Communication Problems
What is a Virtual PBX?
A Virtual PBX is a business phone system that helps make phone calls using an Internet connection. PBX stands for Private Branch Exchange.
Businesses prefer to use this virtual phone system for day-to-day communications because of its efficiency and ease.
Unlike the PSTN (Public Switched Telephone Network) system, cloud PBX does not necessitate multiple pieces of hardware and equipment on the client-side. 
Not only is online pbx system technology smaller in size than traditional enterprise phone systems, but business phone systems softphone also comes with a variety of features such as auto-attendant, call forwarding, call routing, voicemail to email, real-time data monitoring, and analytics, and so on.
What Are The Benefits of Virtual PBX Phone System
1. Cost-Effective Solution
The first key advantage of using VirtualPBX service is that it is a low-cost business phone solution. For example, when you choose a traditional phone system over cloud based phone system, you will need to pay a variety of expenses and charges, such as installation costs, maintenance costs, equipment purchase costs, premise rent and infrastructure expenses, and so on. In contrast, when you use a cloud PBX system, you only pay for the service you consume.
2. Help Project Professional Image
Another compelling reason to use virtual PBX solution is that it assists businesses in projecting and establishing a trustworthy and professional image of their organization among the masses.
3. High Phone Call Quality
When it comes to offering excellent customer service, phone call quality is a vital factor to consider. The call quality must be good and free of interruptions or noisy signals. However, since old PBXs relied on telephone lines, this wasn't easy to achieve.
But, with the help of hosted PBX System, you can get excellent call quality since it operates over the internet, which is free of external noise or interference. 
4. Maximum Uptime
The on-premise PBX phone system is synonymous with frequent connectivity outages. Since the system relies on phone lines to communicate, any damage to one phone line will eventually disrupt the entire network. But, since cloud phone system the internet for connectivity, this is no longer an issue. 
You might experience a drop in connectivity only when your VoIP service provider upgrades the system. The rest of the time, you'll have the best connectivity, assuring seamless and round-the-clock customer service.
5. Third-Party Tools/Service Integration
As most organizations nowadays use multiple tools and services for their operations, integrating all of them together is crucial to ensure zero data loss as well as to streamline various processes. Fortunately, most of the best virtual pbx providers, such as CallHippo, offer third-party integration capabilities.
Businesses can use this functionality to integrate all of their tools with their phone system, making a single, full-proof and efficient enterprise phone service. 
6. On-demand Scalability
No company remains at the same level forever, right? They either expand or shrink with time. For this reason, it is critical that you avoid overinvesting in resources and services at the outset and instead scale your infrastructure as needed or as you grow. Unfortunately, this was not achievable with on-premise PBX since you had to acquire every piece of equipment from the beginning.
However, by embracing the cloud PBX system, you can successfully overcome this limitation.  
7. Exceptional Portability
The Covid-19 pandemic has shifted business, especially service-based businesses, to the virtual world. Nowadays, the majority of the workforce in service-based businesses works remotely. If you are also one of them, it is expected that the business phone service you use must have the highest level of portability so that it can be accessed from anywhere and at any time by any team member.
Fortunately, since the online pbx system operates via the internet and does not require any hardware or equipment other than a VoIP desk phone or headset, you can access it from anywhere in the world as long as you have reliable internet access.
8. Quick & Easy Installation
Installing a virtualPBX solution for small business will take no more than 3 minutes! Moreover, unlike with on-premise PBX phone systems, you will not be required to purchase or install any hardware plus you can troubleshoot your PBX Phone System without any technical assistance.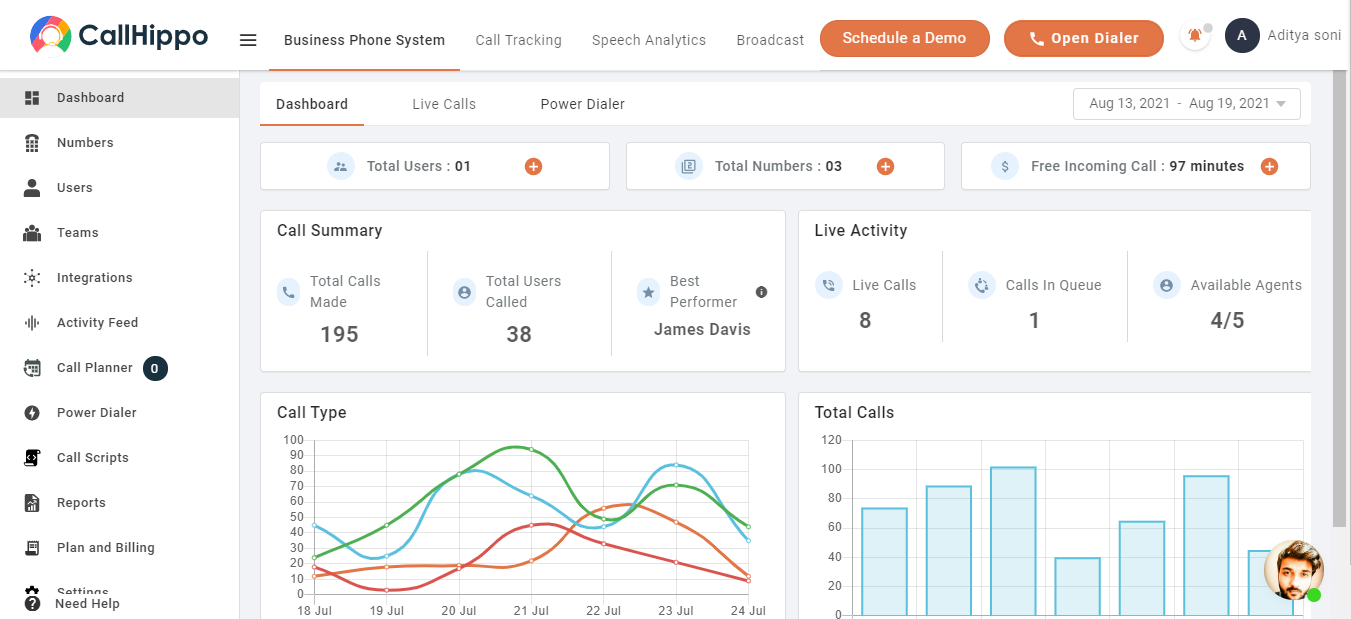 This quick and simple installation will not only save you time but also resources and recurring maintenance costs. So, if you are looking for a business phone system that can be rapidly deployed and maintained by even a non-technical person, cloud PBX is the way to go!
9. Impenetrable Security Cover
Protecting your customers' private information and preventing data breaches in your system is a crucial responsibility that every business should take care of. Even a minor data breach of your confidential business information can cost you a fortune. 
When you use a cloud PBX phone service, you don't have to be worried about system security since it is handled by your hosted PBX service provider. Your service provider will manage all software upgrades, firewalls, security patches, and other security issues, allowing you to focus on customer support operations only.
10. Real-Time Monitoring
 When you use a hosted phone system, you can monitor everything that happens in your customer support operations in real-time. For example, you may see how many calls are in the queue, how many are routed, which department has the most complaints, and so on.
This information will ultimately assist you in identifying and eliminating gaps in your process, as well as finding out which tactic worked best for your campaign and which does not.
These advantages will substantially accelerate your customer support operations while also helping you project a professional and reliable image of your company among the masses, as well as assuring your company's growth.
Why Businesses Should Use Virtual PBX Service providers?
In today's world, all businesses face fierce competition as the customer demand and quality of service provided by competitors increase. In these challenging times, one really needs to step up his game if he wants to survive in this brutal corporate world.
Traditional PBX systems have become old and obsolete. They are too expensive for the limited amount of services that they provide.
They are not flexible, come with a lot of bulky hardware, require periodic maintenance, have limited operations, and cost way too much. All in all, they do not meet the communication needs of modern companies.
Poor communication with customers, employees, or business partners proves to be severely detrimental to any business. One may lose potential as well as existing customers due to a lack of efficient communication.
Businesses today need a communication solution that is easy to use, efficient, and pocket friendly at the same time. The voip phone system is the perfect fit for all these needs!
For big and small businesses alike, getting a VoIP and IP PBX phone system is no longer optional.. It is a mandatory requirement in order to meet the demands of the customers and live up to their expectations.
You May Also Read: PBX vs PABX – Everthing You Need to Know
How To Get Your Own Virtual PBX System?
The best thing you can do to streamline & improve your customer support operations and increase client retention rate is to replace your outdated, inefficient, traditional enterprise phone system with a PBX phone system. As explained above, this advanced business phone service has many exceptional, business-oriented features and functionalities that will play a critical role in the success of your business.
All you need to do is follow these simple steps.
Sign up with us on CallHippo – Create a CallHippo account on your phone, tablet, or computer.
Get your virtual phone number – Choose from a local or toll-free virtual number for your business.
Add users – Get your employees and co-workers on board.
Customize your system – Adjust the settings and add features that suit your needs.
Start calling – You are all set to make or receive calls anytime, anywhere!
It's as simple as that. Sign up to Get Started

Frequently Asked Question
What's the difference between virtual PBX Service and a on premises system?
The basic difference is what's physically operated from your premises. In a traditional phone system, you need to spend time and money heavily, and you'll have to set it up (or hire someone to do it). A virtual PBX system is hosted by a third-party who manages and controls all the things from their cloud server, so no need of installing any hardware on your premises.
What's the difference between virtual PBX and a traditional phone system?
The basic difference is what's physically operated from your premises. In a traditional phone system, you need to spend time and money heavily, and you'll have to set it up (or hire someone to do it). A virtual PBX system is hosted by a third-party who manages and controls all the things from their cloud server, so no need of installing any hardware on your premises.
Can I switch my current business virtual number over to a new virtual PBX system?
Yes, you can switch to a new virtual PBX provider by just signing up to CallHippo and complete the required process.
How does virtual PBX differ from VoIP systems like skype or google voice?
Virtual PBX tends to have more features than VoIP services like skype and google voice. VoIP is mostly about making and placing calls, while a virtual PBX system is designed to manage and route incoming & outgoing calls. If you already have a Skype phone number or Google Voice, a simple number porting to virtual PBX system can allow you to forward calls to those numbers and also enables access to features such as call recording, IVR, call extensions etc. Basically, a virtual PBX system is more suitable to businesses & VoIP services are more intended for individual users.
What are hosted PBX, VoIP PBX, IP PBX, and IPBX?
These are all synonyms of the same thing. VoIP PBX, IP-PBX phone system, hosted PBX, and IPBX can all be used instead of virtual PBX.