Date: August 11, 2023
As an organization, you will have to build a solid IT infrastructure, particularly a communication channel that supports internal communication as well as customer support to promote work-from-home.
Like enterprises, remote working employees– another key stakeholder– also require an easy-to-use and advanced solution to carry out their tasks successfully.
Let's move on to know more about the need for remote office phone system and how it can enhance efficiency.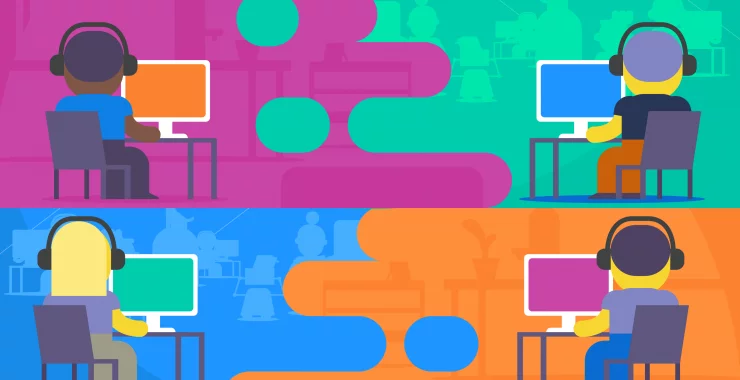 ( Source: chanty )
What is a remote office phone system, what are its benefits, what are its features, and how to get one? Let's dive in to understand all of these concepts.
What Is A Remote Office Phone System?
A remote office phone system is a cloud-based, sophisticated virtual phone system that enables businesses to make and receive calls using a broadband internet connection rather than a traditional analog phone line. Unlike traditional phone systems, which rely on circuit switching, cloud phone systems rely on packet switching.
The packet-switched network is superior to the circuit-switched network because it transmits only noisy data while eliminating dead space or silence.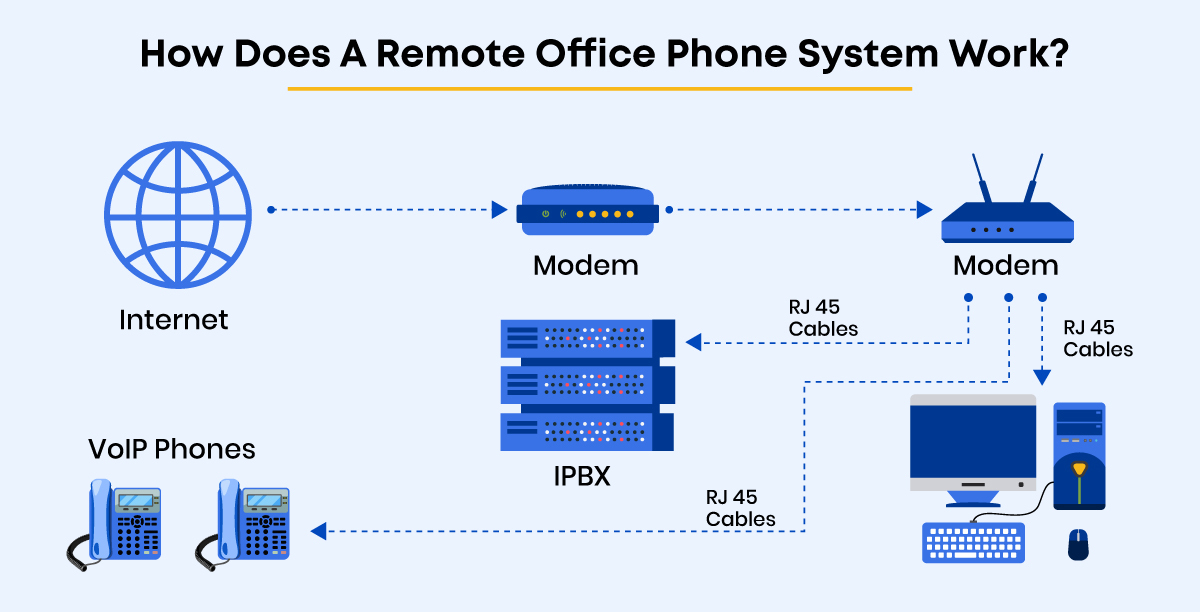 Along with better and consistent data transfer, the work from home phone solution includes a variety of advanced communication features that boost business communication as well as internal communication among the workforce.
Some of the notable features that most reputable work from home phone solutions, such as CallHippo, provide are as follows:
Interactive Voice Response (IVR)

Power Dialer

Automatic Call Distribution (ACD)

Call Monitoring

Advanced Analytics

Call Recording

Conference Call

Global Connect

On-hold Music
All of these features have their own advantages, but when combined, they create a comprehensive remote office work system suitable for all types and sizes of enterprises. Now let's take a quick look at some of the essential features of a remote workforce phone system.
Features To Look For In A Work From Home Phone Solution
Some of the features that every remote office phone system must have are listed below. Let us take a brief look at each of them.
1. Interactive Voice Response (IVR)
IVR is a telephony menu system that allows callers to be identified, segmented, and routed to the most relevant department or people within your organization. This work from home phone solution feature offers several benefits to enterprises, including effective call routing, caller data gathering, call prioritization based on value, help in managing high call volumes, and improved caller journey.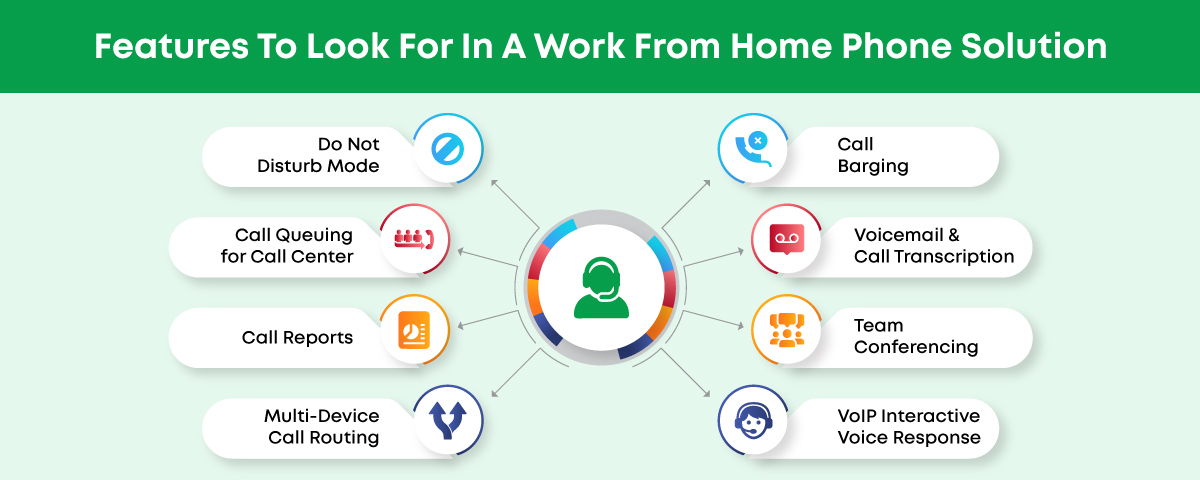 2. Customized Greetings
This work from home phone solution feature allows businesses to set unique welcome greetings for callers. In addition, companies can use this function to market their products or services, as well as to notify callers/customers about new products on the way.
Companies can also use the Music On Hold option to keep callers engaged while they are waiting in line. This will eventually bring down the call drop rate.
3. Call Queuing
Call queuing is a feature that keeps callers in a queue or on hold while the team or the agents are occupied with other calls. This work from home phone system feature is typically required during a high call volume period since it helps reduce the call drop rate.
Furthermore, the feature also informs in-queue callers about the scheduled call pickup time so that they get an idea about how long they will have to wait. Overall, this feature will keep customers engaged until someone speaks to them, lowering the call abandonment rate.
4. Call Barging
Call barging is a work from home phone solution function that allows a senior team member, manager, or any agent to join an ongoing conversation. The tool is meant to assist agents when they are uncertain about specific information or are having difficulty addressing a customer issue.


This remote workforce phone system function is particularly beneficial when it comes to training new agents. Senior agents can drop into an ongoing call and help the newbie agents as and when needed.
5. Call Forwarding
When you're at home, there are possibilities that you're not in front of the system all the time. So, in such cases, the call forwarding option can come to your rescue. This work from home phone solution function allows you to specify your personal or business phone number to which you want your calls to be forwarded in case the primary number does not respond.
According to recent research, 6 in 10 don't want to work from home full time, or stay in the same place consistently, so with this option; you can move around the house, perform chores, and manage all of your clients simultaneously without having to spend hours in one space.
6. Power Dialer
Another novel feature of work from home phone solutions that is particularly used for outbound calls is the power dialer. The tool immediately dials the next phone number from the directory and initiates the call as soon as the current phone call ends.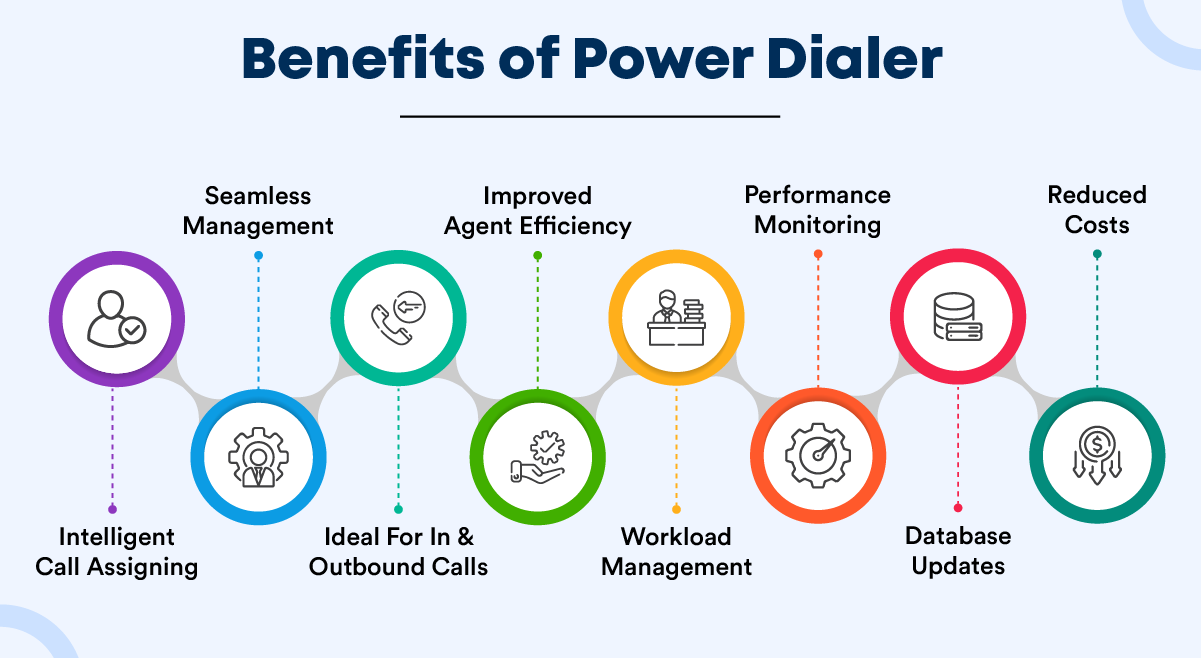 This function will allow you to cut down on idle time between calls and increase productivity. It also allows agents to be more efficient since they no longer have to waste time picking and dialing numbers.
7. Unified Communication
When the team is working from home, a unified communication channel that captures conversation data from multiple channels and organizes it in a centralized repository is required. Businesses will be able to achieve this goal to a considerable extent by using the cloud-based work from home phone solution. 
The system will allow you to collect all conversations and related data and store it in a single location.
These are the 7 features that every remote worker phone system should comprise of. However, in addition to these functionalities, there are several other factors to consider when choosing the best work from home phone solution. Remember that selecting the wrong VoIP phone system will cause more harm than good to your business.
Let's now take a look at some of the key benefits of the remote office phone system.
7 Key Advantages of Work From Home Phone Solutions
The following are the 7 key benefits of a remote workforce phone system that will improve the working experience and performance of agents. Remote office phone systems also assist organizations to stay ahead of the competition and provide seamless and on-time customer service. Let's take a brief look at each of these benefits one by one.
1. Enhances Professional Relationships
Even if you work from home, your client is expected to remain unaware of this. You can achieve this by leveraging work from home phone solutions. For example, the cloud-based remote worker phone system allows you to call using an official business number, giving the impression to the customers that you are an authorized employee and not a spammer.
Moreover, virtual phone system features like call routing, call barging, and IVR allows you to manage calls efficiently and without delays.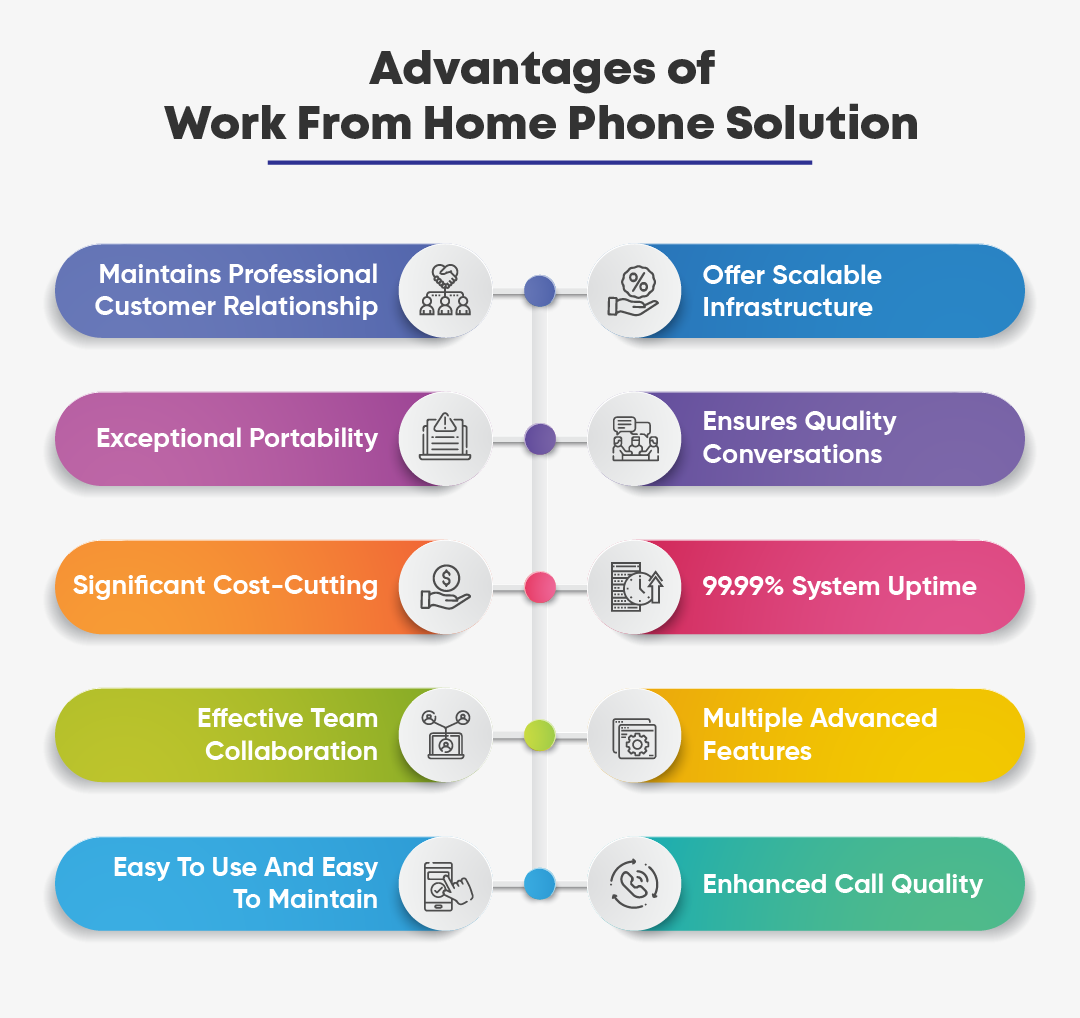 In addition, when a customer receives a call from a toll-free number or vanity number, they are more likely to accept the call since it gives the impression that you are a well-established or renowned company. This will eventually boost both the call pickup rate and the conversion rate.
2. Scalable Infrastructure
When you have adopted the work-from-home model, setting up a dedicated infrastructure at each employee's home is not practical. Fortunately, leveraging the cloud-based work from home phone solution, you will be able to build the necessary IT infrastructure by setting up VoIP phone systems at each employee's house without spending a lot of money or effort.
All you will need to invest in are IP phones and broadband internet– both of which can be easily available. Any employee who has access to these fundamental resources will be able to make and receive calls to the clients, as well as engage in the unified communication system for internal communication.
Moreover, the organization will not be required to purchase a premium service plan at the beginning and make a substantial investment. Instead, businesses can scale resources and services according to the growth.
3. Exceptional Portability
With a cloud-based work from home phone solution, you may answer calls from any smart device, such as a smartphone or a computer. All you require is a decent internet connection and an IP phone. This will allow you to attend calls and serve customers at all times, no matter whether you are at the office, at home, or sunbathing on the beach.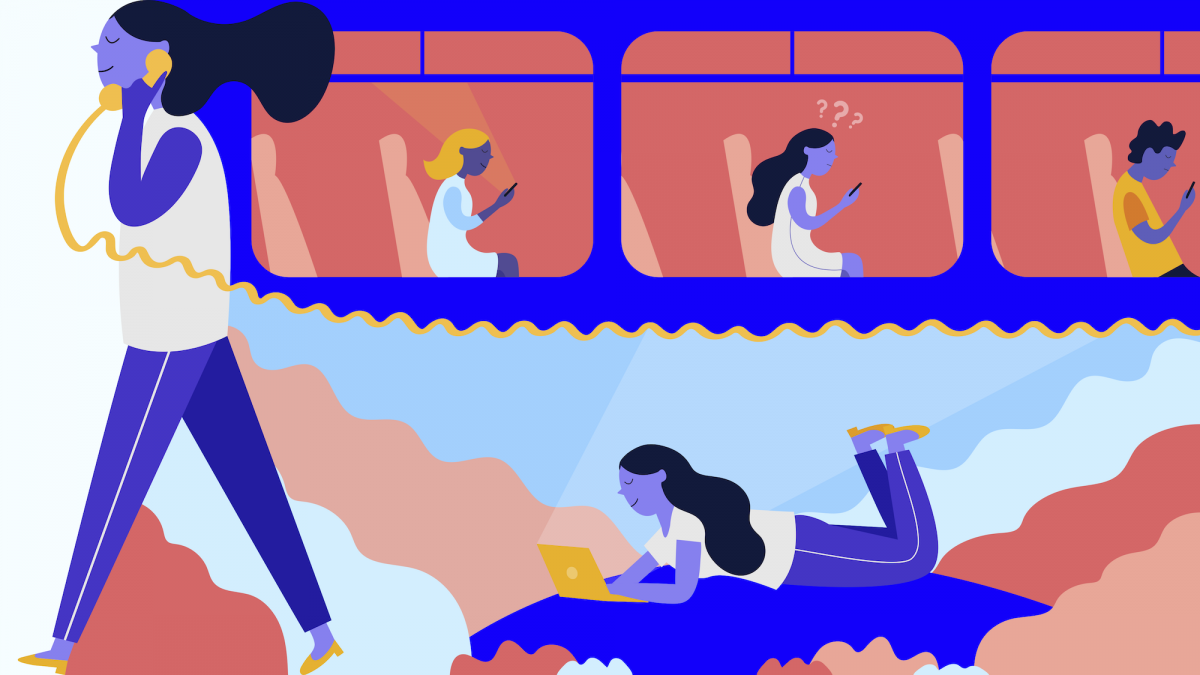 This level of portability provided by a remote office phone system enhances the benefits, including higher customer satisfaction, improved productivity, brand enhancement, and more. In a nutshell, higher portability will ensure that remote working has no negative impact on operations and that each incoming call is always answered without fail.
4. Ensures Quality Conversations
A flawless communication system is a basic requirement to ensure quality customer service and seamless internal communication. Enterprises can achieve this goal by leveraging work from home phone solutions that allow them to carry out customer service or internal communication activities in a seamless manner.
In addition, the cloud-based remote office phone system will also enable you to track various call center performance metrics, keep track of phone calls, monitor & record calls in real-time, perform advanced analytics, and much more.
Furthermore, the cloud-based work from home phone solution's unified communication ensures that all agents, even those working remotely, are aware of customer interactions and actions performed for each case.
This not only prevents agents from handling the same customer at the same time, but it also ensures that there is no communication discrepancy or that the customer conveys the same information every time, regardless of which agent handles the case.
5. Cost Cutting
Another significant advantage of work from home phone solutions is cost savings. As previously noted, investing in a remote office phone system makes it simple and quick to set up the necessary IT infrastructure at each employee's site. In addition, unlike traditional phone systems, you will not be required to invest in a large amount of hardware or maintain it.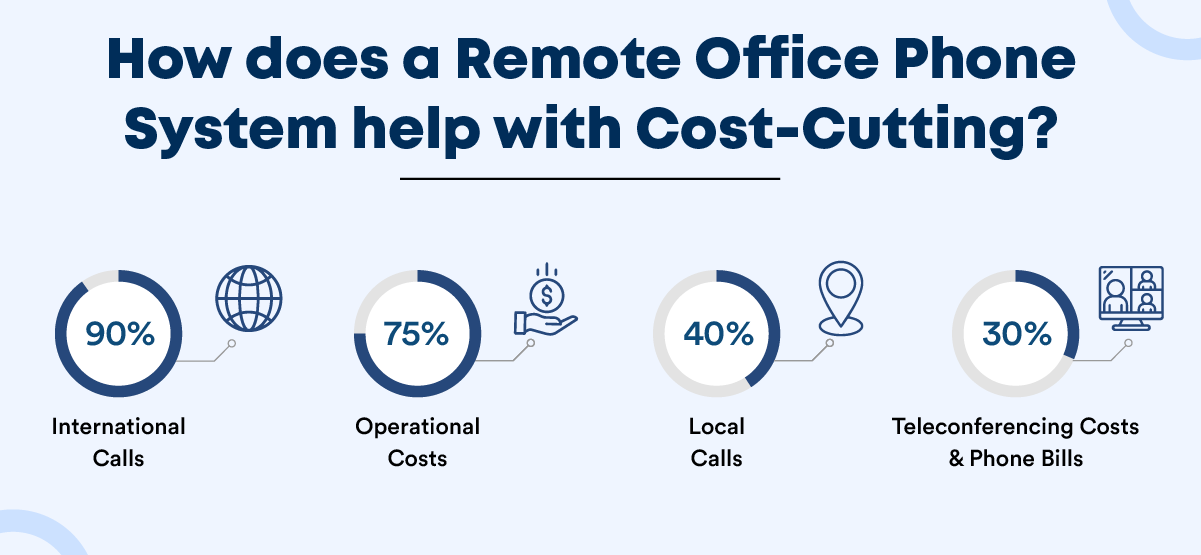 Also, when you use VoIP for remote workers, you will benefit from substantially lower call charges. Additionally, since VoIP providers maintain the cloud-based phone system, you or your employees will not have to pay for system maintenance. Instead, the VoIP service provider will be responsible for taking care of it.
Furthermore, because it is a scalable solution, work from home phone solutions will allow organizations to start with a basic plan and gradually scale up or scale down the service package based on the business growth. All of these factors will result in significant cost savings.
6. 99.99% System Uptime
When you invest in a cloud-based remote office phone system, you get exceptional uptime– the amount of time the system remains operational. Since the agents are geographically scattered across the region in a work-from-home setting, the system must remain operational at all times. Repairing and maintaining the system at each location would be both difficult and expensive.
Fortunately, work from home phone solutions that works via the internet provides 99.99% system uptime with little to no system failure. In addition, compared to traditional phone lines, it has far fewer power outages and is not vulnerable to natural calamities. All of these factors contribute significantly to reducing system downtime or inoperability and providing a seamless experience.
7. Effective Team Collaboration
Besides excellent communication, work from home phone solutions also provides a robust collaboration platform that enables users to seamlessly share files and archives. Documents shared can also be edited and organized by multiple users, allowing for more efficient and productive collaboration.
Furthermore, this collaborative platform creates a central hub of knowledge, eliminating the need for frequent back and forth of documents to be edited individually since no one misses any updates.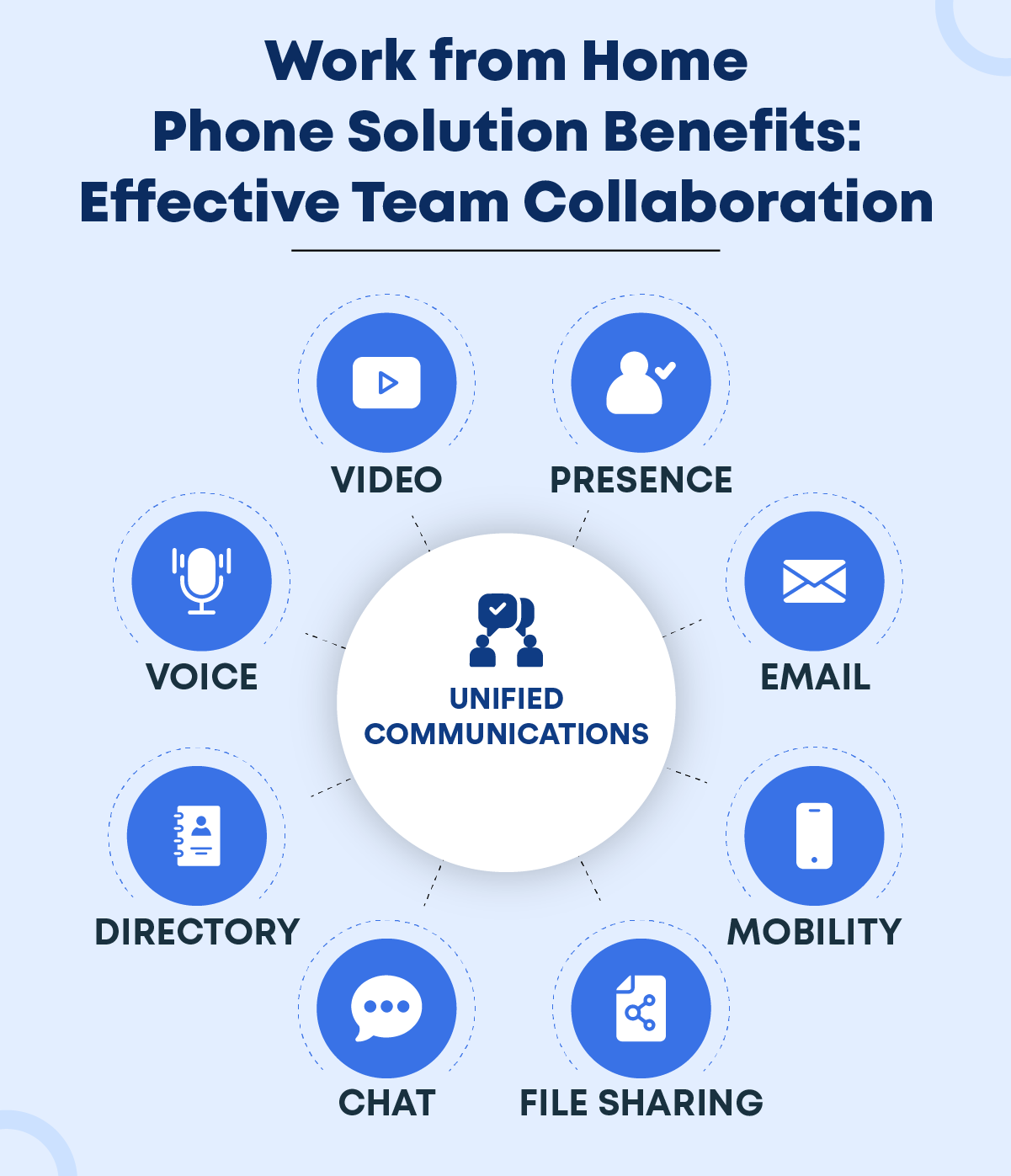 As previously said, real-time data sharing enables team members to learn about what is happening with each case and better comprehend its progress. It also prevents them from providing inaccurate information or committing different things to the client. Overall, real-time collaboration enables teams to function more efficiently and effectively.
These are the 7 benefits of a work from home phone solution that explain why you should get one. The sophisticated remote office phone system not only reduces costs but also provides several advantages such as on-demand scalability, excellent portability, 99.99 % uptime, minimal to zero installation cost, and so on.
So, now that you're convinced that VoIP for remote workers will substantially benefit your remote working team, let's figure out how to subscribe to one.
How to Get Work From Home Phone Solution? Step By Step Guide
Getting started with a remote office phone system is a lot easier than you might think, especially when you opt for CallHippo– the best phone system for remote workers. All you need to do is follow the steps below:
Step 1: Create an account with CallHippo and log in using your credentials.
Step 2: On the dashboard, click the 'Add Number' tab and choose the country you want to target.
Step 3: Filter the virtual numbers as per your preferences and choose the best virtual number from the number pool.
Step 4: Select a package based on your requirements and make the payment.
Step 5: Assign phone extensions based on your calling requirements or process workflow.

Step 6: Train your agents on using the virtual business call system.
Step 7: Record and upload your customized greetings.
Step 8: Start making and receiving phone calls.
That's all. However, make sure to add the users who will be responding to your calls to the system.
The Bottom Line: Work from home is indeed an innovative work model that benefits both employees and organizations. However, in order to avoid a drop in productivity and performance, businesses must invest in sophisticated communication systems as well as other remote office tools and technologies such as work from home phone solutions. This telephony solution will enable your remote team to work at optimum efficiency and provide the best possible customer service.
WORDS THAT MAKE SENSE!
Read The Most Well Researched & Insightful Articles From CallHippo Team