Date: April 25, 2023
We are living in a hyper-digitalized world where technology has permeated every aspect of life. VOIP are now a significant component of daily corporate communications, and the various features of VoIP solutions have certainly made task management exceptionally simple and structured.
Hence, it comes as no surprise that the global VoIP market is expected to reach a peak of $136.76 billion in 2021.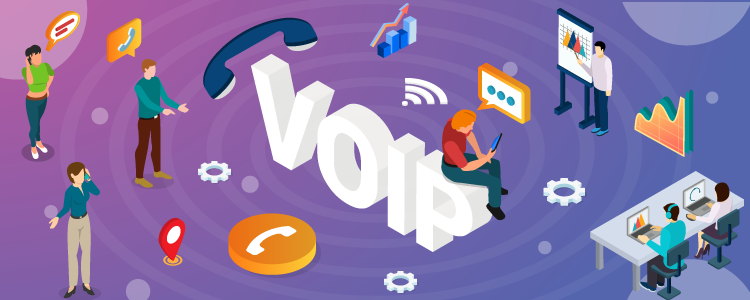 In today's blog, we will go through and understand each element of VoIP. We will learn what a VoIP  is, how VoIP works, different types of VoIP numbers, the advantages and disadvantages of VoIP, VoIP features, and what is VoIP used for, among other things.
Let's start with the fundamentals– 
What Is VoIP ?
VoIP is a technology that allows organizations to make and receive calls over the internet as well as to conduct multiple advanced customer support activities such as call forwarding, call queuing, call monitoring and analysis, and so on. In short, business communication with VOIP is certainly a seamless and smooth experience.
When anyone sign up for VoIP, they do not have to worry about the operating location, unlike when they use phone lines, since VoIP number offers a form of omnipresence or worldwide accessibility to users as it works on the internet connection.
Moreover, the VoIP is not only simple to set up and use, but it also includes a variety of communication features like video conferencing, conference calls, instant messages, auto-attendants, call routing, call monitoring, and analytics, and so on.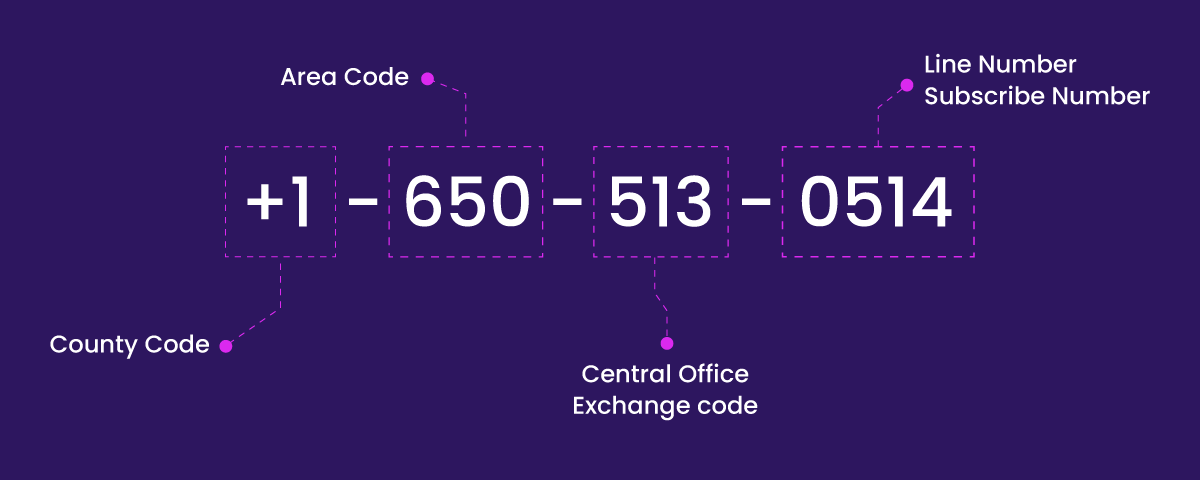 Overall, it is a sophisticated phone system that is highly reliable, adaptable, cost-effective, and portable. Moreover, unlike traditional phone systems, you don't have to spend loads of money on equipment, installation, and maintenance since VoIP is a cloud-based phone system, meaning everything is managed by the service provider.
Now let's move on to the next section and learn how VoIP works.
How Does VoIP Work?
The functioning of a VoIP modern phone system is quite simple, as explained below:
Conversion of the voice by an IP phone or ATA (Analog Telephone Adapter) from an analog signal to a digital signal.

The same is then sent in data packets to a location closer to the destination (over the Internet/broadband).

The voice will then be converted back to an analog signal over a

traditional circuit switch (PSTN).
This allows your calls to be received by both traditional telephones and other VoIP users around the world. However, there are several different types of VoIP phone numbers, each serving a specific purpose. Let's look at how they differ and which is best.
Different Types of VoIP Phone Numbers
1 ) Local Phone Number
As the name implies, local numbers are specific to the local area and commonly begin with a three-digit area code that denotes the city or region. When you buy a local VoIP number, you are not charged when consumers call. Instead, you will only be charged for outgoing calls. Furthermore, most VoIP providers include a free business phone number as well as unlimited minutes and text messaging.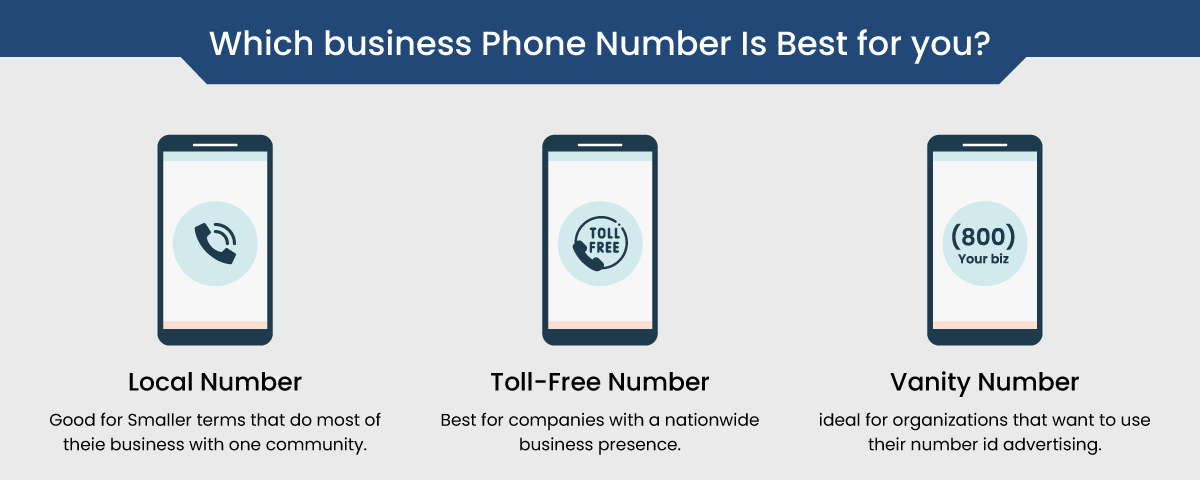 Local VoIP Numbers are Best For: If you are a new or small business and initially want to focus on the local area, a local phone number is an ideal solution. The local prefix of these numbers helps build trust among local customers. Moreover, you can always select local numbers for any other regions or cities that you want to target or grow your presence in.
Not to mention, this VoIP number also comes with a variety of other VoIP features like auto-attendant, call forwarding and others that will significantly assist you in projecting a professional image as well as improving customer support operations.
2 ) Toll-Free Phone Number
We've all heard of and maybe even used a toll-free VoIP number at some point in our lives. Toll-free numbers are phone numbers that typically begin with the prefix 1800. These numbers, unlike local numbers, do not charge but rather the business even when the customer calls. Along with the 1800 series, we now have many other prefixes for toll-free numbers available, including 888, 877, 866, 855, and 844.
Toll-Free VoIP Numbers are Best For: These numbers are ideally suited for enterprises with a national or international customer base. Moreover, toll-free numbers will assist your company in projecting a reputable and professional image while also allowing customers to contact you for free. 
Another advantage of toll-free VoIP numbers is that they enable business owners to expand their presence across the country without the need for a local number for each city or region.
3 ) Vanity Phone Number
If your primary goal is branding, vanity VoIP numbers are an excellent tool. According to Wikipedia, a vanity number is "a telephone number for which a subscriber demands an easily remembered sequence of numbers for marketing purposes."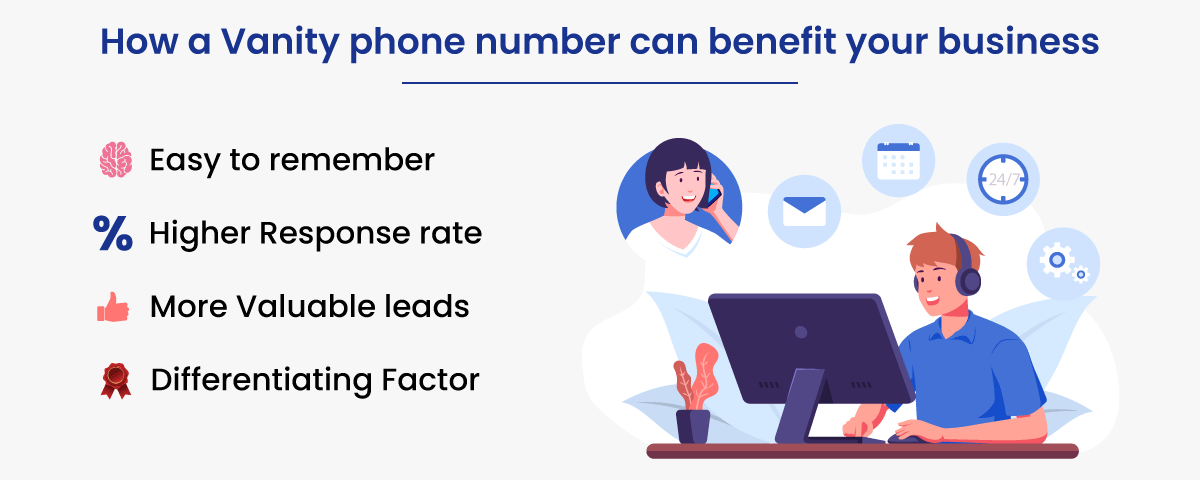 In layman's terms, a vanity number is an alpha-numeric and customizable business phone number that spells out a memorable word or phrase. For example, 1800-ICECREAM can be a vanity toll-free phone number for a popular ice cream delivery service.
Vanity VoIP Numbers are Best For: Vanity numbers are the perfect option for organizations that are more concerned with creating a brand image and expanding their presence. These VoIP numbers allow buyers to remember the brand name rather than the number itself. In addition, vanity numbers not only make it easier for customers to contact you, but they also make your organization appear more professional, ultimately improving brand recognition.
So, these are the three primary types of VoIP numbers. As we can see, each one is unique and has its own importance and role. In a nutshell, if you are just starting a new firm, we recommend getting a local VoIP number. Similarly, if you have a national presence or want to reach as many regions as possible, toll-free numbers are the ideal solution.
In contrast, if you are more concerned with marketing and want to establish a long-term presence, a vanity number is the way to go.
Now, let's look at some of the key features of the VoIP business phone system in the following section.
Top 5 Features of VoIP
The following are the top five features of VoIP-

1. Interactive Voice Response (IVR)
Most VOIP providers include interactive voice response as a premium facility in their platforms. This facility vastly reduces dependency on manual staff as automated voice menus can help customers direct themselves to the appropriate departments or extension numbers. 
Automated voice response ensures no delays in your service and enables you to provide excellent support. 
They save companies the hassle of investing in a front desk for their office to take care of incoming calls. Interactive voice response is a user-friendly option that helps customers solve their issues at any time of the day.
2. Video Call Conference
From time to time, organizations need their employees to communicate with partners, clients, and stakeholders who may be scattered in different geographic locations. The conference calling feature seamlessly connects team members in real-time to collaborate on work-related issues. 
Video call conferencing enables employees to communicate freely with various stakeholders, no matter where they are, and make informed decisions for the company's betterment. Conference calling is a highly advantageous feature as it increases availability, eliminates physical distances, and ensures maximum connectivity.
3. Call Queuing
Call queuing indeed is one of the most significant features in VoIP. The call queuing system is especially prevalent amongst organizations with a large customer base. It streamlines caller queues to minimize wait time and ensures that calls are attended by available support staff at the earliest.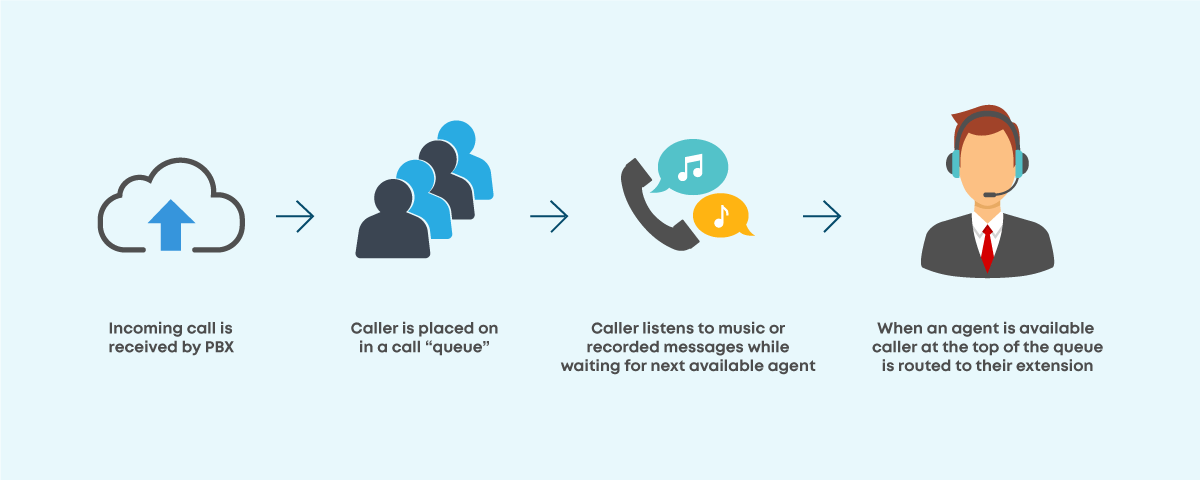 Call queuing systems can also play personalized greetings and music for clients to make the wait more pleasant. An effective call queuing system is the key to providing flexible and proactive support. It is the best way to deal with heavy call traffic and keeps customers satisfied with the power of fast-paced service.
4. Call Transfer
The customer is undoubtedly a king in today's competitive market, and organizations need to up their communication game to stay connected with their valuable clients. One of the most beneficial new features in VoIP tools is the call transfer feature. 
It allows you to forward important phone calls to any mobile number, personal phone number, or landline number. Customers do not have to struggle to contact support staff members as calls are automatically redirected to an available line. 
Call transfer enhances your business' accessibility round the clock and ensures that your team members can attend calls even when they are on the move.
5. Call Barging
A typical facility that is now provided by most of the top cloud-based phone system service providers is call barging. It allows a third party to overhear conversations and enter a two-way call if required. Call barging is a highly useful feature of virtual phone numbers as it enables companies to monitor the service being provided to clients.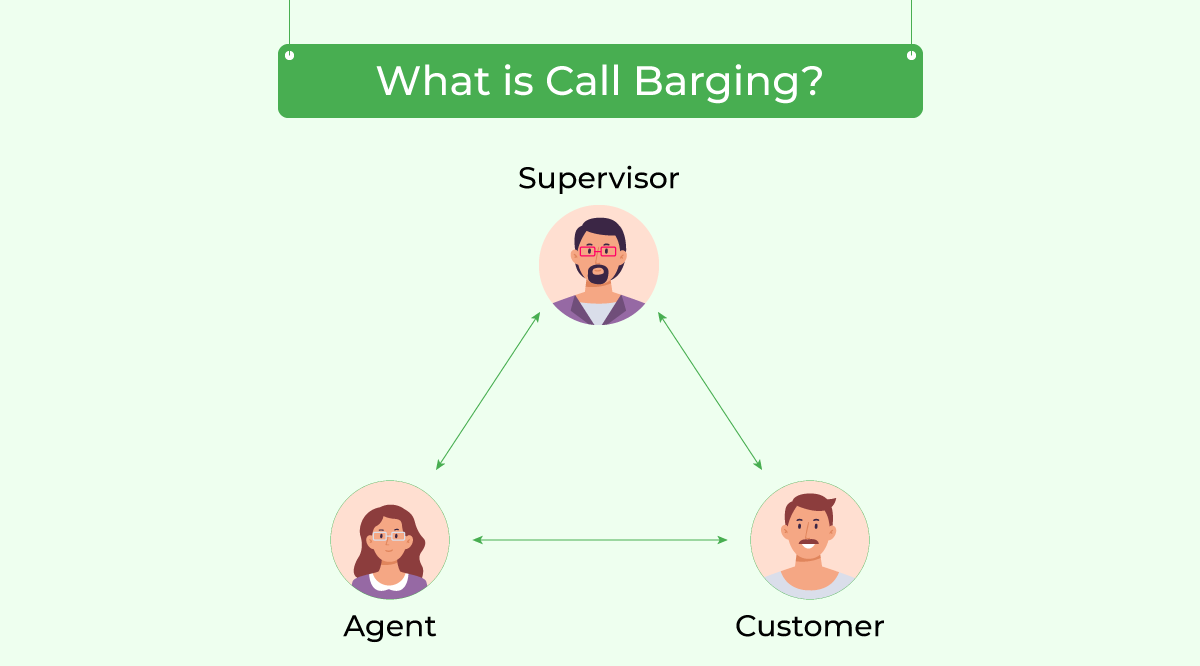 Call barging is a handy tool for training new support team representatives. It is indeed one of the best features of VOIP especially for organizations that deal with a large volume of daily calls.
Let's continue on our VoIP voyage and learn about the key advantages of a VoIP.
Advantages of using VoIP
The primary reason organizations are switching from traditional phone systems to VoIP is because of the multiple advantages it offers. VoIP has many advantages, including scalability, flexibility, cost savings, improved voice quality, portability, and multitasking.
Let's take a quick look at each of these benefits and understand what is VoIP used for.
A. VoIP Provides On-Demand Scalability
The first key advantage of a VoIP is its scalability. VoIP, being a cloud-based phone system, allows you to grow the service or resources as needed. You do not need to buy the entire package at the beginning. Instead, you can buy the bare minimum of resources and then scale them up as your business grows. Ultimately, it allows you to pay for only the resources that you consume.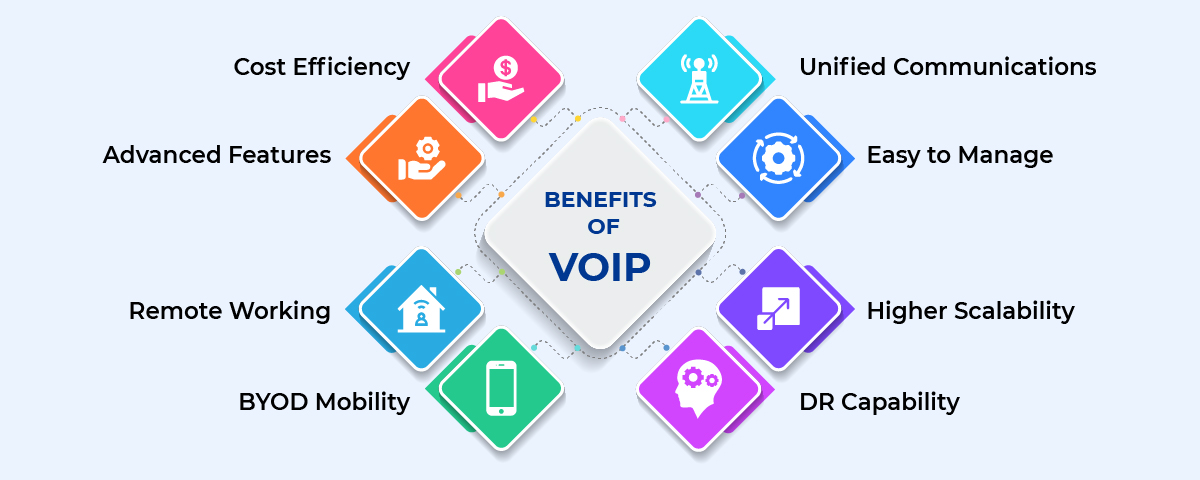 B. VoIP Improves Voice Quality
Another reason organizations are switching from traditional phone systems to VoIP is voice quality. Since VoIP operates over the internet, there is very little possibility that the network will be disrupted or damaged. As a result, the voice quality delivered by VoIP platforms is always far superior to that of traditional phone systems. There is minimal voice interruption, ensuring that the message reaches its destination intact and in excellent quality.
C. VoIP Allows You to Multitask
Another significant advantage of VoIP is the opportunity to multitask. That is, you can process data and share it with your team or another department while handling the call. In addition, to call management, the system allows you to perform a variety of tasks such as customer analysis, strategy planning, sending fax and messages, organizing video conferences, and scheduling meetings.
D. VoIP Provides Better Mobility
The capacity to work from anywhere is referred to as mobility. In comparison to traditional phone systems, VoIP provides an excellent level of portability since it functions via the internet. All you need to use the VoIP service is an internet connection and an IP phone.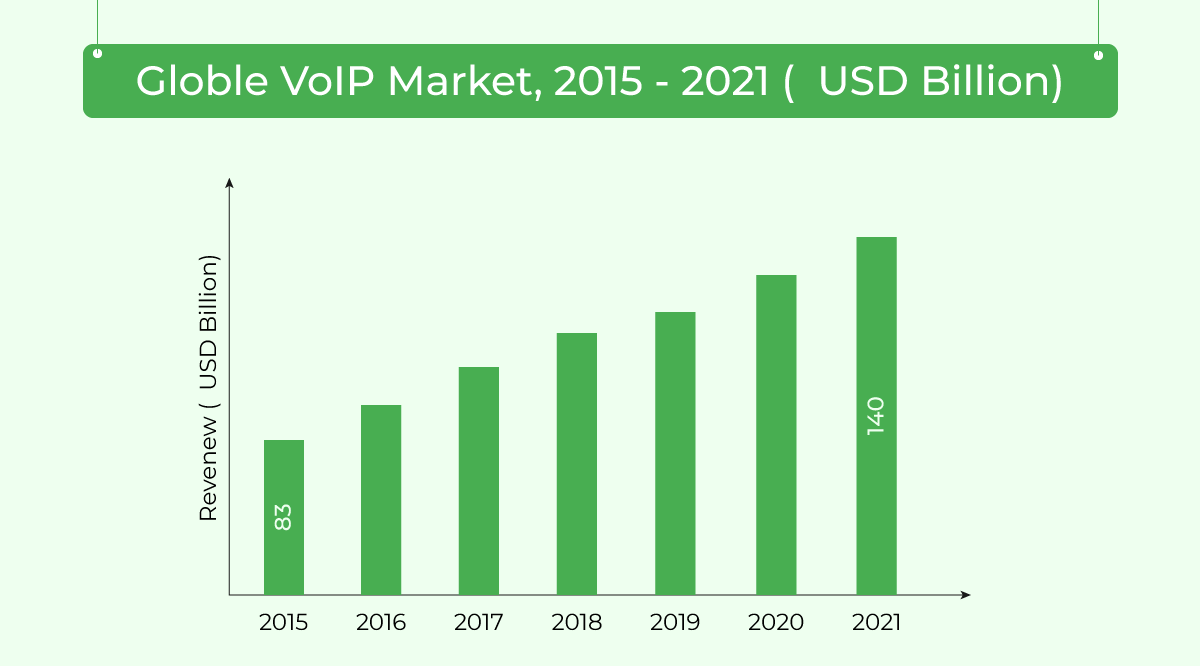 You can manage your clients' calls from anywhere in the world if you have these two. This will eventually improve both the customer experience and productivity in the long run.
E. VoIP Reduces The Overall Operational Cost
Another significant reason why organizations should use a VoIP is to save money. Not only does VoIP save money on call costs, but it also cuts costs on various other expenses, as explained below:
Staffing cost

– Unlike traditional phones, VoIP do not demand PBX experts and receptionists. It uses internet technologies and can be managed by your existing IT team. 

Equipment cost

– Instead of an IP PBX kit with VoIP in the cloud, all you need are handsets. This is especially useful for small businesses that can leverage the saved cost in multiple ways.

Copper wiring

– This can be a recurring cost that is still stuck with traditional phone systems. With VoIP, all you need is- devices connected to the internet.

Switching costs

– You can save a lot of bucks when making the switch. VoIP solution do not require any special equipment as all of the equipment is hosted by the provider.

Scalability

– In traditional PBX, circuit upgradation is highly expensive. Whereas, while upgrading VoIP lines, you just have to upgrade your internet connectivity. 

Call Costs

– With VoIP, distance is never a concern. Telecom providers often charge high rates for long-distance and international calls. At the same time, VoIP providers offer practical plans that offer long-distance calls at minimal rates. 

Setup Fees

– Finally, VoIP comes with a low setup cost as it is very

easy to set up a VoIP phone

, and that is because setting up a new customer happens with the click of a mouse.
So these are the five primary advantages that have made VoIP a popular phone system across all industries of all sizes and scales. This means that if your company has not yet invested in a VoIP software, you should do so right away.
This modern technology will not only help you in improving your business operations, but it will also help you in automating repetitive processes and organizing a structured workflow that ensures maximum output and minimum error.
Step By Step Guide To Get VoIP from CallHippo
So, if you are convinced and ready to buy a VoIP  or collaborate with the best VoIP service provider, we recommend that you choose CallHippo. To sign up for CallHippo VoIP services, simply follow the steps outlined below:
Step 1: Sign up with CallHippo.

Step 2: Log in with the username and password, and this will take you to the dashboard.
Step 3: Click on 'Add Number,' select the US or any other countries that you want to target in the 'Country' column. After that, you can filter the numbers as per your choice and select a number from the number pool.
Step 4: Make payment.
Step 5: Once you've established a centralized virtual phone number, you'll need to add the rest of your team members.
After that, you must link your personal phone number to the virtual number. This enables you to make and receive calls from the country whose phone number you have chosen. That's it! However, keep in mind that the users who will be responding to the calls must first be entered into the system.
This brings us to the end of the VoIP guide. We are optimistic that this information will help you in better understanding and using the VoIP modern phone system.
The Bottom Line: VoIP (Voice over Internet Protocol) is one of the most important communication technologies required by modern enterprises. The solution will benefit in a variety of ways, including improving customer service and satisfaction, automating and streamlining operations, and closing gaps in the work process. We propose that you subscribe to CallHippo right away if you are planning to go global, want to give superior service, or want to ensure business success.
WORDS THAT MAKE SENSE!
Read The Most Well Researched & Insightful Articles From CallHippo Team