Date: September 18, 2023
The global marketplace, talented workforce, and diverse business prospects are just a few of the reasons why Canada is quickly becoming a global hub for Fortune 500 companies and other multinational corporations.
So, if you are one of them and planning to establish or expand your business in Canada, you are on the right track and well ahead of your competitors. However, starting a firm without a solid customer service operation in place is equivalent to walking in the dark while wearing a blindfold.

For this reason, when expanding or establishing a business in Canada, we recommend that you partner with the Canadian VoIP providers or the best toll-free number provider in Canada. But what exactly is a Canada VoIP number, and who are the top 15 VoIP providers in Canada? Let's find out.
In the first segment of this blog, we will look at the fundamentals of Canada VoIP numbers and virtual PBX in Canada, and in the second section, we will evaluate the top 10 VoIP phone services in Canada by comparing their features, USPs, pricing plans, system support, and other factors.
Let's start with what a Canada Virtual Number is.
What Is Canada VoIP Number?
Simply defined, a Canada toll-free number is a business phone number that includes seven digits after 1800, 888, 877, 866, 855, 844, or 833. It allows customers in Canada, the United States, and the Caribbean region to connect a Canada-based business for free.
In addition, you can call Canada from the US, from Greenland, and many other countries. Also, when a client dials a toll-free number, businesses, not customers, are charged for the service.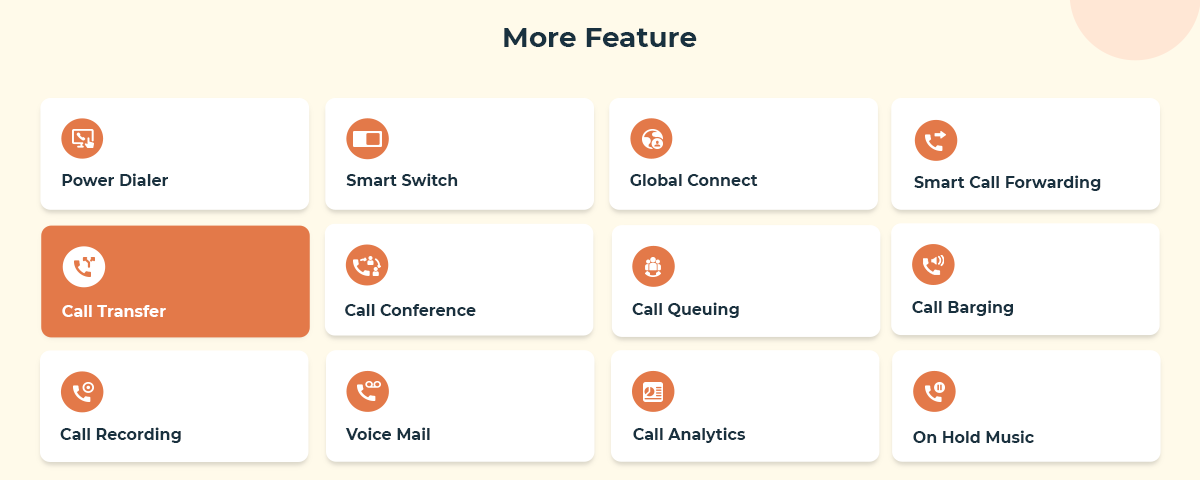 However, given the industry's promising future, many Canadian VoIP providers are out there in the market to reap the benefits. For this reason, picking the best Canada toll-free number provider is usually a more difficult task than you think. But fret not! To help you in this scenario, we have compiled a list of the top 10 Canadian VoIP providers listed below.

15 Best Canada VoIP Number Providers – Virtual Numbers Providers
The following are the top top 10 toll-free number providers in Canada in 2023. Let's take a closer look at their features, pricing and plans, free trial period, platform support, and other information.
1.  CallHippo Virtual Phone System
CallHippo is a high-end VoIP phone solution designed to improve business productivity and user experience by streamlining customer support operations. This VoIP phone system is highly flexible and can accommodate any business type or workflow. It also features enterprise-level security and privacy, guaranteeing that consumer data is always secure.
You can get over 50+ country virtual phone number from callhippo including Norway virtual phone number, virtual phone number Cyprus, Portugal phone number

Moreover, CallHippo– one of the leading Canadian VoIP providers, allows organizations to integrate their preferred tools and apps to expedite every operation and, as a result, improve efficiency. The user-friendly interference is another crucial benefit of CallHippo, allowing even inexperienced personnel to operate the system with ease.
Features of CallHippo:
Smart call forwarding

Business tools integration

Auto-Attendant

Smart switch

On Hold Music

Call reports and analytics
Pros
Extremely affordable

Excellent customer service

User-friendly
Cons
Call drops

Connectivity issue

Metered Calling

Some features are difficult to set up
Free Trial Period: 14 Days
Pricing & Plans: CallHippo provides three business phone system plans, which are as follows:
Bronze Plan: $16/User/Month 

Silver Plan: $24/User/Month 

Platinum Plan: $40/User/Month
Furthermore, the platform offers enterprise customized plans that are tailored to clients' specific needs.
2.  AVOXI Business Phone System
AVOXI is another well-known and considered as the best Singapore and Estonia virtual number in 2023. It is a virtual business phone number provider that provides toll-free vanity numbers, local numbers, and Universal International Freephone Numbers (UIFN) in over 175 countries.

The platform has several powerful features that make Avoxi one of the leading service provider of 
Canada for medium to large-scale businesses. Moreover, the system is simple to set up, has a vast coverage area, an appealing UI, and specialized call logging tools.
Features of AVOXI:
Unlimited storage

ACD & IVR

Automated call forwarding

Music on Hold

Business tools integration

Call logging and tracking

Voicemail to email
Pros
24/7 support

Intuitive User Interface

Great call quality
Cons
The cost of using the desktop phone app is extra

No message or video capabilities

Software compatibility issues

Doesn't provide customizable dashboards
Free Trial Period: 30 Days
AVXOI Pricing & Plans: Avoxi offers four plans, as listed below:
Connect: $16.99/Month, offers 762 minutes

Standard: $25.99/Month, offers 1332 minutes

Advanced: $43.99/Month, offers 2361 minutes

Premium: $70.99/ Month, offers 4213 minutes
3.  RingCentral Cloud-Based Phone System
RingCentral is among the best toll-free number providers in Canada. It is a cloud-based business phone system provider that offers multiple functions and is appropriate for all types of enterprises, including small, medium, and large.

In addition, the platform allows users to add toll-free numbers, local numbers, and vanity numbers from over 200 area codes. Also, RingCentral– one of the leading best virtual phone numbers in canada, offers a variety of prices and plans that are sufficient to fulfill the varying business requirements of the customers at a reasonable cost.
Features of RingCentral:
Call screening & delegation

Video conferencing

Business SMS and MMS

Performance reports

Live reports

Voicemail to email

Mobile app
Pros
Free trial available

RingCentral will offer discounts to companies with over 100 users on the system.

Provides integration with a variety of CRM and productivity applications
Cons
The cheapest plan includes only 100 toll-free minutes (Essential)

Only businesses with fewer than 21 users can choose the Essentials plan.

Call Drop

Customer service is slow to respond
Free Trial Period: 15 Days
Pricing & Plans: RingCentral has four pricing plans, which are detailed below:
Essentials: $24.99/User/Month

Standard: $29.99/User/Month

Premium: $39.99/User/Month

Ultimate: $54.99/User/Month
4.  Phone.com Business Phone Service
Phone.com ranks fourth in our list of the top 10 VoIP providers and considered as one the best canada and virtual phone number greece provider in 2023. Phone.com is a cloud-based VoIP (Voice over Internet Protocol) business phone solution that offers multiple features and functionality.
It is a cutting-edge, work-from-anywhere solution that is ideal for today's remote and agile work culture. Besides, the Canada phone numbers will also help you increase your customer base.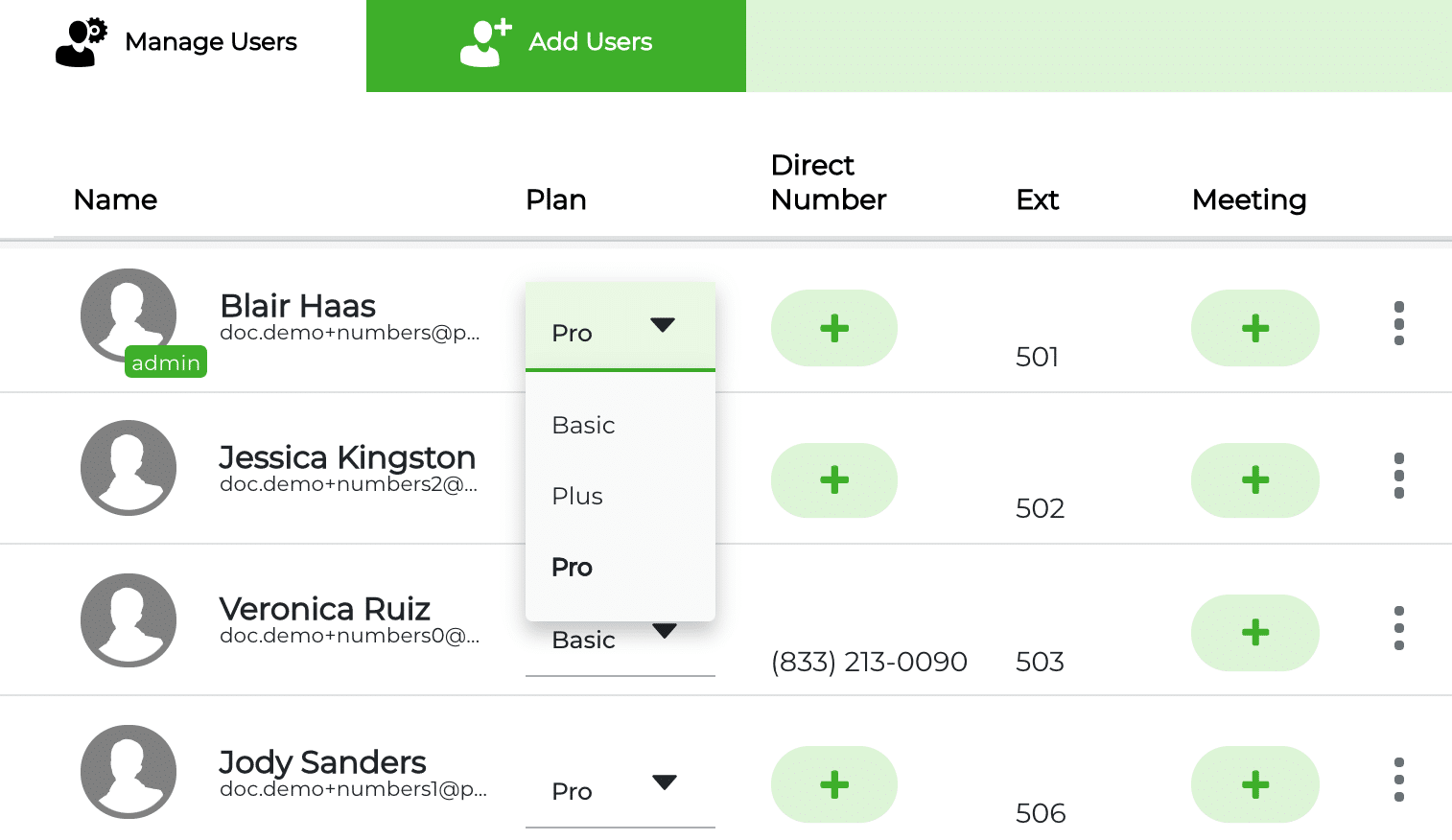 In addition, the system assures optimum uptime and provides unrivaled customer assistance to help customers in need. Moreover, the phone.com business system setup process is relatively quick and comprises only three simple steps.
Features of Phone.com:
Audio and video conferencing

Call logs and call analytics

Expert Support

Follow Me

Voicemail transcription

Music On Hold

HIPAA Compliance
Pros
Provide international phone numbers in 31 countries

Unlimited extensions are included with all subscriptions

Browser-based video conferencing

All plans include one U.S. local, toll-free, or vanity number
Cons
Poor user interface

Inbound toll-free minutes are not included in the plans

Team messaging is not available

No free trial
Free Trial Period: 30 Days
Pricing & Plans: Phone.com offers three plans as listed below:
Basic Users: $12.99/User/Month

Plus Users: $19.99/User/Month

Pro Users: $29.99/User/Month
5.  GoToConnect VoIP System
GoToConnect has made a place on our list of the Best Canadian VoIP providers for all the right reasons. It is feature-rich, has excellent customer support, offers affordable plans, is suitable for small, medium, and large businesses, and is simple to use.

Besides, it is a next-generation business phone system that enables businesses to interact with their consumers and give exceptional customer service on time. The platform also provides various business phone numbers for Canada, including vanity numbers, local numbers, and toll-free numbers. Not to mention that the entire setup process will take less than 3 minutes!
Features of GoToConnect:
Find Me/Follow Me

Auto-attendant

Unlimited call queue

Wait time announcement

Call routing & forwarding

Voicemail to email

Virtual faxing
Pros
Hundreds of different features

Free calls to over 50 countries

Easy to use drag-and-drop call flow editor
Cons
There is a limit of 25 HD video streams per conference

Expensive

Issues with call connectivity and notification

No cloud data storage
Free Trial Period: 14 Days
Pricing & Plans: GoToConnect offers three primary plans outlined below:
Basic: $24/User/Month

Standard: $29/User/Month

Premium: $39/User/Month
6. Sonetel Canadian VoIP Provider
The sixth guest on our list of Canadian VoIP providers is Sonetel. Sonetel provides a virtual phone system to enterprises, allowing them to transform their business communications. Sonetel– one of the leading hosted PBX providers in Canada, offers a variety of phone numbers as well as a range of advanced and basic VoIP features that simplify, streamline, and assist business operations.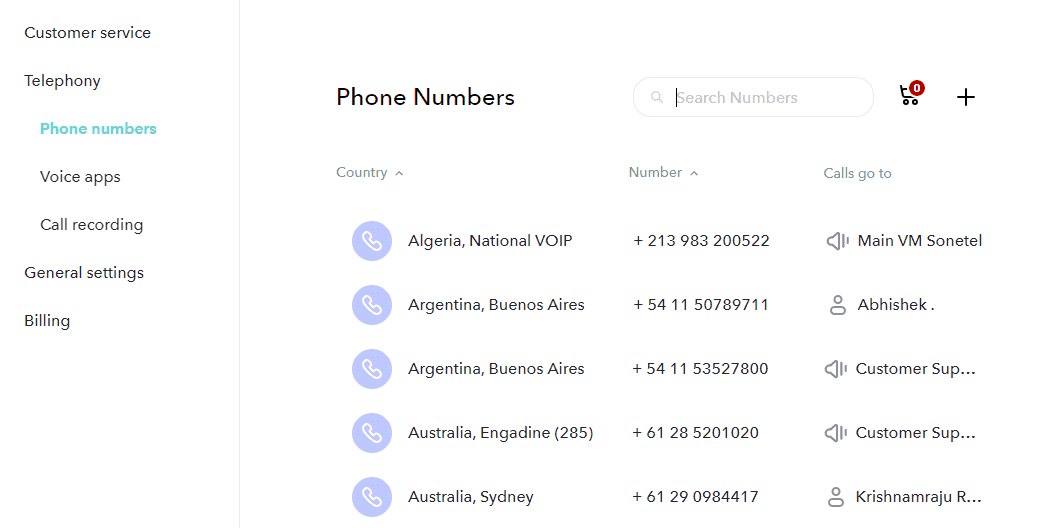 The system also employs artificial intelligence to automate repetitive tasks and improve performance. Most of Sonetel's functions are available for free forever. Along with features, the company provides decent customer assistance to ensure that their clients' queries and concerns are addressed on time. The following are some of Sonetel's key features.
Features of Sonetel:
Global call forwarding

Voice response

Free call recording

Mobile apps

Free conference calls

Group chat
Pros
Free phone numbers

Text-to-speech for voice app

More data storage
Cons
Lacks 24/7 support

Confusing user interface

Quite expensive

Only desktop app supports free calls
Free Trial Period: 30 Days
Pricing & Plans: Sonetel offers three different pricing plans, each with its own set of features, as detailed below:
Standard plan: Free and comes with basic features.

Business Package: Starts at $4.99 per month per number.

Premium plan: It starts at $13.95 per month per user and includes VIP customer handling and customer services.
7. Vonage For Home VoIP System
Vonage for Home comes in two variants: business and residential. Both of these products are intended to make and receive phone calls through the internet connection. Its mobile apps enable you to receive calls no matter where you are.
In addition, the system has advanced features such as Vonage extension, Boomerang, selective call blocking, voicemail plus, and others.

The boomerang features enable users to communicate with friends and family all across the world more quickly and easily. On the other hand, the Vonage extension allows you to use your cell phone to take your Vonage number with you wherever you go.
Overall, if you own a small business and need a business phone system, Vonage for Home is one of the best Canadian VoIP providers to work with. The following are some of Vonage's important features and VoIP services.
Vonage For Home Features:
Vonage extensions

Selective call block

Vonage voicemail plus

Enhanced call forwarding

Call transfer

Do not disturb
Pros
Unlimited calling and messages

User-friendly interface

Superior voice quality

99.999% uptime guarantee
Cons
Bad customer service quality

Feature add-ons are expensive

Limited video call features

Small meeting gatherings for audio/video conferences
Free Trial Period: 14 Days
Pricing & Plans: Vonage for Home has several plans for different countries or regions. The four primary Vonage for home plans are as follows:
Vonage North America: This 6-month package costs $9.99 per month. After 6 months, the price will be $26.99 + taxes and fees.

Vonage World Prime: This 6-month package costs $9.99 each month. It will cost $29.99 after 6 months, plus taxes and fees.

Vonage US & Canada 400: This 6-month package costs $9.99 per month. After 6 months, the price will be $14.99 plus taxes and fees.

Vonage World Prime: This 6-month package costs $9.99 each month. After 6 months, the price will be $16.99 + taxes and fees.
8. TollFreeForwarding Cloud Phone Solution
TollFreeForwarding– one of the best hosted PBX providers in Canada, offers a variety of features that allow businesses to connect with customers all over the world quickly. TollFreeForwarding Canada VoIP numbers and virtual phone systems are fully cloud-based, which means they are quick and simple to set up. 
The company offers no-obligation, pay-as-you-go plans, cancel at any time policy and flexible plans that keep you in control.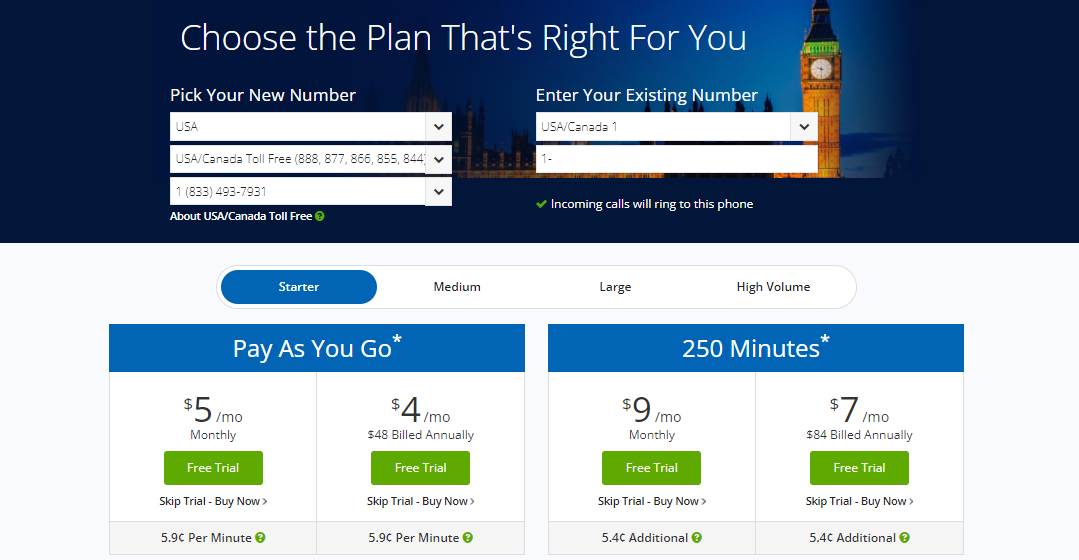 Also, the system is simple to set up, with only three steps. First, choose the best type of VoIP number in Canada from the inventory– local, national, or toll-free. Then, contact the support team to activate your phone number. 
Finally, start receiving calls and gain access to TollFreeForwarding's other features and VoIP services. The following are some of the key features of TollFreeForwarding– one of the best Canadian VoIP providers.
Features of TollFreeForwarding:
Quick setup

Global call forwarding

24/7 customer assistance

100% cloud-based platform

No setup fees

Exceptional call quality
Pros
No setup fees

Unlimited extensions

Flexible plans
Cons
Unsuitable downtime

Poor call quality 

The rates seem higher than those of other providers

No mobile app
Free Trial Period: 30 Days
TollFreeForwarding Pricing Plans: TollFreeForwarding offers four different pricing plans, namely:
Starter Plan: It starts at $9 per month and goes up to $11 per month.

Medium Plan: It starts at $19 per month and goes up to $23 per month.

Large Plan: It starts at $49 per month and increases to $63 per month.

High Volume Plan: Offers customized priced VoIP solutions for high volume clients.
9. Ooma Business VoIP Solution
Ooma is one of the best virtual phone number providers in Canada or the virtual PBX in Canada that is ideal for all sizes of businesses, whether small, medium, or large. The solution is suitable for both commercial and residential use. Ooma's small business VoIP phone system includes over 35 features, including a virtual receptionist, mobile apps, and video conferencing.
While the enterprise phone system consists of a variety of other features such as API integration, team messaging, audio and video conferencing, and more.

Ooma also provides varieties of VoIP numbers in Canada, making it easier for enterprises to function in crowded countries such as Canada. All Ooma virtual numbers are supported by high-end mobile applications that make it simple to make and receive calls. Some of Ooma's important features and VoIP services are listed below.
Features of Ooma:
Desktop and mobile apps

Video conferencing

Virtual receptionist

Enhanced call blocking

Multi ring
Pros
Affordable

User friendly

Specifically tailored features for small businesses that work remotely or in the office
Cons
A Premier account is required for most standard features

No softphone

Toll-free service costs extra

$29.95 activation fee
Free Trial Period: 30 Days
Ooma Pricing Plans: Ooma has two plans– Ooma office and Ooma office pro.
Ooma Office:

The Ooma office package costs $19.95/month per line plus taxes and fees and comes with features such as conference bridge, ring groups, virtual receptionist, and free number porting in the United States and Canada.

Ooma Office Pro:

Ooma office pro plan costs $24.95/month per line + taxes and fees. It includes features such as Unlimited meetings up to 25 people (maximum of two hours per session), Call recording, Enhanced call blocking, and Voicemail transcriptions.
10. Fonvirtual Business VoIP Service Provider
Fonvirtual is a cloud-based business communications service that assists firms in managing customer communication. The comprehensive range of features enables organizations to monitor all aspects of the call center in real-time and communicate with agents from any location and device. 
Moreover, this best toll-free number provider in Canada allows the organization or manager to supervise each employee in real-time.

One of the primary benefits of using Fonvirtual call center software is that it provides applications for mobile, desktop, and tablet devices. This– one of the top Canadian VoIP providers, also enables management to record and analyze every phone call. 
Overall, the wide collection of Fonvirtual features considerably enhances the organization's performance. Also, the system is simple to set up and operate. Some of Fonvirtual's key features are given below.
Features of Fonvirtual:
Interactive Voice Response (IVR) system

Cloud-based ACD

Call recording

Call transcript

Filter by origin

Call transferring

Voicemail Greetings
Pros
Excellent video and audio quality

Real-time monitoring

Fast customer support
Cons
Complex set-up

High charges for calling abroad

Limited integration options

No 24/7 support
Free Trial Period: 7 Days
Fonvirtual Pricing Plans: Fonvirtual offers tailored pricing. Businesses can contact their sales team using the given contact details, discuss their requirements, and get the best plan designed specifically for them.
11. 8×8
Through a flexible and mobile solution, 8×8, the best Canadian VoIP provider, helps businesses from various industries provide better customer service through a cloud-hosted communications platform, such as insurance, healthcare, finance, and transportation. It is also ideal for organizations with offices in multiple locations. 
Besides offering hosted VoIP business phone service, it also provides cloud-hosted call center solutions that enable unified communication that is more advanced but costs less than most traditional solutions.

This best virtual phone number provider in Canada has many features, including call forwarding, recording, hosted PBX, extension dialing, directory assistance, ring groups, and more. In addition, 8×8 is compatible with a wide range of business applications and systems.
Features
3-Way Calling

Call Center Management

Auto-Dialer

Multi-Channel Communication

Real-Time Reporting
Pros
There are cheaper price plans available for larger businesses

With the cheapest plan, you can call 14 countries for free

Works great on mobile and desktop
Cons
Missing productive features

The analytics reports are not configurable

Voice delay

You won't be able to call countries, including Japan, Italy, Poland, etc
Pricing
Express – $15 per user/month

X2 – $24 per user/month

X4 – $44 per user/month
12. Mighty Call
MightyCall, one of the leading Canadian VoIP providers, offers essential features and integrations that distinguish MightyCall from its competitors, Grasshopper and Google Voice. 
Additionally, for small businesses looking to ditch the restrictions of traditional landline systems, MightyCall is a very budget-friendly phone system starting at just $12 per user per month. It also offers  VoIP phone numbers in Canada. 

Although MightyCall doesn't have as many features as larger voice-over-internet-protocol (VoIP) providers or unified communications, its customer service is praised by its reviews. 
As a result, it is an ideal choice if your business needs inexpensive calling with essential features such as call recording, CRM integration, etc.
Features
Multi-level IVR

Call Routing

Music on hold

Custom greetings
Pros
MightyCall offers dial-by-name directory with all plans

Voicemail transcription

In addition, to call recording, MightyCall offers unlimited storage, an uncommon feature in the industry.
Cons
Few unified communications features

Free trial is only 7 days

The IP phone is only supported above the base tier

MightyCall auto-attendant doesn't offer self-service or voice support
Pricing
Small Team: $15 per month/user

Business: $20 per month/user

Enterprise: $200 per month
If you're looking for a platform with an intuitive design combined with affordable pricing, Dialpad is the best Canadian VoIP provider. It provides businesses with a straightforward and effective communication tool.

With this fully automated communication system, you won't miss any details or spend a fortune on more information. With Voice Intelligence (Vi) technology, Dialpad stands out because it analyzes and transcribes live calls, among other things. 
As a result of live transcription, notes can be created, which you can consult for follow-up with customers and teammates.
Features
Voice Intelligence (Vi)

Web Conferencing

Interactive Voice Response

Power Dialer
Pros
Excellent customer support

AI-based voice intelligence is available on every plan

Offers a wide variety of features
Cons
Scalability is difficult

Not available worldwide

Platforms eligible for integration are limited

No 24/7 support on the basic plan
Pricing
Standard – $15.00 per user/per month

Pro – $25.00 per user/per month

Enterprise – Custom plans
14. Intermedia Unite
Intermedia Unite is a cloud-based solution to improve business communication and customer experience for small and medium businesses and offers VoIP Canada numbers.

Through the company's technology, you can communicate with your customers by phone, chat, and video from your laptop and fully integrate your communications. 
The Unite Mobile App allows you to take your work and communications with you wherever you go by switching your workspace to any smartphone. 
Additionally, the team chats feature will enable you to communicate with colleagues in a group or individual chat, and file sharing and collaboration features allow you to share files with colleagues easily.
Features
Video and audio conferencing

Auto attendant

Voicemail transcription

Call monitoring

Call transfer, hold, & three-way calling

On-hold music
Pros
Ample features for video conferencing

Multiple software integration options

Many helpful VoIP features
Cons
Limited call monitoring features

Quite expensive than its competitors

Frequent call drops

You have to pay extra for additional services, like toll-free numbers
15. Cloud Talk
Due to its multi-level menu and intuitive call flow builder, CloudTalk provides businesses and call centers with the best interactive voice (IVR) system. In addition, subscriptions include advanced features that CloudTalk rivals typically charge more for, such as call recording and skills-based routing. 

CloudTalk, a top-rated VoIP provider in Canada, offers a variety of integrations that make it an excellent choice for companies looking to connect their CRM, help desk, or other third-party software to their business phone system. 
Furthermore, CloudTalk's contact center features support inbound and outbound call teams and provide monitoring and recording capabilities.
Features
Customized IVR menu greetings

On-hold music

Power dialer 

Click-to-call function

Skills-based routing
Pros
Free trial available

Provide virtual phone numbers in more than 140 countries

Provides integration with 2,500+ software programs, including CRMs, e-commerce, and help desks
Cons
Multimedia messaging isn't available

Audio conferencing is limited to three people

Call drops

Some vital features like analytics are only available in advanced plan
Pricing
Starter – $30 /User/Month

Essential – $40 /User/Month

Expert – $60 /User/Month

Custom – Available on Request
How to Get a Canada VoIP Number? Step-by-Step Guide
Getting a virtual number for Canada is a simple and quick 5-step process. Furthermore, if followed correctly, the process will take no more than 3 minutes to complete! This means you can call your first Canada customer within three minutes of starting the process!
So, without further ado, let's get down to business. Simply follow the five steps listed below to get a Canada business phone number!
Sign up with CallHippo.
Log in with the username and password. This will take you to the CallHippo dashboard.
Click on 'Add Number', select Canada as the country. Following that, you can filter the numbers as per your requirements and select a number from the number pool.
Make payment.
After you've established a centralized virtual phone number for your business, you'll need to add the rest of your team members.
Following that, you have to link your personal phone number to the virtual number. This allows them to make and receive calls from the Canada.
That's it! However, it is crucial to note that the users who will be answering the calls must be entered into the system first.
This brings us to the end of our list of the top 15 Canadian VoIP providers in 2023. As we have seen, each of these 15 VoIP providers in Canada has a unique set of features, pros and cons, pricing plans, security systems, and so on. So choose the one that best meets your needs and help you level-up your business game!
The Bottom Line: Finding the best Canadian VoIP providers isn't rocket science, but it's not that easy as well. You must consider several elements such as pricing, features, customer support, software update frequency, additional cost, installation process, data security, and so on. For this reason, it is recommended that you spend enough time evaluating each of the products before making a final decision. This will not only save you from choosing the wrong product, but it will also ensure the growth of your business.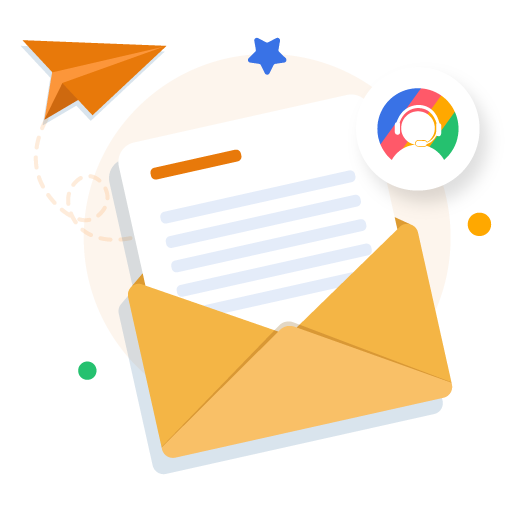 Let's Stay in Touch
Subscribe to our newsletter & never miss our latest news and promotions.

+21K people have already subscribed