Date: March 29, 2022
Introduction:
A call center for business is known to serve a humongous number of calls in a single day. It is practically impossible for an individual or a team to do so. And thus, we need artificial intelligence that can assist the agents in day-to-day customer communication.
A call center software comes to the rescue here. It streamlines the process and establishes a well-coordinated communication channel. It also enables the center to manage the overflowing calls systematically.
( Source: giphy )
With the growing number of options available to serve the customers, phone calls still top the charts. This makes it even more crucial for brands to have an elaborate system that helps to track incoming and outgoing calls and offers to be a one-stop shop for all the necessary data. 
Before we get into the details of a call center for business, here are some findings that may interest you. Microsoft's 2017 State of Global Customer Service Report suggests that-
– Customers use phone calls more often than email, in-person, live chat, mobile app, self-service, search engine, social media, online community, text message, or chatbot. – 74% of customers said they prefer customer service by phone; email being the next most popular channel at 62%. 
– 34% said "Automated Telephone System (IVR)/inability to reach a live person for customer support" is the most inconvenient part of customer service. 
We all know that customers are the backbone of any business. Irrespective of your business's size or the industry that you are in, having a dedicated customer support team is essential. 90% of Americans use customer service as a factor in deciding whether or not to do business with a company. 
Also, 76% of consumers contact customer service over the phone. This makes it imperative to have the best call center software for your business. 
But what exactly is call center software? How does a call center works? What are the benefits of a call center? And how do you get the most out of your investments? We will answer all these questions in this article. So, let's dig right in!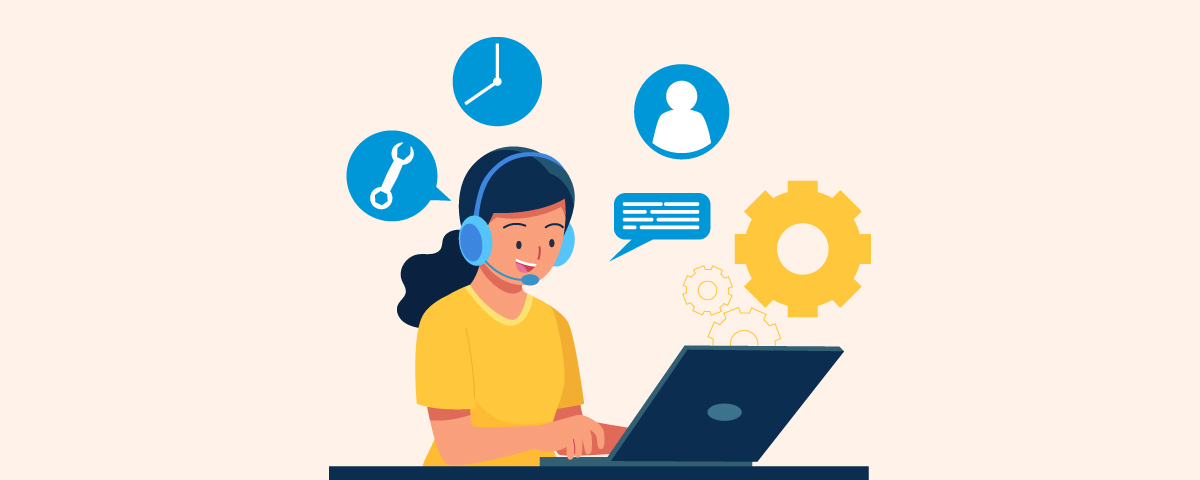 What Is A Call Center Software?
Before we dive deep into the depths of understanding how call center works, it's crucial to know what it is. A call center software is a tool that enables you to manage inbound and outbound calls of your business. It acts as a centralized platform to handle all operations, including calling, routing, reporting, analyzing, and improving your team performance.
Though there are multiple business communication channels like live chats, emails, and social media, the phone system remains a vital part of the business. About 90% of the prospects contact the business support center via phone. Thus, harnessing call center software helps you nurture and convert a prospect. It also helps improve customer satisfaction.
( Source: giphy )
Recent advancements in VoIP and hosted software have made virtual phone systems a reality. It only requires essential components – a PC, a browser, and a phone. With a cloud-based phone number, you can set up a virtual call center team anywhere across the globe and present a professional image of your brand to your customers, while gaining all advantages of a call center. Additionally, you can save as much as 70% on customer service costs.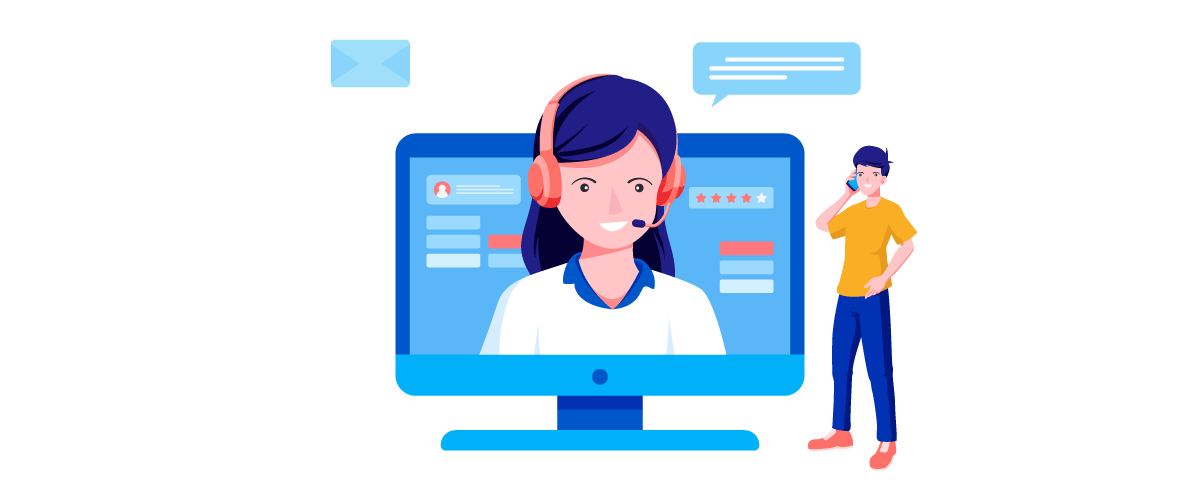 Benefits of Call Center Software
Having a call center software for business comes with a host of advantages. Right from eliminating geographical limitations to cost reductions, there are numerous benefits of call center software, and here they are at a glance:
1- Expand Your Team At Little To No Extra Cost
As a virtual phone system is not tied to physical space in an office, it allows you to expand your team effortlessly. You no longer need to buy expensive equipment for every new hire, nor do you require laying down new landlines.
2- Set-up New Call Centers At Minimal Costs
Real estate prices vary from one place to another. Getting a property office-ready, renovating it, and deploying technology costs even more. But, by taking advantage of cloud-based contact software, you can utilize your existing workspace and expand new teams across different locations.
This is precisely how CallHippo helps its clients. With CallHippo's cloud phone number and VoIP solutions, you can set up multiple offices across the globe without burning your cash.
3- Increased Flexibility
With on-premise call center software, your agents will have to stick to their desks to make and receive calls. However, when it comes to virtual call center software, it offers a lot more flexibility. It allows your representatives to use their smartphones as business phones without even changing their numbers, providing much-needed flexibility. This means your team can work from anywhere in the world without you needing to supply any equipment to them. 
As per a survey, companies that allow remote work have 25% lower employee turnover than those that don't. This significantly reduces your overall cost and makes it more convenient for the agents working in a call center.
With CallHippo, you don't need to install a separate workspace for your employees working from home. They can work effectively even via the CallHippo app on their phone. It also enables you to do additional call-related tasks like call forwarding, call conference, and collaborating with other team members irrespective of where they are.
4- Enhanced Customer Satisfaction
Most call centers let you forward or route calls based on the department, function, or availability. CallHippo's smart call forwarding enables you to route the calls to the right person. This leads to increased customer satisfaction.
With features like call recording, managers can keep track of the performance of their team members. They can see to it if the agents can solve customer queries efficiently or require training.
5- Efficient Call Handling
Customers get frustrated when they are unable to reach a customer care representative. This might lead to losing valuable customers. With a cloud-based phone number, your customers can reach any of your team members, whether they are in the office, at home, or on the way to a meeting.
In case your team members can't attend an incoming call, they can transfer it to other representatives directly. This ensures a customer's call never goes unanswered. It proves out beneficial for call centers for small businesses.
6- Improved Call Queuing
Waiting in queues irritates – be it in a supermarket or on a call. CallHippo simplifies the call queuing with a First In, First Out approach. This means the first customers to call will be answered first. Moreover, to free up customers from listening to annoying waiting beeps, CallHippo facilitates you to customize the on-hold music or message that refrains the customers from hanging up.
7- Omnichannel Capability
For a good customer experience, it is crucial to have call center software that allows integration with your existing systems. CallHippo gives you the flexibility to integrate with various CRM and other channels so that you can get your work done from a single place. For the companies that need call center software, this benefit comes in handy.
8- Reduce Calling Expenses
Most businesses today offer toll-free numbers to allow their customers to reach them for free. However, the calling expenses are incurred by the company. Just to give you an idea, an incoming call on your toll-free number would cost you somewhere between $0.033-$0.555, depending on the caller's country. When it comes to outbound calls, the prices range between $0.045-$5.625, again depending on the country you are calling. 
But, with virtual call center software, you won't see telephone bills as high as traditional telephone lines.
9- Ease of Installation & Maintenance
One of the biggest benefits of cloud-based call center software is that it is incredibly easy to install. You won't even need expert technicians to install the software. Just download it, and you will be good to go. For instance, CallHippo call center software can be installed within three minutes. 
Here are some more benefits of call center software that may interest you:
There are no geographical barriers. A virtual call center lets you hire agents from all over the world, and at the same time serve customers in different time zones. 

Offers real-time customer support that builds brand loyalty.

Satisfied customers = loyal customers

. 

Brings the entire range of customer data in one place, which in turn helps in customized support. 

Records the calls that are used for reference and improvement purposes. 

Monitors the calls that are used to identify what works and what doesn't. It is also used for training new employees. 

Basic call control that helps to hold or transfer calls with a click of a mouse. 

It offers metrics that include call volume, service level, handles time, abandonment time, waits time, etc. 

Easy utility for small remote teams

Increased productivity

Easy management on scalability

Multi-channel support

Insight reports

Easy access for customers

How Does A Call Center Software Work?
The number of people working from independent locations is at an all-time high; so now is the time to leverage virtual call centers. Instead of working from the business' office, agents now work from remote locations. The virtual call center software binds the agents present at different locations and works towards making the customer service performance smooth. 
In call centers where employees are confined to a space, the organization has to bear real-estate costs, overheads, and turnover rates. The process is expensive and consumes time, and growing businesses cannot afford it. That is the reason why businesses are going virtual. With a virtual setup, the costs are greatly reduced, which makes it a great call center solution for small businesses.
In such a setup, the call center agent needs only two things, namely:
– Virtual call center software
 – Internet connection 
These kinds of call centers have become increasingly prevalent with VoIP technology. This Voice Over Internet Protocol technology uses a data network to place a phone call. That means inbound calls come in over the internet, not phone lines. In cases like these, the calls do not necessarily reach a physical department but a virtual call center.  
It is highly beneficial for businesses where customers frequently call to check the status of their requests. A system for tracking these calls is mandatory here. With that system, remote agents can access the calls via the internet. 
The VCC workers then cater to the customers' queries, thereby saving time and cost for your business. Not only that, but they also serve as a way to engage with customers and provide support without interrupting the day-to-day operations of the business. 
These services are also often available 24*7, meaning your customers will never remain unattended
Detailed step-by-step working of a virtual call center software looks like this-
A customer dials your support number. 

He/she is presented with a custom menu (also known as Interactive Voice Response). 

The customer enters a number (as per his/her requirement). 

The software then redirects the caller to the right department and agent. 

Simultaneously, the software displays all the available customer information to the agent, so he/she can better meet the caller's needs. 

In case of incoming calls, the system browses through the available database to identify the customer.

The customer is added as a new caller for future reference if his information is not present in the database.

Whereas, if it's an existing customer's call, the records are accessed by the agent to get the details of the customer and the issue history before handling the call.

According to the customer's reply to the automated response, the call is queued depending on the mapping of the database.

Agents who are mapped to the queue in context get access to pick the call when the call is pushed further.

After taking the call, the agent assists the customer by giving the needed instructions over the call itself or through email. The agent can also get supervisors or senior agents on the call if needed.

If the agent cannot address the issue immediately, the system allows the entire interaction to be recorded so that he can keep track of the request status and do regular follow-ups. 

Depending on the customer's final response, the agent marks the status as open, closed, resolved, or requires follow-up.

In case the ticket is marked as closed, the agent requests feedback from the customer through an automated survey call or email.

This feedback is used by the company in the future for improvement or reference purposes.
( Source: giphy )
On-Premise Call Center vs. Cloud-based Call Center
An on-premise call center software is something that you install in your office. It includes telephone lines, a system to handle calls, and telephones. 
A cloud-based call center software, on the other hand, is hosted on the cloud and doesn't require you to install any physical equipment in your office. All you need is a computer or a smartphone to handle business calls. 
An on-premise call center has higher turnover rates, requires you to purchase hardware, and more significant overheads. Whereas a virtual or cloud-based call center offers more flexibility, lower turnover rates, and reduces overheads. 
The process associated with the on-premise call center is time-consuming and expensive. On the contrary, running a virtual phone system is far more cost-effective and economical.
Businesses with outbound calls end up paying about $60 per agent as call costs. But, with a VoIP-based call center solution, you can potentially save every month! This is why most businesses choose virtual call center software over the on-premise version.
( Source: giphy )
Who Can Use A Call Center Software?
This is a myth that only if you are a large corporation, you can set up your call center. A call center software works excellently for small or medium businesses that need to address a large number of calls with a high-quality experience at a low cost. 
Generally, segments such as B2B advertising, education, retail, e-commerce, real estate, etc. need call center software to win their customers. However, giants from these sectors can manage to run their private call centers, but the smaller companies can't apply a standard call center solution for customer support.
Here are the main reasons why small to medium companies can't manage their very own call center:
Costly hardware:

A call center establishment requires extensive and expensive equipment, such as a private branch exchange (PBX). 

Technical teams:

To run a call center, you need a team of IT experts to meet all the technological needs, which would ultimately require spending money on training of the IT staff and salaries.

Directing calls is time-consuming:

Calling operators lose more time dialing the numbers of the customers, which they could have used to speak with the leads. This conclusively spends a lot of time on the agent's capacity to close the deals, reducing the overall productivity, and wastes the money of the company.

Low conversion rates:

In-house agents or contractual freelancers cannot always help you reach the sales target. With subjecting them to performance metrics, there is no convenient way to analyze and improve the results of the calls.
( Source: giphy )
How does call center software addresses the problems mentioned above?
By eliminating the need for expensive hardware, call center services for small businesses become accessible. Call center software is wholly digitized, unlike a traditional call center that uses expensive telephone lines. It uses a Voice over Internet Protocol (VoIP) technology that allows communications to flow through an internet connection. The only hardware needed for customer support through call center software is a computer that is combined with a speedy internet connection and microphone headset.
To explain it further, here are the benefits of call center software over the old-age means of establishments:
Scalability. 
Call center software lets you build a large customer base, expand into new markets, and scale your company to its full potential without even the need to increase your sales team along with it.
Operational flexibility. 
The latest call center software offers you one-stop solutions to provide excellent customer support. Call center software nowadays is secure for even novices to understand. It can adapt feasibly to any level of operations – vertical, horizontal, or even cross-functional. You can conveniently integrate call center software with an organization's existing apps, such as CRM, help desk tickets, call script generators, and even with mobile phones.
High conversion rates. 
Call center software provides an in-built analytics system that lets you display a performance report with immediate insights into all call center teams. Reports can include metrics data such as the average number of calls taken per day by the agents, waiting period, and service levels, etc. This can, in turn, help improve the team productivity and utilize the agents' time to take on more calls, which significantly helps the people working in a call center.
Since the call center software supports call recordings that generate call scripts, your business can even increase conversion rates with it. Once you go through enough calls to optimize the scripts to every word, your agents can always have a basic outline to speak with the customers.
Operators can thus engage the leads on the phone for an extended period to extract the most information from them. Such scripts, in short, will help every agent to work uniformly and accurately to land the leads as successfully as possible.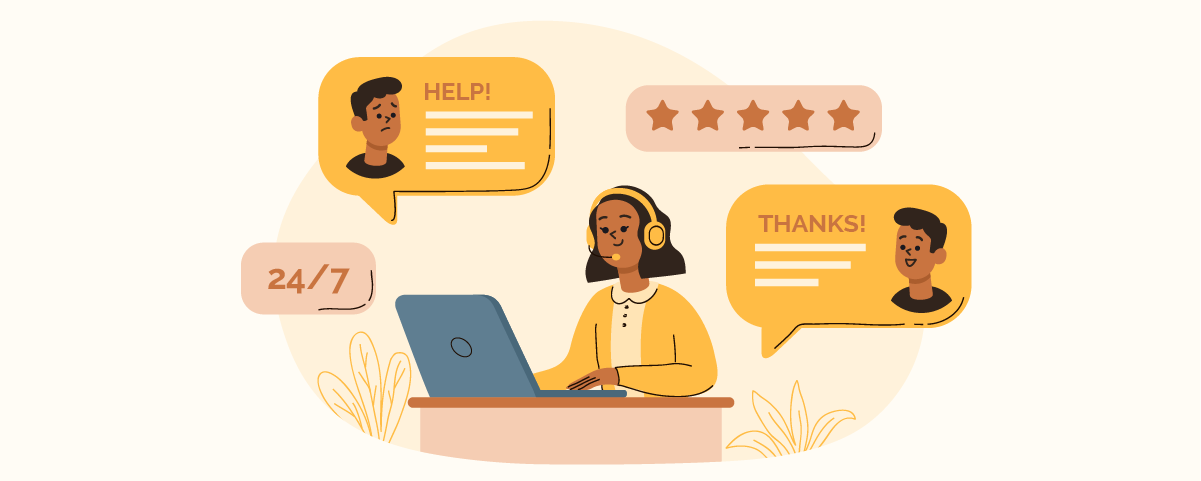 How to Use Call Center Services to Serve Your Customers Better?
In 2015, Gartner predicted that in the coming years, digital disruptors will render customers experience a primary basis for competition among companies. Well, even after six years, we agree. The rise of customer experience has been gradual but inevitable. Today businesses cannot think of competing in any sector if providing customer experience is not their strong suit. 
According to Oracle, 86% of buyers would happily pay for a better customer experience. In the same vein, 89% of them will switch to a competitor following a single instance of poor customer service. It's the company's choice at the end of the day, to engage in a constructive and helpful manner with their customers, but it's quite evident which route they should choose.
Where does customer service fit into this? It's obvious. Customer service is an integral part of the overall customer experience. A buyer may have had a wonderful experience purchasing from your company, but if your after-sales service and customer support are sub-par, then it will negate the positive buying experience completely, leaving them with a bitter taste in their mouths.
Coming to call centers. One might consider them as being antiquated relics, but they are still flourishing, despite many years that have passed since the initial boom in call center services that started around the time of the dot-com craze. According to A.T. Kearney's research, in 2017 there were around 3.4 million in-house and outsourced call center workers employed by US companies. Call centers are a significant part of any company's customer support strategy. 
Moreover, it's not just large enterprises that are putting call centers to use for enhanced customer support today. In this tech-driven era, VoIP-based virtual phone systems have been one of the most multi-faceted tools to have emerged in recent memory. Tech developments such as call center software have made setting up and managing call centers easy for a firm of any size. 
So let's take a deeper look into how you can use a virtual phone system to set up your very own call center. We will also be looking at why call center software is your best bet at getting the most out of your call center. You also need to consider some factors before getting a call center software for your business. 
CRM Integration
Information is key when it comes to successful customer support interactions. Even the most experienced inbound call center customer service rep can't put these skills to use if they don't have the right information at hand. Many call centers for business either provide extensive CRM integrations or have inbuilt CRM capabilities. This allows the service representative to have access to the entire history of a particular customer with the organization. Their past purchases, complaints, inquiries, etc are all stored in the CRM module. This way even if the representative who was previously handling a particular customer is unavailable, another service rep can easily take his place as there is no loss of information. Also, with the help of a cloud-based virtual phone system, a customer can always reach their preferred service representative, no matter where the latter is.
24/7 Availability
Along with zero information loss, call center software also allows for 24/7 availability, which always makes a great impression on your clients and customers. This is one of the biggest benefits of a call center as they have evolved from using only phones to using a variety of other tools such as email and live chat. Moreover, many call center software also gives organizations additional tools such as chatbots, allowing them to deal with many common customer queries in an automated manner. With online phone numbers, 24/7 support can be available at an inbound call center. This is key in today's scenario where even a slight delay in the response might put the customer off.
Call Analytics
An excellent tool for any inbound call center, a virtual phone number from top-notch providers will include advanced features such as call recording and call analytics. These features are awesome for a number of reasons. Firstly, these act as great training tools for new customer support reps. Secondly, they help even experienced employees to learn from their mistakes, which turns working in a call center into a learning experience for them. Analytics give them accurate and actionable insights into how successful they've been on a support call based on the tone of the customer, their words, etc. With good quality call center software, you can expect your customer support reps to learn a lot and to put the insights to use in subsequent support calls. This is one of the most beneficial tips for working in a call center.
Multi-channel Engagement
Just like retailers are looking at multiple channels of sales, businesses have to look for multiple avenues to connect with customers and engage them. Social media has become a popular platform for customers not only to give their reviews and feedback but also to get instant support for any issue they might be facing. It is common for many customers to get their issues resolved with a customer support rep guiding them on a social media platform. Your inbound call center could do with an online phone number. Most call center software will provide your customer service team with a variety of inbuilt social media plugins; thus, allowing them to pay requisite attention to alternative mediums of customer engagement beyond phone systems.
Faster Resolution & Happier Customers
The use of virtual phone systems powered by call center software allows your organization to build its reputation through the faster resolution of queries and issues. All the aforementioned perks of using a call center software ensure that your customer service representatives can give their best to customers, wherever they are. Virtual phone numbers help them stay connected to customers and foster trust, which is always good for the company.

How can you get the best call center software?
We find many people who decline answering calls from an unknown international number. Besides, customers are reluctant to call if they need to pay international charges for calling you. Here, a virtual phone number can do wonders. An essential characteristic of a cloud-based phone number is that it allows businesses to create a local presence with a local phone number. This works out well for emerging companies and proves out to be a worthy call center solution for small businesses.
Right from call transferring to voicemail, CallHippo is a one-stop solution to all your business communication needs.
With CallHippo, you can have your call center set up in less than 3 minutes. You need to follow the below-mentioned steps to get the most out of call center software:
Sign up

with CallHippo.

Log in using the Username and Password.

Go to the Dashboard and select a virtual phone number for the country you want.

Select any of the pricing plans as per your needs.

Make the payment, and you are all set to use your virtual number.
Call center software increases customer database and it is the building block of your support center's future. It undoubtedly cuts down the company's investments, allows you to build a remote team, improve agents' performance, and ensure customer satisfaction.

Do You Need It?
If you're a brand that truly believes in 'customer retention through service and engagement', then the answer is yes. You should get call center software for your business.
Whether you're an already established business or have just plunged into the field, you need to be there to serve your clients when they need you. Not only this, but you can also use it to make outbound calls and pitch your products and services to prospective customers. You should consider these factors before getting call center software for your organization.
Excellent customer experience is the right way to incentivize your brand, which is why there should always be room for improvement in it.
With so many distinctive touchpoints available for a customer to connect with your brand, every channel must be treated as an opportunity to impress and satisfy.
Amongst all your channels to let a customer contact you, the most prominent one that will influence your business is your call center. With that being said, many organizations are looking for savvier solutions to revolutionize customer experience with call center software.
Managing customer support through call center software is not only practical but also affordable for increasing efficiency. It enables businesses to use their resources more productively and deliver better service.
( Source: giphy )
Conclusion
With advanced capabilities such as AI (Artificial Intelligence) and Machine Learning, which are slowly making their way into various industries, expect customer support to get even more efficient. For now, using a virtual phone system in tandem with call center software will revolutionize customer experience, and give your company a definite edge over its competitors.
The most significant reason to utilize call center software is that you get to divert your increasing profits into the growth of your business rather than appointing more personnel to reach more customers through manual dialing. Through an efficient call center for business, you can build faster customer relationships and provide a better customer experience, all the while making your team more productive.