How to Do a Call Center Setup?
Setting up a Call Center For More Than 50+ Countries
What Is A Call Center Setup?
Now a days, Call centers predominantly rely on internet-based phone services. It not only streamlines customer service but also enables the agents to access customer data to provide excellent support. The induction of a cloud-hosted call center has given an edge to the call centers as the agents don't have to be in the same building or at the same place to solve the queries of the customer.
In the recent past, call center setup cost was expensive and time-consuming. Since the arrival of the VoIP bpo setup, these centers are now experiencing a high degree of flexibility and advancement. These Cloud-hosted VoIP Call Centers can now devise different strategies, designs, and systems befitting the needs of their very organization.
Why Does Your Business Need to Setup a Call Center?
The Call Center services are growing at a striking rate. Every business, whether it's small, medium, or large, needs a call center set up for customer service or lead acquisition. If the existing clientele is happy with your services, they will provide your recommendations to others. It will strengthen your relationship with the customer. Your agents can receive calls directly on their computers or phones irrespective of their work location. It will make sure that no calls go unnoticed. The managers or the designated official can log in to the call center software to observe the performance, call recordings, customer satisfaction, etc. Setting up a virtual call center will ensure your long run in the market.
How Much Does a Call Center Setup Cost?
A BPO setup cost primarily depends on the size of your business and the type of call center you choose to set up. Although, today, companies of all sizes can easily set up new call centers worldwide by utilizing VOIP technology and cloud-based software systems. The basic setup includes just one phone, a desk, and a headset, in addition to a good internet connection and software.
However, BPO cost would involve constructing, furnishing, and equipping a facility on-site if you're setting up an office. These costs can quickly add up to $2,500 and $10,000 per workstation to fully operational a new call center. Alternatively if you are looking to outsource your call center activities  instead of setting it up you can check the list of call center companies here.
How to Get Call Center Number – Video
How To Set Up A Call Center?
A SaaS cloud-hosted call centers can be set up in a matter of minutes.
1. Define The Type Of Call Center You Need
Inbound call center setup
Outbound call center setup
2. Callers Approach Towards Your Agents
Once you have decided which cloud-hosted call center setup to go for, the next step is setting up your Interactive Voice Response (IVR). It will determine how your callers will reach your employee.
IVR: It will determine whether your callers get connected to the agent directly or via an IVR. You can also add a welcome message and offer a menu of choices. Also, it will allow customers to choose from single-level or multi-level options.
Self-service: Your IVR can handle necessary inquiries or connect with other applications to create or cancel reservations, bookings, and more.
3. Skill-oriented Grouping Of The Agents
A virtual call center consists of teams specializing in various domains.
Call center software connects the call of the customer to different skill groups. Analyst with the specialized expertise of a product will answer queries for that product. The team exclusively handling operational problems like shipping, and delivery issues may be authorized to process refunds. Thereby, each agent gets assigned to separate skill groups.
4. Automated Call Distribution (ACD)
It will allow prominent customers to connect with the call center team with the required skillset when the call volume is high.
The total number of incoming calls get equally divided in a round-robin manner. This system is preferable for sales call centers or where the staff does not exclusively handle requests alone
How to Start a Call Center?
Customer is king – this saying has never held more importance than now! You need to take time and effort to serve your customers well in order to retain them.
Service is all that matters, so companies need to take the extra step to provide quick and impactful assistance when required.
If you want to delight your customers and make sure that they don't switch over to rivals, communication is the one aspect that you need to work upon.
Any organization needs to have multiple channels through which its clients can get in touch with them.
A call center is an ideal solution, as it will have a dedicated team of support representatives who can answer all customer queries and provide them with exceptional service round the clock.
In fact, nowadays the market is inundated with various call center software for your business and managing their corporate communication in a more structured manner.
The call center industry is growing at an unprecedented rate. It is expected that by the year 2020, the revenue generated by this dynamic industry will reach 400 billion, and it will employ a global workforce of over 1.8 million employees.
We know how competitive the current business landscape is – cut-throat competition prevails in every field. In such a scenario, how to start a call center should be one of your prime business objectives.
It can lead to an exponential increase in sales, streamline lead management, and enhance customer satisfaction levels.
It is not too late to include an outbound or inbound call center in your organization's long-term roadmap. However, many organizations struggle with the idea of investing time, effort, and money in setting up their own outbound or inbound call center from scratch.
Well, the actual truth is that it is an extremely simple process – a little planning and foresight can make sure that you face no problem.
Creating The Perfect Plan To Setup Your Call Centers
Setting up your own outbound or inbound call center will definitely have a positive impact on your business's bottom-line results.
It is imperative to have a mental blueprint before you start the process. Without proper planning, you may find yourself in a difficult position.
Take out adequate time to strategize before you start the setup procedure. Make sure to talk to other people about their experience while call centers setup, up so that you can avoid common mistakes and pitfalls.
Here are some tips that will prove to be useful while opening a brand new contact center:
1. Fix A Budget
The monetary budget is super important, as nearly? everything will depend on this particular factor. The first step for setting up a call center is to assess all the funds at hand.
You will need to differentiate between the initial investments for setting up the infrastructure and keep aside a chunk of money for recurring expenses. Ensure that you put your plans in writing so that you have a crystal clear idea.
Chalk down the expected timeframe in which you expect to break even, and start generating revenues.
Try to dedicate a maximum amount of money to set up your call centers, and do not consider it a drain on your resources.
Remember, there will be tons of indicators that will contribute to business profits once your call center business is running – higher leads, increased sales, better customer satisfaction, and a motivated workforce.
2. Decide On A VoIP Call Center Or On-Site Call Center Also Outbound Or Inbound Call Centers
Another crucial decision before even thinking of establishing a call center business is to decide whether your business needs a virtual call center setup or an on-site platform.
An on-site call center will translate into heavy dependence on your internal IT team. They will be responsible for installing, maintaining, and configuring the call center software.
The in-house team will handle all the hardware, and software requirements, along with any future system upgrades. Deciding on an in-house call center will have heavy demands on your space requirement, and also prove to be expensive.
All the servers that host the system will need to be managed by your organization, hence you will need to hire IT expertise. However, it will definitely give your business full autonomy and control over the communication process.
Nowadays most organizations prefer to invest in cloud-based virtual platforms due to convenience and flexibility.
In a virtual solution, an efficient service provider handles the infrastructure and hardware. Your organization will just need a high-speed Internet connection to get started, rest there is no pressure of installation or maintenance.
A VoIP call center also encourages remote working across different time zones; hence it is highly advantageous for a call center. The only drawback may be the dependence on a third-party provider for any routine problems.
3. Establish Business Goals And KPIs
Make sure to define the business goals and key performance indicators of your call center early on. You need to know what purpose your call center will serve to make further decisions.
For example: if your call agents will be cold calling leads, make sure to set up an outbound call center software. However, if your company receives a high volume of calls from customers daily, it would make better sense to invest in inbound call center software, so that you can provide better customer service.
Set up quantitative parameters (known as key performance indicators) that will determine the speed, efficiency, and quality of service of your call center.
This should be part of your long-term corporate strategy so that you can track these metrics and enhance performance continuously.
4. Decide on A Specific Location
This is another tricky question – will you prefer to have a physical office space setup or a team of virtual agents.
Any virtual contact center software will give your team the ability to serve customers remotely, however, if the scale of operations is large, you may prefer to set up a physical office.
Make sure to choose a location near your business headquarters that is accessible to your team. Another key consideration is that the location should be easy to commute to; hence your employees should be able to access it by their own transport modes, and even public transport.
Select a site with ample parking spaces so that your team members do not face any problems. Your physical location will impact a number of internal performance parameters, so survey around wisely, and rent out the best location for your call center.
5. Pick The Right Tools And Technologies
In order to perform at maximum level efficiency, your call agents should have access to the right tools and technologies. Right at the beginning, use an outside-in approach to understand what technological assets and knowledge base your call center will require for optimum functioning.
List down the core technologies that you will require such as the predictive dialer, call routing, recording, and workforce optimization.
Call analytics is another vital area that every contact center should cater to, as you will need to monitor metrics such as call volume, average waiting time, and call duration.
Make a list of hardware items so that you can purchase them well before setup – headsets, cables, laptops, smartphones, or personal computers.
This will help you remain organized, and not lose out on vital time during the final stages of the call center setup.
6. Recruit The Team For Virtual Call Centers Or On-Site Call Centers
Human resources will be your biggest asset; so do not ignore this important component. You need to attract the best available talent in the market, so make sure to build a brand that pulls people.
Firstly, decide on the number of agents that you will require to man your call stations. Then decide on a recruitment strategy – internal or external.
Internal recruitment will be based on references from your existing employee base, whereas external requirements would mean tapping into the environment through advertisements, or trained consultants.
Chalk down an onboarding process to welcome the new employees, and set aside a particular period of time for training. Keep the morale high, and engage your workforce to ensure that you have a team of happy performers!
An in-house call center can make your business reach the greatest heights of success. It gives your loyal customers a two-way channel of communication so that they can make inquiries about products or services and gain speedy support.
A phased and planned transition can ensure that your call center setup occurs without any glitches or roadblocks. Follow this checklist, and focus on service quality to increase your business revenues by setting up a call center with ease!
What Are The Advantages Of VoIP For Call Center Setup?
1. Reduced Costs
Starting a call center reduces the cost associated with staffing of call center agents and call center infrastructure. It also eliminates overhead costs as external service providers use their own call center software. Consequently, all these aspects add up to huge savings and improve your bottom line eventually.
Know call center setup cost here.
2. Improved Call Quality
Excellently trained and proficient call center agents can handle calls within a moment's notice, which significantly enhances the service quality during peak hours. Overflow calls, if redirected to them, reduce wait times and customer frustration.  It will drastically improve the quality of customer service and minimize turnaround time.
3. Business Continuity
In case of any adversity, external service providers can play a significant role. If the system of your call center goes down or there is a power outage, they can take care of calls till the time you get entirely settled. It is a cost-effective solution to ensure business continuity. It will make sure that you don't lose a call due to factors beyond your anticipation.
4. Enhanced Consumer Satisfaction
Cloud-hosted VoIP call centers will provide improved customer satisfaction when your agents can handle peak call volume more effectively and spend time meeting the customer's needs. Shorter wait times and excellent customer support can translate into more satisfied clientele. Call center managers can also manage teams productivity from anywhere in the world.
How to Start a Virtual Call Center – Final Checklist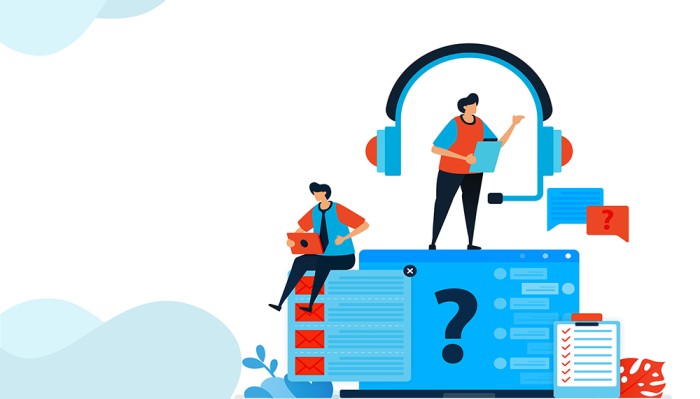 ( Source: c-zentrix )
After going through all the importance of the inbound call center, virtual call system, its benefits, and the detailed setup process, there is a lot of work to do. However, the entire process is straightforward and can be bifurcated into simple steps for quick implementation. So, don't worry, as we have a final checklist for setting up a virtual call center. So, here you go:
Define the software integrations required in your 

virtual call system.

Set up the workflows according to the business processes.

Go for the equipment purchases and allocation of these resources.

Skilled employee on-boarding and training schedules.

Dedicated methods to evaluate team performance.

Effective dashboard training.

Set up the virtual numbers for your team members.

Create user profiles and share login credentials.

Strict monitoring of activities and activity feed.

Activating the add-on features and integrations in the 

virtual call center platform.
Set up your business phone system in a breeze
Schedule a free product consultation call
Frequently Asked Questions on Call Center Setup
What are the steps to set up a call center for an early-stage startup?
For an early-stage startup, one should
Fix A Budget
Decide On A Virtual Or On-Site Call Center
Establish Business Goals
Decide A Location
Pick Tools
Recruit Team
Which industries need a call center desk setup?
For
Recruiters and Staffing Agencies
Software and IT companies
Real Estate industry
Healthcare industry
Retail Sector
How can a call center setup benefit your business?
With a call center in place, firms can improve customer experience, reduce complaints, resolve customers' issues and improve overall brand loyalty. It helps organizations anticipate changing customer demands, improve customer experience and adjust their strategy for growth.
How do I set up a call center in India?
For a call center setup in India, follow these steps:
1. Determine the goals
2. Decide on a budget
3. Identify your call center type
4. Build your team
5. Train your employees
6. Find the right software and tools
7. Invest in culture
How to Start a Call Center From Home?
Call Center Setup Requirements are as Given Below:
1. Hire reliable virtual call agents
2. Use effective software tools for remote work
3. Choose the right equipment to make your agent's job smooth
4. Plan your activities
5. Set up proper communication with your customers and your team.
How to get a call center number?
To get a call center number, all you need to do is:
1. Open CallHippo
2. Select a particular country
2. Select a local or toll-free number
3. Add a number
4. Start making calls
How to set up an inbound call center?
To set up an inbound call center, the following steps will be helpful:
1. Define the type of call center you need
2. Plan the way callers can access your agents
3. Create the agent IDs
4. Define the skill groups
5. Define the ACD Logic
6. Define data format for your dialers
7. Decide on how to collect feedback