Every small business wants to make it big in the market. Obviously, this doesn't happen overnight- there are challenges and a lot of challenges.

Good news..!! Everything is possible if you are armed with the right strategy.

And this strategy is to is upgrade your call center with new technologies as they are still the number one way for customers to get in touch with you and vice-versa.

A lot of people even believe that superior customer service is the last frontier where businesses can truly differentiate themselves.

Don't you, believe me, let data do the talking. The famous analyst firm Forrester says that the phone is still the most widely used customer channel with 73% of people calling a call center.

Customers crave excellent customer service and hence it is necessary that the call center agents should be skilled. It is the only thing that matters the most to them. Accenture in 2016 stated that companies that provide excellent customer service will snatch a share of $ 1.6 trillion ( Don't get shocked it's actually a "T") away from competitors.

The call center also helps in driving more business revenue as it helps in delivering good customer service. This will indirectly help you in getting more customers which will be an added advantage to the business. So if upgrading your call center technology and moving your company towards using call center software is the next big thing on your list, you should consider the below points.
7 factors to consider in your new contact center software:
1) Identify your needs
So what are your business-specific requirement? Is the service provider able to fulfill it? Is your activity a seasonal one? Do you use any special language requirements or are you planning to operate from a certain area? Identify what you want and then look out for the best VOIP phone providers. If you do your homework properly, they will be able to advise you and help you in every step.
2) Shop Around
Take time to shop around properly and just don't haphazardly make a final decision. There are numbers and numbers of virtual phone system providers in the market, and they all may seem similar at first, be sure to compare them. You can also take advantage of their free trials and see if they are working for you or not. When you are getting the best service you will know it and so will your customers.

3) Get references and talk to other clients
Have a word with the virtual phone number provider's current clients and ask them how is the partnership working for them and whether they would recommend them as someone to do business with.

Another important thing to consider is whether the provider has worked in your industry or with your type of clientele. You can also look for call center software that is successfully serving a competitor of yours. If it is working absolutely fine for them then it concludes that it has the ability to hire, train, and support the type of calls and customer interaction you are likely to receive.

4) The call center software should integrate seamlessly with your CRM solution
One of the most important things that you should consider before getting a call center software is its ability to manage your customer database. Support is the most important pillar of any business and if your CRM is able to integrate seamlessly with the call center software you will have a better understanding of your customers, their pain points, and specific requirement.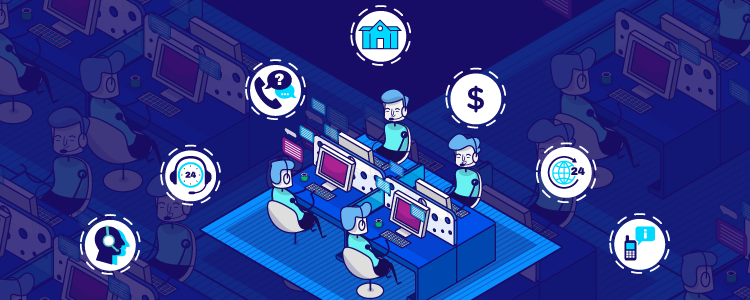 5) Don't forget the social media integrations
DMG Consulting has predicted that in the coming year's social interaction with a company will become equal to phone interaction and 70-80% of these interactions will be service-oriented. Therefore while choosing an inbound call center software businesses should go with one that can handle social media platforms as effectively as phone interactions. Customers whose queries are not addressed in a timely fashion will not take a moment and will switch their loyalty to competitors.
6) Discuss policies and procedures
Take some time and understand how communication will be managed, from daily updates to the overall planning and design of the virtual phone system. See the samples of reports their system can generate and check if they can make customizations to generate the reports in specific formats needed by you.

Also, ask what metrics are provided to evaluate the agents and make sure they align with your priorities.
7) Security and privacy measures
Dig deeper into the security policies, technology, and processes provided by them. How is your data stored? Whether or not it is separated from other clients' data to protect it from fraud and data corruption? Do they have a verifiable disaster recovery plan?  Make sure that the processes, policies, and technology meets both the business needs as well as the regulatory standard your organization should meet.
Few other buying tips you should consider
1) Check whether the inbound call center software allows you to respond at the pace of the consumer.
2) Don't lock yourself into complicated contracts that limit your ability to adopt other tools to satisfy the ongoing business needs.
3) Understand your customer journey and give them
  – A high level of satisfaction resulting in an improved customer net promoter score.
  – Lowest friction experience
4) Choose a VOIP phone system provider whose services go beyond deployment such as helping a company plan, implement, and integrate call center software.

Bottom Line
Choosing the right contact center software for your small business is like finding a needle in the haystack. You not only have to worry about your existing needs but also how you may want to expand them in the future. You would definitely want software that will grow along with your business needs and meet the expectations of your customers from an intelligent contact center.