Date: January 10, 2023
The global business landscape is swiftly and substantially evolving and becoming more and more competitive every passing day. To survive and thrive in such competitive markets, businesses must invest in and embrace cutting-edge communication solutions such as VoIP numbers.
But what is a VoIP number, what are its benefits, what features it encompasses, and how to get a VoIP phone number—we will discuss all these topics and get their answers in this in-depth guide on VoIP phone numbers.
Let's get started.
What Is A VoIP Number?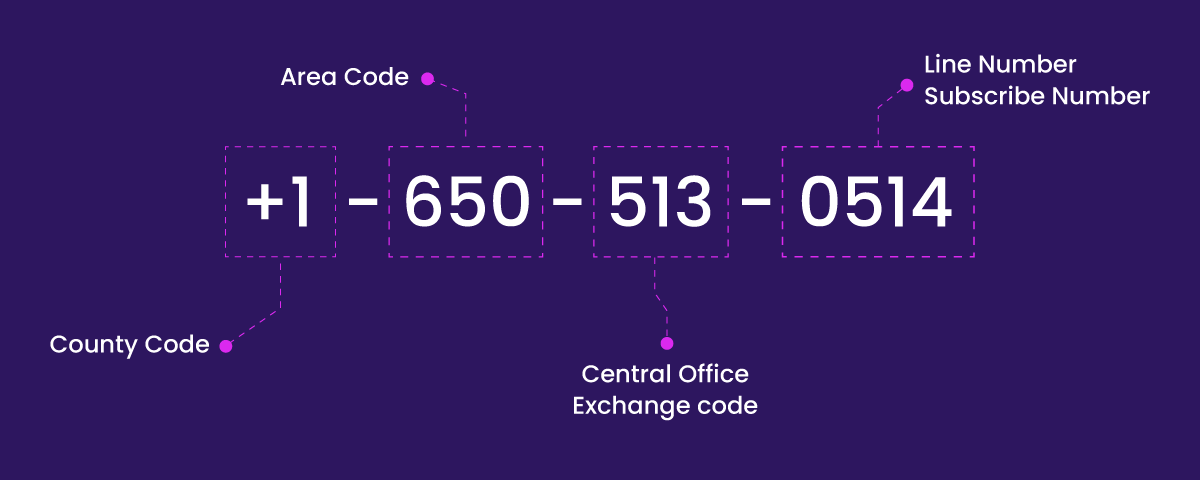 A VoIP number, also known as a business phone number, is a virtual number that uses the internet to transmit data from source to destination. Moreover, VoIP numbers operate similarly to regular numbers but provide a plethora of additional benefits such as easy scalability, improved voice quality, a large pool of area codes, cost-efficiency, and more.
Besides that, since VoIP is a cloud-based technology, you can access it from virtually any device, including PCs, laptops, smartphones, and so on. The only things you'll need to run a VoIP phone system are a stable internet connection and an IP phone or a device. This level of portability will eventually help the business serve its customers more efficiently, increase retention rates, and boost revenue.
How Does A VoIP Number Work?
As previously stated, VoIP numbers use the internet to transmit data from source to destination. Unlike traditional business phone systems, which use circuit switching, VoIP uses a data grouping method called packet switching. In this data transmission mode, a message is split up into multiple parts that are sent independently over the best route for each packet and then reassembled at the destination.

The business VoIP system is directly connected to the router and to its VoIP service providers via the internet. The VoIP phone service provider connects VoIP phones through a network of servers. Furthermore, they can route calls between landlines and mobile phones.
However, in order to successfully implement VoIP in your office or home, you must follow the steps outlined in the attached blog.
VoIP Number Vs Regular Number: What's The Difference?
Both VoIP and regular phone numbers function essentially the same. However, there are some significant differences in its structure and benefits.
For example, when you select regular numbers, you have no option to customize them. However, in the case of VoIP numbers, you can choose your preferred country code, area code, and telephone number. Besides, you can select a number type, such as a local phone number, a toll-free number, level-3 VoIP number, or a vanity number.

On top of that, regular phone numbers cannot function without a SIM card. In contrast, VoIP phone numbers do not require a SIM card to work. All that is needed is an internet connection, a device, and an IP phone.
Another significant difference between regular phone numbers and VoIP phone numbers is data transmission. On the one hand, whereas traditional landline numbers use cable lines to transmit data, VoIP phone numbers make calls using the internet and internal enterprise LANs (Local Area Networks).
Types of VoIP Phone Numbers
There are three main types of VoIP phone numbers, as explained below. Each of them has a different use case and is used for a different purpose.
A. Local Numbers
Local numbers are a type of VoIP number that is accompanied by a 2-3 digit local area code that denotes the city or region. Local phone numbers are ideal for businesses since they allow them to localize their brand among local customers or broaden their presence in international markets. When a customer or prospect receives a call with a local area code, they are more likely to trust and pick up the phone than when they receive a call with a non-local number.
B. Toll-free Numbers

Another type of VoIP number is known as a toll-free number. As you may know, Toll-free numbers are phone numbers that begin with the prefix 1800. However, along with the 1800 series, we now have many other toll-free number prefixes available, including 888, 877, 866, 855, and 844. These types of VoIP phone numbers are appropriate for companies that have a national or international presence or are looking to establish one.
C. Vanity Numbers
The third type of VoIP number is a vanity number. In simple terms, a vanity number is an easy-to-remember alpha-numeric and customizable business phone number that is often used for marketing purposes. For example, 1800-CAKESHOP could be a vanity toll-free phone number for a popular cake shop delivery service.
These are the three types of VoIP numbers. Choose the one based on your business's requirements and objectives.
Now, before we learn how to get a VoIP number, let's first discuss why you should get one.
Why Should You Get A VoIP Number: 6 Benefits of VoIP Phone Service
VoIP phone numbers, also known as Voice over IP numbers, provide a range of benefits to their users. This includes simple installation, brand localization, improved voice quality, cost-effectiveness, and other perks. Out of them, the six key advantages of VoIP phone numbers are briefly discussed below.

A. Easy Setup
The first major advantage of using a VoIP phone number or business phone number is that it is simple to set up. Unlike traditional phone service or phone systems, VoIP does not require any standalone hardware since it is cloud-hosted. This will save you significant time, money, and effort. To get started with a VoIP number, follow these three easy steps.
Step 1: Select the best VoIP service provider by analyzing its technical and non-technical facets.
Step 2: Based on your needs, choose a preferred pricing option and make the payment.
Step 3: Set up the system and start making and receiving incoming calls.
B. Brand Localization
Brand localization is critical for businesses. Customers must trust your brand and not think of it as a "foreign" brand. One method for accomplishing this goal is to use local phone numbers for communication. Most of the trusted VoIP providers, such as CallHippo, provide their customers with a large pool of country codes and area codes. Users can select or customize their VoIP number by choosing the preferred codes.
C. Excellent Portability

Gone are the days when marketing and sales teams were forced to work from the office due to on-premise systems. However, with the rise of cloud solutions such as VoIP numbers and other telecommuting solutions, the situation has flipped, and teams are no longer required to work strictly from the office. Instead, they can work from anywhere and attend to or make phone calls if they have an internet connection and a device such as a cell phone.
D. Clear Voice Quality
When it comes to customer communication, better voice quality is critical. It is necessary that all information is conveyed clearly and without loss or distortion. This is certainly possible with a VoIP phone system. Since the VoIP number uses internet connectivity to transmit data, there is little distortion or delay.
E. On-demand Scalability
Understandably, no business can remain on the same success trajectory for a long time. There are days when they perform well and days when they do not. As a result, you require easily scalable solutions per your needs. Fortunately, virtual phone systems provide on-demand scalability. You can add or remove virtual numbers from your account whenever you want. This ensures that you only pay for what you consume.
F. Cost-efficiency
The last significant advantage of using a VoIP phone number is that it is a cost-effective solution. When you choose the best VoIP number providers, such as CallHippo, you can expect significant cost savings in several ways. For example, you do not have to pay for installation, maintenance, or any additional hardware other than the device. Moreover, VoIP phone systems have much lower calling costs than traditional phone lines.
All of these advantages of VoIP numbers illustrate why it is the best business communication solution available today. However, remember that to reap all of these benefits, you must consider several factors listed in the following section when selecting the best VoIP provider.
7 Factors To Consider When Choosing A VoIP Phone Number
The seven major factors you should consider before making a final decision about the VoIP number provider are listed below.
A. Features & Functions
The feature set is the first thing you should look for when choosing the best VoIP service provider. Ensure that the solution retains all the necessary features to meet your requirements and objectives. The table below lists some of the key features of VoIP number systems:
B. System's reliability
System stability is the next vital factor to consider when selecting a VoIP number service provider. It is critical that the system be as efficient and stable as possible as well as should be up and running 99.99% of the time. Also, find out what backup plans the provider has in place to restore the system in the event of a failure. Remember that lower uptime will harm not only your business's operations but also its reputation.
C. Value for money
The third factor to consider when selecting a VoIP number service provider is whether the product you choose is worth the price. Perform a return on investment (ROI), cost-effectiveness, and cost-utility analysis to determine whether the system is worth the investment. Look for any other hidden fees or costs. Overall, select the VoIP number that guarantees the best value for money.
D. System security
As a multinational, customer-focused company, it is obvious that you store and transmit a large amount of confidential data about your customers and the company on a daily basis. All of this information must be kept safe from intruders such as hackers and malicious cyber attacks. Choose only a VoIP provider, such as CallHippo, whose system is thoroughly protected by various security mechanisms and controls.
E. Third-party Integrations
Nowadays, all modern businesses use multiple tools and solutions. All of these solutions must be integrated in order to form a centralized system. Integrating all of the devices and systems gives you a comprehensive view of your business operations, customers, agents, and organizational health. Furthermore, integrations synchronize all data together, eliminating the possibility of data duplication, redundancy, and loss.
F. Extent of customization
When it comes to business solutions, one size does not fit all because each company has its own set of requirements, customer types, and goals. For example, your IVR call flow may be very different from others. Or, for performance monitoring, you are focusing on a set of customer center KPIs and metrics distinct from others. As a result, you must select a VoIP number provider whose system is easy to configure.

G. Ease of use
The seventh factor to consider when selecting the best VoIP providers is the ease of use. A system with unnecessary features and a steep learning curve will eventually adversely affect the agents' performance and lower productivity. The VoIP system you choose should have a simple learning curve that allows even agents with limited technical knowledge to use it effectively.
In addition to these seven factors, answer these 47 most frequent questions on VoIP numbers to make an informed decision.
Now that you've learned about the advantages of VoIP numbers and the factors to consider when selecting the best VoIP number provider, it's time to learn why CallHippo is the best VoIP number provider and how to get ip phone number with CallHippo.
What Makes CallHippo the Best VoIP Number Provider?
CallHippo is, hands down, the best VoIP number provider on the market today. And we have multiple reasons and facts to back up this claim, listed below.
A. Unique features: CallHippo's advanced feature set is one of the main reasons why it is superior to any other VoIP phone service provider. CallHippo encompasses a series of novel features such as multi-level IVR, call queuing, smart switch, power dialer, automatic call distribution (ACD), call monitoring, advanced analytics, role-based user control, and gamification.
B. Affordable pricing options: CallHippo very well understands that price is a critical factor for businesses, particularly small and medium-sized ones. Keeping this in mind, the provider has kept CallHippo pricing options as affordable as possible. For example, the entry-level Bronze plan costs as little as $16 per user per month, while the premium plan– the platinum plan costs $40 per user per month.
C. Ease of use: The third reason to choose the CallHippo VoIP communication system is its user-friendly interface. The system is easy to use and can even be administered by individuals with little technical knowledge. Moreover, the company regularly publishes blogs, how-to guides, and other materials to ensure that users get the most out of the system.
D. 24X7 Customer support: When you partner with CallHippo, you can certainly count on one thing: their after-sales services. The company offers different customer support levels depending on your chosen plan. Furthermore, you can contact their support teams via multiple channels, including phone, email, chat, and other means.
In addition to these four reasons, CallHippo has a global presence in over 80 countries, easy setup, compatibility, and easy integration with 100+ CRM and other apps.
We are confident that after reading all the benefits of CallHippo VoIP number provider, you must be wondering how to get a VoIP number with CallHippo.
Well, scroll down a bit to find the answer!
Step-by-Step Guide On How To Get A VoIP Number With CallHippo
Getting your favorite VoIP phone numbers is a breeze with CallHippo, and the process takes less than 5 minutes. Follow the steps outlined below to get the VoIP number from CallHippo:

Step 1: Register with CallHippo.
Step 2: Log in with the username and password. This will take you to the dashboard.
Step 3: Click on 'Add Number' and filter the numbers according to your preferences and customize a number from the number pool by selecting your preferred country code and area code.
Step 4: Choose the best pricing plan from the four available options and pay.
Step 5: Configure the system by adding team members, customizing permissions, call flow, storage path, and more.
That's all! However, keep in mind that you have to add the customer information into the system either by importing the database or by manually entering the contact information.
Conclusion: VoIP numbers are a critical solution that every customer-oriented business requires. It enables companies to localize their brand, expand their global presence, and better serve their customers from anywhere, anytime, lower overall operational costs, and increase customer retention. However, in order to select the best VoIP provider, you must consider several factors. Nevertheless, if you don't want to invest so much time and effort in such an analysis, you can simply go with CallHippo– the best VoIP number provider in the market at present.
VoIP Number FAQs
How Can I Get No
n VoIP Number Free

?

You can get a free VoIP number from trusted VoIP service providers like CallHippo. The CallHippo Basic plan is free for all users and costs $0. However, to get more benefits and features, you can upgrade to one of its premium plans, such as Bronze or Silver.
Is there a free VoIP service available?
Yes, there are multiple free service providers in the market. However, you should be aware that the features and functions that these plans include are limited. Even so, if those features are sufficient for your needs, you can go with that plan. Or else, select a premium plan with far more features.
How much does a VoIP number cost?
The cost of a VoIP number is determined by several factors, including the provider, subscription period, plan chosen, and so on. However, when you choose the best VoIP number provider, such as CallHippo, you can get non voip number free trial for 14 days. Surprisingly, this plan includes quite some features sufficient for a medium-sized business.
How do I set up a VoIP phone number?
Setting up a VoIP number is simple and takes no more than 5 minutes, especially if you use CallHippo. Step 1: Sign up with CallHippo. Step 2: Select the country and area codes to personalize your number. Step 3: Select your preferred pricing plan and pay. That's it. Once the number has been activated, configure the system and start making and receiving calls.
WORDS THAT MAKE SENSE!
Read The Most Well Researched & Insightful Articles From CallHippo Team