Call Center Softwares
Call Center Software for Small and Big Enterprises
With CallHippo's call center software, get access to the most flexible software and enjoy unparalleled efficiency with 99.5% uptime.
Awards and Reviews
Get a Cloud-Based Call Center Software
CallHippo's robust and feature-rich call center software is the perfect solution for all your business communication needs.
1. AI-based Calling Capabilities for Contact Centers
Deliver your daily calling commitments with multiple calling features, including calling solutions, including call barging, call tracking, and call analytics. Onboard offshore clients and take your business to higher echelons of success with CallHippo.
2. Best-in-class Customer Support
Expect quick, reliable, and superior technical support from CallHippo's team. Get in touch via live chat, emails, or calls. You can even raise tickets to contact our agents, who are always happy to help you.
3. Advanced Call Analytics and Reporting
Make informed decisions with detailed and accurate reports using CallHippo. Recover lost leads, better train your agents, and eliminate wasted ad expenditure with the best customer service insights. Set the frequency of reports – daily, weekly, or monthly, and get them directly in your inbox.
Innovative Features of CallHippo's Call Center Software
Make life easier for your callers, agents, and call center managers by using our inbound call center software loaded with a host of features.
IVR
Interactive voice responses help callers reach the right department based on their needs. Based on caller input, the software effectively routes calls to the right department and reduces average call time.
Call Monitoring
This feature allows call center managers to listen to calls in real-time and provide feedback. Managers can also whisper, barge, and record calls for better agent feedback.
Auto Dialer
This call center phone system saves agents time by automatically dialing the numbers for them on outbound calls. Reduce the number of manual errors in the dialing process.
Automatic Call Distribution
CallHippo's call center management uses automatic call distribution (ACD) extensively to route calls to the best-suited agents through routing.
Computer Telephony Integration
By integrating telephone operations with computers, you get quick access to critical customer information in real-time. Help your agents solve problems faster.
Dashboards & Analytics
Get access to a real-time dashboard to monitor the performance of teams and individual agents. Generate reports on various KPIs, including agents' performance, conversion rates, average calling times, and more.
Why Choose CallHippo for Your Call Center Calling Needs
With our specialized call management tools, you can now simplify your call center operations, boost efficiency, and assist your clients better.
1. Enhanced Control
Features such as call forwarding, call conferencing, power dialing, call barging, predictive dialer, call recording, and analytics allow you to enjoy better control over all your inbound and outbound calls.
2. User-Friendliness
CallHippo offers an intuitive and rich dashboard that is easy to navigate and use. Save your agent's time and give access to all functionalities from a single platform. No technical training required!
3. Highly Scalable
This call center software for small businesses scales easily to accommodate business growth. Add more users and various other features without undertaking any major infrastructural changes.
4. Cost-Effectiveness
Cloud-based call center phone systems are more affordable than traditional PBX phone systems. They do not require any additional hardware, infrastructural investments, or regular maintenance.
Never Miss A Business Opportunity With Call Center Softwares
---
Flexible, Scalable, Secure and Hassle-free Workspace Communication System
Get Started With CallHippo in Just 3 Minutes!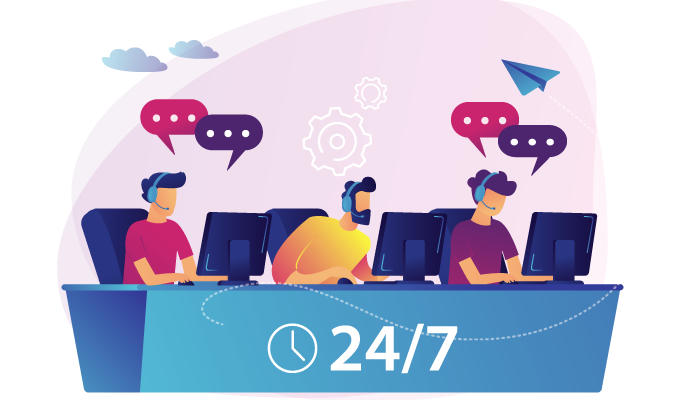 CallHippo is a trusted service provider to businesses in over 50 countries worldwide. Sign up with CallHippo today so that you can get the best calling software for your organization in just a few simple steps!
Here is what you need to do:
1. Pick Your Business Phone Number
Choose a virtual local phone number or a toll-free number. You can set up as many numbers as you like. With CallHippo, you can get any type of phone number at highly affordable rates. To know more about our flexible monthly and annual subscription plans, get in touch with our sales experts.
2. Customize Your Software
Personalize your cloud call center phone system based on your specific business needs. Choose from CallHippo's wide range of features and call analytics to create a solution that is right for your business. Pay only for the features that you use.
3. Add Extensions For All Your Employees
Set up extensions for various agents and departments within the company. Also, CallHippo's virtual phone menu feature facilitates call routing to ensure customers get the right agent or department even when they do not know the extension.
4. Get Set, Call!
That's it! All done.
That is pretty much all you need to do to set up the best call center software for your enterprise with CallHippo. Just 3 simple steps to a cost-efficient and comprehensive virtual calling solution that will take care of all your business communication needs!
Frequently Asked Questions
A cloud call center system enables the comprehensive management of all your business phone calls. It automates the process of transferring and responding to calls with features like call forwarding, call routing, etc. Investing in top-notch call management software elevates the overall customer experience.
A call center software is operated through agents or customer representatives. An agent can use a computer or a phone, with which an agent can automatically dial numbers, forward calls, and look at customers' call history.
Absolutely no. Companies of any size - small, medium, or large - having a client-facing team, can benefit from a CallHippo's call center solution. If you want to streamline your customer communication processes, CallHippo is the best choice.
Setup Your Phone System In Less Than 3 Minutes