Call Center Software Built For Modern Enterprises
CallHippo's robust and feature-rich call center software is the perfect solution for all your business communication needs
Deliver your daily calling commitments with multiple calling features
Enjoy unparalleled efficiency with 99.5% uptime
Get access to the most flexible software and enjoy hassle-free communication
Make informed decisions with detailed and accurate reports
Scale as you grow
What Is A Call Center Software?
Nowadays, the most advanced inbound and outbound call center software solutions enable you to carry out all your voice-based communications via the internet. They also come packed with features that can streamline all your call center operations and enhance the productivity of your call center agents.
A cloud call center system enables the comprehensive management of all your business phone calls. It automates the process of transferring and responding to calls. It makes it easier for your customers to reach you instantly without any roadblocks or delays. Investing in top-notch call management software elevates the overall customer experience.
CallHippo's solution allows you to enjoy the features of an enterprise-level, irrespective of your business's size. Some of these features include live call transfer, IVR, call barging, call recording Power dialer , call queuing, and CRM integrations. All of this at amazingly affordable and flexible pricing plans!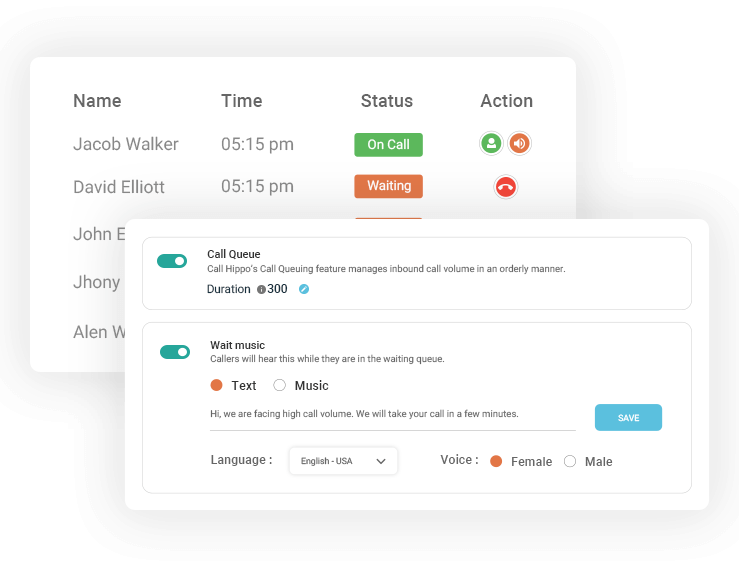 Never Miss Any Business Opportunity With The Best Call Center Software

CallHippo's specialized solutions are just so easy. You'll wonder why you haven't been using it all this time! We pride ourselves on our simple, user-friendly interface that has helped businesses deal with high call volumes and optimize calling efficiencies by up to 300%.
Enjoy easy access to a comprehensive business dashboard and activity feed
Add, remove, and manage all your phone numbers
Tweak call settings
Manage all your integrations
All this and so much more!
All of these features are built-in so you can basically plug-n-play. You'll be amazed at how CallHippo's call center phone system makes it so much easier for you to run your business.
Why Do You Need A Call Center Software?
Call center software solutions are designed to improve your customer support team's performance and create great customer experiences. Can you have enough of that?
These solutions require only minutes to deploy. It provides you complete control over your customer support and sales channels through a user-friendly interface.
No more messy wires and expensive phone equipment! All you need to set up your system is a stable internet connection and any internet-enabled device such as your phone, laptop, or tablet. You can make and receive calls on the go from any part of the world and get to accrue the best call center software features.
We still haven't gotten to the best part yet! Unlike traditional phone systems, cloud-based call center phone systems are incredibly light on the pocket. They allow you to make calls over the internet for a fraction of the cost of regular phone calls. No more worrying about long-distance carrier charges!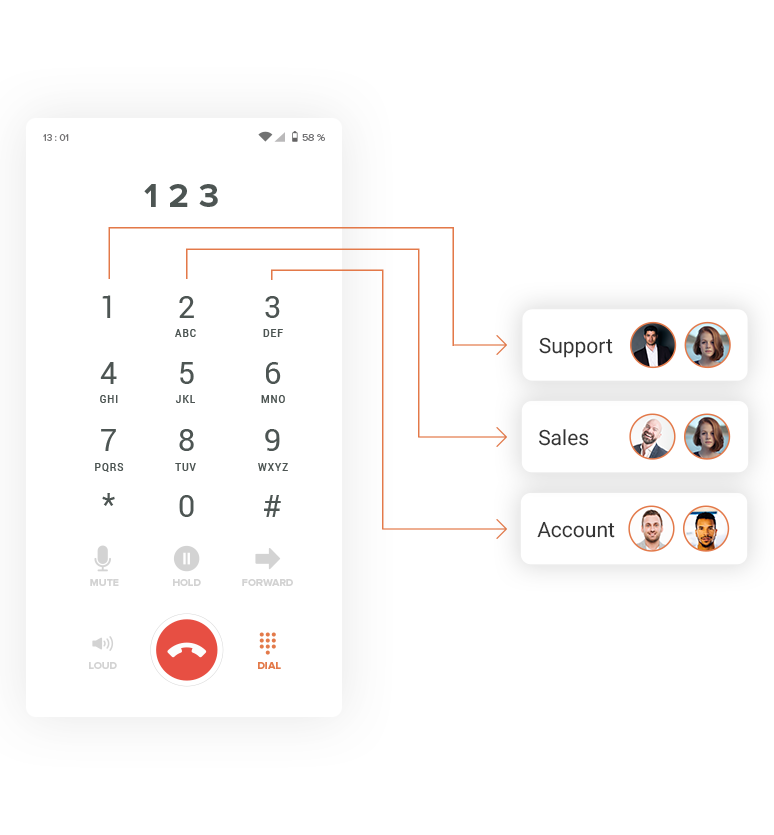 Buy A Cloud-Based Call Center Software
---
Why Choose CallHippo's Call Center Software?
1. All-In-One Solution
CallHippo offers advanced features like call barging, call tracking, and call analytics. Eliminate the need for different service providers and leverage the power of AI to fulfill all your calling needs. Onboard offshore clients and take your business to higher echelons of success with CallHippo.
2. Get Access to Multiple Third-Party Integrations
It is super easy to integrate CallHippo with 85+ solutions. Avoid complicated setups and enjoy a wide range of tools to streamline work processes and get an edge over your competitors.
3. Dedicated Customer Support
CallHippo offers quick and reliable technical support in case of any issues. You can use online support, live support, call and even raise tickets to contact our agents, who are always happy to help you.
4. Advanced Call Analytics and Reporting
Get access to the best customer service insights with CallHippo's advanced call analytics and reporting tools. Recover lost leads, better train your agents, and eliminate wasted ad expenditure with CallHippo. Set the frequency of reports and get them directly in your inbox. You can choose to generate reports daily, weekly, or monthly.
How Will Call Center Software Help Your Business?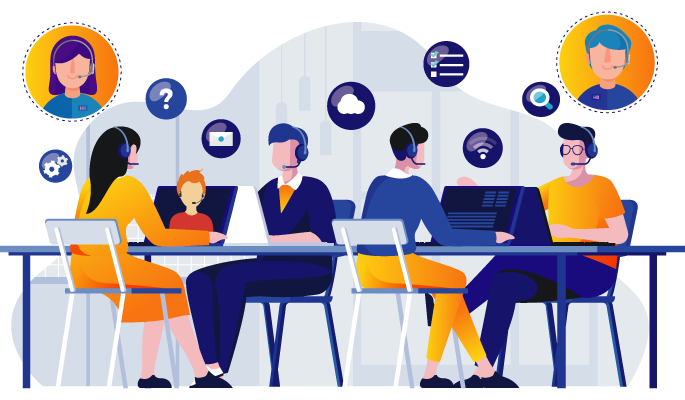 CallHippo's specialized call management tools will instantly yield many benefits for your business in real-time. Let us see what they are:
1. Enhanced Control
Features such as call forwarding, call conferencing, power dialing, call barging, predictive dialer, call recording, and analytics allow you to enjoy better control over all your incoming and outgoing calls.
2. User-Friendliness
Modern technology is not for everyone. However, CallHippo's virtual call center software is easy to install and use. No technical training is required!
3. Valuable Growth Asset
Cloud-based call management platforms such as CallHippo scale easily to accommodate business growth. One can tweak the number of users and various features without undertaking any major infrastructural changes.
4. Cost-Effectiveness
Cloud-based call center phone systems are affordable than traditional PBX phone systems. They do not require any additional hardware, infrastructural investments, or regular maintenance.
5. Insightful Data And Reports
Virtual software for call centers can perform detailed analysis and deliver accurate reports. These reports provide valuable insights and arm you with real-time information to make informed business decisions.
6. Enhanced Customer Service
Customer is genuinely a king in today's day and age. CallHippo's software with omni channel routing ensures that all incoming customer calls are managed systematically, and all queries are resolved swiftly.
Still not sure if CallHippo is the right choice for your business? Our agents are available round the clock to answer your queries. Get in touch with us now!
Never Miss A Business Opportunity With Call Center Softwares
---
Flexible, Scalable, Secure and Hassle-free Workspace Communication System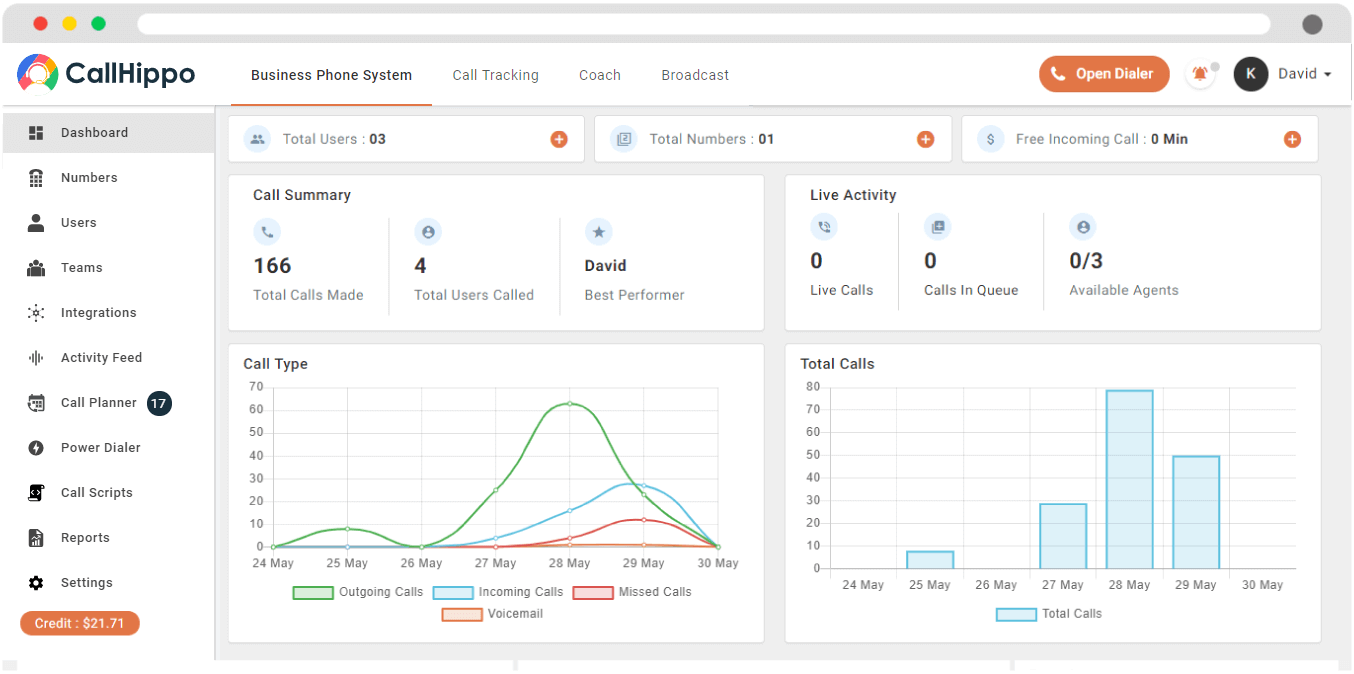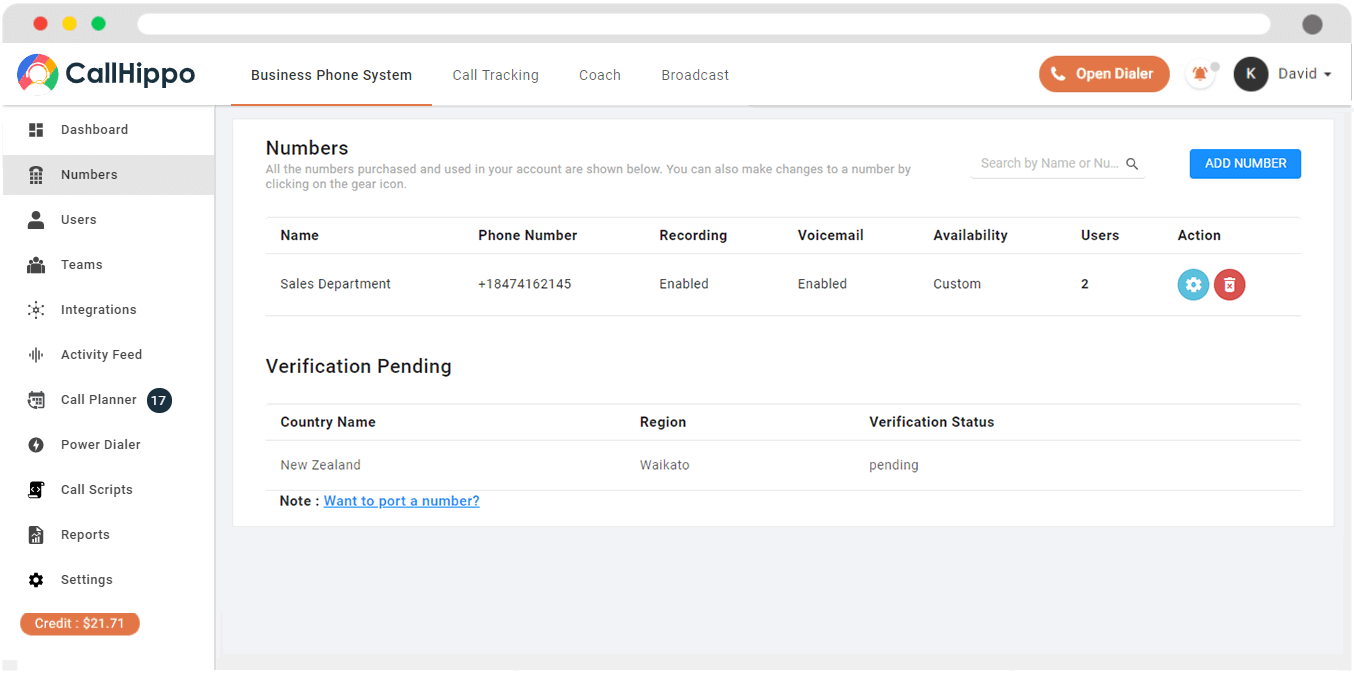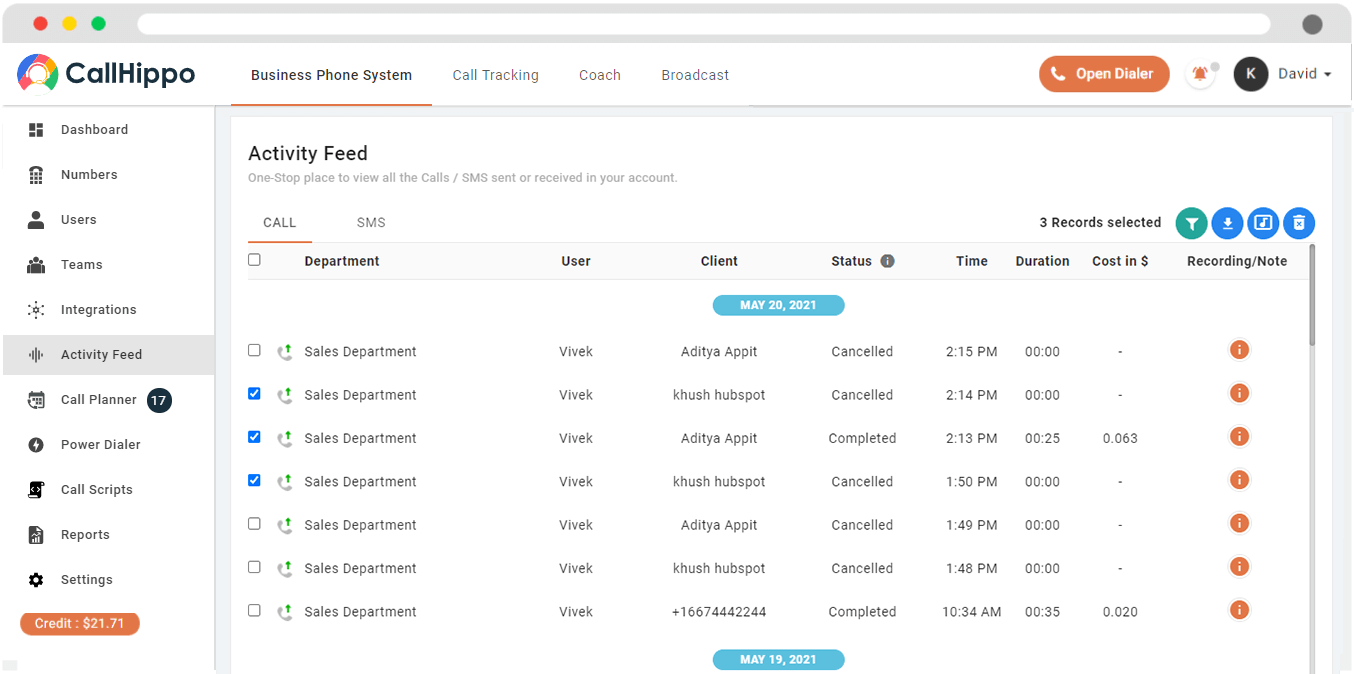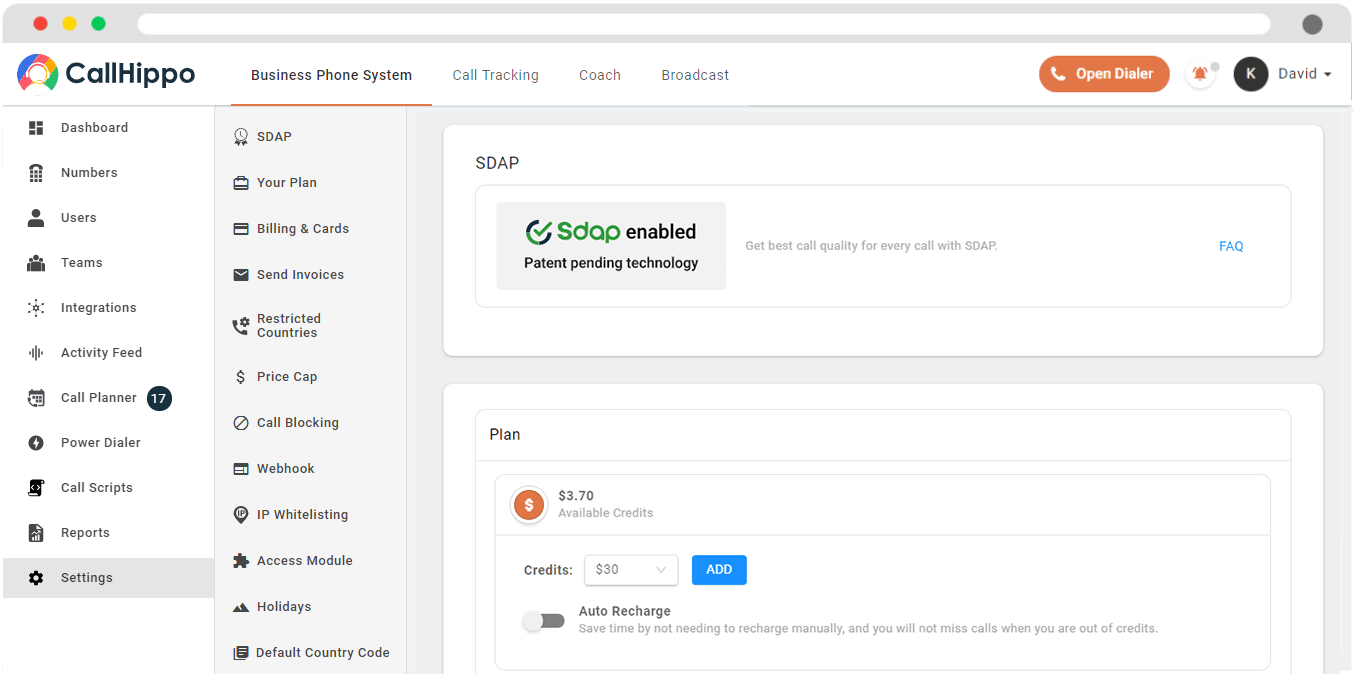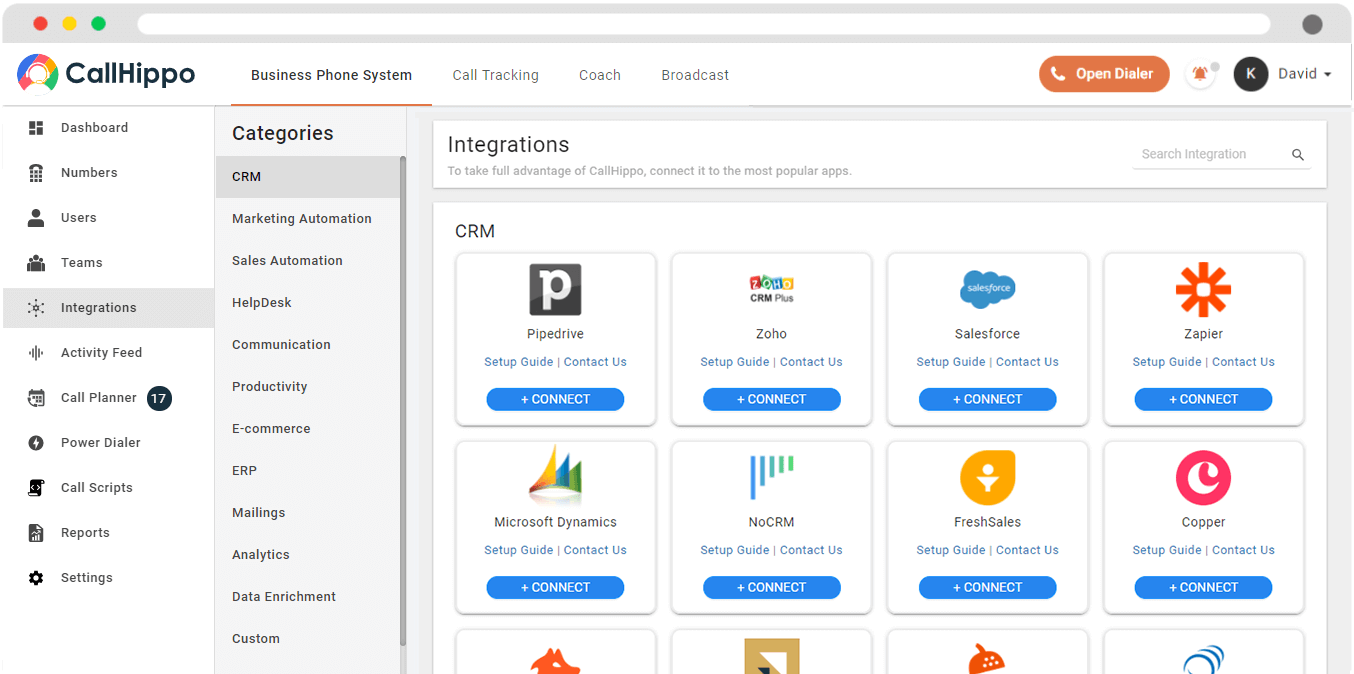 Innovative Features That You Get With CallHippo
Inbound call center software provides a host of features to help call centers simplify their operations, boost efficiency, and assist clients better. Be it outbound, inbound, or blended campaigns, call center tools to offer several useful functionalities that make life easier for callers/prospects, agents, and call center managers.
Here are a few key call center virtual phone system features that will benefit businesses:
Features
IVR
Interactive voice responses help callers reach the right department based on their needs. Callers are provided several choices based on the problems they are facing and they can choose the appropriate response team by just pressing a button.
Call Monitoring
This feature allows call center managers to listen to calls in real-time and provide feedback. Managers can also whisper, barge, and record calls for better agent feedback.
Auto Dialer
This feature helps save agents' time by automatically dialing the numbers for them on outbound calls. This feature also reduces the number of manual errors in the dialing process.
Automatic Call Distribution
Most modern software for call center management use automatic call distribution (ACD) extensively to route calls to the best-suited agents through routing.
Computer Telephony Integration
By integrating telephone operations with computers, CTI allows quicker access to critical customer information in real-time, helping agents solve problems faster.
Dashboards & Analytics
Most call center solutions today offer an array of real-time dashboards to monitor the performance of teams and individual agents. They also offer detailed reports of agents' performance, conversion rates, and average calling times.
All You Need is 3 Minutes!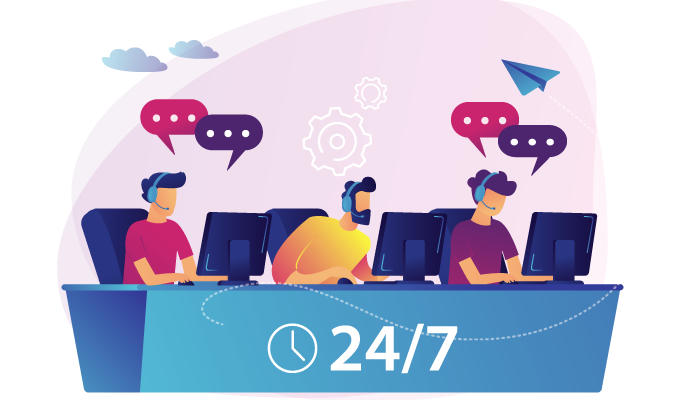 CallHippo is a trusted service provider to businesses in over 50 countries worldwide. Sign up with CallHippo today so that you can get the best calling software for your organization in just a few simple steps!
Here is what you need to do:
1. Pick Your Business Phone Number
Choose a virtual local phone number or a toll-free number. You can set up as many numbers as you like. With CallHippo, you can get any type of phone number at highly affordable rates. To know more about our flexible monthly and annual subscription plans, get in touch with our sales experts.
2. Customize Your Software
Personalize your cloud call center phone system based on your specific business needs. Choose from CallHippo's wide range of features and call analytics to create a solution that is right for your business. Pay only for the features that you use!.
3. Add Extensions For All Your Employees
Set up extensions for various agents and departments within the company. Also, CallHippo's virtual phone menu feature facilitates call routing to ensure customers get the right agent or department even when they do not know the extension.
4. Get Set, Call!
That's it! All done.
That is pretty much all you need to do to set up the best call center software for your enterprise with CallHippo. Just 3 simple steps to a cost-efficient and comprehensive virtual calling solution that will take care of all your business communication needs!
Need more information? Our team of experts will be happy to assist you!
Get The Best Call Center Software For Your Business Today!
Get your call center software up and running in less than 3 minutes
Is Call Center Software Only For Large Enterprises?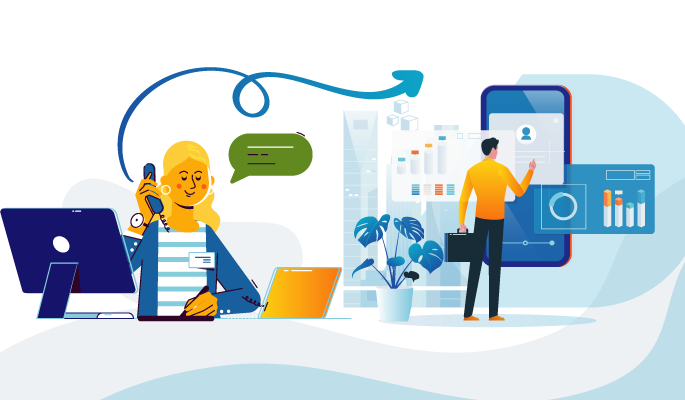 This is a common misconception. CallHippo's flexible, scalable and affordable platforms have made it possible for small businesses to go neck and neck with large enterprises.
Any company of any size- small, medium, or large with a client-facing team can benefit from CallHippo's best call center virtual phone software. It streamlines your customer communication processes and helps you deliver great customer experiences.
You can contact our experts to know more about how CallHippo can help your organization!
Frequently Asked Questions
Call center software is a tool that automates all the incoming and outgoing calls between the customer and the business. Power dialer, IVR, Smart call forwarding, Call analytics etc. are some of the common features of call center software. It improves agent productivity & customer satisfaction.
It helps call center agents to access the right information and knowledge about a customer's history to improve the overall customer experience. It offers impressive features which help you improve interactions with customers and make your workflow efficient.
Any company of any size- small, medium, or large- with a client-facing team, can benefit from a CallHippo's call center solution. If you want to streamline your customer communication processes, this will definitely help you with that, irrespective of the size of your organization.
Setup Your Phone System In Less Than 3 Minutes