Date: January 3, 2023
As per a recent Forbes study, more than 70 percent of business leads get wasted due to either extended or delayed response time by the executives. Also, a Google study shows that as high as 65-70 percent of the mobile users, while searching for a business; choose to click the call feature from their smartphones.
While these statistics clearly reveal the fact that running an entire business enterprise can be an extremely daunting task, it also shows that purchasing a reliable commercial Phone System for business is among the top priorities of the owners/entrepreneurs.


The objective of the business phone system is largely to improve communications for both small as well as large organizations. For this purpose, multi-line or PBX (private branch exchange) systems are most commonly used. The other option includes virtual phone system or business phone numbers which also makes for an excellent business solution.
Understanding Multi-line Phone System Better
Multi-line phone system (also known as 2-line phone system) is a separate phone line that can be used for various business functions including voicemail, faxing, or as a second extension for your business.
Unlike single line phones, multi-line phones work in a different way where a maximum of 8 to 10 lines can be simultaneously used with a single phone. Each line will have a separate telephone number that can be answered across a working environment. The PBX system, on the other hand, works with an automated directory to redirect callers to the right place. It basically uses menu options to direct the calls instead of a physical attendant taking the calls.
Multi-line phone systems are designed to improve office communication and productivity by allowing customers and colleagues to communicate easily within an office setup. In this system, multiple lines run through the same unit to allow each operator to individually answer the phone or send the calls to voicemail. This helps in minimizing disruptions and additional expenses.
Multi-Line phone systems are a great fit for both businesses as well as home phone needs. Whether you opt for a 2, 4, 8 or 10 line business phone system (with separate telephone units), these allow for multiple people to be on the phone at the same time.
How The Multi-Line Phone System Differs From a Traditional Phone System?
Before getting into the details and benefits of a multi-line phone system, it is important to understand how these differ from the standard phone system and what values can it add to the overall setup.
While standard telephone systems are made to carry audio data packets only between two parties, multi-line telephone systems are designed to allow multiple people through various lines (up to 10, both external and internal) to be on the phone simultaneously.
Who Needs A Multi-Line Phone System?
While anyone can use them, it makes the most sense to get a multi-line phone system for the situations mentioned below-
In case your business requires two or more employees to constantly access a telephone to communicate internally or with clients.

Your are into a customer-centric business or receive a high number of customer calls during a particular time.

If you run a work-from-home setup and want separate phone numbers for business and personal use, the multi-line phone system is an ideal solution.
The biggest advantage of multi-line phone systems is the fact that it allows you to easily handle both local and toll-free numbers along with staying in touch with your customers.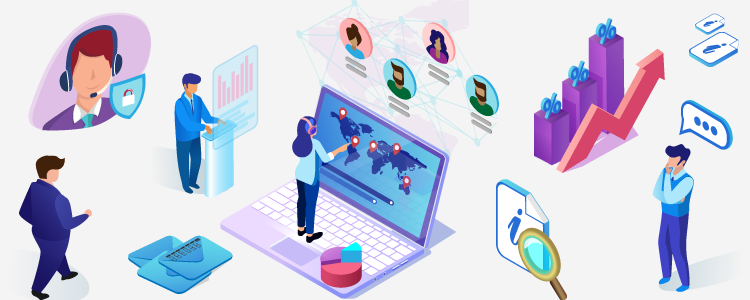 Which is the best multi-line phone system available?
Now that you fully understand how multi-line phone systems work, you need to shortlist the best available multiline options for your business needs.
While you can get multiline phone system and virtual phone systems from various VoIP (Voice over Internet Protocol) service providers, one of the best available options is Callhippo  
Features of CallHippo's Multi-Line Phone System
If you're looking to get a multi-line phone system for your business, below is a list of the basic and advanced features that come with CallHippo's multi-line phone system-  
Basic yet essential features
Caller ID

– To allow you to see the name and number of the caller on the handset's display unit.

Voicemail

– To facilitate easy message leaving in case of missed calls.

Speaker

–A common yet

must-have

a feature that allows you to use your office phone system hands-free.

Call Waiting

– An important feature that creates a queue for incoming callers while you're on another line.

Call Transferring

– This feature in your office phone system permits an extension to transfer calls to internal numbers.

3 Digit Editable Extension

– This is yet another important feature that allows you to set an extension to your business phone number. If the client already has the extension, he/she can save valuable time through a direct connection.



Advanced features
Wireless Adaptors

–Wireless adaptors is one of the best features to have in multi-line office phones that eliminates the need for wires attached to individual phones.

Auto Attendant

– An excellent feature to have in your business phone system, auto attendant greets callers and redirects them to the right person or information.

Dedicated customer Support

– Having this feature in office telephony system replaces the need for a dedicated customer service department where clients cannot contact 24/7 with readily available customer representatives to help solve any type of phone issues quickly.

Texting

– This is another

must-have

an advanced feature in the phone systems that enables you to use the existing landline number to send text messages to your customers on their respective mobile device. This feature can also be used for other purposes such as to schedule and confirm appointments or to send text-only coupons and deals.

Conferencing

– This is a feature that provides you an excellent opportunity to connect with clients and employees, even if they're not physically present in the office.

Installation

– When opting for a multiline telephone system, it's always better to have one that comes with installation included service for lesser hassles. There are many telephones that don't include installation and it's always better to know this before opting for the right phone system.  



To Sum it up
A multiline phone system is an excellent tool that can allow you to add more lines to your existing business phone number and help you control your costs as well.
CallHippo's multiline phone systems offer a host of services and advanced features to make it easier for you to conduct your business. Apart from the usual features such as voicemail, caller ID, call forwarding, automatic redial, etc, you can also do call tracking and call conferencing to improve the business performance exponentially.
WORDS THAT MAKE SENSE!
Read The Most Well Researched & Insightful Articles From CallHippo Team