Date: January 10, 2023
"The world's most valuable resource is no longer oil, but data." – the Economist
And that's what a CRM does. It enables you to use the world's most valuable resource (data) to enhance customer service and improve your bottom line. 
Now the question is, how? How do you use CRM software in real-world scenarios? Let's understand that in detail.
Use Case #1: Prioritize Leads
I'm a sales manager and have 800 leads on my list. Unfortunately, they're in different funnel stages, and it is getting difficult to focus on the best ones. 
Solution: Leverage lead scoring in the CRM system.
You can define and customize the criteria to score a lead in the CRM software, and the tool will rank them according to the points, enabling you to identify the hottest leads. The criteria could be based on basic parameters (e.g., job title, industry, location, etc.) or advanced triggers (e.g., when a lead opens an email, when they watch the demo, or when they fill a form). 
If your lead is a CMO, you can define a rule to assign them 20 points. Then, if they fill out a form, they get another 15 points – the closer the score to 100, the hotter the lead, the more chances of conversion.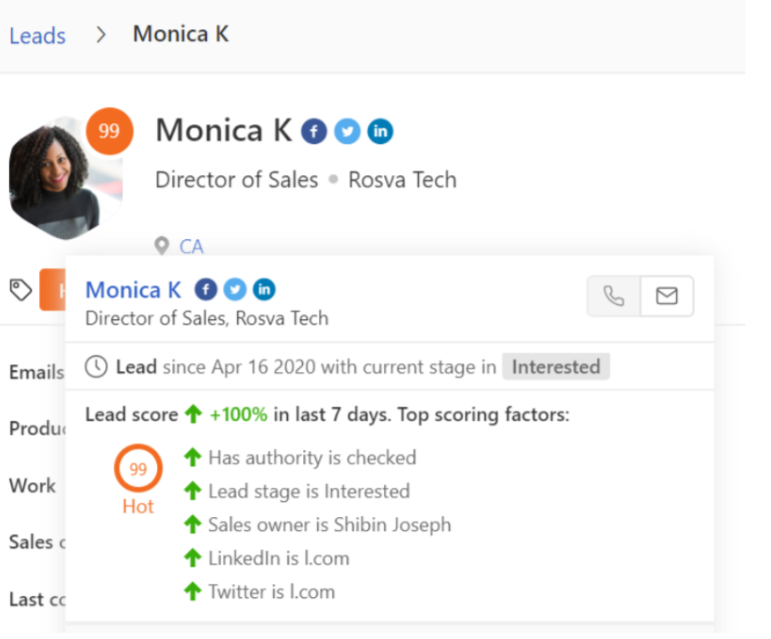 ( Source: freshworks )
Use Case #2: Create Better Marketing Campaigns
I'm a digital marketer responsible for generating leads for the company. Although I'm driving traffic to the website via various campaigns, I need to improve the traffic to attract high-quality leads.
Solution: Understand customers better
Marketers need to understand customers' key pain points to create campaigns that drive better results. Since CRM platforms act as a single source of information, marketers can identify what kinds of customers convert more (e.g., their behavior, characteristics, location, etc.). They can also determine the key pain points by analyzing customer interactions with the support team. 
Equipped with all these insights, marketers can craft targeted campaigns that attract high-quality leads and increase conversion rates.
Use Case #3: Automate Tedious Tasks
When a customer signs up on my website, fills out a form, or activates a trigger, I want them to receive emails. At the same time, I want the message to be personalized, but I don't want to be doing it manually. 
Solution: Workflow automation
CRM software allows you to create email templates with custom placeholders and personalized messages. You can add these templates to your workflows that work on if-else logic, which gets activated based on a trigger. You can define the trigger and the response to the trigger. 
If you run an eCommerce store by using a B2B eCommerce platform, you can create workflows that get triggered if customers create an account or place an order as a guest. For example, the CRM will automatically send a welcome email with a 10% discount code when a customer signs up. If they check out as a guest, they receive an email with their order details and a signup link.
Use Case #4: Provide Better Customer Service
Today's customers want quick resolutions to their queries. They also do not want to repeat the same issue with multiple agents, even when interacting on different channels. 
Solution: Integrate helpdesk software with your CRM 
When you integrate your customer support software with your CRM, all the crucial information is synchronized in the platform. This can be extremely useful for all teams.
Let's say you're a sales manager at a SaaS company and your product development process is agile. To improve monthly recurring revenue, your organization's key strategy is continually implementing customer feedback captured across various channels (social media, email, help desk, etc.).
The CRM pulls customer conversations and feedback across all channels and acts as a single point of information for all teams, including product managers and developers who're responsible for implementing constructive customer feedback to improve the product.
As a result, the support agents can check the customer's interactions across channels to provide more personalized service, while product managers can streamline their SaaS product management workflows.
Use Case #5: Analyze Team's Performance
I'm a sales manager with six reps on my team. I need to know how many deals they're converting in a month, how long it takes them to convert a lead, and how I can improve their performance. 
Solution: Generate sales cycle reports 
CRM software helps you create sales cycle reports that tell you the average time your reps take to close a deal. You can also dig deeper into the reports to identify a deal's duration by individual stages.

( Source: vscrm )
For example, your report indicates that both Mike and James take 35 days to close a deal. However, when you dig deeper into the reports, you find that:
Mike takes 9 days to move a lead to the demo stage, 15 days to move it into evaluation, and 11 days in negotiation. 

James takes 14 days to drive a lead to the demo stage, 18 days to move it into evaluation, and only 3 days in negotiation. 
Hence, an in-depth report generated by your automated CRM indicates that Mike needs to work harder on his negotiation skills. On the other hand, James should learn to encourage a lead to take the demo quickly.
CRM Case Studies
Now that you know the use cases of CRM systems, let's look at some case studies to understand how companies are using them.
1- Asher College
Asher College offers career training in business, medicine, trades, and technology in Las Vegas, Dallas, and Sacramento. 
Asher had an in-house enrollment management system. However, they couldn't reach out to prospects quickly, forcing them to adopt third-party applications to provide communication facilities like calls, bulk emails, SMS, and lead scoring. 
By adopting a CRM solution, Asher was able to centralize all the data, enabling admission counselors to better identify potential students and have fruitful conversations. 
As a result, the team was able to boost speed-to-lead by 12 times. Their engagement rate also increased by 13%, and scheduled campus appointments improved by 5%.
2- Synergy Enterprise Solutions
Synergy Enterprise Solutions has been providing customer experience, omnichannel engagement, and collaboration solutions in the Asia Pacific region. However, in 2018, when they transitioned into the subscription software space, they faced multiple challenges, including:
Siloed channel engagement

Lack of mobile access

Low functional visibility

Poor platform flexibility
By adopting a CRM, Synergy was able to solve all these challenges. To be specific, workflows & email sequences, lead scoring, and AI-driven insights were the top features of the CRM that helped the company address its issues. 
Over time, they saw:
40% increase in monthly recurring revenue (MRR). 

The pace of outbound contact grew by 90% 

Time spent on administrative tasks by teams dropped by 20%
Wrapping Up
CRM software helps streamline business processes and solves numerous problems. For example, it allows sales managers to prioritize leads, analyze team performance, automate tedious tasks, and provide better customer service. 
Now that you know how a CRM can benefit your business, pick the right type of CRM to get the most out of your investment!
WORDS THAT MAKE SENSE!
Read The Most Well Researched & Insightful Articles From CallHippo Team