Date: September 15, 2023
Thanks to technological advancements, you no longer need to set up telephone wires or invest in high-end hardware for business communications. Instead, you can use an internet phone system to make and receive phone calls over the internet while enjoying the best possible call quality. 
61% of companies are switching to VoIP business phone systems to meet the changing working environment and save costs. Companies also report a 20% increase in productivity with VoIP services.
The best business phone service providers offer mobile and desktop apps so you can stay connected with customers around the clock. This article is for you if you want to learn more about internet phone services for business or find the best business phone services. We will also discuss when and why you need an internet business phone system and how to choose one. Let's get started!
What Is a Business Internet Phone Service?
A business internet phone service is a system that allows users to make and receive phone calls using a broadband internet connection instead of a traditional phone line. Also known as VoIP (Voice over Internet Protocol) phone, it converts your voice into digital signals that are transmitted over the internet to make calling possible.
Internet phones for businesses offer several advantages over traditional phone services, including lower costs, increased flexibility, and enhanced features (e.g., auto dialer, conference, call barging, automatic call distribution, etc.). In addition, it lets you use a device of your choice (phone, tablet, laptop, or desktop) to connect with clients, teammates, and others.
The best part? Even small businesses with little budget for communications can use business internet phones to streamline customer interactions.

Expert Advice
"Internet phone services are trending, and it has made operability for business easy. It is a favorable choice for businesses as it is cost-effective, offers advanced features, requires few resources, and is easy to set up. If you plan on expanding or looking for advanced methods to provide better services to existing customers, go for internet phone services."
Features of Business Internet Phone
The features of business internet phone systems include international calling, text messaging, voicemail transcription, auto attendant, on-hold music, automatic call distribution, call forwarding, conference calling, and call recording, to name a few.
It is also worth noting that VoIP business phone system providers are continuously working to enhance their services. This means you can expect new features to come up constantly. That said, let's look at some advanced features of best business phone systems.
1. Call Queueing
VoIP systems allow you to place incoming calls in a queue when the agent is busy attending to other customers. These call queues can also let callers know the expected waiting time to reach an agent.
2. Call Forwarding
Internet phones for business allow you to redirect calls to another phone number. This can be useful if you are expecting a call from a client or customer but cannot answer the phone. The call can be forwarded to a colleague or assistant who can take the call for you.
3. Auto Dialer
Auto dialer allows you to automate making outgoing calls, typically using a pre-set list of phone numbers. There are four types of auto dialers: progressive, predictive, preview, and manual agent-initiated, each with a different use case.
4. Call Recording
Call recording allows businesses to record phone calls for training or quality assurance. You can use it to identify areas of improvement. This can be useful for companies that need to reference calls for legal or compliance purposes.
5. Voicemail and Voicemail Transcription
VoIP phone solutions allow callers to leave a voicemail, so you know why they were calling. The voicemail is usually sent to your email so that you can listen to them anywhere, anytime. Some VoIP phone systems also offer voicemail transcription services that convert the voicemail into text, making it easier to scan important information.
6. Call Analytics
Advanced call analytics enable you to track your phone support performance and make data-backed decisions to improve your services. You can measure the number of missed calls, average call duration, customer satisfaction rate, and more via analytics.
7. Integrations
Integrations are one of the key reasons companies are moving to business internet phone systems. A business VoIP phone system allows you to connect all your tools to automate and streamline tedious tasks, such as data entry.
You May Also Read : Enterprise VoIP Provider – Meaning, Features & Top Providers
Why and When You Need an Internet Phone for Your Business?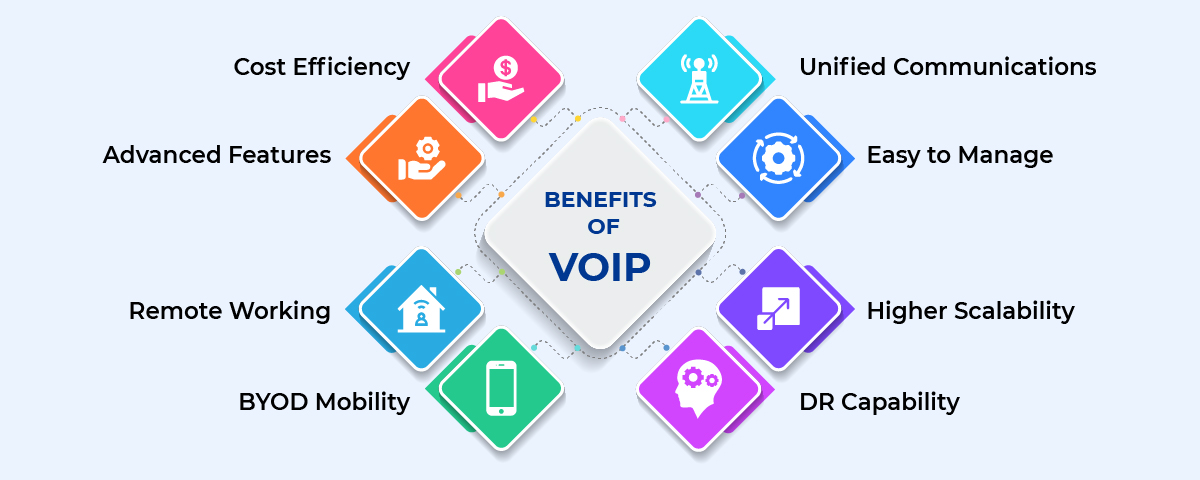 There are several reasons why you might need internet phone services for business, including
To save money

: VoIP phones typically cost less per month than traditional business telephone service. They are also easy to set up.

To establish a global presence: Internet business phones allow you to connect with your customers globally at a fraction of the cost of traditional phone lines. You can also buy local virtual numbers of different countries, irrespective of your physical location. This allows you to strengthen your presence in other countries.
To access advanced features:

VoIP phones often come with various features, such as call forwarding, caller ID, and voicemail.

To empower remote workers

: Internet phone systems don't require you to stick to your desk to connect with customers. This gives remote and on-field workers much-required flexibility.

To create a synchronized environment:

VoIP business phone services support integration with third-party tools that help create a unified system.
Does this mean you should buy a VoIP phone system immediately? Well, no. You should invest in internet business phones only if you need:
Pocket-friendly international calling

Advanced call management features

Virtual receptionist

The flexibility and mobility it offers

In-depth insights on your customer support and sales teams
What To Consider When Looking for a Business Internet Phone Service?
There are multiple factors to consider when looking for internet phone services for business. First and foremost, define your needs.
Do you need a service that is reliable and offers good call quality?

Are you looking for an affordable service?

What features are you looking for in phone service?

Do you need local or toll-free numbers?
Once you have considered your needs, you can start looking for business internet phone services that meet your needs. And while you do, ensure the business phone system provider offers an uptime guarantee of 99.99%, so your system stays up most of the time.
Last but not least, consider the types of customer support your internet business phone provider offers. Choose a VoIP service provider that is proactively available to answer your queries (via multiple channels) and solve technical issues as they arise.
The 12 Best Internet Phone Service Providers
Brand Name
Rating
Key Features
Pricing
CallHippo
Call forwarding
Call recording
Voicemail
Text messaging
Basic: $0
Bronze: $16 /month
Silver: $24 /month
Platinum: $40 /month
Vonage
AI virtual assistant
High-definition call quality
Unlimited calling and text messaging on all plans
Free video conferencing
Mobile: $14.99
Premium: $24.99
Advanced: $34.99
RingCentral
Business phone or toll-free numbers
Unlimited calling within the US and Canada
Business SMS
IVR
Core: $20
Advanced: $25
Ultra: $35
Grasshopper
Unlimited free calls in Canada and the US
Offers toll-free numbers
Custom greetings
Call forwarding
Solo: $26
Partner: $44
Small Business: $80
ooma
24/7 customer service
Offers more than 35 calling features
Music on hold
Call recording
Essentials Plan: $19.95
Pro Plan: $24.95
Pro Plus Plan: $29.95
Let's dig deeper into what each system has to offer.

CallHippo is an affordable yet powerful business internet phone services provider that helps you set up your virtual call center in less than three minutes. In addition, you can purchase premium local and toll-free numbers from more than 50+ countries and use its unlimited extensions feature to add as many users as possible.
CallHippo Features
Global connect

Click to dial

SMS

Smart Switch

Call forwarding

Shared inbox

Voicemail

Skill-based call routing

Campaign management

IVR

Gamification

Webhook

User role system

Call tagging

After call work
Please note that the exact features will depend on the plan you choose.
Pros of CallHippo
Has a forever-free plan for small businesses and freelancers with limited calling needs

Comes with advanced features like multi-level IVR, call whisper, intelligent analytics, and voice broadcasting to meet the needs of large and growing businesses

Has the most affordable international call rates

Its online calling app allows you to manage business communications via your smartphone.

You get a dedicated account manager to solve technical issues as they arise.

Integrates with 85+ third-party tools, including Salesforce, HubSpot, and Zoho
Cons of CallHippo
The mobile app can be improved.
CallHippo Pricing
CallHippo offers four plans. Here's how much they cost (paid annually).
Basic

: $0 per month

Bronze

: $16 per user per month

Silver

: $24 per user per month

Platinum

: $40 per user per month

Vonage is a popular business internet phone service provider offering unlimited calling and SMS in the US and Canada. Apart from basic internet calling features, it provides a unified communications add-on that lets you bring all your communication, including video conferencing, under one roof.
Vonage Features
IVR

Skill-based routing

Post-call quality rating

Call recordings

Analytics and Reporting

Post call survey

Call Whisper

Virtual Assistant

Screen recording

CRM integration

Gamification
Pros of Vonage
It offers 24/7 customer support with every plan

Plenty of features for mid and large-sized businesses

Unlimited team messaging

Easy to use, intuitive interface
Cons of Vonage
The basic plan doesn't allow you to connect desktop phones

Advanced features come at a high cost
Vonage Pricing
Vonage has yet to make its pricing public. However, you can contact the company for a custom quote.
You May Also Read : Internet Phone Number For Business | Set Up In 3 Minutes

RingCentral is yet another internet phone system provider that helps unite your business communications. You can manage calls, SMS, fax, and video meetings in RingCentral. Its built-in analytics help uncovers key insights to improve your services via data-backed decisions. Besides, it is available in 18 languages, making setting up a global workforce easier.
RingCentral Features
Unlimited calling within the US and Canada

Voicemail to text

Team messaging

Document sharing

Internet fax

Audio conferencing

Video conferencing (up to 200 participants)

Quality of service reports

Call recording

Hot desking

Multi-site admin and management
Pros of RingCentral
Ideal setup for remote work

Online fax and chat features help extend the system's functionality

Text messages and video conferencing help streamline internal communication

Voicemails can be accessed directly from your phone
Cons of RingCentral
The platform isn't as intuitive as it should be

Limited reporting and customization capabilities
RingCentral Pricing
RingCentral offers four pricing plans. Here's how much they cost (when paid annually).
Essentials

: $19.99 per user per month

Standard

: $27.99 per user per month

Premium

: $34.99 per user per month

Ultimate

: $49.99 per user per month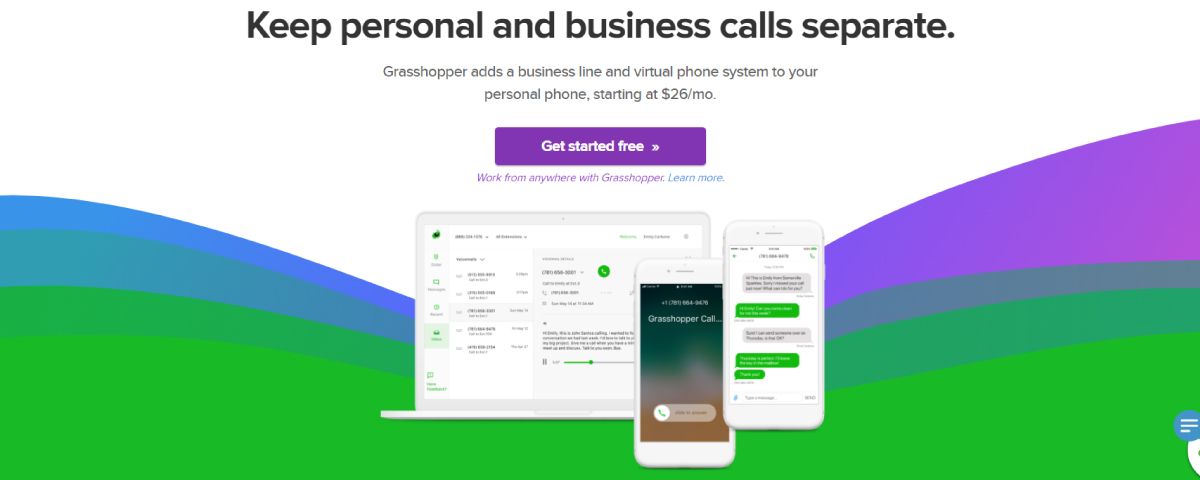 Grasshopper is a reliable business internet phone system for small businesses and freelancers. It has advanced features like custom greetings, business texting, and simultaneous call handling to make companies sound more professional. In addition, you can use Grasshopper's mobile and desktop apps to manage business communications.
Grasshopper Features
Business texting

Call forwarding

Virtual fax

Voicemail

Voicemail transcription

Call transfer

Custom greetings

Simultaneous call handling

Extensions

Reporting and analytics
Pros of Grasshopper
Custom voicemail greetings

Multi-platform support

24/7 support in every plan

All features are available in every plan (the only difference is numbers and extensions)
Cons of Grasshopper
Limited internal collaboration tools

Few integration options
Grasshopper Pricing
Grasshopper offers three plans. Here's how much they cost (billed annually).
Solo

: $26 per month

Partner

: $44 per month

Small Business:

$80 per month

Ooma is the best small business virtual phone system that offers affordable services. Its basic features come with 50+ features, including a virtual receptionist, ring groups, and music on hold. In addition, it has an auto-configuration technology that detects the right settings for your system so you can set up and get running quickly.
Ooma Features
Unlimited calling in the US, Canada, Mexico, and Puerto Rico

Virtual receptionist

Ring groups

Multi ring

Music on hold

Extension dialing

Call forwarding

Virtual fax

Call Blocking

Paging groups
Pros of Ooma
Mobile and desktop apps

It can be scaled easily

Audio conferencing makes internal communication seamless.

Has higher usage limits for extension monitoring, call park, and audio conference room participants.
Cons of Ooma
Limited integration options

Using and configuring a virtual receptionist is complicated
Ooma Pricing
Ooma offers three plans. Here's how much they cost.
Essentials

: $19.95 per user per month

Pro

: $24.95 per user per month

Pro Plus

: $29.95 per user per month

If your business deals with sensitive information (like patient data), Nextiva is the perfect business phone system for you. It helps comply with SOC 2, ISO/IEC 27001, PCI, and HIPAA standards. Furthermore, its call encryption and 24/7 network monitoring make it the right business phone system for healthcare companies.
Nextiva Features
Unlimited voice and video calling

Voicemail

Google Contacts integration

Unlimited internet fax

Screen sharing

Auto attendant

Call recording

Voicemail transcription
Pros of Nextiva
It makes it easier to comply with international laws

Offers 24/7 technical support via phone, email, and chat

Comes with built-in CRM to help track leads and manage customers

Has a powerful call-routing feature to redirect calls to the right person in the right department
Cons of Nextiva
Setting up the VoIP system is complicated and time taking

The basic plan doesn't offer enough features for small businesses
Nextiva Pricing
Nextiva has three plans. They would cost (when paid annually):
Essential

: $18.95 per user per month

Professional

: $22.95 per user per month

Enterprise

: $32.95 per user per month
You May Also Read : Internet Phone System And What You Need To Know?

The last business internet phone on our list, OpenPhone is an easy-to-use VoIP solution that makes customer interactions fun and engaging. It provides complete customer history in one view – call logs, recordings, transcribed voicemails, and more on one page! It also allows you to take notes for each contact.
OpenPhone Features
One local or toll-free number per user

Unlimited calling and messaging to the US and Canada

Voicemail to text transcription

IVR

Call recording

Call transfer

Analytics and Reporting
Pros of OpenPhone
Customer service is knowledgeable and helpful

Instant messaging so you can let prospects know you are occupied

Affordable for small businesses

Comes with a basic CRM to manage contact details
Cons of OpenPhone
Even the slightest internet connectivity issue could disrupt the services

Setting up caller ID is challenging
OpenPhone Pricing
OpenPhone has three plans. Here's how much they cost (when billed annually).
Standard

: $10 per user per month

Premium

: $20 per user per month

Enterprise

: Custom pricing based on your requirements
8. Axvoice 

If you're looking for advanced internet phone services for business, Axvoice is an ideal choice. It comes with a  robust set of call management and conferencing features. Its easy-to-use online portal allows you to set up call routing rules, auto attendants, conference bridges, and more to handle calls professionally. 
Axvoice provides crystal clear HD audio powered by an adaptable VoIP network tuned for any device. Businesses can seamlessly assign extension numbers, transfer calls, record conversations, and integrate popular CRM platforms.
Features
Caller ID blocking

Three-way calling

Music-on-hold

International call blocking

Codec

Alternate caller ID

Distinctive ring

Call forwarding

Free in-network calling
Pros
Its user-friendly interface simplifies setup and usage, making it accessible even for non-technical users.

Axvoice supports many features, including call forwarding, voicemail, and online account management.

With excellent call quality and reliability, Axvoice ensures clear and uninterrupted conversations.
Cons
Axvoice's international calling rates might be higher compared to some competitors.

Porting existing phone numbers to Axvoice can be time-consuming and cumbersome.

Axvoice's mobile app lacks certain features available in the desktop version.
Pricing
Axvoice has two plans. Here's how much they cost. 
Small Business Plan: $29.99 Per month

Home Office (SOHO) Plan: $14.99 Per month
9. 8X8 

8×8 provides an integrated cloud-based communication platform with advanced VOIP phone service, video conferencing, chat, and contact center features. Its unified solution enables businesses to make and receive calls, conduct online meetings, send business SMS, and manage customer interactions from one system. 
Features
Unlimited users

8×8 Work: Unified mobile, desktop, and web app

Hot desking

Multi-level auto attendant

Call handling

Call queues

Secure HD voice

Presence detection

Voicemail transcription

Team messaging with document sharing

HD audio and video conferencing

Screen sharing for up to 500 active participants
Pros
8×8 offers a comprehensive cloud-based communication platform, integrating voice, video, chat, and contact center solutions.

Its advanced analytics and reporting tools provide valuable insights into call center performance.

8×8's global presence allows businesses to establish a virtual presence with local phone numbers in various countries.

With a mobile app for iOS and Android devices, 8×8 enables employees to stay connected and productive on the go.
Cons
Users have reported occasional call quality issues or dropped calls.

The pricing structure of 8×8 may be higher compared to some competitors.

Advanced functionalities require additional add-ons or separate licensing.

The implementation and onboarding process can be time-consuming and may require technical expertise.
Pricing
8×8 has not revealed its pricing. Contact sales for a custom quote.
10. VoIP.ms 

VoIP.ms is a contract-free, pay-as-you-go business internet phone services provider focused on flexible, hassle-free VoIP communications. Their cloud-based virtual PBX system enables you to customize call routing, auto-attendants, voicemail, and more through an easy-to-use online control panel. 
Besides, VoIP.ms supports Bring Your Own Device or can connect your existing hardware using SIP trunking for seamless integration. Stay connected with employees and customers worldwide through VoIP.ms's reliable global VoIP network that delivers high-quality calls in 60+ countries.
Features
Voicemail

Call forwarding

Three-way calling

Call encryption SIP

Call transfer

Call transcription

DID portability

Internal extensions

IVR

Ring groups

24/7 support
Pros 
It offers number porting to transfer existing business numbers seamlessly.

VoIP.ms Supports E911 for dependable emergency calling capabilities.

It provides toll-free numbers to expand customer reach.

It allows you to monitor calls in real time to barge in should the need arise. 
Cons
Customer support response times can be slow.

The mobile app has limited functionality compared to the desktop.

Onboarding and setup can be complex for larger organizations.

Call quality issues may arise if the internet connection is unstable.
Pricing
VoIP.ms doesn't lock you in a contract. Instead, it charges for the number. If you're based in the US, you can expect to pay: 
Per local number (DID):

$0.85/month

Make calls

: Starting at $0.01/min

Receive calls:

Starting at $0.009/min
You May Also Read : Everything You Need To Know About VoIP Phone System
11. Google Voice 

Google Voice provides an affordable cloud-based phone service solution for businesses. The key features include call forwarding, voicemail transcription, SMS capabilities, and an auto-attendant to route calls professionally. 
Google Voice offers low per-minute calling rates within the U.S. and Canada, plus competitive international rates. However, it lacks more advanced call management features than other VoIP solutions. 
Features
SIP link

Unlimited messaging in the US

Voicemail transcription

Google Calendar integration

Google Meet integration

24/7 support

Call forwarding

Multi-level auto-attendant

Ring groups
Pros 
Google Voice provides a free phone number and low-cost calling options.

Google Voice enhances call management with call forwarding, voicemail transcription, and spam filtering features.

Google Voice integrates seamlessly with other Google services, streamlining communication and collaboration for G Suite users.
Cons
Google Voice lacks certain advanced features found in specialized business VoIP systems.

Some users may experience occasional call quality issues, especially in areas with poor internet connectivity.

The availability of Google Voice in certain countries or regions may be limited, restricting its use for international users.
Pricing
Google Voice offers three plans. Here's how much they cost. 
Starter: $10 per user per month

Standard: $20 per user per month

Premier: $30 per user per month
12. CallCentric

Callcentric provides reliable and cost-effective VoIP phone service for businesses. Their hosted PBX system enables intuitive call management with features like auto-attendants, ring groups, call routing tools, voicemail to email, and more. 
Besides, Callcentric offers unlimited calling plans in the US and Canada, plus competitive international rates. The service integrates seamlessly with your existing phones and phone infrastructure through SIP trunking support. 
Features
4-Way calling

Anonymous call rejection

Call forwarding

Call waiting ID with name

Click 2 dial

IVR

SMS 

Simultaneous ringing

SIP trunking
Pros 
The platform supports multiple VoIP protocols, allowing compatibility with various VoIP devices and softphones.

CallCentric provides many features, including voicemail, call forwarding, and virtual phone numbers, enhancing communication capabilities.

Its user-friendly interface and straightforward setup make it accessible to users with different technical expertise.
Cons
Users find the customer support response times to be slow.

The pricing structure might become expensive for businesses with extensive calling needs.

Certain advanced features may require additional add-ons or separate subscriptions.
Pricing
Contact CallCentric for a custom quote. 
FAQs
1. Which kinds of businesses benefit most from a business internet phone?
Businesses of all sizes and industries can benefit from internet business phones. It doesn't require you to set up phone lines or desk phones while still enabling you to offer the best possible customer service over calls. Businesses with remote employees can also benefit from a business internet phone system.
2. What is the difference between Internet phone systems and traditional phone systems?
The most significant difference between Internet phone systems and traditional phone systems is how calls are routed. Traditional phone systems use a circuit-based approach, where all the lines in a PBX connect back to one main switch. When you pick up a line, your call travels through the switch before it reaches its destination. However, an internet business phone routes call over the internet by converting voice to digital signals.
3. Is business Internet phone service cheaper than a landline phone?
Yes. An internet phone service for business is cheaper than a landline phone. First, it doesn't require you to buy a desk phone. Second, the call costs less than a landline phone. Third, it doesn't require maintenance, as the vendor takes care of everything.
4. Can I switch from a landline phone to a business VoIP service?
Yes, you can switch from a landline phone to a business VoIP service. Leading VoIP providers like CallHippo allow you to port your existing business numbers to virtual numbers. This way, you can use the same number but with the benefits of internet phone services for business.
5. What are the disadvantages of business Internet phones?
The most significant disadvantage of business internet phones is that they rely entirely on your internet connection. If you have unstable internet, you might face call drop issues, bad quality, and difficulties connecting with customers.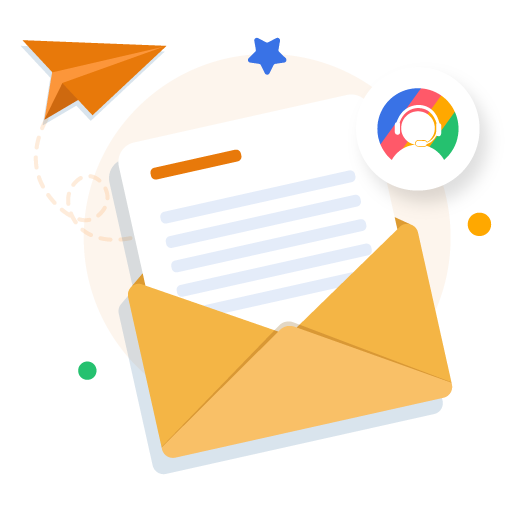 Let's Stay in Touch
Subscribe to our newsletter & never miss our latest news and promotions.

+21K people have already subscribed