Date: September 15, 2023
Using a VoIP app for Android can truly enhance your business communication without rolling out big bills. In fact, the typical VoIP system has an average cost of $20-$30/user/month, which is quite cheap compared to traditional phone line charges for long-distance calls.
Also, using an Android VoIP app helps you leverage advanced functionality and have fruitful conversations from anywhere, anytime, using your mobile phone (Android devices).
However, all of this stands true only when you select the right app based on your business needs, size, and frequency of VoIP calls (voice calls or video calls). For that, we've curated this buyer's guide on the best VoIP apps for Android, including its features, advantages, and disadvantages (based on reviews) and pricing.
Not just that, in this guide, you'll also find the VoIP app's benefits and a list of major features and factors to consider when choosing an app. Find some tips to optimize your app's performance towards the end. Let's get going!

Expert Advice
"Android VoIP apps do way beyond just calling. The best VoIP apps offer advanced functionality to boost agent productivity, streamline workflows, and enhance the quality of business communication. They can help you experience the best conversations at a fixed price, relieving you from the worry of monitoring call minutes and paying exorbitant charges. "
Benefits of VoIP Android Apps
VoIP Android apps streamline business communication and improve agent performance while letting you remain within calling budgets. Let's dive deeper into a few other benefits it brings

1. High cost-effectiveness and accessibility
VoIP apps keep calling costs low while ensuring your accessibility regardless of your location. You just need to invest in a suitable plan and start making VoIP calls (voice calls or video calls) over an Internet connection. In fact, businesses can lower call costs by up to 50% using VoIP.
2. Advanced features and integrations
VoIP apps have a highly-functional roster of edgy features like call analytics, call barging, call forwarding, call recording, CRM or business tools integration, and more. These features enhance business efficiency, improve agent performance, and boost agent productivity. Not just this, VoIP apps enable easy adoption without having to overhaul your infrastructure – some apps can seamlessly integrate with your existing phone systems.
3. Global communication and presence
VoIP apps enable you to connect with anyone across the globe with just an internet connection without having to shell out roaming charges. On top of that, VoIP apps help you expand your business and build a strong local presence in your preferred countries using virtual phone numbers.
4. Strong security
Leading Android VoIP apps have strong security with robust encryption protocols to ensure your messages and VoIP calls (voice and video calls) are safe during transmission. This is essential as the data breach amounted to around $9.44 million in the US in 2022, which is clearly an expensive loss.
You May Also Read: What is VoIP Phone and How Does it Work?
Key Features to Consider in VoIP Android Apps
Different apps for Android have different and more advanced features, but not all will be useful for your business size and type. Here are the major features to consider in your next VoIP Android app:
Automatic call distribution and call routing to route your VoIP calls to agents based on predefined criteria–availability and expertise.
Call whispering to listen to live customer query phone calls and suggest immediate solutions to agents.
Call monitoring to track agents' performance during active phone calls and improve them.
Call analytics to monitor your support teams' performance.
Call forwarding to forward calls to different phones to never miss phone calls.
Integration with third-party apps and business tools–collaboration tools, CRMs, workflow optimization apps, and collaboration tools to unify your business communication data.
Online dashboard to view centralized real-time insights into communications data.
Global Connect to hit the right time to call your international clients.
Number masking to safeguard the caller's privacy by hiding the person's actual phone number.
Number portability to easily port your VoIP number.
Predictive dialer to automatically route the call to agents when the customer/prospect is online.
11 Best VoIP Apps for Android
Brand Name
Rating
Key Features
Pricing
CallHippo
Call forwarding
Call recording
Voicemail
Text messaging
Basic: $0
Bronze: $16 /month
Silver: $24 /month
Platinum: $40 /month
magicJack
Call waiting
Do not disturb
Call Blocking
Call recording
From $15.99
skype
Voicemail
Meetings Recording
Smart messaging
Screen sharing
Call recording
Starts from £2.40
Nextiva
Auto attendant
Hold music
Mobile app and desktop app
Video conferencing
Audio-only conferencing
Advanced IVR systems
Caller ID
Essentials: $18.95
Professional: $22.95
Enterprise: $32.95
Vonage
AI virtual assistant
High-definition call quality
Unlimited calling and text messaging on all plans
Free video conferencing
Mobile: $14.99
Premium: $24.99
Advanced: $34.99
RingCentral
Business phone or toll-free numbers
Unlimited calling within the US and Canada
Business SMS
IVR
Core: $20
Advanced: $25
Ultra: $35
Zoiper
Contact list management
Bring Your Own Device (BYOD) facility
Offers IAX and Bluetooth support
Zoiper 5 Pro: €49.95
Grasshopper
Unlimited free calls in Canada and the US
Offers toll-free numbers
Custom greetings
Call forwarding
Solo: $26
Partner: $44
Small Business: $80
Openphone
Call Recording
Call Conference
Call Routing
Auto-attendant
Standard: $13
Premium: $20
Enterprise: Price on request
Choosing one from the plethora of Android VoIP apps available can be challenging. For ease of choice and quicker decision-making, here are the top 11 apps with relevant information:

CallHippo is the best VoIP app for Android, filled with features to help you collaborate with your team effortlessly (via voice calls or video calls). It offers local and toll-free numbers for 50+ countries with 85+ integrations and works on Android and iOS devices.
Features
Call scribe

Call monitoring and analytics

Smart Switch
CallHippo Pros and Cons

CallHippo takes just 3 minutes to set up.

This best Android VoIP app has an intuitive interface.

It is highly reliable, with a 99% uptime.

CallHippo has some call connectivity issues.

Its application might crash sometimes.
Pricing
Basic

:

Free version
Bronze

: $16/user/month

Silver

: $24/user/month

Platinum

: $40/user/month

magicJack for Business is a cost-effective VoIP solution for Android. It offers the flexibility to experience high-quality unlimited calls and texts with a useful feature stack from your phone without using mobile carrier minutes. 
Features
Call waiting

Do not disturb 

Call Blocking 

Caller Id 
magicJack Pros and Cons

magicJack is highly portable.

It is easy to install (from Google Play Store) without technical expertise.

This tool offers cross-platform support.

magicJack can only work on high-speed internet connections like cable modems or DSL.

This app's call quality might lag sometimes.
Pricing 
$15.99/month/line

Skype is one of the best VoIP apps for Android, allowing you to make unlimited and free VoIP calls (voice calls or video calls) to other Skype users across multiple countries. It also offers local numbers in 25 countries. With Skype, you can add up to 100 participants in one call. 
Features
Instant messaging

Video and voice calls (free VoIP calls)

Call scheduling

Live chat
Skype Pros and Cons

Skype has an organized and clean interface.

The platform is easy to navigate.

This app works on multiple devices–tables, mobile, Xbox, Alexa, and Web browsers.

Unfortunately, Skype doesn't support MMS.

Skype, one of the best free VoIP apps, doesn't offer free calls to non-skype users (relies on in app purchases of credits).
Pricing 
Free
You May Also Read : 10+ Best Business VoIP Provider

Nextiva is one of the best VoIP apps for Android for all business sizes. From seamlessly switching between desktop and mobile devices to giving you access to high-utility features and an all-in-one dashboard, Nextiva is truly incredible.
Features
Automatic call routing

Screen sharing

Voice and video conferencing (support group calls)

Custom caller id
Nextiva Pros and Cons

Nextiva offers top-notch security and reliability (99% uptime).

This app has text messaging capabilities directly from the office number, saving time to switch numbers to call and text.

It allows seamless and quick onboarding with support and training.

Features like SMS, video conferencing, and integrations are unavailable in Nextiva's low-cost plans.

Nextiva is not available in countries other than the US.

Pricing 
Essential:

$18.95/user/month

Professional:

$22.95/user/month

Enterprise:

$32.95/user/month

Vonage is one of the most amazing 20-year-old VoIP mobile apps that lets you collaborate with your team via video or voice calls in one platform regardless of the time and location, allowing business conversations to flow without friction.
Features
Multi-level auto attendant 

Call recording 

AI virtual assistant

Team messaging
Vonage Pros and Cons

Vonage is easy for the end user to adopt and scales with zero restrictions.

This app has a highly customizable dashboard.

It offers high-quality voice and video calling capabilities.

CRM integration and call recording are only available as in-app purchases (upgrade with Vonage).

Vonage is a little buggy, affecting user experience.
Pricing
Mobile

: $19.99/user/month

Premium

: $29.99/user/month

Advanced:

$39.99/user/month

RingCentral is one of the most reliable and best VoIP apps for Android to call internationally for all business sizes–small businesses, startups, and enterprises alike. RingCentral easily extends everything from basic calling functions to SMS and conferencing. 
Features
Voicemail transcription 

Real-time analytics

SMS and MMS support

Call Parking 
Ringcentral Pros and Cons

RingCentral has a low internet bandwidth requirement.

This app works well across multiple devices.

It has a very short installation time.

RingCentral's features are slightly difficult to use.

It doesn't notify of all chat messages.
Pricing 
Core

: $20/user/month

Advanced

: $25/user/month

Ultra

: $35/user/month

Zoiper, an efficient VoIP for Android, allows you to make unlimited calls via SIP or PBX providers for a one-time fee for a lifetime subscription. The best part? Zoiper's VoIP softphone brings all your contacts in one place for easy access. 
Features
Auto answer 

Bring Your Own Device (BYOD) facility 

Contact list management

Call transfer and waiting 
Zoiper Pros and Cons

Zoiper allows free calls between its users.

This highly secure app has end-to-end encryption for calls, videos, and texts.

It has powerful integrations with Outlook, CRMs, and Thunderbird plugins for better workflow management.

Zoiper's interface needs improvement.

It lacks some of the latest popular features available in other apps.
Pricing 
Zoiper 5 Pro: €49.95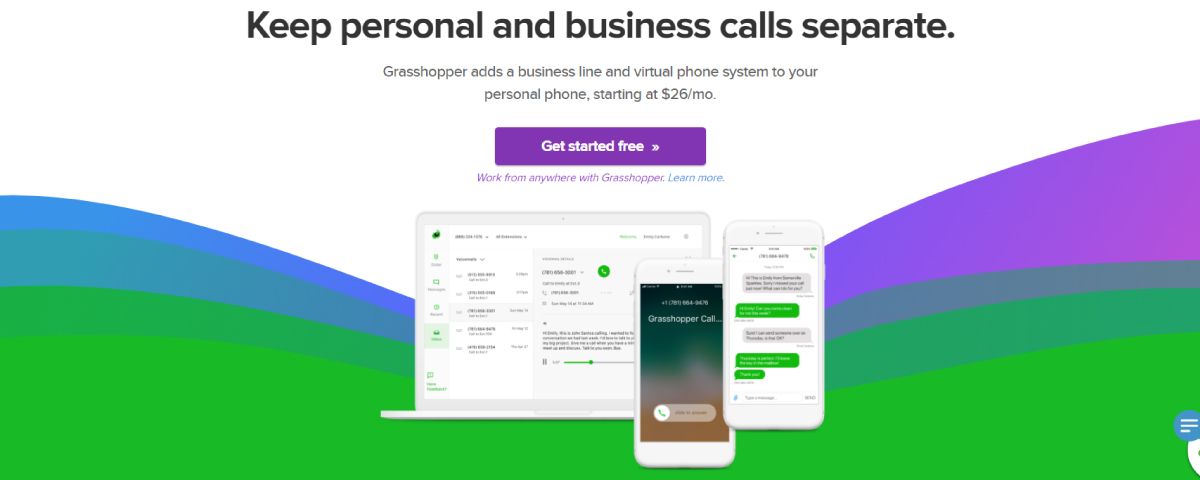 Grasshopper is a VoIP for Android that streamlines and eases out complex business processes, especially for small businesses. When you explore the pricing plans, you'll notice that they charge per extension, not per user. 
Features
Call transfer

IVR facility

Incoming call controls

Call blasting 
Grasshopper Pros and Cons

Grasshopper provides 24*7 cross-platform support by phone, chat, Twitter, Facebook, and email.

This app offers a business number and calling facility in 4 easy steps.

Its low-cost pricing plans are filled with features, making it a great choice for small businesses.

Grasshopper has fewer integrations compared to other VoIP apps.

It is available only in US and Canada.
Pricing 
Solo:

$26/user/month

Partner:

$44/user/month

Small Business:

$80/user/month

Google Voice is a part of Google Workspace and one of the most exceptional VoIP apps that lets Workspace subscribers make calls in the US and Canada for free using the app. This app has high-utility AI-based features that can instantly enhance operational efficiency. 
Features
Multi-level auto attendant

Desk phone support 

Voicemail to text

Call blocking and transfer
Google Voice Pros and Cons

Google Voice can be set up in a few minutes.

It offers a free phone number with free nationwide calling.

This app has high flexibility as it offers workflow customizations.

Google Voice has a few bugs, resulting in dropped calls.

This app is not as user-friendly.
Pricing 
Business Starter:

$10/user/month

Business Standard: 

$20/user/month

Business Plus:

$30/user/month

Openphone is one of the most efficient VoIP mobile apps that promote remote working by centralizing all your business data–video and voice calls, texts, and contacts. Then you can easily access the required information from any Android device or location.
Features
Automated texting

Shared phone number

Auto text forwarding

Group messaging 
OpenPhone Pros and Cons

Openphone's customer support resolves issues instantly.

This app remains updated with new features at all times.

It's easy to port numbers to Openphone.

Openphone doesn't have a call transfer feature on Android.

Its users often report concerns about service outages.
Pricing 
Standard

: $13/user/month

Premium

: $20/user/month

Enterprise

:

Contact Sales

MizuDroid is another VoIP for Android you can use for free (no in-app purchases) to call. It uses your existing SIP account (Session Initiation Protocol) to make local calls. If international calling is your goal, you must have a SIP address, PBX, or an active account with another VoIP provider to use this app. 
Features
Call forward and transfer

VoIP tunneling and encryption

File transfer

Call recording 
MizuDroid Pros and Cons

MizuDroid offers top-notch call quality with HD audio.

This smartphone VoIP app can be customized based on your business needs.

It provides lifetime access to its services for a one-time fee.

MizuDroid's interface is a little outdated.

Users believe this smartphone VoIP app is better for personal use as it lacks business-specific VoIP features.
Pricing 
MizuDroid Pro: $49
You May Also Read : 12 VoIP Advantages and Disadvantages You Need To Know
How to Choose the Right VoIP Android App?
Considering the many options available, choosing a voice-over ip app for Android that takes your business communication to the next level can seem overwhelming. To do it in a snap, prepare a checklist of non-negotiables for your VoIP app. Some of them are:
1. Affordable pricing
An ideal app provides video and voice call service with a roster of high-utility features and enhanced productivity to an extent where the price seems worth every penny. 
2. Responsive customer support
Check that your chosen app has reliable and responsive customer support willing to resolve all the issues that might arise.
3. Positive reviews and ratings
Choose a VoIP app that is highly rated and positively reviewed by its users on trusted platforms like G2, SoftwareSuggest, and Capterra.
4. Functional features
Invest in a VoIP app with highly useful features that truly make your business communications more productive and friction-free while improving call quality. 
5. High scalability
Your VoIP app must accommodate your growing business needs by a plan upgradation and have a high level of scalability. 
6. High-grade security
Select a VoIP app with plenty of security options to safeguard your clients' and customers' data. 
7. Multiple integrations
Ensure your chosen app integrates with your preferred software so you don't have to waste time managing x number of apps or software. 
5 Tips for Optimizing VoIP Android App Performance 
Your VoIP Android app can only offer its best value when performing at its highest level. To ensure that, you must optimize the app well. Here are 5 hacks to do exactly that: 
Connect your device to a reliable and stable network

(preferably WiFi) for lower latency and improved call quality. To master this, rely on

CallHippo smart switch feature

that toggles and selects the best

mobile networks while making calls from mobile devices or cell phones.
Manage the bandwidth

to ensure the app uses the available data strategically to maintain call quality and avoid interruptions in communication. 

Optimize the background

to run minimum processes in the background, close the background processes when not in use, and use the least power to avoid interruptions during calls or dropped calls.

Regularly update your VoIP

Android

mobile apps

to eliminate bugs and add advanced features to experience improved performance. 
Select relevant memory usage (based on your device's RAM), resource usage, and system usage to prevent the app from crashing and for optimal performance.
You May Also Read : What is a Level 3 VoIP number and Why You Should Use It?
Wrapping Up
Robust VoIP calling apps not only streamline communication but also reduce calling costs. These apps enhance your business communication with the advanced features they provide. Remember, an Android phone app will benefit your business only if its features hold utility for you.
Choose the app carefully and optimize it well for even better app performance and value addition. To invest in one, refer to our buyer's guide of the best VoIP Android apps or just play safe by relying on a leading VoIP provider like CallHippo!
FAQs
1. Is there a free VoIP app?
A free calling option is to buy an all-in-one plan of a reliable VoIP like CallHippo that lets you communicate seamlessly and affordably using a cell phone.
2. How do I enable VoIP on Android?
Here are the steps to enable VoIP on Android:
Go to the

mobile phone

 app

Select More>Settings>Calls

Enable Wifi calling
3. How can I use my mobile phone as a VoIP phone? 
You can use your Android phone as a VoIP phone by installing a robust Android VoIP app from Google Play Store, creating an account, buying a calling plan, and getting started with calling.
4. How does a VoIP Android app work? 
Here's how a typical VoIP Android app work:
Detect and capture voice from the caller's microphone

Convert voice into data packets and send them over the internet using IP protocols

Detect and decode data packets on the receiver's device

Transfer the message through the recipient's device's speaker
5. Can I make international calls using VoIP Android apps? 
Investing in a calling plan allows you to make high-quality international calls via VoIP Android apps.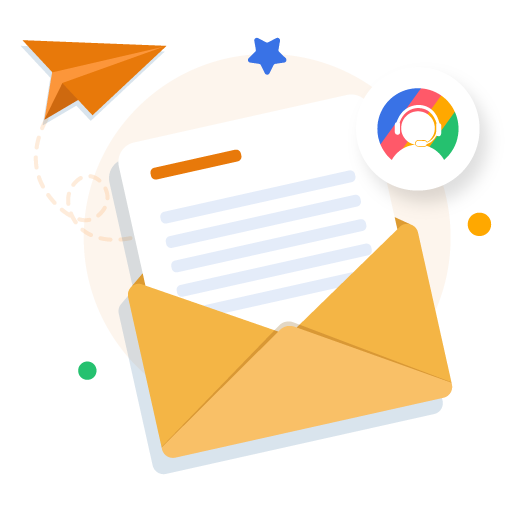 Let's Stay in Touch
Subscribe to our newsletter & never miss our latest news and promotions.

+21K people have already subscribed