Operating a VoIP reselling business is a challenging task. You want to find a loyal customer base, and provide them with excellent opportunities so that they stick around. The global VoIP market share is projected to touch $93.2 billion in 2024 – this mammoth figure clearly indicates the growing scope for cloud phone system resellers.
If you are a partner with an upcoming telecommunications company, you automatically get tons of opportunities to expand your business. As a VoIP telecom reseller, you will be able to serve clients better and increase monetary revenues. Your aim as a reseller should be to expand your network of clients, and offer them unique differentiated products so that they do not move towards other rivals in the market.
As a virtual phone number reseller, you need to keep abreast of the various technological advancements in the field. Be crisp and persuasive – given the various advantages of business phone numbers over traditional phone systems, it will surely not be too difficult to persuade your clients.
Resellers need to have powerful selling tactics so that they can entice a vast audience. You need to drill the benefits of cloud phone systems effectively so that people want to make the switch instantly. Here are some key points for VoIP resellers that can help them gain a larger consumer base:
Cost-Effective Communication Setup:

VoIP resellers need to emphasize on the fact that business phone numbers are highly cost effective. If you want to convince businesses to move over to virtual telephony, one great way to do so is by throwing light on the enormous cost savings that organizations can accrue by adopting this technology. 
Most service vendors offer a range of customized and economical packages that are tailor-made to fit within any budget range. While incoming and outgoing calls over traditional phone lines may burn quite a heavy hole in your pocket, you can rest assured that virtual phone platforms will provide you with apex HD audio quality calling at minimum prices.
Mobility of Service:

Globalization has made the world a smaller place. VoIP resellers need to tell their clients that they can largely increase mobility and remote working by investing in a business phone system. Since these platforms are cloud-based, they can be easily accessed by employees from any geographical location. All that is required is a working internet connection, and your workers can make/receive calls on their mobile phones, laptops and even personal computers
 VoIP phone solutions can increase work productivity exponentially – not even a single minute goes waste as team members can talk to clients while they are traveling, attending work conferences or going for field visits. Remote workers can keep in touch with other team members through VoIP applications and collaborate with them, share important data and contribute to long term business objectives.
Extensive Features:

Resellers of VoIP phone solutions need to tell their customers about the excellent array of features that these platforms offer to all kinds of organizations. Detailed call analytics can help managers keep track of various parameters such as average call time, resolution rate and agent performance. Call recording is another useful facility that maintains electronic records of all conversations with clients and enables managers to access them to improve training initiatives for better support services.
 Call forwarding makes sure that employees do not even miss a single customer call as they can divert calls on any mobile phone or landline number so that available staff members receive the calls. These features can help organizations increase their operational efficiency and streamline all their business communication with vendors, clients, partners, and external parties.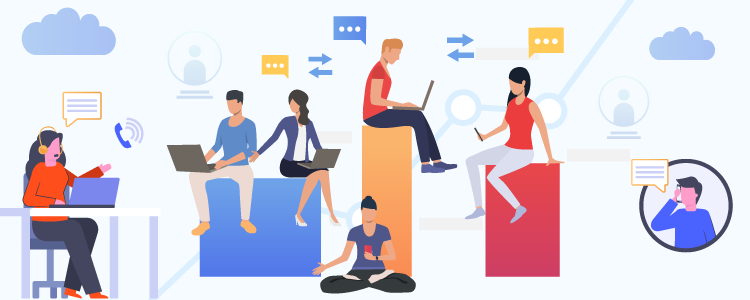 Ease of Installation:

Many times clients do not wish to purchase VoIP solutions from resellers as they fear that installation will be a huge issue and take tons of effort. However, this is far from the truth. Most business phone systems do not have any complex hardware or software requirements and call centers can be easily set up in just a couple of minutes. 
Virtual phone systems are intuitive and user-friendly in nature, hence your staff members will require no technical training and be able to operate them easily. VoIP phone lines can also be personalized to suit your business requirements, in fact, you can even play pre-recorded customized messages to keep your clients engaged while they wait to be attended by a support representative.
Highly Reliable:

One of the major mind blocks that organizations have in investing in VoIP platforms is that they feel that if there is no internet, they will not be able to communicate effectively with customers. However, business phone systems are very reliable and ensure the stability of the internet connection most of the time. In the rare event that the internet network is down, it is always possible to forward phone calls to other mobile numbers or landline numbers.
 Irrespective of weather conditions or power outages, your phone communication will not be impacted as VoIP is extremely agile and responsive. It requires hardly any kind of maintenance, and most credible VoIP resellers provide any kind of technical support to users to help them get started in a smooth manner.
Complete Scalability:

It is extremely difficult to scale up traditional phone systems – it requires a complete overhaul and a large amount of monetary investment. Since businesses constantly expand and grow in size, it is a wise decision to get a virtual phone system that is scalable. VoIP resellers provide scalable solutions and even allow their clients to purchase additional modules at a later stage. 
Organizations do not have to spend money on features or modules that they will not be using, and can always opt for extra facilities once the business requirements of the company grow. VoIP phone vendors allow your company to buy an extra line in case of team expansion and even eliminate phone lines in case of corporate restructuring or downsizing. This supports business efficiency and is cost-effective, thus enables organizations to compete with the best firms in the environment.
Integration With Other Business Systems:

No business can function well in isolation, it requires many systems, tools, and technologies to enhance productivity levels. VoIP phone systems are highly compatible and can integrate with your existing payroll, accounting, and financial systems. Most modern business phone systems also have integrated CRM function, hence they allow users to save customer databases and call records. 
Virtual phone tools can easily import and export large volumes of data from other company systems to save time and energy. Detailed call analytics helps managers analyze historical trends and customer behavior effectively. It is possible to generate visual reports with charts, bar graphs and maps to highlight vital business data. This helps employees make better decisions, save time on mundane work and focus on strategic objectives.
VoIP technology can revolutionize any kind of business organization. Budding start-ups that have just entered the business ecosystem, established mid-sized firms or even giant corporations can accrue diverse benefits by adopting business phone systems.
VoIP resellers should research well on the technology and put forth a strong case for this technology as it unifies all communication requirements. If you are a VoIP telecom reseller, make sure to cater to all organizational needs, customize your packages and remain flexible with your clients. This will increase your lead conversion rate and help you lock down more sales.
Keep a positive attitude with your customers and work hard on providing them with the ideal VoIP phone platform. Work out on a mutually acceptable budget, give a diverse range of features and personalize VoIP offerings to keep clients happy. After all, VoIP is the future of telecommunications – you can't go wrong by getting companies hooked on to VoIP technology as it will surely lead to an exponential increase in all key performance parameters!