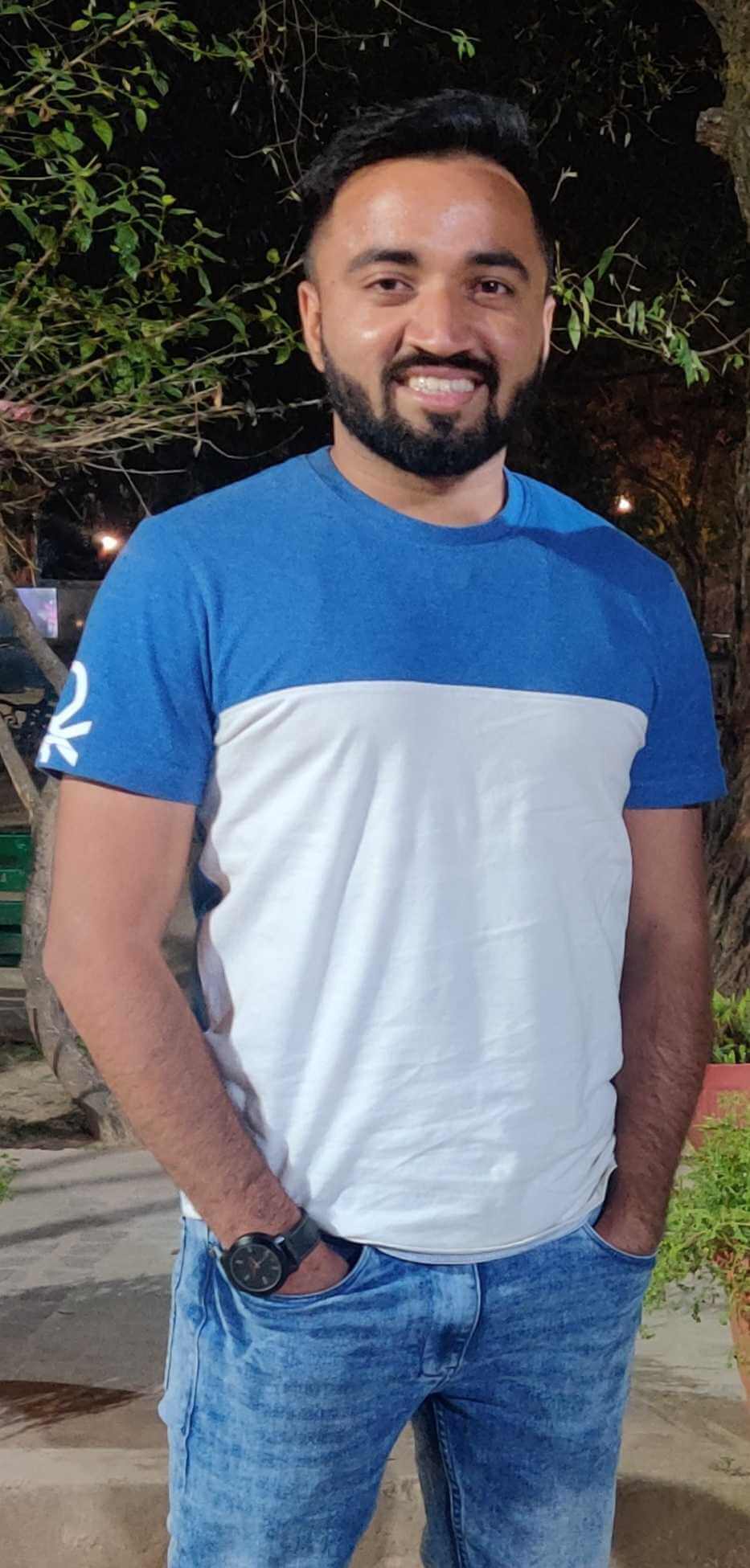 Reading Time:
10
Minutes
Published :
December 24, 2021
Choosing the best cloud-based phone system is a huge task. You must consider various factors, such as feature and functionality, cost, customer support, third-party integration, innovative features, and much more. As a result, it is critical that you properly analyze each of the solutions on your list before making a final decision.
Two of the top VoIP systems in 2022 are Ooma and Google Voice. Both of these VoIP (Voice over Internet Protocol) phone systems are innovative, have a number of features, offer decent customer service and third-party integrations.
However, when choosing between Ooma and Google Voice, you must properly examine each of the elements to select the best one that precisely suits your business requirements and aligns with your business goals.
In this blog, we will compare Ooma Vs Google Voice. First, we will analyze and compare each facet, from features to pricing. In the final section, we'll also find out if there are any better alternatives to Ooma and Google Voice.
Let's start with an overview.
Ooma Vs Google Voice: An Overview
Ooma provides two types of business communication systems based on the size of the company– Enterprise communication and Small business phone systems. As the name suggests, small business phone systems are for startups and small businesses, whereas enterprise communication systems are for medium to large organizations.
The primary functions and features of a Small Business Phone System include virtual receptionist, voicemail transcription, overhead paging, call recording, and so on. On the other hand, Enterprise Communication Systems have a plethora of advanced features such as hot-desking, drag-and-drop call flow, call barging, call routing, and much more. Moreover, you can also get a customized feature according to your requirements.
Let's move on to Google Voice.
Between Ooma Vs Google Voice, Google Voice is a business call management system that enables companies to manage their professional communication more efficiently. The system includes basic communication features such as caller ID, mobile applications, and the option to port your number for a fee.
Some of the primary features of Google Voice are text-to-speech, inbound and outgoing reporting, contact management, and call monitoring. The system's ultimate purpose is to streamline, automate, and simplify overall business communication at a low cost.
However, when you compare Google Voice features to those of any modern business communication system, such as CallHippo or Ooma, you will find that they are quite poor and outdated.
Now, let's evaluate each aspect of Ooma Vs Google Voice, such as their features, pricing, customer support, and integrations, one by one.
Ooma Vs Google Voice: Features
As a modern and comprehensive business phone system, Ooma offers a variety of innovative features that are sufficient to meet the majority of your business's requirements. As previously stated, Ooma has designed two different systems for different companies: Enterprise Communications and Small Business phone systems.
As the name suggests, Small Business Phone System is suitable for small enterprises or businesses experimenting with VoIP phone systems for the first time. This product contains nearly all the fundamental features required to carry out day-to-day business communication efficiently.
From the set of 35+ features that this system offers, the most known are call parking, music on hold, call blocking, virtual extensions, video conferencing, enhanced call blocking, and voicemail transcription. In addition to these advanced VoIP features, the system has all the essential functionality required for business communication.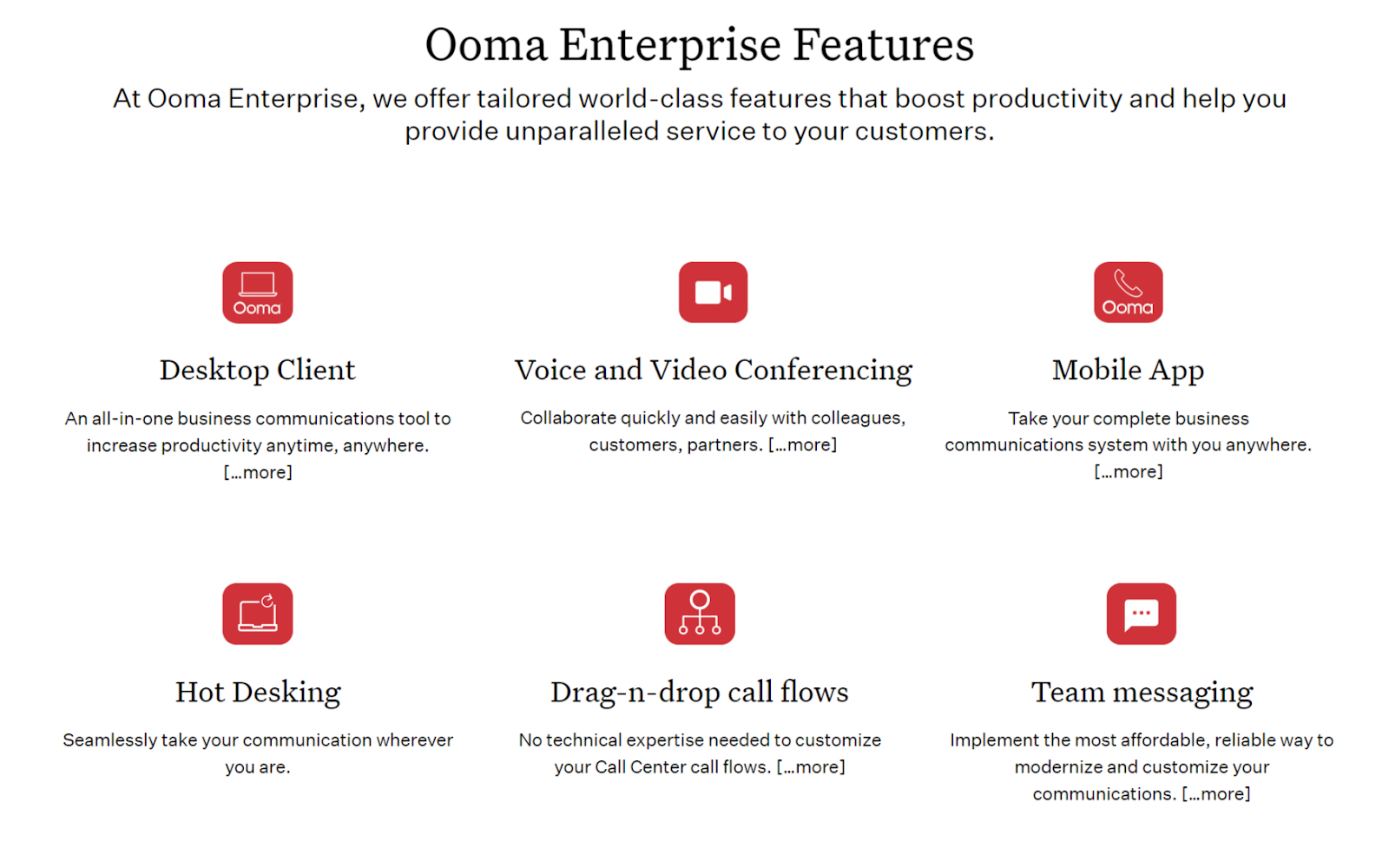 Also, from a Virtual Receptionist who directs calls to the appropriate extension to mobile apps and video conferencing, Small Business Phone System enables you to serve your customers better and collaborate with your team – all while cutting costs.
Let's move on to the Google Voice features.
When it comes to features between Ooma Vs Google Voice, Google Voice lags far behind Ooma. For example, Google Voice is a traditional business phone system that only provides a few basic VoIP features, including contact management, voicemails, text-to-speech, caller ID, call monitoring, Inbound reporting, Outbound reporting, and contact history.
As you can see, all of these functions are relatively basic and insufficient to fulfill modern communication needs. In addition, the system lacks several critical features and services such as IVR (Interactive Voice Response), virtual extensions, call routing, call logging, and much more. This means that Google Voice is not an ideal VoIP phone system if you want one with advanced VoIP functionalities.
CallHippo Verdict: When we compared Ooma Vs Google Voice, we discovered that people who run a small business or whose business requires a very simple communication system could rely on Google Voice. However, if you own a medium or large business that requires an effective, feature-rich communication system, you will certainly need an advanced phone system such as Ooma.
Ooma Vs Google Voice: Pricing Plans
Pricing is certainly an important aspect when it comes to selecting the best VoIP phone system.
Let's start with Ooma's pricing options.
The Ooma VoIP phone system comes in three versions: Ooma Office, Ooma Office Pro, and Ooma Enterprise. Each package includes a unique collection of features and services.
Ooma Office: The Ooma office package costs $19.95/month per line plus taxes and fees and comes with features such as conference bridge, ring groups, virtual receptionist, and free number porting in the United States and Canada.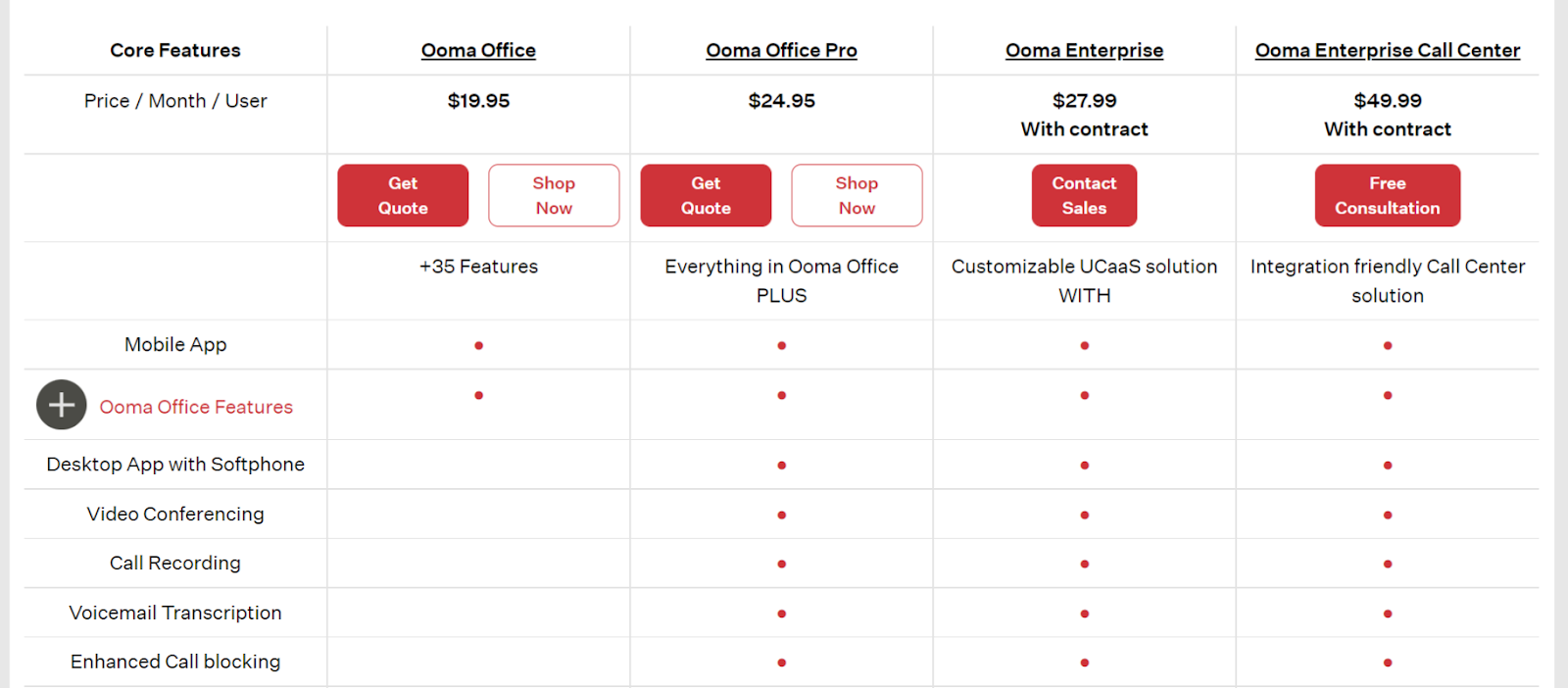 Ooma Office Pro: Ooma office pro plan costs $24.95/month per line + taxes and fees. It offers features and services such as unlimited meetings of up to 25 people (maximum two hours per session), Call recording, Enhanced call blocking, and Voicemail transcriptions.
Ooma Enterprise: Ooma enterprise plan costs $27.99/month per line + taxes and fees. It includes advanced integrations, SIP trunking, barge and whisper features, and a service level agreement (SLA).
In addition to these three primary plans, Ooma also offers three more plans: Ooma Basic, Premier Plan, and Ooma Enterprise Call Center. However, the first two plans – Ooma basic and Ooma premier – are for small businesses, whereas Ooma Enterprise Call Center is for enterprises requiring very advanced functionality and having special requirements.
Let us now discuss Google Voice plans.
In comparison between Ooma vs Google Voice, Google Voice has a lower number of plans or four pricing plans to offer: Free Google Voice, Google Voice Starter, Google Voice Standard, and Google Voice Premier. Each package includes a unique set of features and services.
Free Google Voice: As the name implies, this service is completely free. This subscription allows you to call and text, get a local business phone number, link devices, and set up voicemail. All of these services and features are provided for free, and users are not needed to pay anything.
Google Voice Starter: The Google Voice Starter plan costs $10 per month per user. It includes unlimited calling and messaging within the United States, voicemail transcripts, and an SLA. Moreover, this plan allows you to integrate your system with many Google products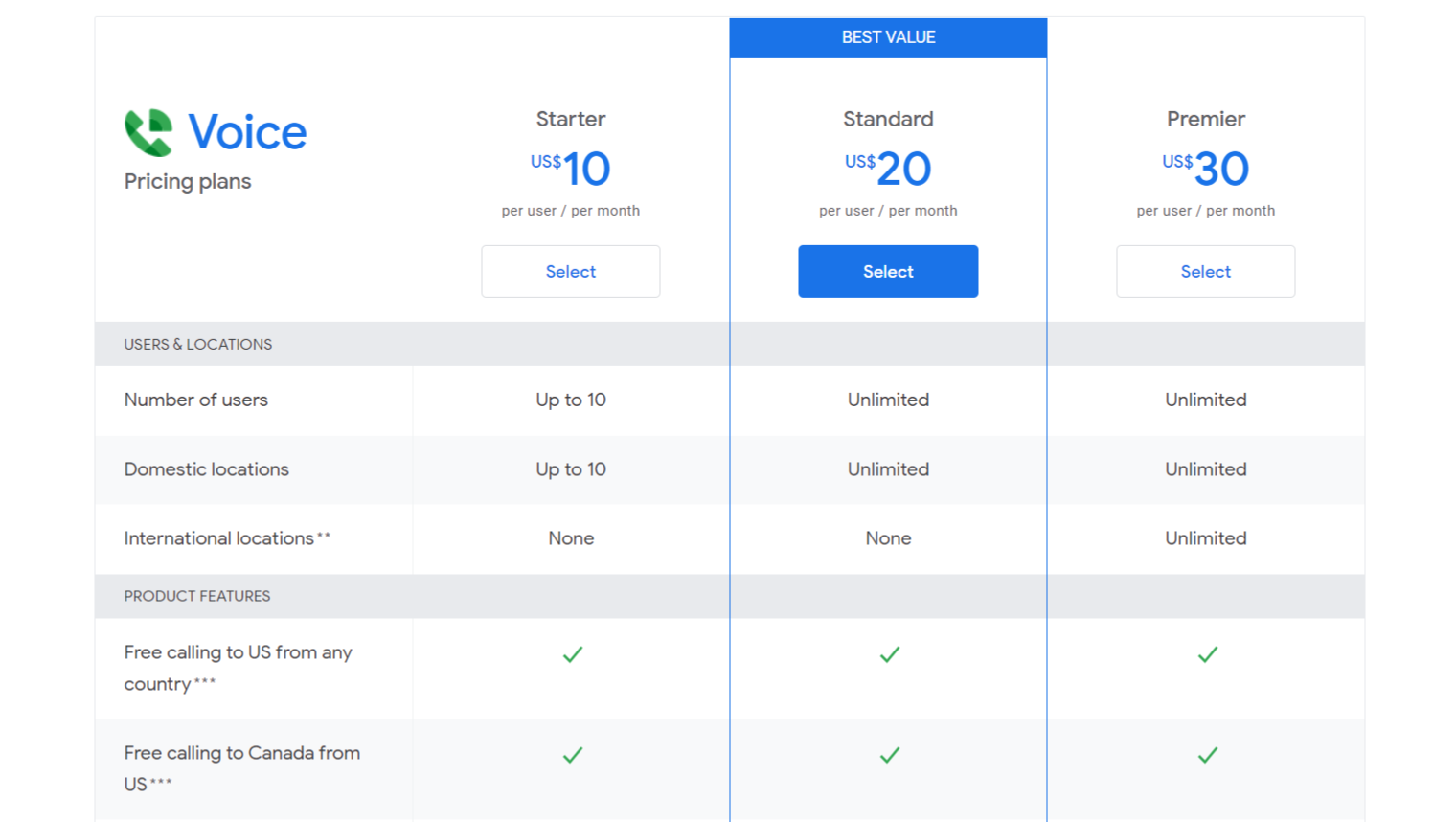 Google Voice Standard: The Google Voice Standard plan costs $20 per month per user. This package includes features and services such as auto-attendant, desk phone compatibility, ring groups, and eDiscovery for calls, text messages, and voicemail. This plan is best suited for small to medium-sized organizations.
Google Voice Premier: The Google Voice Premier plan costs $30 per month per user. It provides an unlimited number of international locations and allows you to export data to BigQuery. You can also audit call records and generate usage reports with the features included in this plan. This package is also suitable for medium-sized organizations.
Just like features and pricing, customer support is also an important aspect that should not be overlooked. Since all of these systems are based on technology, they are bound to face technical issues at some point.
For this reason, we must always choose a VoIP system that provides basic and advanced features and has a dedicated customer support team in place to assist their customers whenever the need arises.
Ooma Vs Google Voice: Customer Support
Google Voice's customer service is extremely limited. One way to tackle technical concerns is by going through their FAQs. However, if your problem isn't listed there, you can email their technical support team. There are no other ways to contact their technical team except these two.
In comparison between Ooma Vs Google Voice, Ooma provides far superior customer service and offers multiple routes via which customers can access technical support.
For example, Ooma offers live chat 24/7, setup assistance, phone support, online tools, and forums to assist their users. If you have any questions or concerns, you can reach their customer service team through any of these channels that are most suitable for you.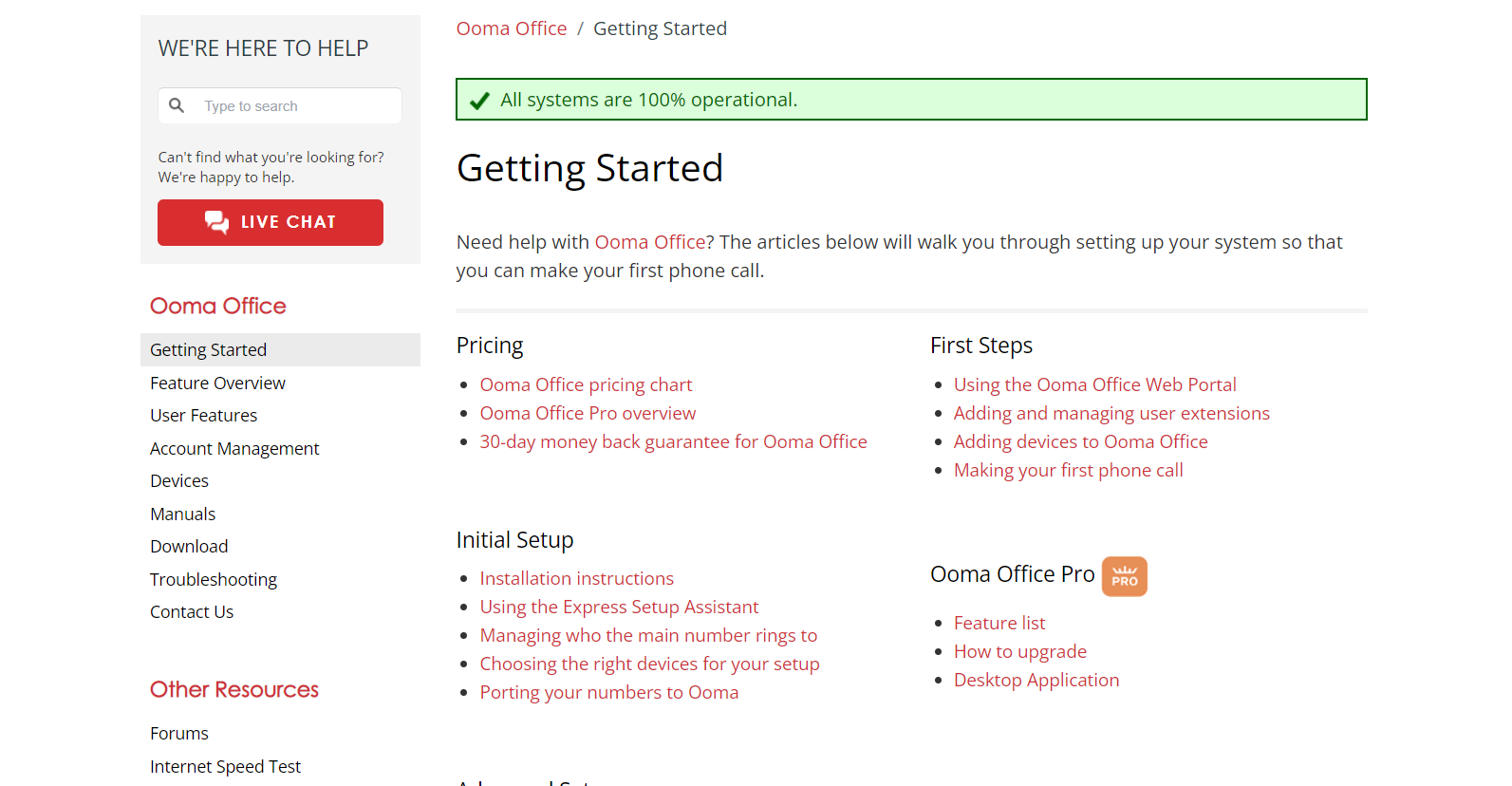 Moreover, just like Google Voice, Ooma has a FAQ section on their website where you can discover answers to all of the most frequently asked questions. In addition, the Ooma Support section of their website provides detailed information on how to install the Ooma VoIP phone system or how to choose the right devices for your setup, among other topics.
If your issues or concerns are not addressed there, you can always contact their customer service representatives via the Live Chat option. If none of these methods works, you can go to the "Troubleshooting" section of the same Ooma support page and get your problem addressed.
If even this option does not work for you, you can contact them directly by phone. The company has two separate contact numbers for the United States and Canada.
CallHippo Verdict: Google Voice provides very limited customer service due to the fact that it is a free and outdated business phone system. This ultimately means, if you encounter a technical problem with the system, you will have to wait for hours to get a solution. This will have an impact on your operations as well as your reputation.
On the other hand, Ooma VoIP provider provides multiple ways to connect with their team and fix your issue. So, if your company needs maximum system uptime and cannot afford to be down, Ooma is the way to go!
Ooma Vs Google Voice– Which One Is Better For Your Business?
So, what's the final verdict? Should you sign up for Ooma or Google Voice? As we can see, Ooma outperforms Google Voice in all three major categories: features, pricing, and customer support. This eventually indicates that you should go with an Ooma VoIP phone solution for your business.
However, if you are unsure about the exceptional benefits of VoIP, don't have a budget, or your small business communication can be handled by a basic VoIP system, you can use Google Voice.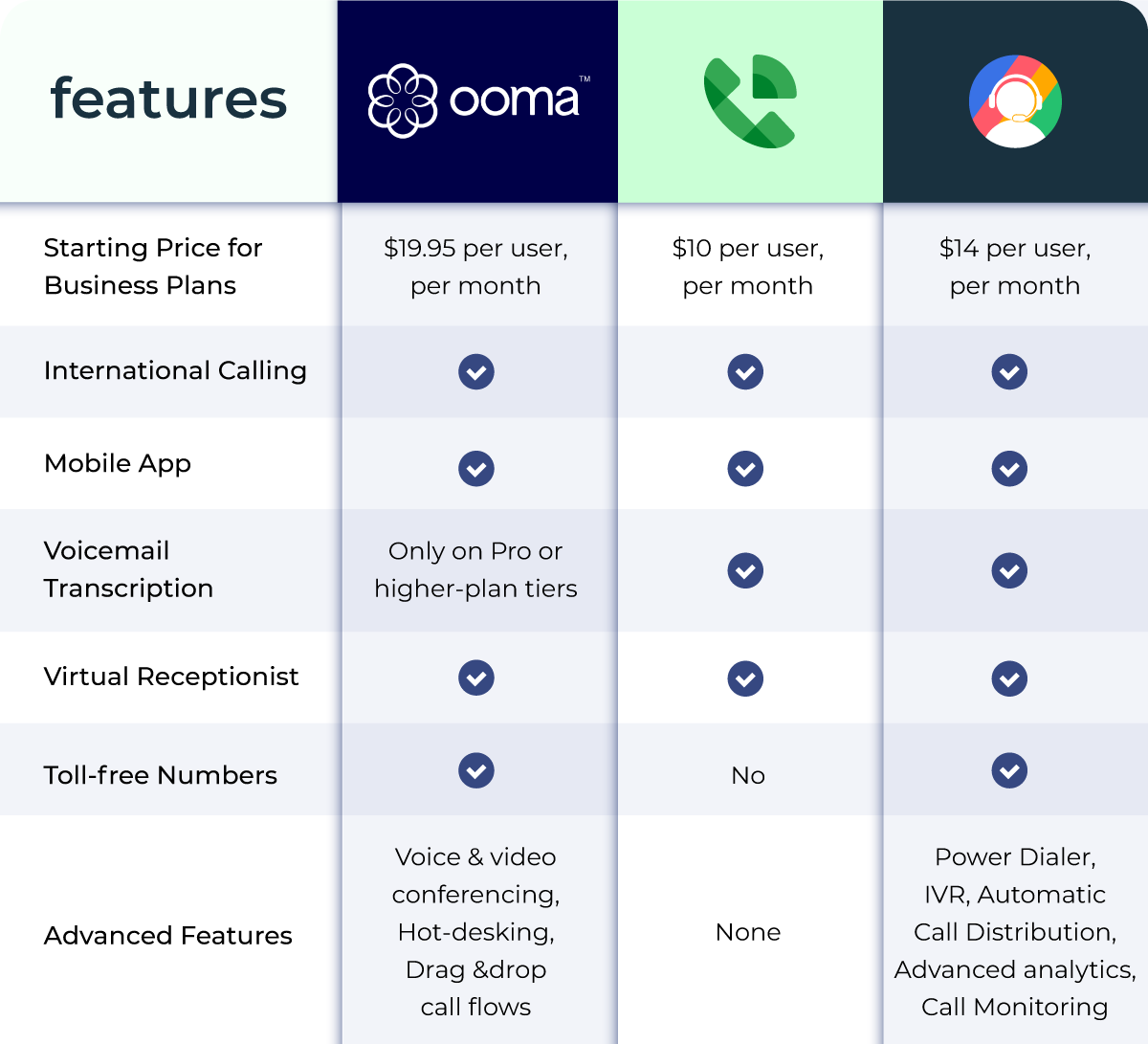 Above all, keep your business's objectives and requirements in mind before making any final decisions. Aside from that, these are some questions to ask when choosing the best VoIP system. Finally, don't forget to thoroughly assess your needs, budget, and potential scope before reaching an agreement.
We're sure you still have a question in your mind: Is there a better alternative to Ooma Vs Google Voice? Is there a business phone solution that combines the benefits of Ooma with Google Voice? Yes, there is! We do have an advanced, comprehensive, feature-rich, and reasonably priced VoIP system, widely known as CallHippo.
Let's move on to the next section to see how CallHippo outperforms Google Voice and Ooma.
The Best Alternative To Ooma Vs Google Voice– CallHippo
CallHippo is also a business phone system similar to Ooma and Google Voice, but with a set of advanced call center communication features, more affordable pricing plans, and better customer support. The following are some facts about the CallHippo VoIP system that will help you understand why you should pick CallHippo over Ooma or Google Voice.
CallHippo business communication software is entirely web-based or cloud-based. This means that users no longer need to use desktop phones to communicate with customers.
CallHippo is an all-in-one call management system that is designed for small, medium, and large enterprises.

Some of CallHippo's advanced features that Google Voice and Ooma lack are a

power dialer

, advanced analytics,

smart switch

, warm transfer,

Call Queuing

, and multi-level IVR.

CallHippo is available on multiple platforms and devices, including web, iOS, macOS, Windows, and Android.

CallHippo, like Vonage, supports a variety of integrations, including Zoho, Slack, Zapier, Pipedrive, Intercom, Hubspot, and many more.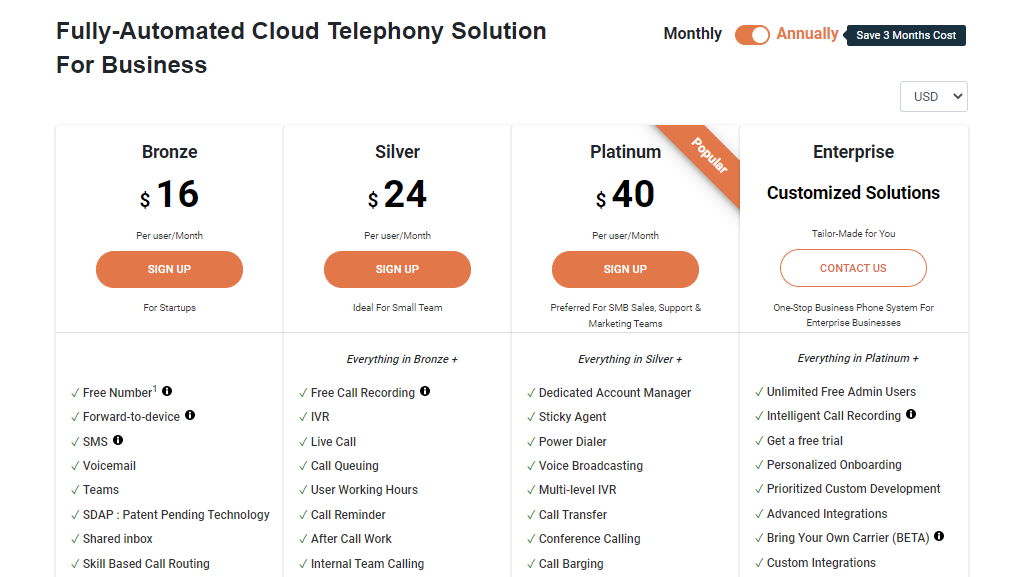 Pricing is the primary difference between CallHippo, Google Voice, and Ooma. On the one hand, where Ooma offers basic services for around $20, CallHippo offers it for $16 only.

Not just CallHippo's basic plan, but its premium and enterprise plans are also quite affordable compared to Ooma. For example, the silver plan of CallHippo costs $24, and the platinum plan costs $40.

In addition to three specified plans, CallHippo also provides customizable enterprise solutions for enterprises of all sizes. This plan allows you to subscribe to only the needed services based on your requirements, avoiding unnecessary spending.

In addition to these plans, CallHippo also provides Add-ons and services depending on the users' requirements.
All of these advantages of the CallHippo VoIP system clearly make it the winner of the Ooma Vs Google Voice vs. CallHippo comparison. Not only does CallHippo have a lower price, but it also offers an advantage in terms of integrations, device support, and customer service.
The question now is how to use the CallHippo phone system or subscribe to CallHippo. Well, the process is much simpler and quicker than you might imagine.
How To Get CallHippo VoIP Phone Number?
To get a CallHippo VoIP number, simply follow the five steps outlined below.
Step 1: Sign up with CallHippo.
Step 2: Log in with the username and password, and this will take you to the CallHippo dashboard.
Step 3: Click on 'Add Number' and select the country you want to target in the 'Country' column. After that, you can filter the number type as per your choice and select a number from the number pool.
Step 4: Choose the best package considering your requirements and make payment.
Step 5: Once you've established a centralized virtual phone number for your business, you'll need to add the rest of your team members as well.
After that, you must link your personal phone number to the virtual number. This enables you to make and receive calls from the country whose phone number you have chosen.
This leads us to the end of this blog. As we can see, Google Voice is most suited to small businesses, whereas Ooma is best suited to medium-sized businesses. Furthermore, in comparison to Google Voice, Ooma provides a more comprehensive set of features and excellent customer support.
However, both lack one or more elements and do not provide the complete VoIP system that a business needs. In contrast, CallHippo fills all of the gaps and provides a comprehensive and robust VoIP solution for businesses of all sizes and scales.
The Bottom Line: By comparing Ooma vs Google Voice, we found that both VoIP phone services are appropriate for businesses of varying sizes and requirements. However, even though both business phone systems house various basic and advanced features and are fairly priced, they lack one or more elements. For example, Google Voice lacks quality features and customer service, whereas Ooma lacks integrations. However, one of the top business phone systems– CallHippo, has it all and has emerged as the clear winner.