Date: April 25, 2023
The modern workplace is fast-paced and depends on the latest technologies to keep people connected. You require a plethora of tools to ensure your team can conduct online meetings, remote conferences, live chats, and video conferencing smoothly.
Undoubtedly, any company can save tons of time and money by investing in an intelligent video conferencing platform. Did you know that video conferencing improves communication for 99% of people and increases productivity by 50%? It is a great solution for employees to function in a remote work environment, save on travel expenses, and streamline team collaboration on important projects.
But the real battle begins when you start choosing the best video conferencing platform!
Frozen video conferencing screens, poor voice quality, a limited number of participants can lead to frustration and hamper work quality negatively. That is why you need to scan all options and choose the best for your organization. 
Though tons of video conferencing tools are easily available in the market, the trending global leaders are RingCentral and Zoom. 
Thinking RingCentral vs Zoom? Want to know more about these two video conferencing solutions?
It is essential to delve deeper into RingCentral vs Zoom to know their unique advantages and make an informed decision. So go ahead to read a detailed comparison of Zoom phone vs RingCentral to learn about their pros and cons and understand how to apply them to your business model.
What Is Zoom?
Before moving into the detailed comparison of RingCentral vs Zoom, let us get to understand more about both these products in-depth.
If there is one video conferring solution that doesn't need an introduction in the current business environment, it is definitely Zoom!
One of the most popular global web conferencing software, Zoom is a smart team communication solution that is used by many Fortune 500 companies such as Delta, Uber, and NASDAQ.
The COVID-19 pandemic led to a shift towards remote work and this resulted in a whopping 354% increase in Zoom's user base. The best part about this cloud-based platform is that it is highly user-friendly and can be used by both small to medium-sized businesses and large multinational corporations.
Zoom had experienced some technical glitches and problems too during its unprecedented growth such as privacy breaches with respect to sensitive user data and Zoombombing that led many loyal users to reconsider using the solution. However, they were proactive in addressing these concerns and remained a top leader in the UCaaS market space.
It's not only video calling that Zoom has to offer – the platform has tons of more exciting features and functionalities. 
The company recently launched Zoom Phone – an advanced enterprise-level VoIP phone solution. They have also introduced Zoom Rooms and Zoom video webinars that are used all over the world for online training, onboarding, and virtual classes.
The go-to web conferencing software that caters to a range of business needs, Zoom is used by teams from educational, retail, financial, healthcare, and Government sector organizations. It is flexible and intuitive – anyone can easily join a Zoom meeting as long as they have downloaded the app. 
Note that you cannot join a meeting from your Google Chrome or Firefox web browser, so users have to make sure to download the Zoom application on their device beforehand.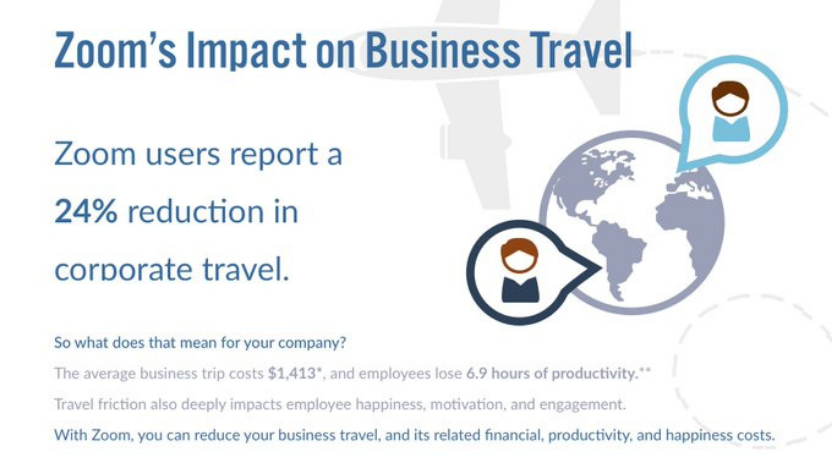 ( Source: twitter )
If you are looking for one key differentiator to choose Zoom over other market competitors, its innovative features are what make it stand out. Some key features include:
Worldwide Coverage:

With Zoom, users can make audio and video calls to any geographic location, all with the click of a button!

Advanced Analytics:

Users can generate advanced reports and drill down to understand after-meeting analytics to gain real-time insights and enhance productivity.

Seamless Integrations:

Zoom does not create any problems when it comes to integrations and is compatible with popular business applications such as Slack and Google.

Recording Option:

One of the most demanded features, Zoom has both screen capture facility and session recording options.

Clarity:

Zoom delivers high-quality audio and video call clarity to ensure users enjoy uninterrupted business communication.
What Is RingCentral?
A market leader in the domain of business communication and online conferencing, RingCentral is a team collaboration tool that is popular worldwide.
RingCentral offers a wide array of features that include virtual conferencing, live chat, messaging, and screen sharing options to enhance productivity in a remote environment. It was started in 1999 by Vlad Vendrow and Vlad Shmunis and the company has moved on an upward trajectory since then by adding new functionalities and technologies to its product line. 
One of the main advantages of RingCentral is that it is an all-in-one business phone system that offers multiple services such as PBX solutions, VoIP, and Fax – a holistic communication solution!
RingCentral is designed for all kinds of business organizations – in fact, many startups and small-medium enterprises have benefitted from its affordable and user-friendly solutions. There are many products under the RingCentral umbrella. Some popular ones include RingCentral Meetings, Office, and Glip. All these solutions aim at enhancing workplace communication and provide various features required for remote job environments. Some key features of RingCentral include:
Multiple Meeting Participants:

One of the most advantageous aspects of RingCentral is that it allows you to invite up to 200 participants for meetings or video calls.

Apex Clarity:

RingCentral provides superb HD audio and video call clarity to deliver a seamless experience.

Stringent Security:

RingCentral emphasizes stringent

security protocols

through password-protected meetings that prevent any unauthorized access.

User-Friendly Interface:

A quick and intuitive meeting setup makes RingCentral easy to use for business communication.

Worldwide Coverage:

RingCentral has a strong global presence in over 80 countries and caters to diverse industries.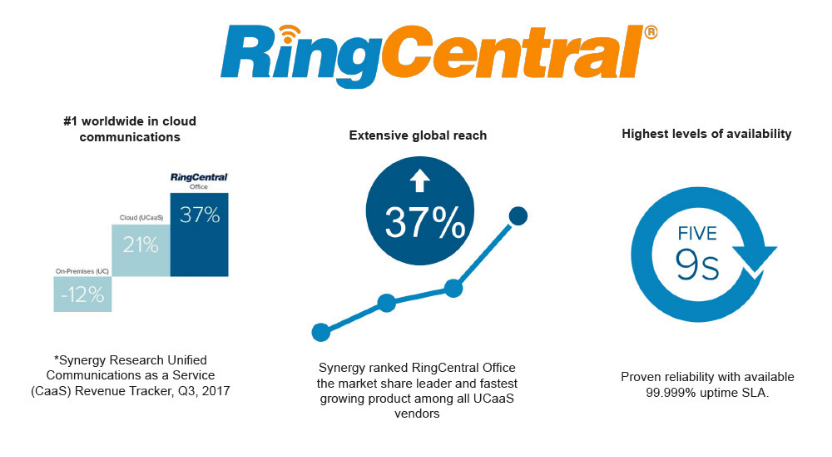 ( Source: loffler )
Zoom Phone Vs RingCentral: Pros and Cons
Now that we have gotten a fair idea about Zoom and RingCentral, let's dive deeper into their various features and differentiators. 
Each platform has a mind-boggling number of features that suit different kinds of business organizations. To ensure a fair comparison, we have decided to compare Zoom with RingCentral cloud meetings to focus on the video conferencing application.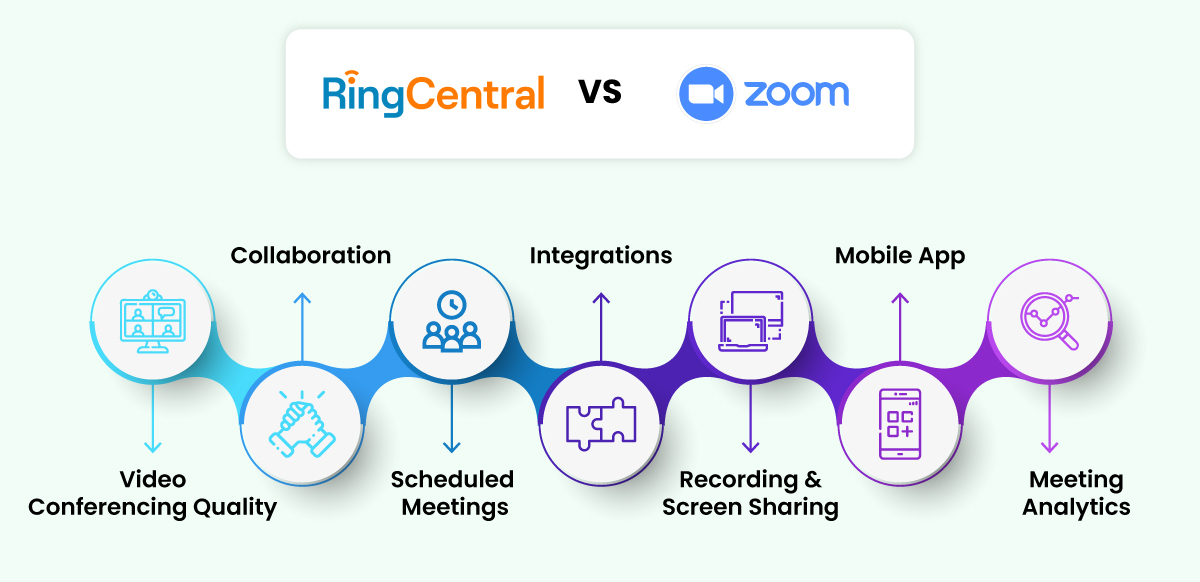 So here is a breakdown of the pros and cons of each solution that will give you a clear view of RingCentral vs Zoom:
1 ) Video Conferencing Quality
RingCentral provides nearly 100% uptime with no technical issues or glitches. It is an advanced cloud based phone system that provides apex HD video calls with dynamic resolutions so that users get a complete face-to-face meeting feel while video conferencing. 
Another great aspect of RingCentral is that it allows users to test the live stream before they commence the meeting. This means that you can check the stability of your Internet connection so that there are no unexpected interruptions during your video call or conference. 
The RingCentral mobile app also allows multiple screen views and provides much-needed tools to eliminate or reduce background noise during video conferences. Now if we go deep into Zoom Phone vs RingCentral, we realize that Zoom offers equally high audio and video quality along with multiple screen views. The one main area where Zoom has a slight edge over RingCentral is that users can view 49 active screens wherever RingCentral supports only 16.
Both RingCentral and Zoom provide customizable video filters and ambient lighting modifications. Hence, both video conferencing platforms are a winning choice in terms of video conferencing quality.
2 ) Scheduled Meetings
Going ahead with our comparison of RingCentral vs Zoom let's check out the scheduled meetings capability. Both the video conferencing applications are similar when it comes to scheduling meetings and allow users to switch quickly between chat messages to video conferences. Zoom users can use the Android or iOS mobile application or the web-based app.
In case you have integrated your Zoom app with Outlook or Gmail, you can easily schedule meetings through them also – a convenient functionality. Users can give the meeting a name, categorize meetings, implement password protection, and share the meeting ID with other team members. 
In the case of RingCentral Glip, there is not much difference as it allows users to schedule meetings through any integrated applications. With Glip, users can also view a dedicated meeting Calendar to help them keep track of business daily meetings. It allows you to create department-wise events, color co-ordinates meetings, and automatically link the calendar with all team member accounts, thereby making it a useful organizational tool.
3 ) Collaboration During Video Conferences/Meetings
One of the best features that Zoom offers is an integrated team chatting forum that allows users to send individual and team-wide messages. It is a great collaboration tool for instant communication and enhances job productivity exponentially.
Zoom also allows users to engage through social media mentions and tags. It makes it easy to share emojis, screen shares, and upload files with a quick click right from your chatbox. The most beneficial aspect about Zoom is the syncing – if you are using the mobile app on multiple devices, all your chats get automatically synced.
If your organization conducts many online trainings and webinars, Zoom should be your go-to platform. It has a virtual whiteboard that allows teams to brainstorm and share ideas. The screen sharing feature is also par-excellence as users can either view individual windows or a common frame of the entire desktop.
On the other hand, RingCentral also has a number of collaboration features to ensure that all your team members remain connected in real-time. The Office package is comprehensive in nature and offers a phone system with video conferencing and messaging capabilities. Glip is another specialized tool that is designed for seamless video calls and meetings – a great option for remote teams as it has many features and advanced screen sharing.
RingCentral has a sophisticated chat platform that supports both public and private messages. Users can easily create new threads and also search through previous conversations to retrieve any data. Glip also enables users to share files through Google Drive integration. This ensures that team members have all project information accessible in a single place.
One significant advantage that RingCentral Glip has over Zoom is its in-built task management functionality. It is a user-friendly tool that enables you to create, assign, and manage tasks for all team members. You can even use a visual checklist to monitor individual tasks and check periodic progress. 
So while both video conferencing platforms Zoom and RingCentral have similar collaboration features, RingCentral Glip may have a slight edge to its intuitive interface and task management and note-taking features.
4 ) Recording And Screen Sharing
One of the most essential features of any video conferencing tool is the option to record sessions. Talking about Zoom phone vs RingCentral, both have the option to record and storage options based on the plan that you decide upon. 
Zoom offers users of a free plan local recording feature, whereas members that opt for paid plans can avail cloud or local storage. Only the hosts of video meetings are authorized to record meetings and participants receive instant notification to inform them that the meeting is being recorded.
With Zoom, users can store meetings on both Android and iOS devices and access them through a structured meeting log. There are various innovative features such as auto-transcription of audio, the option to record only audio, and automatic deletion.
RingCentral has similar audio and video recording capabilities to Zoom; however, Glip users can record and save only 100 hours of video in the cloud. Users can purchase more cloud storage if required and also send out the recordings of the meeting to participants easily.
As with Zoom, video meetings and conferences in RingCentral can only be recorded by the host. You can also pause and resume the recording in case of any personal conversation or a break in the meeting. However, one aspect where RingCentral falls short in comparison to Zoom is that transcription of video meetings can be conducted only by third-party integrations.
5 ) Integrations
RingCentral Glip allows users having a paid account to access third-party integrations other than Office 365 and GSuite Workplace. With RingCentral, you get seamless integration to all essential and common business applications that include Trello, Salesforce, Zapier, Zoho, Asana, Mailchimp, Freshdesk, Microsoft Teams, and Zendesk. This makes it easy to transfer data without any hassles and streamlines all organizational workflows.
Zoom offers equally useful business integrations and the best part is that it also provides some integrations in its free plan. The top integrations supported by Zoom are Skype, Salesforce, Slack, GSuite, Microsoft Outlook, Google Drive, and Dropbox.
Zoom users can also access more integrations at the Zoom marketplace as per their unique business requirements, making it a clear winner in the battle of RingCentral vs Zoom.
6 ) Mobile App
RingCentral and Zoom both have functional and user-friendly mobile applications that are compatible with Android and iOS devices. The Zoom mobile app enables users to view up to four screens, customize the background, and utilize the screen sharing option. It does have a chat messenger facility but it is quite complex and has a high learning curve.
Zoom's mobile app is a great tool to share files, send/receive meeting invites, and screen sharing and makes it possible to get work done anytime, anywhere!
The RingCentral Glip mobile application is versatile and allows you to access chat messages, conduct conference calls, access team calendars, and manage tasks. The app lets users access four screens simultaneously during video conferences and meetings.
Another useful functionality of the RingCentral mobile app is that it enables you to switch devices instantly; hence you can easily move from a desktop video conference to a mobile device, without any difficulties!
7 ) Meeting Analytics
Meeting analytics and customized reports is one of the core features of both Zoom and RingCentral.
With RingCentral, you can easily monitor who attended video meetings, who declined invitations, and how long team members remained in meetings. This helps managers understand and plan better engagement strategies. They can also analyze live and historical information regarding the devices, location, and user data.
Zoom is clearly a step ahead and does not only provide user data but also meeting attendance and endpoints along with which devices were used by participants to attend the video conferences. It displays data on the top 10 users by displaying important metrics such as total minutes spent in meetings and the number of messages sent by them.
The Final Word
While diving into a comparison between Zoom Phone vs RingCentral, it is pretty clear that both the video conferencing solutions are at par in terms of features and functionality. However, Zoom may work better for larger scattered teams, whereas RingCentral may be the ideal choice for small-medium enterprises. 
Talking about RingCentral vs Zoom in terms of security, you may want to consider RingCentral has it has advanced data encryption and password protection features.
The bottom line is that as a user, you need to get the best value for your money! Scan the environment, check out user reviews and make an informed decision to invest in the best video conferencing software for your organization – it will surely catapult productivity and increase all key performance indicators!
WORDS THAT MAKE SENSE!
Read The Most Well Researched & Insightful Articles From CallHippo Team