The global marketplace, talented workforce, and diverse business prospects are just a few of the reasons why Canada is quickly becoming a global hub for Fortune 500 companies and other multinational corporations.
So, if you are one of them and planning to establish or expand your business in Canada, you are on the right track and well ahead of your competitors. However, starting a firm without a solid customer service operation in place is equivalent to walking in the dark while wearing a blindfold.
For this reason, when expanding or establishing a business in Canada, we recommend that you get a Canada toll free number or Canada phone number first of all. But what exactly is a Canada toll-free number, and who are the top five Canada toll-free number providers in 2021? Let's find out.
What Is Canada Toll-Free Number?
Simply defined, a Canada toll free number is a business phone number that includes seven digits after 1800, 888, 877, 866, 855, 844, or 833. It allows customers in Canada, the United States, and the Caribbean region to connect a Canada-based business for free. You can call Canada from the US, from Greenland and many other countries. Also, when a client dials a toll-free number, businesses, not customers, are charged for the service.
However, given the industry's promising future, a range of Canada phone number providers are out there in the market to reap the benefits. For this reason, picking the best Canada toll free number provider is usually a more difficult task than you think. But fret not! To help you in this scenario, we have compiled a list of the top 5 toll free number providers in Canada stated below.
Top 5 Canada Toll Free Number Providers in 2021
The top 5 Canada phone number providers in 2021 are listed below. Let's have a look at their features, pricing and plans, free trial duration, and other details.
1.
CallHippo Virtual Phone System
CallHippo is a high-end cloud phone solution designed to improve business productivity and user experience by streamlining customer support operations. The system is highly flexible and can accommodate any business type or workflow. It also features enterprise-level security and privacy, guaranteeing that consumer data is always secure.
Moreover, organizations can integrate their preferred tools and apps to expedite every operation and, as a result, improve efficiency. The user-friendly interference is another crucial benefit of CallHippo, allowing even inexperienced personnel to operate the system with ease.
Features of CallHippo
Smart call forwarding

Business tools integration

Call recording and Call Barging

Auto-Attendant

Smart switch

On Hold Music

Call reports and analytics
Free Trial: 14 Days
Pricing & Plans: CallHippo provides three business phone system plans, which are as follows:
Bronze Plan: $15/User/Month 

Silver Plan: $30/User/Month 

Platinum Plan: $45/User/Month 
Furthermore, the platform offers enterprise customized plans that are tailored to clients' specific needs.
2.
Avoxi Business Phone System
Avoxi is another well-known Canada toll free number provider in 2021. It is a virtual business phone number supplier that provides toll-free vanity numbers, local numbers, and Universal International Freephone Numbers (UIFN) in over 175 countries. The platform has several powerful features that make Avoxi an ideal VoIP phone system for medium to large-scale businesses. Moreover, the system is simple to set up, has a vast coverage area, an appealing UI, and specialized call logging tools.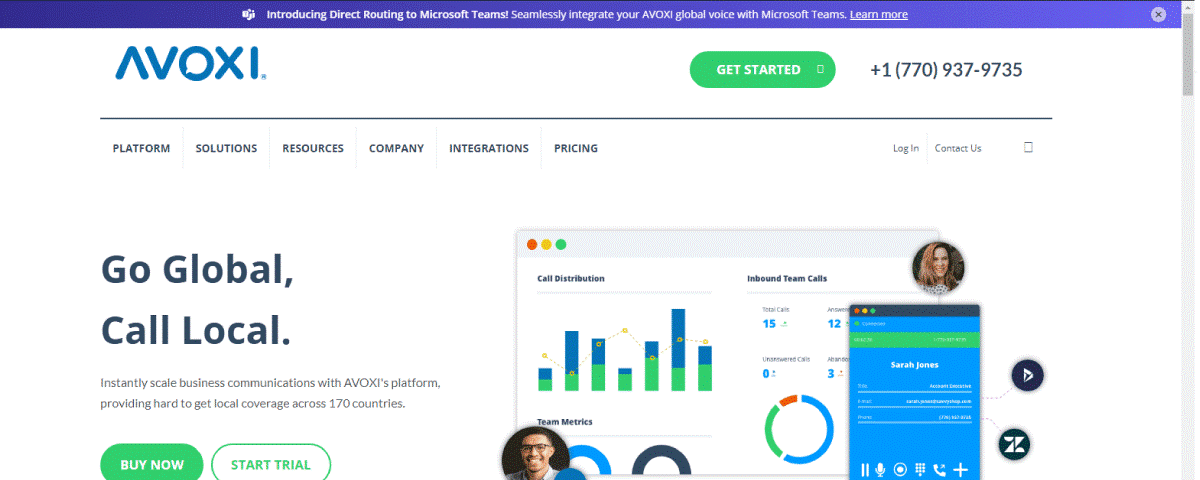 Features of Avoxi
Unlimited storage

ACD & IVR

Automated call forwarding

Music on Hold

Business tools integration

Call logging and tracking

Voicemail to email
Free Trial: 30 Days
Pricing & Plans: Avoxi offers four plans, as shown below:
Connect: $16.99/Month, offers 762 minutes

Standard: $25.99/Month, offers 1332 minutes

Advanced: $43.99/Month, offers 2361 minutes

Premium: $70.99/ Month, offers 4213 minutes
3.
RingCentral Cloud Based Phone System
RingCentral is another well-known Canada toll free number provider. It is a cloud-based system provider that offers multiple functions and is appropriate for all types of enterprises, including small, medium, and large. In addition, the platform allows users to add toll-free numbers, local numbers, and vanity numbers from over 200 area codes. Also, RingCentral provides a variety of prices and plans that are sufficient to fulfill the varying business requirements of the customers at a reasonable cost.
Features of RingCentral
Call screening & delegation

Video conferencing

Business SMS and MMS

Performance reports

Live reports

Voicemail to email

Mobile app
Free Trial: 15 Days
Pricing & Plans: RingCentral has four pricing plans, which are detailed below:
Essentials: $24.99/User/Month

Standard: $29.99/User/Month

Premium: $39.99/User/Month

Ultimate: $54.99/User/Month
4.
Phone.com Business Phone Service
Phone.com ranks fourth in our list of the top 5 Canada toll free number providers in 2021. Phone.com is a cloud-based VoIP business phone solution with multiple features and functionality. It is a cutting-edge, work-from-anywhere solution that is ideal for today's remote and agile work culture. Besides, the Canada numbers will also help you increase customer base.
In addition, the system assures optimum uptime and provides unrivaled customer assistance to help customers in need. Moreover, the phone.com business system setup process is relatively quick and comprises three simple steps.
Features of Phone.com
Audio and video conferencing

Call logs and call analytics

Expert Support

Follow Me

Voicemail transcription

Music On Hold

HIPAA Compliance
Free Trial: 30 Days
Pricing & Plans: Phone.com offers three plans as listed below:
Basic Users: $12.99/User/Month

Plus Users: $19.99/User/Month

Pro Users: $29.99/User/Month
5.
GoToConnect Cloud Phone System

GoToConnect has made a place on our list of the 'Best Canada Toll Free Number Providers' for all the right reasons. It is feature-rich, has excellent customer support, offers affordable plans, is suitable for small, medium, and large businesses, and is simple to use.
Besides, it is a next-generation business phone system that enables businesses to interact with their consumers and give exceptional customer service on time. The platform also provides various business phone numbers for Canada, including vanity numbers, local numbers, and toll-free numbers. Not to mention that the entire setup process will take less than 3 minutes!
Features of GoToConnect:
Find Me/Follow Me

Auto-attendant

Unlimited call queue

Wait time announcement

Call routing & forwarding

Voicemail to email

Virtual faxing
Free Trial: 14 Days
Pricing & Plans: GoToConnect offers three primary plans outlined below:
Basic: $24/User/Month

Standard: $29/User/Month

Premium: $39/User/Month
This brings us to the end of our list of the top 5 Canada toll free number providers in 2021. As we have seen, each of these 5 VoIP phone number providers has a unique set of features, pros and cons, pricing plans, security systems, and so on. Choose the one that best meets your needs and make your first business call to Canada!
The Bottom Line
Finding the best Canada phone numbers provider isn't rocket science, but it's also not easy. You must consider several elements and aspects such as pricing, features, customer support, software update frequency, additional cost, installation process, data security, and so on. Hence, it is recommended that you spend enough time evaluating products before making a final decision. This will not only save you from choosing the wrong product, but it will also ensure the growth of your business.