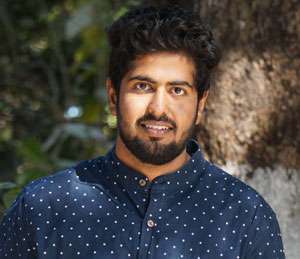 Date: November 28, 2022
A business phone system is a phone system that allows businesses to connect with hundreds and thousands of customers simultaneously over the phone at pocket-friendly prices. However, there are multiple types of business phone systems, such as virtual phone systems, private branch exchange (PBX), and multi-line phone systems, making it imperative to choose the right one.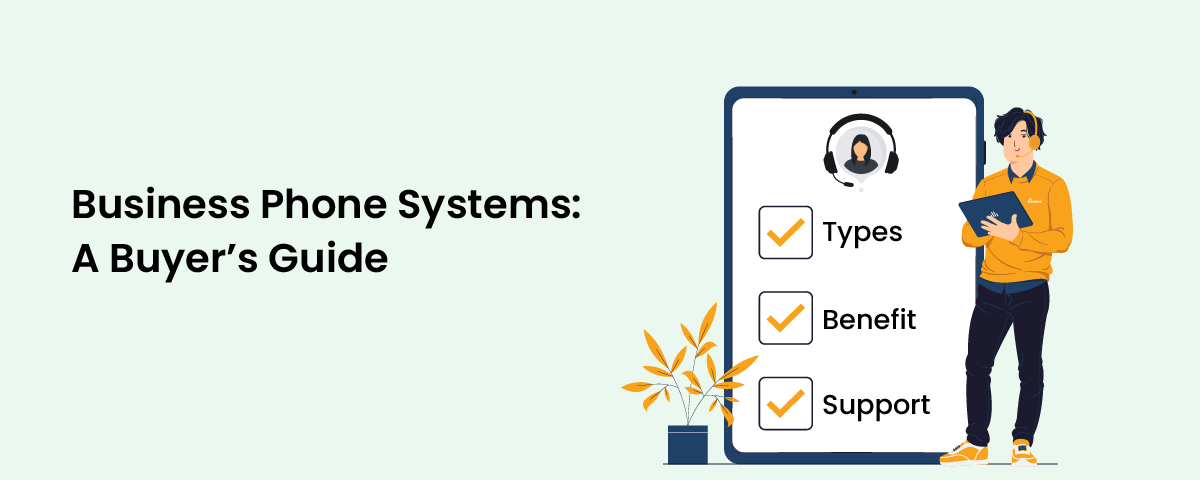 If you're not sure what a business phone system is, why you need it, or how to choose the right business phone system, this blog will guide you through it. Let's get started!
What Is a Business Phone System?
According to Wikipedia, a business phone system is a multiline telephone system commonly used in business environments. It includes devices ranging in technology from the key telephone system to the private branch exchange. 
Modern business phone systems allow you to communicate with customers and clients via audio, video, and text. They also come with advanced features such as call recording, call barging, voicemail transcription, automated attendants, ring groups, and analytics.
Why Do You Need a Business Phone System?
In today's highly competitive business climate, staying in touch with your customers 24X7 to assist them and promptly resolve their complaints needs an effective business phone system equipped with advanced features. 
A good business phone system would radically change how you connect with customers and keep you ahead of the competition. Also, you can save money through business phone systems. 
Here are some more benefits of investing in a business phone system.
1- Centralized Communication Channel
Business communications get simplified by switching to a business phone system. The system acts as a hub for all types of communication, including voice, instant messaging, video conferencing, and data sharing. 
Even the systems that offer only voice calls integrate with other tools, enabling you to create a central hub for customer communications. This gives you a 360-degree view of your customers and enables support teams to provide a personalized service to every individual.
2- Auto Attendant
Auto attendants, also known as virtual receptionists or auto-receptionists, are automated tools that address incoming phone calls as part of a business phone system.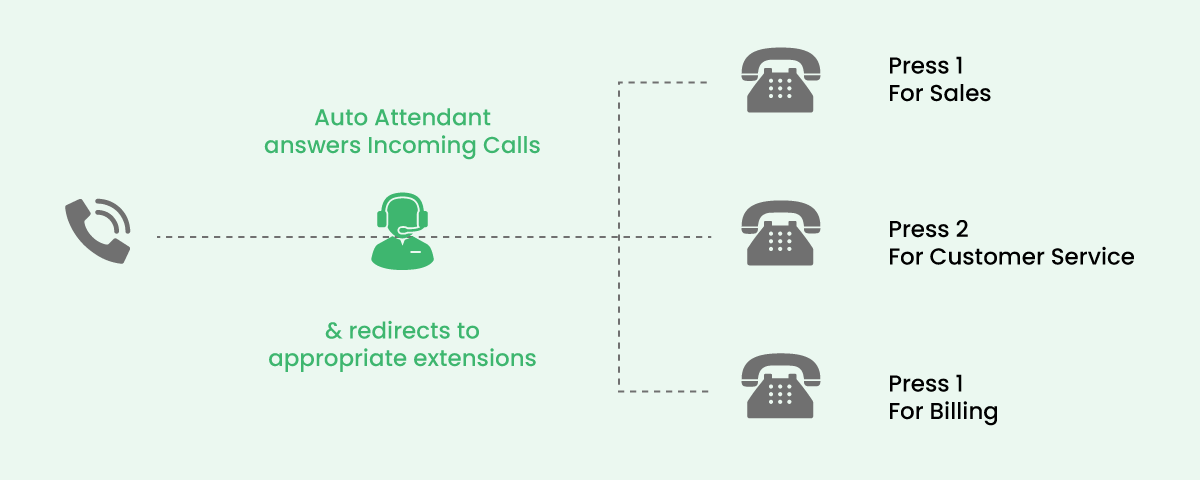 An Auto Attendant takes all incoming calls and provides callers with an options list or the ability to dial by extension. If a caller does not hear the option he requires, he can use the 'Connect to Operator' option to speak with a human operator.
3- CRM Integration
CRM integration is another significant advantage of using a business phone system. Business phone systems allow a business CRM and phone system to work together. For example, when you receive a call, the caller's details will automatically appear on your screen (if the caller is already a customer). 
Furthermore, the call recordings and notes (if any) will be automatically saved in the CRM for future reference. This will allow you to offer a consistent experience to customers irrespective of which channel they use.
4- Call Tracking
Analog phones' call log normally includes a name, business telephone number, and call time. However, these details are not sufficient in today's data-driven business environment. Today's businesses must collect nuanced call logs data that can be analyzed to identify growth and improvement opportunities.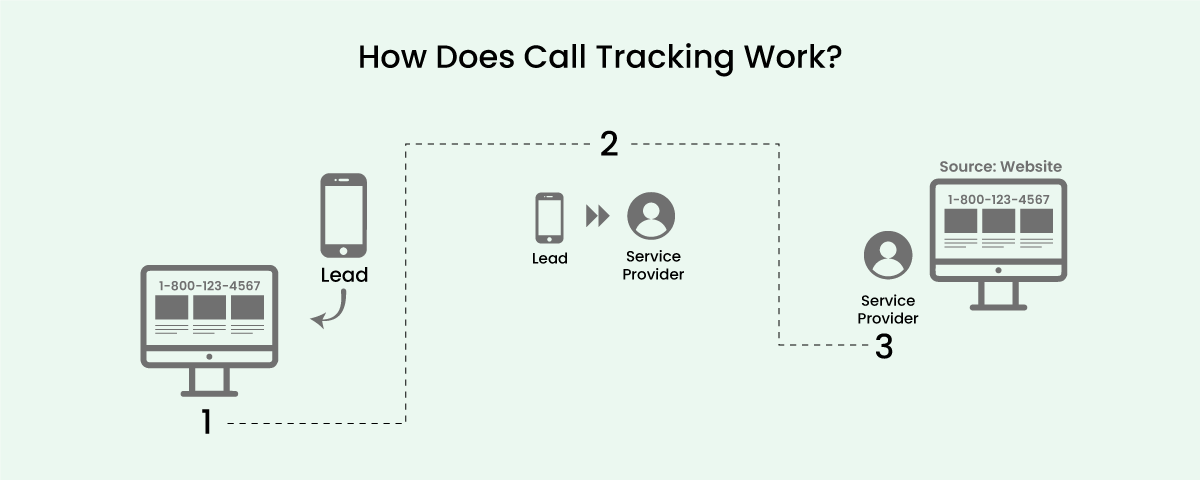 Using these data, you can even capture and analyze accurate reports of call productivity, calls answered, and calls missed. Also, these reports should be reviewed regularly to see how companies can adapt their routines and practices to meet consumer demands.
5- Marketing Messages and Music On Hold (MOH)
Music On Hold is one of the best features of the business phone system. It enables companies to choose their own music or record a marketing message for customers while waiting for an agent to pick up their call. These personalized options can significantly enhance the customer experience.
6- Showcase a Professional Image
You'd want to leave the best impression every time someone tries to contact your business. A good business phone system can help you do that.
It makes small businesses look like enterprises (with features like auto-attendant, call routing, etc.) and large companies more reachable. Besides, these features will help you provide a top-notch experience to your customers.
7- Eliminate (or Reduce) Conference Call Expenses
Whether you want to connect with multiple people for sales or talk to your team, calls conference comes in handy. Unfortunately, third-party conference systems can be costly, especially if you do conference calls often.
However, a business phone system allows you to do conference calls for free or as low as $5 per month (depending on the vendor). 
Types of Business Phone Systems
As mentioned above, there are different types of phone systems: multi-line, PBX, and VoIP. And business phone system installation will depend on what kind you choose. So let's understand this in detail.
1- Multi-Line Phone System
As the name implies, multi-line phones have multiple lines that run through the same unit, allowing each caller to answer the phone separately or send calls to voicemail. These phone systems are ideal for small businesses and are very simple.
In a Multi-line Phone System, two independent telephone units make up a two-line small business phone system. This allows several people to be on the phone simultaneously, such as a receptionist and a manager. You can conveniently handle both local and toll-free numbers with these phone systems and keep in touch with your customers 24X7.
When you decide to install a multi-line phone system for your office, you need to choose between
Two-Line Phone Systems:

If you are looking for a new phone system that is simple and affordable, then the two-line system is good to go. There will be one line for the receptionist and one for you. Or you can use it as one home phone number and another for business. A two-line system allows small businesses to make calls and use a fax machine simultaneously.

Four Line Phone System

: If you plan to expand your support team, you can choose a four-line phone system. Your company should be one where you are receiving regular calls and have many employees. This type of system lets the employees use the lines without the worry of disturbing the incoming calls from outside callers or business associates. 

Six or 8 Line Phone System:

When you have a large business and receive many calls every day, you may require a 6 or 8 line phone system to handle the load. Of course, these systems will be more complex and expensive than the other ones. However, this system will allow multiple phone lines to operate simultaneously.
Strengths
This is a great economical option for a new and budding business.

One can upgrade new lines once the company starts to grow.

It is easy to use and hassle-s free.
Weaknesses
When compared to other office phone systems, this one is less flexible.

In some cases, it is a bit expensive for phone service.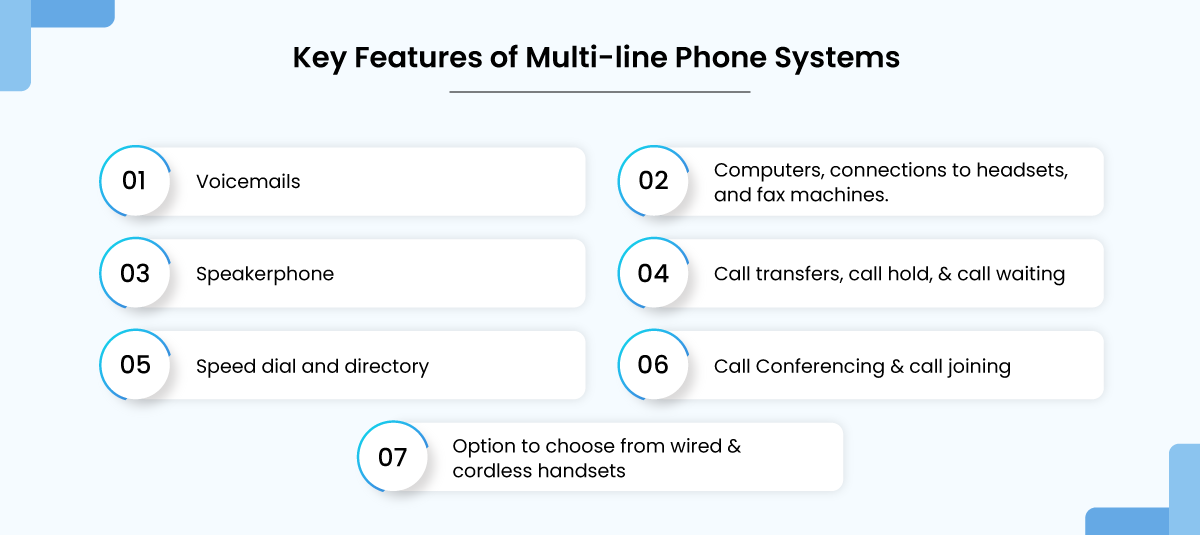 2- PBX Phone System
A Private Branch Exchange system (PBX) refers to a private telephone network used by a company or organization. However, you must install telephone lines and purchase hardware to facilitate business communication. However, PBX helps you have more phone numbers than actual physical phone lines and make unlimited free calls.
Call switching and routing are centralized in a PBX phone system rather than via the phone unit. As a result, PBX is potentially more scalable and cost-effective than a conventional phone system.
Pros
It might be a bit complex but is way more reliable than VoIP

It doesn't depend on internet connectivity

PBX has the capability of incorporating medium to large organization requirements
Cons
PBX is not dependent on the internet, but it entirely works on electricity. That means if there is no power back up, then your phone system won't work. 

It is not cost-effective when compared to VoIP.

As the installation is complicated, upgrading and adding new connections is sometimes difficult and expensive.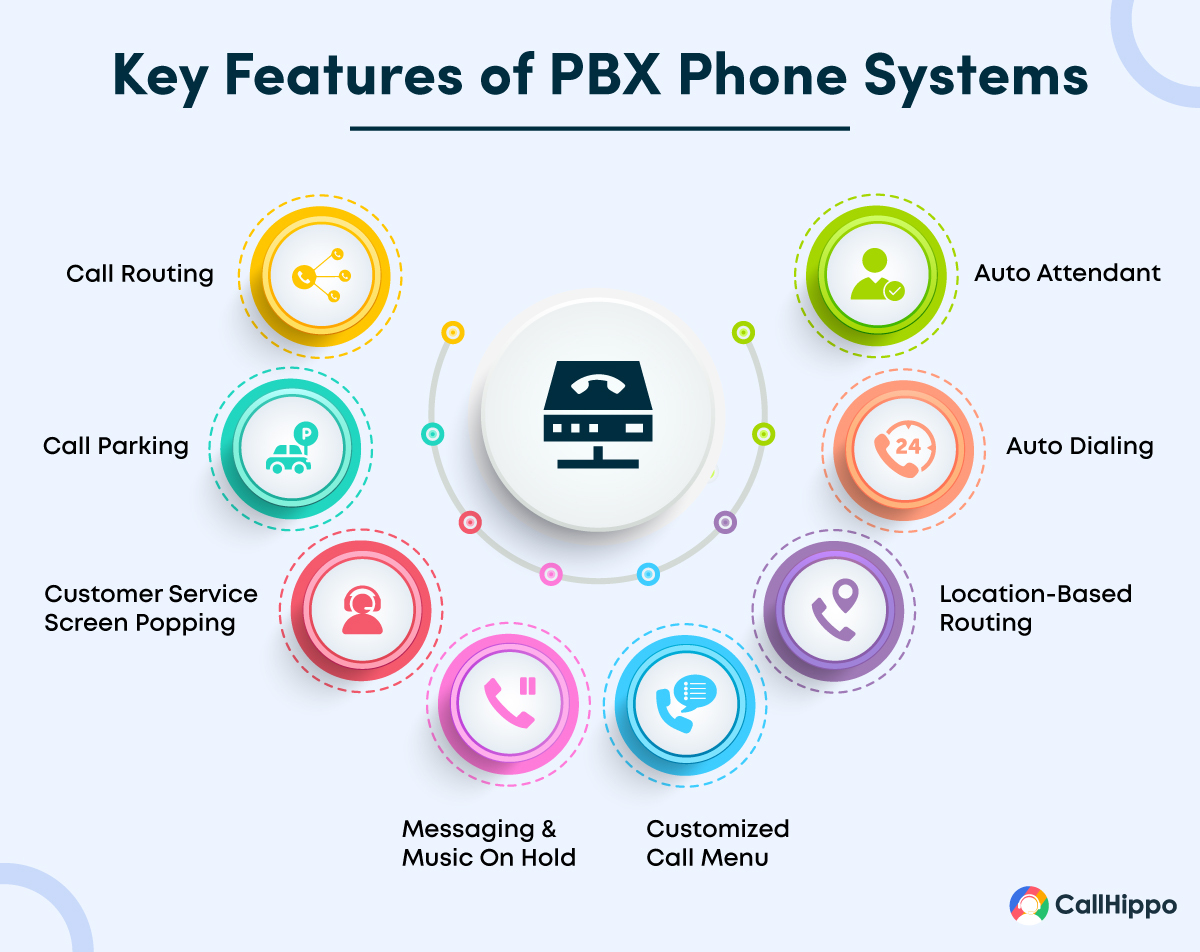 3- VoIP Phone System
Voice over Internet Protocol (VoIP) is a technology that allows people to communicate via calls over the internet. VoIP business phone software eliminates the need for the analog phone system for small businesses as it is more cost-effective and scalable. 
VoIP phone systems allow you to buy virtual phone numbers of any city. This empowers you to strengthen your local presence in new markets. Besides, it lets you use your smartphone for business communications without affecting your privacy. 
Pros
More cost-effective than other types of phone systems

Doesn't require you to install phone lines or invest in hardware

Integrates with all the existing business tools

Supports remote work

Highly scalable

It is the most simple phone system for small business
Cons
Requires a stable internet connection
Key Features of VoIP
Hosted Services

Instant messaging

Virtual Fax

Conferencing

Automatic call distribution

Interactive voice response

Auto dialer

Advanced analytics
How to Choose the Right Business Phone System?
An office phone system is not a short-term decision, so your company needs to make sure that you get the best one available in the environment. Here are some things you need to consider when choosing a phone system.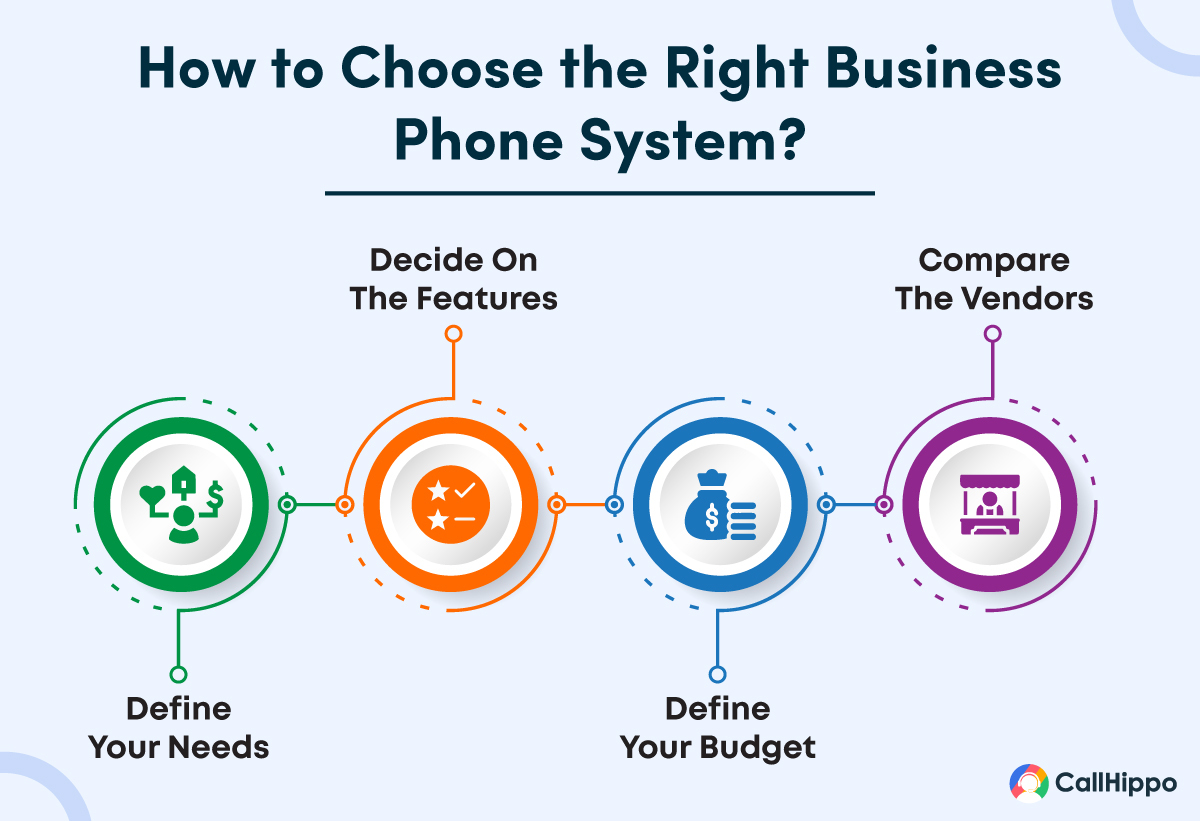 1- Define Your Needs
It is essential to define your expectations from the business phone system. For instance, if you want remote working capabilities, flexibility, scalability, more control over your phone system, etc. 
2- Decide On the Features
As discussed above, all types of business phone systems come with different features, with VoIP being the most advanced. Therefore, it is vital to decide what features are essential for your business and choose accordingly.
3- Define Your Budget
You'd not want to go over budget with your phone system. Make sure to analyze the costs before deciding. Installing phone lines in your office could take your setup fees to the roof. VoIP systems don't require any setup fees. But the monthly recurring costs can add up in the long run.
4- Compare the Vendors
Once you decide between the business phone systems, it's time to compare the vendors. For instance, if you choose VoIP business phone software, analyze the leading VoIP providers and compare how they stand against each other. 
You can even search for tools based on the features you need. For example, if you feel an auto-attendant is a must, search for the best auto-attendant phone system.
Future-Proofing Your Business Communication Capabilities
Getting a business phone system from the best service providers can immensely positively affect your business. It will enable you to offer a better customer experience, centralize your communication infrastructure, and enhance your customer service approach. 
All of these advantages point to the fact that getting a business phone system would certainly be one of your best business decisions if you really want to expand your enterprise.