Buy Online Phone Number Instantly
Get Online Phone Numbers For More Than 50+ Countries
What Is An Online Phone Number?
Direct Inward Dialing (DID) or Online mobile number is rooted on the web that allows you to receive and make calls from any data-driven device using the internet. It does not require any specific hardware/handset and can be used through any digital device.
Online numbers can easily be purchased and accessed over the web from any VoIP provider. Unlike traditional phone numbers, these numbers are not attached to a particular phone or SIM card and are connected to your online telephony account. This allows you to switch between VoIP providers readily as per your needs/convenience without changing your number.
How To Get an Online Phone Number
Buy Our Online Number For Making Calls
Streamline and automate business processes
Make calls on the go
Customized solutions for your business
Monitor live calls through call barging
Protect client identity with a virtual phone number
How Does An Online Telephone Number Work?
Virtual Phone numbers can easily be purchased through a VoIP or telecom company. There are multiple plans and packages available from each service provider, which you can avail of based on your calling needs. An online number works by connecting two (or more) numbers via the internet instead of telephone lines or switchboards.
The only apparatus that you need for making calls is a stable Wi-Fi or LAN connection and a digital device. Once an internet connection is set up, you can log in to the interface of your internet number's service provider for making phone calls and also you can send or receive SMS online from your virtual number.
Why Shift To Our Cloud-Based Phone Numbers?
With a cloud-based phone system, you can make calls using Direct Inward Dialing (DID) number, also known as online mobile phone number.
These DID numbers are pretty much like regular telephone numbers, but they are hosted on the internet. You can make and receive calls on any device with a decent internet connection such as your laptop, desktop computer, or mobile phone. An online telephone does not have a physical phone line associated with it.
Unlike traditional PBX systems, these new-age online phone systems focus on making the process easy for businesses. The main benefit of online communication is, you can even track these calls and monitor the performance of your agents.
Just like regular phone numbers, there are two types of DID numbers as well:
Virtual Local Phone Number – As the name suggests, a virtual local phone number is one that comes with the specific area code of the region for which you need the number. Even though it's a virtual number, it looks just like any other number belonging to that region.
Toll-Free Phone Number – A toll free number is widely used for commercial purposes. Customers can call on this number without incurring any call charges.
What Are The Features Of Online Phone Numbers?
What Are The Benefits Of Online Telephone Number?
Call forwarding
This facility allows you to easily forward incoming customer calls to your mobile number. This is particularly convenient for small entrepreneurs working from their home or a cafe. Additionally, with a dedicated online contact number for your business, you don't have to share your mobile number with your business contacts and customers.
Call queuing
Call queuing facility can impart a professional touch to your small business enterprise. If you are already engaged with another client on your phone, calling customers are placed in a call queue instead of being frustrated with the engaged tone of your online phone number.
Voice messages
Using the voice message facility, you can configure a standard or customized message to calling customers encouraging them to leave behind a voice message. Using this facility indicates that you care for your customer calls and that you will return their call.
On-Hold music
On-hold music is another professional manner of keeping your calling customers on hold while you try to resolve their queries or are in the process of transferring their call to another business executive. While on hold, your customers are much more engaged with either a standard or customized music tune.
Number portability
With its portability feature, your online calling number from CallHippo is dedicated to your business and can be easily ported to another service provider at any time.
In addition to feature-related benefits, here are 5 more reasons why your business should opt for a small business online phone number from CallHippo.
Affordable customer communication
Your online phone system provides a 24×7 point of contact for your local and international clients. At a monthly charge starting at just $6, you can reach out to customers in over 50 countries.
Reduced call costs
Your VoIP-enabled virtual phone number offers cheaper local and international calls as your online contact number calls are charged according to the local rate in the country.
Better phone mobility and scalability
A VoIP-enabled business phone system offers high phone mobility for customers looking to grow their business to different geographical locations. High scalability ensures that businesses do not need to acquire more phone lines as they look to add more users to their network.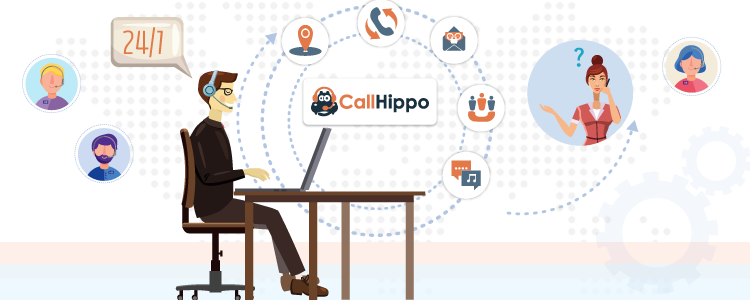 Call clarity
As compared to a mobile phone where call clarity depends on your service provider and your location, you can always enjoy high call clarity with your business phone system. This is particularly important during important conference calls with your customers.
Easy to use
With their easy and user-friendly interface, a online phone number can be configured in quick time and do not require much user training or maintenance costs.
You can get a fully-functional business phone number from CallHippo in the following 3 easy steps:
Register with CallHippo

and buy a online phone number for the country of your choice.

Configure and add the number of required users to the same number.

Select the

best online contact number

plan (Basic, Bronze, Silver, or Platinum) that suits your business needs. That's it. You can now start making or receiving business calls globally.
Set Up Your Phone System In 4 Easy Steps
Buy Virtual Phone Numbers of 50+ Countries. Start Making and Receiving Calls across the globe.

1
---
Buy Numbers
Buy numbers from around the world
2
---
Add Users
Create your team and invite agents
3
---
Start Calling
Start Calling and Receiving Calls around the World
4
Track Calls
Get detailed caller insights and identify the best prospects
Why Should Businesses Use Our Phone Numbers?
CallHippo is a leading cloud-based virtual phone system provider that offers local and toll-free numbers for over 50 countries across the world. Let's take a look at some of the ways a online mobile number from CallHippo is one of the best options out there:
Boost Agent Productivity
Automatic call routing detects an idle agent and directs customer calls to them.
You can generate custom reports and monitor agent performance in real-time. You can track KPIs like call abandonment rates and occupancy times, which can be significant indicators of your process's hygiene.
Safeguard Employee And Client Identity
Online number solutions can safeguard the identity of your employees and your clients by masking personal phone numbers for both incoming as well as outgoing calls.
Manage Business Calls Anytime, Anywhere
Online phone numbers give you the flexibility to manage your business without being chained to your seat. Calls can be forwarded to personal mobile phones, so you operate your business anytime, anywhere.
Better Training And Quality Assurance
You can monitor active calls through call barging or refer to a call recording at a later time. Both these activities help you improve your processes and ultimately provide a better experience.
Better Customer Experience
Call routing rules and IVR systems help a customer navigate through your menu and direct themselves to the appropriate agent.
Customized greetings, welcome text messages, call wait music and more keep the callers engaged.
Get Your Online Phone Number Now!
Sign up now and start your Online Telephone Number in 3 minutes
Frequently Asked Questions of Online Phone Number
How To Buy An Online Phone Number?
Using CallHippo you to buy online mobile numbers from 50+ countries. All you need to do is sign up, add users, and start making and receiving calls in less than three minutes.
Why Buy An Mobile Number From CallHippo?
There are many benefits of buying an mobile number from CallHippo that include mobility, cost-effectiveness, and advanced functionality such as call recording, reporting, analytics, and interactive voice response.
How Much Does An Online Phone Number Cost?
An online number costs between $7-$20 per month. However, the costs of the number may vary from country to country. 
Can I Make And Receive Normal Calls With An Online Number?
Yes, you can use your online number to make and receive normal calls.
How To Make An Online Call?
To make a call with your virtual number, Follow these steps:-
Open CallHippo

Work on call center setup

Add users and get your numbers

Start Calling
How Can I get Free Online Phone Number?
You can get a free online phone number under CallHippo's Start up program. All you need to do is apply for it and if your organisation full fills the requirements your application will be approved.
Can I get Online Phone Number For Sending SMS?
Yes. Sending SMS from Online Phone Number depends on the number capabilites. Some countries allow sending SMS from online phone number others dont. Check with your online phone number provider.
Can I use Online Phone Number for Verification?
Yes you can use Online Phone Number for verfication. However, some platforms dont allow the use of online phone numbers for verification.
Set up your Online Mobile Number in Less than 3 Minutes
Schedule a free product consultation call