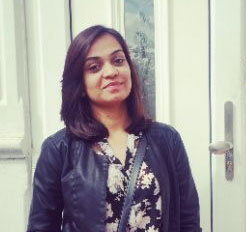 Reading Time:
10
Minutes
Published :
February 9, 2022
Who doesn't wish to leave a lasting impression on their customers? 
Sure, everyone does, and intelligent IVR gives you the right option. Interactive voice response system is an interactive technology that allows you to interact with callers through an automated platform to save time and costs.
With Intelligent IVR, CallHippo promises to offer the best IVR experience. 
In this comprehensive blog, we will walk you through the essentials of IVR and why IVR phones are essential to excel in the industry.
What is Interactive Voice Response (IVR)?
( Source: continentalmessage )
The interactive voice response, or IVR, is a component of an automated business phone system that connects with callers and collects information by presenting them with a menu of options. 
It then takes action in response to the caller's answers.
The caller's selections decide the IVR's actions – whether to provide them with the asked information or redirect it to the agent depending on the complexity of the needs.
You're familiar with an IVR if you've ever dialed a business phone number, and it welcomed you with an automated greeting that then engaged with you via a pre-recorded message.
What Is Intelligent IVR?
Intelligent IVR is an upgraded, cloud-based Interactive Voice Response system that improves company communication by intelligently routing and managing inbound calls to improve customer satisfaction and remove redundancy traditionally handled by human agents. 
For example, CallHippo's Intelligent IVR software can be deployed as part of our cloud IVR solutions, hosted PBX solutions, or tacked onto your existing telephony system.
What Is Visual IVR?
Visual interactive voice response (visual IVR) is an IVR system that augments the classic IVR experience with a multichannel graphical interface. 
An assistance network directs inbound callers to a web-based support interface, personalizing the support journey for clients present in the queue.
IVR connects clients to self-service choices and a support resource capable of resolving their issue/inquiry in the first call only.
Visual menus frequently follow the same structure as normal IVRs or include options unavailable via dial tone multi-frequency (DTMF) inputs.
It collects real-time data at each touchpoint and can send an agent to contact the client. When the assigned agent reaches the customer, the representative will have vital information.
Visual IVR uses communication media such as smartphones and computers to simplify and comprehensively collect information about a caller.
Because the system is not touchtone-based, there is a lower probability of customer IVR errors – typing and selecting from drop-down IVR menus is more dependable than just hitting keys. It further reduces the customer bounce rate.
What Is The Use Of IVR?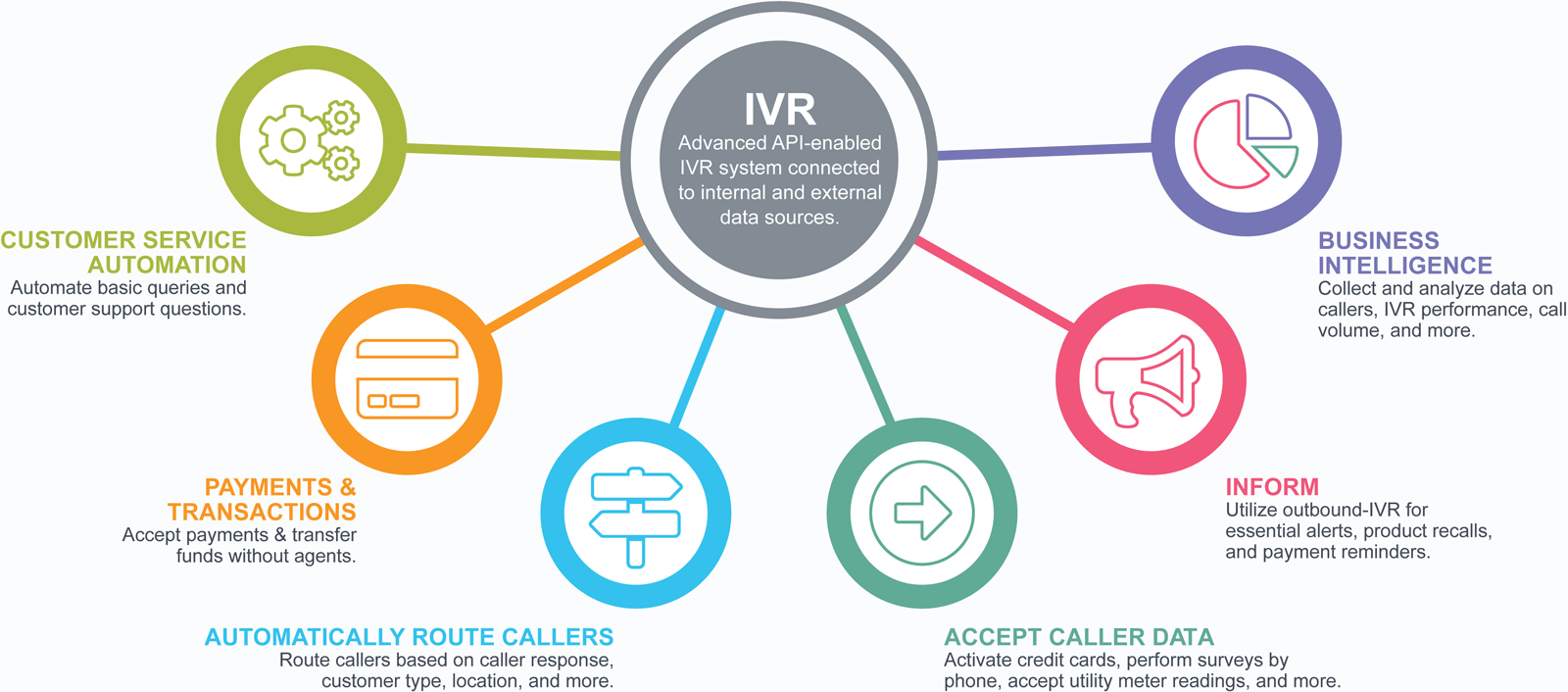 ( Source: ivrtechgroup )
A call center or business typically uses an IVR to route calls according to the caller's selections. Choosing from these options indicates whether the caller wants to connect with the billing unit, the support team, or an agent.
Additionally, it communicates promotions, upgrades, and other necessary information or instructions. 
IVR also confirms with the callers for call recording for future and training purposes and gets their consent.
Earlier, call centers could only use IVR to manage call waits. However, IVR systems have come a long way since their origin and are frequently used to automate simple tasks and provide callers with self-service alternatives. 
It addresses basic client demands and inquiries which earlier required human attention.
Several processes that IVRs can presently include the following:
Balance inquiry

Change your PIN or password

Complete lead forms and surveys

View account information

View product information (price or directory)

Transfer funds or make small payments
How does IVR work?
( Source: codeproject )
If you want to implement IVR technology into your call center, you need a telephony board and specialized IVR software. 
And the best part about IVR is that you can tailor these recordings according to the caller's specific requirements.
For instance, you can get a specific service by hitting the "one" on the keypad.
It enables clients to route their calls to the relevant department, resulting in a low bounce rate and operating expenditures.
The following is a step-by-step guide:
Step 1: The Caller Dials The Company's Or Brand's Toll-Free Number
The caller dials the company's customer service or contact number.
Step 2: A Pre-Recorded Message Welcomes the Caller
A pre-recorded message greets the caller, prompting requests for relevant DTMF input via dial pad.
Step 3: Sharing Data With The Caller
Once the caller enters the correct IVR input, a simple CRM data retrieval is available; the necessary information is given to the caller, for example, bank balance, EMI date, and card block request.
Step 4: Investigate Agent Interactions
Once the caller dials the agent interaction IVR input (Press 9 to speak with an agent), the caller is routed to the appropriate agent or department or waits in a queue for assistance. 
If a line is busy, you can also use an auto call back to boost confidence and improve the caller's experience.
What Are The Different Types Of IVR Systems?
The different types of IVR systems include:
1. IVR For Self-Service
Businesses can serve high call volumes at a lesser cost by employing an IVR system or automated voice. 
IVR can identify, route callers, and resolve their inquiries without transferring them to a live person. However, when the caller seeks additional assistance, IVR transfers the calls to human operators.
2. Hosted IVR
When businesses install an IVR solution on a hosted software platform, they access the IVR application through the internet. 
It allows companies to offer 24 hours uninterrupted service no matter the working hours. It also assists you in showing commitment and boosting consumer satisfaction rates.
3. Agent-Assisted IVR
You can reduce a contact center's operating costs while delivering reliable IVR customer service with agent-assisted IVR software. 
Additionally, the agent can proactively route pre-recorded messages to establish a dialogue with the customer without the customer knowing.
What Are The Benefits Of IVR Systems?
Adopting a new IVR functionality into your customer service can provide numerous benefits and advantages to your business.
Here are a few of the more frequently used ones:
1. Improved Customer Service
There is nothing worse than waiting for hours before having your question answered. 
But this is what happens with the customers when they contact a call center.
However, with an IVR phone, each stage has its function. 
The IVR provides callers with the information they seek, defines their needs, and routes them to the appropriate representative the first time. 
As a result, you can significantly improve first contact resolution (FCR) and eliminate the need for customers to call back.
2. Boost agent morale and productivity
IVR does not replace your agent's job. Instead, it makes their lives easier. 
For example, a perfectly configured IVR can significantly reduce the number of calls handled by agents by taking uncomplicated queries. 
Moreover, it works with skill-based routing to ensure that agents only receive calls that require their attention. 
As a result, call center agents are more productive.
3. 24*7 Availability
The best feature of IVR is that it is not human-dependent. 
Once programmed, it will continue to operate unless otherwise specified. 
In contrast to humans, it does not need food, sleep, or rest.
Depending on how it is programmed, customers can even contact a company post business hours and be greeted by an automated message. 
And the cherry on the top is that it can take and solve basic queries.
4. Reduces Manual Failures
Unlike humans, IVRs are automated, which eliminates the possibility of human error. 
It also removes the requirement for people to make judgment calls responsible for most call handling errors. 
By automating the way your company accepts calls, you gain the assurance that each caller will receive a similar IVR experience.
What Is IVR's Role In Customer Experience?
( Source: ivrtechgroup )
Maintaining an excellent customer experience is critical to sustaining in the competitive market. 
Moreover, customers having a satisfying experience with your company might become brand ambassadors, resulting in increased customer acquisition.
Now, what function does IVR play in all of this?
Consider that your IVR may be their first direct contact with your company. 
As a result, it has the potential to establish the tone of your interactions with them whenever they have questions or issues that need to be addressed. 
In addition, a well-designed and well-structured IVR system can provide a favorable first impression for your customer.
Moreover, IVR enables operators to deliver a superior customer experience.
How? By directing the calls to reps who are qualified to handle them.
This intelligent IVR routing function of the cloud contact center enables businesses to assign call center operators with specific expertise.
A sequence of IVR menu options can be used to ascertain the caller's issues and the necessary abilities to address them. 
Based on such information, the call will be directed to the agent best qualified to handle the case.
How To Set Up An IVR System?
CallHippo will help you set up an IVR system in five easy steps:
1. Get IVR Numbers
For setting up an IVR, we will look at PBX hosted builder, which provides an interface for building interactive voice response systems. 
You'll need to sign up for a new one. Click on the "Numbers" tab and purchase a unique number when signed up. 
You must, however, submit a request to port your existing number. This process typically takes a few weeks.
2. Answer The Calls
In the call center IVR flow, the "Answer Call" control is the first step responsible for all inbound calls to a specific phone number.
3. Set Up The IVR Menu
It is the most simple step out of all. In this step, you only need to set the IVR menu that prompts users or callers to a particular menu. 
Like number 1 for language, number 2 for technical support, or number 9 for speaking with customer care rep.
4. Connect The Menu Items
Once you have decided on the menu items, connect them to their respective numbers. 
For instance, if you want everyone who presses 9 to be associated with the customer care rep on their separate number, connect that xxx number to 9.
5. Test Your IVR System
Once you're done setting up your menu, it's time to test it. 
For example, you can book a demo call within the business to check your IVR system for call center to deploy it before making it available to customers.
Things To Consider While Choosing The Best IVR System For Small Business
( Source: xclusivedesk )
Choosing an IVR system for small businesses involves weighing the following factors:
1. Analysis And Reporting Tools
Real-time analysis and detailed reporting on each campaign are critical components of efficient customer service, ensuring that your chosen IVR system fits these needs. 
Additionally, the reports will assist you in identifying and correcting shortcomings in your strategy, allowing you to avoid repeating the same errors in the future.
2. A Cloud-Based Platform
Ascertain that the IVR system you choose is cloud-based. 
Because cloud-based technology is cutting-edge, choosing a cloud-based IVR system will amplify the benefits of IVR.
For instance, a cloud-based platform enables seamless scaling up and down in business growth while maintaining your current system with developing technology.
3. Capability To Route Calls & Maintain Customer Data
If a consumer contacts the helpline number and requests to speak with a sales team member, the IVR software must route the call to the sales team, not to the IT department or other departments. 
Additionally, the IVR system you select should be capable of retaining client information for an extended period and should not require customers to re-enter their data with each subsequent interaction.
4. Conversational Capabilities Powered by AI
Purchase an IVR system that includes conversational IVR capabilities powered by artificial intelligence. 
Businesses will shorten and simplify IVR menus while allowing customers to quickly reach the most qualified contact center agent without hopping from department to department or going through redundant call routing.
5. Customization of IVR Call Flow Design
Often, traditional IVR systems have a sophisticated call flow design procedure. 
However, because call flow requirements vary over time, the IVR service must have an easy-to-configure call flow mechanism and a drag-and-drop user interface (UI). 
It will save you time and enable you to quickly adapt your call flow or IVR to changing client needs without devoting significant resources to it each time.
6. Effectiveness of Voice Recognition
The use of speech-based search and commands are becoming more prevalent.
Verify that the IVR system you use can recognize a set of terms that clients may teach. 
Additionally, consider investing in an AI-powered IVR solution that can self-learn new words and phrases, improving IVR speech recognition with each passing day.
Further, this feature will significantly increase the First Contact Resolution (FCR) rate.
7. Updates to the Waits
You have to put the customer on hold until the agent becomes available. 
In this instance, the bare minimum you can do is advise on-hold clients of the length of their wait or the number of customers ahead of them in a queue. 
You can use this information to determine whether to terminate the call and request a callback.
8. Support for Multiple Channels
Another critical characteristic of the IVR system for small businesses is omnichannel capability.
IVR systems must aggregate customer conversations from various media and channels into one place so that contact center agents can better understand the issue.
What Are Some Tips And Practices To Improve IVR?
The above statistics help us explain how most people consider the utility of IVR in a business.
When designing IVR workflows or providing IVR design best practices, consider stepping into the shoes of your loyal customers. 
For example, you can assume how your customer journey unfolds after launching your IVR system.
The following are some recommendations and IVR best practices for optimizing the IVR system:
1. Availability During And Outside Of Business Hours
Your IVR telephony menu should be available 24 hours a day, including non-business hours. 
Additionally, your IVR operations should be capable of responding to basic inquiries like store hours, locations, account balances, and shipment information. 
However, it is critical to create an endpoint for each menu item so that clients do not continue to call or wait for an answer that will not be genuine.
2. Conduct Audience Research to Identify IVR Problems
Determine IVR problems your clients are most likely to face while using your call center system. 
It will enable you to initiate a solution before they effectively meet their self-service requirements.
3. Conduct A Survey To Deliver Best IVR Experience
It would help if you always were mindful of your customer's perceptions of your IVR system to define how you can improve it. 
For instance, you can incorporate a post-call survey with quantifiable and actionable outcomes into the IVR to acquire measured and actionable insights. 
These insights can assist you in identifying areas of customer service that require improvement.
4. Keep A Simple IVR Menu
Maintain a maximum of four menu options for call steering and no more than two levels of possibilities. 
Begin with the simplest, highest-volume services in self-service applications and work your way up. 
Increasing the number of options available on your IVR menu may be an excellent way to ascertain a caller's exact intent.
Closing Thoughts
No business can claim to create an exceptional customer experience unless it hears from its customers; however, in reality, not all clients are alike. 
But in these instances, Interactive Voice Response serves a purpose. It implements an IVR system that enables customers to enter their concerns and rout them to the most fitting representative.
Everything else will eventually fall into place when your clients enjoy a positive customer experience.
At CallHippo, we provide intelligent IVR solutions for businesses and companies seeking to embrace IVR capabilities. In addition, we seamlessly integrate call center software and advanced IVR functionality into your system. 
Get in touch with us today!