Customer is king – this saying has never held more importance than now! You need to take time and effort to serve your customers well in order to retain them. Service is all that matters, so companies need to take the extra step to provide quick and impactful assistance when required.
If you want to delight your customers and make sure that they don't switch over to rivals, communication is the one aspect that you need to work upon. Any organization needs to have multiple channels through which its clients can get in touch with them.
A call center is an ideal solution, as it will have a dedicated team of support representatives who can answer all customer queries and provide them with exceptional service round the clock. In fact, nowadays the market is inundated with various call center software for your business and manage their corporate communication in a more structured manner.
The call center industry is growing at an unprecedented rate. It is expected that by the year 2020, the revenue generated by this dynamic industry will reach 400 billion, and it will employ a global workforce of over 1.8 million employees.
We know how competitive the current business landscape is – cut-throat competition prevails in every field. In such a scenario, a call center setup should be one of your prime business objectives. It can lead to an exponential increase in sales, streamline lead management, and enhance customer satisfaction levels. 
It is not too late to include a call center in your organization's long-term roadmap. However, many organizations struggle with the idea of investing time, effort, and money in setting up their own call center from scratch. Well, the actual truth is that it is an extremely simple process – a little planning and foresight can make sure that you face no problem.
Creating The Perfect Plan To Setup Your Call Center
Setting up your own call center will definitely have a positive impact on your business's bottom-line results. It is imperative to have a mental blueprint before you start the process. Without proper planning, you may find yourself in a difficult position.
Take out adequate time to strategize before you start the setup procedure. Make sure to talk to other people about their experience while call center setup, so that you can avoid common mistakes and pitfalls. Here are some tips that will prove to be useful while opening a brand new contact center:
1. Fix A Budget
The monetary budget is super important, as nearly? everything will depend on this particular factor. The first step for any organization that has decided to set up a call center is to assess all the funds at hand. You will need to differentiate between the initial investments for setting up the infrastructure and keep aside a chunk of money for recurring expenses. Ensure that you put your plans in writing so that you have a crystal clear idea. Chalk down the expected timeframe in which you expect to break even, and start generating revenues.
Try to dedicate a maximum amount of money to set up your call center, and do not consider it a drain on your resources. Remember, there will be tons of indicators that will contribute to business profits once your call center is running – higher leads, increased sales, better customer satisfaction, and a motivated workforce.
2. Decide On A Virtual Or On-Site Solution
Another crucial decision before even thinking of establishing a call center is to decide whether your business needs a virtual call center setup or an on-site platform.
An on-site call center will translate into heavy dependence on your internal IT team. They will be responsible for installing, maintaining, and configuring the call center software. The in-house team will handle all the hardware, and software requirements, along with any future system upgrades. Deciding on an in-house call center will have heavy demands on your space requirement, and also prove to be expensive. All the servers that host the system will need to be managed by your organization, hence you will need to hire IT expertise. However, it will definitely give your business full autonomy and control over the communication process.
Nowadays most organizations prefer to invest in cloud-based virtual platforms due to convenience and flexibility. In a virtual solution, an efficient service provider handles the infrastructure and hardware. Your organization will just need a high-speed Internet connection to get started, rest there is no pressure of installation or maintenance. A virtual call center also encourages remote working across different time zones; hence it is highly advantageous for a call center. The only drawback may be the dependence on a third-party provider for any routine problems.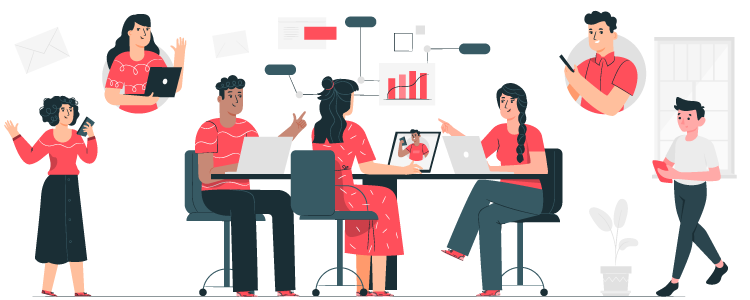 3. Establish Business Goals And KPIs
Make sure to define the business goals and key performance indicators of your call center early on. You need to know what purpose your call center will serve to make further decisions. For example: if your call agents will be cold calling leads, make sure to set up an outbound call center software. However, if your company receives a high volume of calls from customers daily, it would make better sense to invest in inbound call center software, so that you can provide better customer service.
Set up quantitative parameters (known as key performance indicators) that will determine the speed, efficiency, and quality of service of your call center. This should be part of your long-term corporate strategy so that you can track these metrics and enhance performance continuously. 
4. Decide on A Specific Location
This is another tricky question – will you prefer to have a physical office setup or a team of virtual agents. Any virtual contact center software will give your team the ability to serve customers remotely, however, if the scale of operations is large, you may prefer to set up a physical office.
Make sure to choose a location near your business headquarters that is accessible to your team. Another key consideration is that the location should be easy to commute to; hence your employees should be able to access it by their own transport modes, and even public transport. Select a site with ample parking spaces so that your team members do not face any problems. Your physical location will impact a number of internal performance parameters, so survey around wisely, and rent out the best location for your call center.
5. Pick The Right Tools And Technologies
In order to perform at maximum level efficiency, your call agents should have access to the right tools and technologies. Right at the beginning, use an outside-in approach to understand what technological assets and knowledge base your call center will require for optimum functioning.
List down the core technologies that you will require such as the predictive dialer, call routing, recording, and workforce optimization.
Call analytics is another vital area that every contact center should cater to, as you will need to monitor metrics such as call volume, average waiting time, and call duration. Make a list of hardware items so that you can purchase them well before setup – headsets, cables, laptops, smartphones, or personal computers. This will help you remain organized, and not lose out on vital time during the final stages of the call center setup.
6. Recruit The Team
Human resources will be your biggest asset; so do not ignore this important component. You need to attract the best available talent in the market, so make sure to build a brand that pulls people. Firstly, decide on the number of agents that you will require to man your call stations. Then decide on a recruitment strategy – internal or external. Internal recruitment will be based on references from your existing employee base, whereas external requirements would mean tapping into the environment through advertisements, or trained consultants. 
Chalk down an onboarding process to welcome the new employees, and set aside a particular period of time for training. Keep the morale high, and engage your workforce to ensure that you have a team of happy performers!
An in-house call center can make your business reach the greatest heights of success. It gives your loyal customers a two-way channel of communication so that they can make inquiries about products or services and gain speedy support.
A phased and planned transition can ensure that your call center setup occurs without any glitches or roadblocks. Follow this checklist, and focus on service quality to increase your business revenues by setting up your call center with ease!