Companies in the current scenario are prioritizing on-demand customer service and assistance. But they also want to expand their customer base. This has led to the exponential growth in need of call center assessment. If we talk about the statistics of the USA, the call center assessment industry has employed over 3 million people and is getting bigger and better with every passing day. By the year 2022, the contact center assessment market will have a market value of a whopping USD 400 billion. 
Every company wants to hire employees that are willing and able to devote themselves to the organization for the longest time.
When the employee you hire fits well in the position, they will be more prod offer customer support, efficient, give better assistance, and will be satisfied with their jobs. And that's when contact center software assessment comes into the picture. 
What are assessment and development centers?
When you are hiring an employee for a role, and you evaluate him and try to know if he is suitable for the job by performing a different task that is known as an assessment center. Please note that it is not a physical location, but it is a process that is used by the company to assess their team for different reasons.
Let's elaborate further and explain why assessment centers are used- 
i) To identify the most efficient employee
An agent with high potential is 91% more valuable to the company as compared to the one that doesn't have high potential. A top potential employee will raise the bar for the rest of the team, which will increase productivity and efficiency. You will be amazed to know that by adding a star performer agent to the team, it will boost its effectiveness by 5-15%. This assessment can also help in measuring all employee's productivity in your contact center. This will help the company in creating a pool of managerial talent and multi-tasking managers who are capable of generating the most effective results.
ii) To identify the training needs
A company that doesn't hesitate to invest in employee training will enjoy 24% more profit margins when compared to the ones who don't like to spend. Proper training is an integral part of an employee's career graph. If you don't provide the correct training, then they might lose interest and leave the organization within the first year of employment. But by performing this assessment test, you can bridge the gap. An assessment center will help the organization train their current workforce and assist them in developing skills within their staff. You will get accurate data of employees and work on areas that need development.  
iii) To enable leadership development 
There are 82% of managers, peers, and direct reports of qualified people that have testified positive behaviors between leaders once they have completed the leadership program. The companies that use assessment centers to develop their senior employees and managers have reported having higher sales, less turnover, lower defection, and higher customer satisfaction. 
iv) Being able to conduct a sequenced plan
When there are ineffective role transitions, it leads to a 20% lower agent engagement and 15% lower team performance. Good feedback will help the organization decide whether the agent they wish to promote will be able to handle the challenges in the next higher position. This feedback can lead to succession planning, which will allow the organization to have an estimate of whether they have a suitable number of employees that can be promoted to key roles in the future.
What are the ten pillars of an assessment center?
According to the Journal of Management, here are ten essential elements of the Guidelines and Ethical Considerations for an Assessment Center Operations. 
Job Analysis

Behavioral Categorization

Multiple Assessment Methods

Tool-Competency Mapping

Simulation-based Exercises

Certified Assessors

Assessor Coaching

Behavior Analysis & Rating

Data Consolidation

Standardization
Here are the essential factors of the contact center assessment
1. Call Center Efficiency Assessment and Call Volume
The most crucial factor that affects efficiency is call volume. When you are aware of the number of calls your call center will receive on a day-to-day basis, you will be able to judge how much attention your agent is giving to each customer. And when you use call forecasting, you will get a more unobstructed view of how many call agents will receive and predict the upcoming traffic. When you are already aware of the call volume, everyone will be prepared and will be ready to deliver exceptional customer service. 
Conducting this survey will help the company to have the correct amount of workforce based on the call volume they receive. But if the call volume is high and there is a lack of workforce, then it will hamper the customer service, which will make the company lose loyal customers.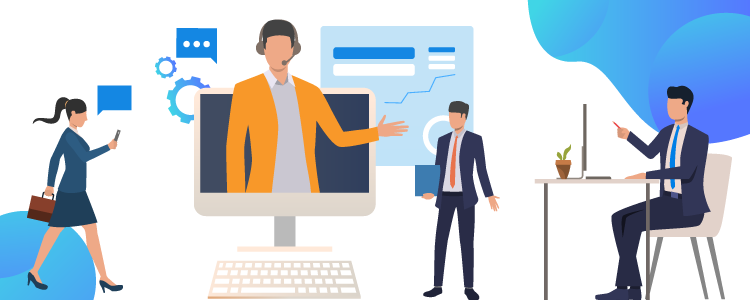 2. Call Center Benchmarking
The most important benefit of having a cloud based contact center is that it helps companies compare their call center with competitors' call centers. The procedure of benchmarking involves collecting appropriate metrics and later analyzing that data with global standards. This process is a gem as it will generate data of your competitor at their busiest and slowest period, then you can compare that data with relevant global metrics.
The ultimate goal of benchmarking is to collect crucial information concerning call center execution, executive performance, and call volume.  
This data is not a rough estimate, but it is based on hard evidence, average, and relevant statistics.
Here are a few types of information that benchmarking tools can provide:
  i) Average speed taken by the agent to answer the call
  ii) Service level is the percentage of calls that were responded to by the agent in a specific time frame 
  iii) Schedule adherence helps you measure how properly an agent is devoted to their schedule 
  iv) Abandonment rate is the rate of callers that hang up the call because it took too long to reach the concerned agent 
  v) The average time that an agent speaks to a customer is called average call duration
  vi) The variation between the actual call volume and the predicted call volume is called call forecasting accuracy 
  vii) The rate of time that an agent spends on calls and performing after call-work is known as occupancy rate  
  viii) Overall, customer satisfaction can be measured by conducting a customer survey at the end of the call

3. Call Monitoring Benchmarking
Call monitoring benchmarking involves the research of call monitoring techniques used in call centers. Different call and contact centers may use different monitoring software and hardware solutions.
Recording and analyzing phone calls can also sometimes be combined with the use of scorecards. In some cases, businesses perform their call monitoring, whereas other organizations choose to employ impartial call center consultants.
By analyzing call monitoring techniques used by industry peers, business managers can decide which call monitoring technologies and practices will work best for their organization.
4. Human Resources and Service Delivery Assessment
The level of customer service is directly proportional to the competency of call center agents and employees. If the employees are incompetent, lack suitable skills and knowledge, it will hamper the success rate of the entire organization. 
 If the organization wants its agents and employees to meet the customer service standards, it is essential for the company to conduct a call center assessments. This assessment test is conducted for newly hired staff though it is vital that their performance is continuously assessed through call monitoring, surveys, benchmarking, and observation. 
You will be happy to know that the service delivery assessment test is easy to conduct. The agents will be asked to perform a written analysis through which they can be monitored and surveyed. And the benchmarking tool will help the company to make a one-on-one comparison of different agents of the same industry. These tools are highly recommended because they provide the point data without disturbing anyone's workflow, which is excellent for employee efficiency. 
This tool is very beneficial due to many reasons, and one of the most important ones is that it will help the organization identify top performers who can be rewarded accordingly. You can also make your contact center more proactive by giving agents transparent and accountable goals to follow, but it will motivate them to perform well. 
If the agents know that their performance is tracked and it will later help them in appraisal and pay hikes, their efficiency will automatically improve. These assessments will help you identify all your specific challenges and how to overcome them. It will also help you judge the contact center's current concentration, performance, and overall effectiveness. 
With the help of forecasting, the customer executive will find it easy to anticipate calls and customize plans to handle them more effectively. On the other hand, benchmarking tools will help you make a comparison of your working standard with global metrics. This will enable constructive judgment of the level of work that is being delivered to the customers.
We hope that this article helped you generate call center solutions that you were looking for. For further assistance, we suggest you contact the CallHippo executive.