One of the major factors driving the success of any business is seamless communication. In today's internet-driven society, customers expect an omnichannel experience. A survey says that over 60% of customers prefer to call businesses over the phone. Therefore, it comes as no surprise that most businesses are upgrading their traditional telecommunication systems to more efficient and cost-effective solutions such as VoIP phone systems.
While there are several business phone system service providers available in the market, let us walk you through one of the most prominent players in this space, i.e., CallHippo, in this article.
Introduction to CallHippo
CallHippo is a business phone system provider that enables small businesses and enterprises to connect with their customers and vice versa efficiently and effectively over the internet. It comes with a complete suite of advanced communication features, including call routing, IVR, voicemail, call analytics, and more, all the while helping companies communicate with clients using local phone numbers.
CallHippo allows companies to buy instant support phone numbers. It offers local numbers, toll-free numbers, and even mobile numbers, for more than 50+ countries across the globe. So, if you are a business with a fast-growing customer base, CallHippo can be the perfect telecommunications partner for you. It is ideal for companies looking to set up their contact centers to provide a better service to their clients, seize more business opportunities, and generate more sales. Above all, it allows you to set up your contact center in less than 3 minutes!
Why CallHippo?
CallHippo's advanced features vastly improve your customer service and thereby helps you build a loyal customer base.

The service provider also allows you to record calls and monitor them for quality assurance purposes. 

You can calculate your customer acquisition cost with CallHippo by simply finding the total number of calls made to a particular customer. 

You can easily filter the calls made by a particular agent and determine their productivity. 

With CallHippo, you can analyze your recordings to develop a sales script that works every time. 

You can use call recordings to train new agents and document best practices. 

With CallHippo, you can set up your contact center in less than 3 minutes. 

CallHippo comes with a 'plug-and-play' set-up, i.e., no hardware, no wired connections

As it is a cloud-based solution, you will not have to deal with technical hassles at your end. The service provider will take care of them for you.

CallHippo ensures that your services are available to your customers 24×7 with its 'Find Me' (route incoming calls no matter where you are) and 'Follow Me' (route multiple numbers to a single phone) features.
Now that you know how CallHippo can be beneficial for your growing business, let's move on to determine what more it has in store for you.
Different Phone Numbers that CallHippo Offer
CallHippo offers local, mobile, and toll-free phone numbers for more than 50+ countries across the globe. A quick introduction of each has been given below to help you choose the right type of number according to your business needs.
1. Virtual Phone Number
Also known as direct inward dialing (DID) numbers, virtual phone numbers use the internet to make and receive calls. As opposed to traditional numbers, they are not tied to a specific phone line or device. They work seamlessly with desktops, laptops, mobile phones, or tablets. Companies can use these numbers to forward incoming calls to their existing telephone numbers.
2. Online Phone Number
Unlike traditional phone numbers that are tied to a mobile phone or a landline, an online phone number is attached to an account. It provides greater flexibility and makes placing and receiving calls easier. CallHippo lets you make and place calls using your online phone number with any internet-enabled device.
3. Local Phone Number
A local phone number begins with a 3-digit area code that represents a specific region, city, or state. It provides a great way to establish a local presence within the community irrespective of whether you have a physical office there or not. Thus, CallHippo's local phone number gives your business a local market identity.
4. Second Phone Number
The second phone number refers to a custom phone number that lets you make calls when you don't prefer revealing your actual phone number. Hence, it helps you keep your personal and professional numbers separate. With CallHippo's second phone number, you can be assured of secure communication without compromising  your private number.
5. Toll-Free Phone Number
The toll free phone number does not exert any call charges on callers. In other words, these numbers are free of cost for your callers. When your business has a toll-free number, it promotes more communication between you and your customers. It not only helps you gain credibility but also ensures that your customers feel free to reach you at any time without having to worry about bearing any call charges.
Whichever number you buy from CallHippo, comes with a plethora of unique communication features. So, without any further ado, let's explore each of them.
CallHippo Business Phone Features
CallHippo's cloud-based phone system or internet telephony solution offers dozens of features, which are as listed below:
1. Call Transfer
With call transfer, you can transfer ongoing calls. For instance, a caller placed a call to the wrong department. So, instead of taking a message from him and giving it to the concerned person, call transfer enables you to transfer the call in real-time and connect the caller with the right representative.
With CallHippo, you can –
Transfer a call to any other team member's extension or voicemail

Hang up after transferring the call or stay on the line until the person you transferred the call to answers it

Start a three-way conversation
Moreover, CallHippo offers two types of call transfer. One is 'Warm Transfer' that lets you redirect and merge a connected call, whereas the other is 'Blind Transfer' that simply transfers an active call to the intended person.
2. Call Forwarding
Many confuse call forwarding with call transfer. However, let us make the difference very clear. Unlike call transfer, call forwarding automatically forwards calls to preset numbers. When it comes to rendering great customer service, this feature is of utmost importance. It ensures that there's always someone available to attend a customer's call. In this way, businesses can offer their services around the clock.
With CallHippo, you can forward calls –
To any number, at any time, on any device, and anywhere in the world

Without an alarm, i.e., without letting your callers know what is happening in the background

Based on conditional and unconditional forwarding options like 'unanswered,' 'busy,' and 'after work hours'
It also allows you to integrate smart extension menus to ensure that the call gets forwarded to the right person.
3. Call Conference
CallHippo enables you to add a third person to an on-going call and thus convert it into a 3-way call. This is extremely useful when you want to conduct meetings with your remote workforce. Moreover, call conferencing makes connecting with clients, internal team members, and customers sitting in different corners of the world so much easier.
4. Call Barging
With call barging, CallHippo empowers trainers, managers, and supervisors to monitor any team member's performance during a live call. This helps them determine the quality of service delivered by their team. Besides, they can even jump onto a live call if they find that the agents are struggling to resolve customer queries. This ensures that customers are never turned away without a viable solution.
5. Call Queuing
Dealing with a large volume of calls with limited staff? Call queuing makes life so much easier. It lets you place all incoming calls in a queue while your agents are busy attending other callers. The call answering mechanism can be set as 'FIFO', i.e., 'First In First Out' – the calls get answered in the order they have been received.
Often, you might have heard a voice message "Please stay on the line. Your call will be answered in the order it was received." That's because the company or person you are calling makes use of the call queuing feature.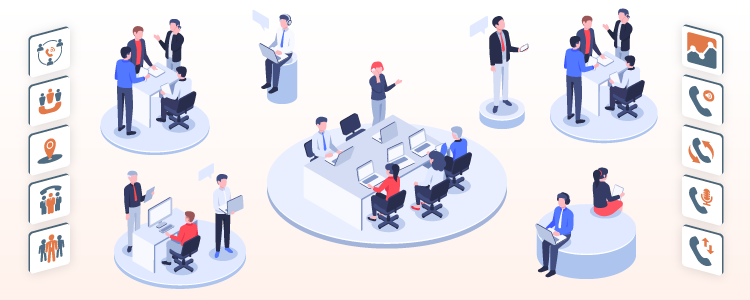 6. Call Recording
CallHippo's call recording functionality helps you stay legally secure by letting you record business calls. Besides, you can use these call recordings to review data and coach or train new team members. While it eliminates the fuss of taking notes, it maintains evidence for compliance issues. Moreover, it gives a great means to step back, listen to the recordings, analyze employee performance, and determine what can be done to accomplish better results.
CallHippo saves these recordings in your call log and enables you to download them within 90 days. It records up to 100,000 calls per account, be it inbound or outbound calls.
7. Ring All
Missed calls mean missed revenue. CallHippo's business phone system ensures that you never miss a call even when you are away from your desk with its feature named 'Ring All'. 
Ring All or Simultaneous Ring is a feature that rings several phones at a time. As soon as the call gets answered from any of the ringing phones, it stops ringing. Thus, it ensures that if one representative isn't available to take the call, the ones who are available can take it immediately. You can call it a variation of the call forwarding feature.
8. Voicemail
Is the high missed call rate bothering you? Then, it's time you benefit from CallHippo's voicemail feature. This feature is useful in case – 
Agents are busy attending other callers or are out of the office

Customers place calls after work hours, or

Your communication system is down for various reasons
Whatever be the case, voicemail ensures that you never miss a message from your customers. With CallHippo's voicemail feature, callers can record a message for you. These recordings are delivered as your call logs and they are also sent to the associated agent's inbox, where they can listen to the call and reply to the client.
9. On Hold Music
Customers often hang up when they are kept on hold. Some may return but some might not. So, what can be done to stop customers from hanging up on you or leaving for good?
Well, on hold music is a feature by CallHippo that plays peppy music for your callers when they are kept on hold. You can even choose to customize this music to dissuade your customers from hanging up. You can play a customized marketing message that conveys your latest offerings, services, products, and more. It not only upholds the image of your company but also helps in increasing call conversions.
10. IVR
Interactive voice response or IVR is a feature that helps your callers direct themselves to the right representatives on their own. CallHippo supports multi-level IVR and offers callers a more focused service. More importantly, it lets you set up your IVR system in multiple languages. Hence, your global clients can comfortably navigate themselves through the menu which is in their native language. 
The languages that CallHippo supports for IVR includes Danish, Dutch, English – Australian, English – British, French, French – Canadian, German, Italian, Polish, Portuguese, Portuguese – Brazilian, Russian, Spanish, Spanish – USA, and Swedish.
11. Team Collaboration
A recent study by Salesforce showed that 86% of business failure can result from lack of communication and collaboration between employees. With CallHippo, you can promote collaboration between employees, teams, and your entire business.
With internal team calling features, CallHippo enables your agents to connect with each other instantly. All they need to do is dial the extension number of the user and they can communicate with them effortlessly. Besides, agents can share information with each other and ensure that they deliver your customers a unified experience. As everyone stays up-to-date, the quality of service improves. Additionally, team productivity also enhances.
Advanced Features of CallHippo Business Phone System
The above list enlists the basic call functionalities of your CallHippo business phone system. Moving on, we will now introduce you to its exclusive functionalities which will further enhance your business communication system.
1. Call Analytics
This is one of the quintessential features of cloud telephony. It helps you determine whether your marketing strategies are working and if your clientele likes your service and also whether your workforce is managing things the way it is supposed to.
With CallHippo's call analytics capabilities, you get comprehensive phone-call analytics and reports, including information on call volume, call duration, and routing of incoming/outgoing calls. 
The other advantages that it brings along, include –
Recognize the source of incoming calls

Precise insights into client behavior with a cloud-based call analytics 

Determine prospects that may bring in greater sales

Make better business decisions with data input
This information enables you to comprehend your customer base and develop effective marketing plans.
2. GlobalConnect
When you deal with global clients and customers, paying attention to their time zone is of utmost importance. Placing calls at the wrong time might risk your opportunity of doing business with clients. At the same time, being cognizant of the time zone every time you make calls may seem intimidating and time-consuming.
As a solution to this, CallHippo has introduced a unique feature called GlobalConnect. It acquaints you with your clients' time zone in the fraction of a second. As you hover your mouse cursor on the number you want to call, it gives you the following details – time, day, date, and if the number is valid or not. Thus, it ensures that you call the right person at the right time.
3. Auto-Switch
When businesses have a multinational presence, it's natural for them to have more than one virtual phone number. In such cases, agents spend a lot of their time selecting the right virtual phone numbers they need to use to place a call every time. 
This not only consumes hours and hours of their time but there is also a risk of dialing from a wrong number and bearing huge call costs. Besides, a survey estimates that sales representatives spend 12% of their day scheduling calls.
To avoid these hassles, CallHippo provides you with the Auto Switch feature. It identifies the number you insert (i.e. the area code) and automatically places the call from the right virtual phone number. Thus, it saves you a considerable amount of time and allows you to focus on more important tasks.
4. After Call Work
Customers tend to have a host of requests and questions. To ensure that all their queries are resolved, agents often need to take notes. This is crucial to deliver customer satisfaction.
With the 'After Call Work' feature, agents can proactively document customer requests and queries after every interaction. They can use these notes to update the information in the CRM or while sending emails to customers. Similarly, they can share the notes with other agents and also avail of feedback from their supervisors in real-time. Thus, it enhances agent performance and improves customer service.
5. Power Dialer
While you need to follow up with your clients or take feedback about your product or services regularly, there's also a long list of outbound calls you need to deal with on a daily basis. Locating contacts manually and dialing their numbers one after the other can take up much of your valuable time. CallHippo makes this easier with its exclusive feature named 'Power Dialer'.
Power Dialer lets you upload an excel sheet with all the client contact numbers. Then, it automatically starts dialing numbers in that order. If the client on the other end is available, your agents will get notified and they can have a conversation. This will free your agents from redundant manual dialing processes and help them invest their time on more crucial activities.
6. Smart Switch
When it comes to communicating with clients across disparate locations over the phone, superior call quality is a must. To help you avoid any communication glitches, CallHippo introduced Smart Switch on its dialer. Tapping on this switch will help you seamlessly switch between CallHippo telephone providers, ensuring better call quality at all times.
7. Call Reminders
Many a time, your agents may forget to call back your clients or prospects on the pre-decided time and miss out on a promising business opportunity. To ensure that this never happens, CallHippo has rolled out the 'Call Reminder' feature. This feature lets you set a reminder for every incoming and outgoing call. Different time intervals at which you can set time reminders include 15 minutes, 30 minutes, 1 hour, 2 hours, tomorrow, or even a week. You can even delete scheduled call reminders if needed. Moreover, you can also view the entire list of call reminders you have set at a glance.
8. After Work Hours Message
When you have a global customer base, you tend to receive calls around the clock. This can happen even outside of your business hours. CallHippo sees to it that your customer's calls never go unanswered no matter when they call. It enables you to set a custom voicemail or greeting message. If you opt for a 'greeting' message, CallHippo lets you set a message telling your clients that they have called you outside of your business hours. In case you select 'voicemail', they will be directed to your voicemail, where they can leave a message for you.
9. Last Call Details
It is always recommended to refer to the last conversation with the client when you connect with them. CallHippo enables you to see the details of the last call made or attended with regard to a particular number. You can even determine who among your team had a conversation with that client. This also helps you direct the caller to the actual POC (point of contact) if needed.
10. Low Network Symbol
Though CallHippo is a cloud telephony provider and does not handle your internet speed, it tries the best it can to overcome bad call quality issues if any. So, whenever you encounter bad call quality issues while communicating with a client, the 'Low Network Symbol' will appear against that number in your call log. This will help you work towards finding a solution.
11. Call on Hold
This is a unique functionality that CallHippo offers. Suppose that you are in conversation with a client on the CallHippo mobile app and you receive an important phone call on your personal number. What will you do? Dismiss the phone call or drop the CallHippo call?
Well, to help you get over such a dilemma, CallHippo asks you if you want to put the CallHippo call on hold and attend the other phone call. Choosing 'Yes' will put the CallHippo call on hold while selecting 'No' will keep you connected to the CallHippo call. In case you attend the phone call without choosing any of the options, your CallHippo call will be automatically put on hold.
12. Number Porting
Let's suppose you are switching locations or are unhappy with the current phone service provider. So, you change your number or change the provider. But, how will you ensure business continuity? Well, "You have dialed a wrong number…" is probably the last thing you will want your customers to hear when they dial the number they used to reach you.
Number Porting comes to your rescue in such critical times. CallHippo ensures that you retain your phone number even when you switch your service provider.
CallHippo Pricing Plans
Businesses often compare the cost-effectiveness of various internet telephony providers when they are looking to deploy such a solution. At CallHippo, we assure you that you will get the best value for what you pay. Here are our highly flexible and affordable payment plans:
Summing Up
With futuristic telecommunication solutions and low charges, there cannot be a better way to solve your business telephony needs than CallHippo. Rated 4.7 out of 5, CallHippo has always provided cutting-edge business communication solutions at highly attractive prices.