Home » Call Center Analytics
Call Center Analytics 
66% of call center businesses look forward to investing in advanced analytics to provide a better customer experience. Organizations believe that the biggest challenge in making future investments is integrating with current call center software. Let us have a look at the different aspects of call center analytics.
What Is Call Center Analytics?
Call center analytics is a process of collecting and analyzing customer data from call centers to help them improve their service. These include customer satisfaction (CSAT) scores, revenue, customer retention, and customer effort scores. Service-level agreements (SLAs) are also included.
The main challenge with call centers of any size is that they can access a limited amount of information. Call center agents deal with several customers and only issues like customer complaints, a system crash, or poor performance of employees are taken seriously by the management. Moreover, merely looking at big issues leads to the loss of opportunities for other improvements.
In this scenario, call center analytics software becomes a critical need for every call center irrespective of their size. The software allows the growth of a data-driven culture that improves decision-making, improves employee productivity and customer satisfaction, and ultimately meets the desired business goals.
Benefits Of Call Center Analytics
Let us have a look at some of the benefits of contact center analytics software.
1. Real-time Monitoring
With call center data analysis software, it is easy to analyze all incoming and outgoing communications. Moreover, call center owners can monitor if the agents are adhering to scripts and ensure that industry regulations are being met. Also, with performance analysis tools, companies can reduce call volumes during peak hours. This helps eliminate operational problems and improve customer services, thus leading to more profit-making opportunities for call center operators.
2. Reduces Overhead Expenditures
Reports suggest that call center analytics software can pay for itself in as little as 3 months. The software allows filtering information and provides valuable cost savings data. In turn, this helps call centers avoid overspending, decrease customer attrition, and level up their reputation in the call center market.
3. Combined Growth
With growth metrics and key insights available at a click, call centers can help their client companies better. This is possible as call center analytics software evaluates audio and textual data, but it also gathers information regarding reasons for calls and how well call center agents is addressing customer needs. Analyzing these factors will allow call centers to address the loopholes and enable and empower their clients to perform efficiently.
4. Find New Opportunities For Selling
A call center analytics software collects positive and negative responses given by customers at different locations and allows organizations to make changes to their marketing and product strategies. Moreover, the software also enables call centers to create personalized selling strategies and even persuade customers to try new services/products by keeping their preferences in mind.
5. Improves All Facets Of Key Metrics
Minimizing rates of first-call resolutions(FCR) and reducing average handling time is the priority for call centers. With call center analytics reporting, managers can get a clear idea of why customers need to repeatedly contact a call center. It will identify why customers call again and reveal instances of frequent calls that were not detected via other means. Moreover, the software also answers if the communication style needs to change or if some calls are genuinely unavoidable.
Types Of Call Center Analytics
1. Speech Analytics
Speech analytics plays an essential role in voice-based call center processes. It helps agents identify, analyze, and understand the customer's requirements and expectations and insights through conversations. Moreover, speech analytics allows identifying critical issues regarding the project, the system, operation, and other procedural problems.
2. Text Analytics
Text analytics involves understanding customer's requirements through text and written documents. Several organizations are combining text analytics and social media interactions to derive key insights into consumer behavior.
3. Desktop Analytics
Desktop analytics is a tool that allows employers to track and monitor their employees' desktop activity and the performance of systems. This is useful to gauge the performance of agents and their systems and provide them with necessary guidance.
4. Cross Channel Analytics
Cross-channel analytics is one of the essential aspects of a call center analytics system. It allows companies to identify and assess different channels customers use to interact with them. Once a call center is successful in analyzing these channels, it becomes easier to optimize customer interactions.
5. Self–service Interactions Analytics
With this tool, call centers assess customer experiences in self-service channels such as interactive voice responses and the internet. This helps companies identify methods to refine self-service applications and make customer experiences smooth and efficient.
6. Predictive Analytics
With predictive analytics, call centers can analyze and recognize new ways to communicate effectively with their customers. Moreover, it also helps in reducing the average call handling time.
Top 3 Call Monitoring Software
1. CallHippo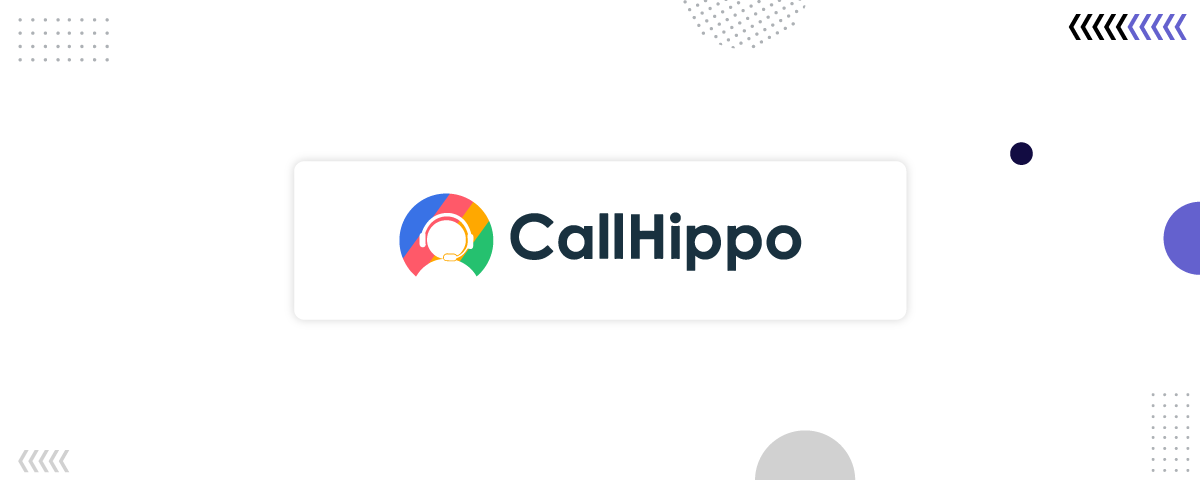 CallHippo is one of the best VoIP service providers with robust call monitoring features. Whether you want to monitor calls in real time or barge into a live call, CallHippo allows you to do it all. This can help you improve your agent's performance while enhancing the customer experience. 
Features of CallHippo
Live call monitoring

Call whispering

Call barging

Call recording

Voicemail

Skill-based call routing

Feedback for calls

Intelligent reports and analytics

Automatic machine detection
CallHippo Pros
Proactive customer support

In-depth analytics to help you understand your customers

Helps avoid FDCPA violations and the use of abusive language from either party

Offers better value for money than other call monitoring systems on this list
CallHippo Cons
The mobile app needs to be more robust

The user interface could be improved

Sometimes connections during calls get lagged 

Setting up voicemail is quite difficult
CallHippo Pricing
CallHippo has four plans.
Basic: $0 per month

Bronze: $16 per user per month

Silver: $24 per user per month

Platinum: $40 per user per month
2. TalkDesk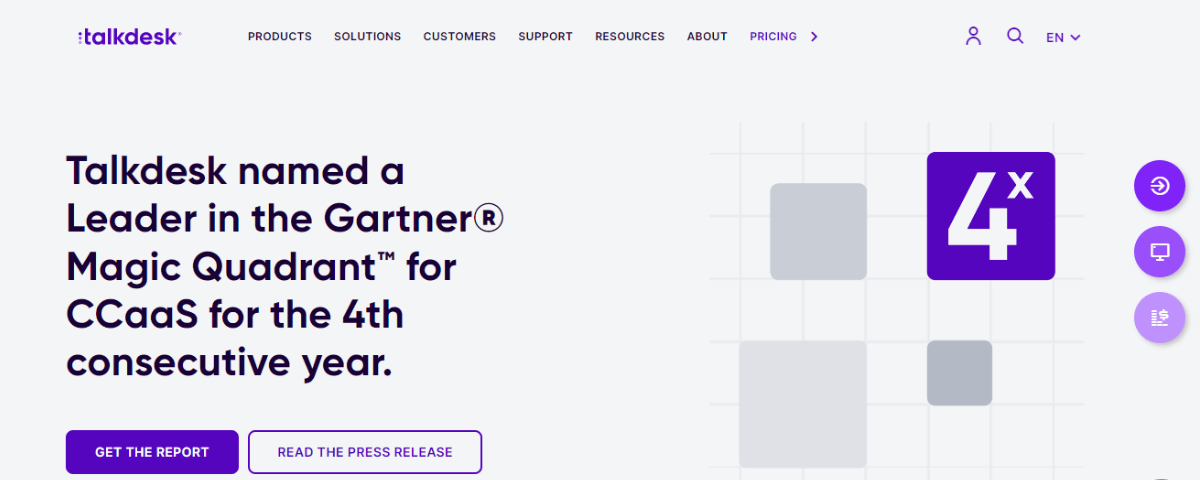 TalkDesk is another leading call monitoring software that empowers you to deliver a better customer experience. It allows you to monitor and check the quality of calls of all your support agents. Managers can see the ongoing calls from their "Live Calls" dashboard and barge in on them if required. 
Features of TalkDesk
Voice engagement

Studio and routing

Real-time dashboards

Knowledge management

Business intelligence

Virtual agent

AI trainer

Quality management

Screen recording

Customer experience analytics
TalkDesk Pros
Robust AI features like agent assistance and virtual agent

Even the basic plan comes with comprehensive voice capabilities

Supports a wide range of third-party integrations

Provides agents with step-by-step guidance via Smart Scripts
TalkDesk Cons
The mobile app is only available on premium plans.

AI-powered features are way too advanced for small and mid-range businesses.

It is more expensive than other call monitoring software on this list.

Customers report call drops, and quality issues are quite common.
TalkDesk Pricing
TalkDesk has four plans. 
CX Cloud Essentials:

$75 per user per month

CX Cloud Elevate:

$95 per user per month

CX Cloud Elite:

$125 per user per month

Experience Clouds:

Quote on request
3. Zoho Desk

Zoho Desk is a powerful phone system that comes with call monitoring capabilities. It has extensive ticket management features that are perfect for businesses receiving a high volume of daily queries. The dashboard provides a comprehensive view of agent activity, including response rates, ticket traffic, and customer sentiments.

Features of Zoho Desk
Agent collision detection

Contextual AI

Response editor

Omnichannel communication management

Sentiment analysis

Embeddable self-service

Work modes

Custom workflows
Zoho Desk Pros
Integrates seamlessly with other Zoho products

Affordable per-user pricing

Comes with a 15-day free trial to test the product

Robust analytics and reporting
Zoho Desk Cons
Complex to set up and customize

Does not have a desktop application

Has a high learning curve

Lack of customization options in the lower subscription tiers
Zoho Desk Pricing
Zoho Desk has three plans. 
Express

: $7 per user per month

Standard

: $12 per user per month

Professional

: $20 per user per month
Enterprise: $35 per user per month
Frequently Asked Question
What are the advantages of call center analytics?
Call center analytics has multiple benefits, but the significant ones are maximizing revenue, enhancing customer experience, improving and monitoring your key metrics, and promoting better call center agents productivity.
Who can access individual call logs?
Call logs are the automatically generated repository of all calls made & received by your call center available on a single screen. In the CallHippo solution, you can view your logs under the activity feed after logging in.
What are the types of call center analytics?
The main objective of call center analytics is to enable a data-driven approach. Six main types of call center analytics empower the process: Speech Analytics, Text Analytics, Predictive Analytics, Desktop Analytics, Self-service Interaction, and cross-channel Analytics.