Pandemic has migrated workplaces to the virtual world. Companies who were adamant about not allowing their employees to work remotely are now opting for virtual work permanently! Nevertheless, working remotely is a difficult task if you lack the necessary tools and technologies.
For example, let's take the call center industry. Suppose you decide to migrate your call center business to the virtual space or open a virtual call center. Will it function without the need for any additional tools or technologies? Obviously not.
In that case, you will certainly need some good cloud-based call center tools and technologies, such as payroll management tools to manage your employees' salaries and virtual call center software to handle your customers. In addition, you will need project management tools to manage projects and an Interactive Voice Response (IVR) software to manage inbound calls and so on.
However, in this blog, we will only discuss virtual call center software. We will learn how it works, how to choose the best virtual call center provider, the benefits of virtual contact center software, and why you should purchase one to help your business excel over your competitors.
Let's start with the basics: what exactly is virtual call center software?
What Is Virtual Call Center Software?
Virtual call center software allows agents to work remotely. Unlike a traditional contact center, where agents must be available at the office or a designated workspace, virtual call center software entirely eliminates this barrier.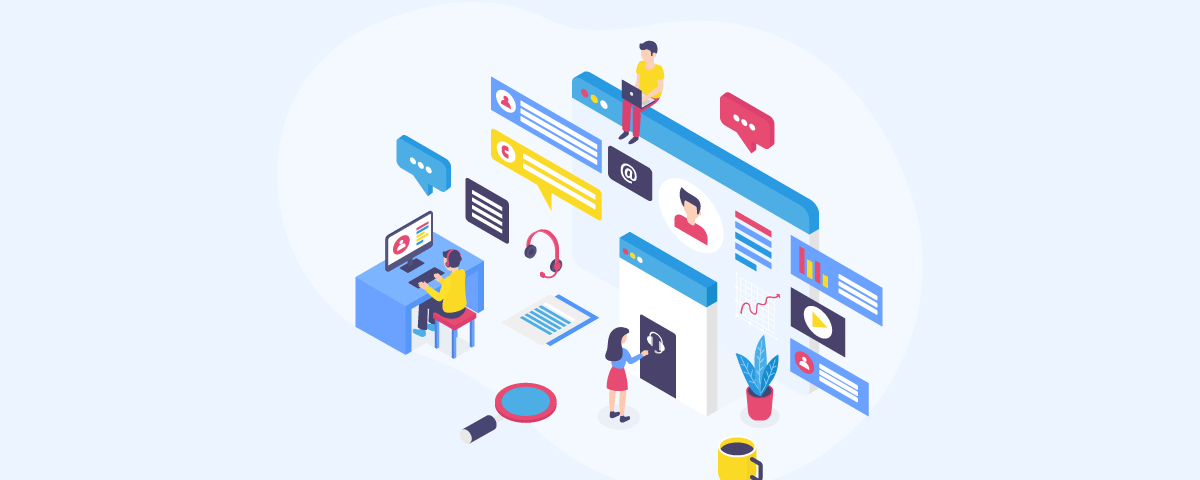 The software enables the agents to work from anywhere, any time, without any kind of location constraints. In other words, instead of working on-site, virtual agents can operate from anywhere in the world while being professional and efficient.
By adopting this approach, businesses can save money on equipment and office maintenance while maintaining the level of service and work quality.
How Do Virtual Call Centers Work?
As we all know, a call center's primary role is to manage inbound and outbound calls. When we have an on-premise contact center, everything is in physical form and on-site, including hardware, devices, servers, agents, and so on. However, when it comes to virtual call centers, everything shifts to the digital space.
In addition, virtual call centers use tools and technology such as VoIP phone systems, Interactive Voice Response (IVR), cloud-service, and others to allow their users to work remotely with the same efficiency. All that agents will require is a stable internet connection. Everything else is hosted in the cloud. 
Besides, there is also a technology called virtual call center software which is installed and managed by a virtual contact center software provider. In addition to setting up and maintaining the services, the providers are also supposed to assist you as and when needed. For this reason, selecting the best virtual call center provider becomes critical.
But, how to start a virtual call center, and what are the tips to follow and factors to consider while choosing the best virtual call center solutions? Let's find out in the following segment.
7 Tips To Pick The Best Virtual Call Center Software Provider
As one might expect, virtual contact centers are built on VoIP and are cloud-based solutions designed by multiple service providers. Moreover, each offers a unique set of features and capabilities. This means, if you decide to set up your own virtual contact center, you must first select reliable virtual call center software. Here's how.
1. Think About Your Business Needs
First and foremost, evaluate your company's requirements and find out why you require virtual call center software in the first place. A virtual contact center software can be used for training programs, telemarketing, customer support, surveys, and so on, depending on your requirements since each condition needs a unique solution.
In addition, also find out how many agents will use this system, how much you are willing to invest for a decent virtual calling software, and so on. Besides, you will also need to get answers to whether you want it on a trial basis or for a long period, what your core activity will be– inbound and outbound calls or marketing, etc. Once you find answers to all of these questions, proceed to the next step.
2. Call Quality & Uptime
Call quality and uptime are two of the most critical elements to consider when it comes to virtual call center providers. Ensure the service provider you choose offers good call quality and high uptime – more than 99% – so that your customer operation is not disrupted often and you can give uninterrupted service to your clients.
If a service provider provides all your required features and capabilities but has a low uptime, scratch them from your list right away! Understand that if the virtual call center software has a low uptime, you won't be able to use any of its functions, no matter how amazing they are.
3. Check For Multi-Channel Support
Customers no longer communicate with businesses through a single communication channel. Instead, customer interactions are now taking place through multiple means, including social media platforms, phone calls, text messages, emails, and others. 
For this reason, it is critical to choose a virtual call center software provider that offers omnichannel customer support. 
The Multi-channel tool of the virtual call center software will aggregate all of your customer interactions from all channels and bring them to a single platform. Ultimately, it will also enable you to respond to every client query on time and boost customer experience to a new level.
And the customers that are satisfied with your products or services will eventually become the foundation of your company's success.
4. Provider Must Support Cloud-based Calling
The 4th factor to consider when choosing a cloud-based call center provider is cloud-based calling support. Find out whether the provider offers SaaS (Software as a Service) assistance or not. 
As SaaS– a cloud-based technology offers many additional benefits such as rapid and easy setup, none to minimal hardware or equipment requirements, and so on, choosing the service provider that provides this support is necessary.
In addition, using a SaaS-based calling system & virtual call center software, you will be able to monitor your agents' performance in real-time and assist them as needed. The cloud phone system works seamlessly and the main advantage is the ability to scale your infrastructure as needed.
For all of these compelling reasons, you should always go with a virtual contact center provider that provides cloud-based calling support.
5. Check Pricing, Plans & Call Rates
Once you've completed the first 4 stages, proceed to the 5th one: examine the price, plans, and call rates. Assume that, fortunately, you may find a provider who has all of the features and capabilities required to accomplish your job efficiently, but what if their prices and plans are costly? 
If it is up to 20% more than your estimated budget, we recommend you go with it; otherwise, hunt for another virtual call center software.
Also, find out how costly the call rates are. Although most cloud-based service providers, such as CallHippo, provide more than enough free call minutes, it is important to understand how much they charge once the free minutes are exhausted. 
Take into account all of the pricing, plans, and other charges, before making a final decision.
6. Read Reviews & Opinions
Assume that you luckily found the pricing and plans are in line with your expectations or fall within your budget, but there is still one task left to complete: verifying the legitimacy of the claims. 
Yes, it is usually a good idea to examine whether the claims made by the virtual call center provider about virtual call center software are factual or fabricated. Reading online reviews and expert opinions is one of the best ways to validate their claims.
There are various software review websites, such as SoftwareSuggest, that publish unbiased and in-depth reviews of the majority of the software, tools, and apps that are available to the market. Refer to these websites before making the final call.
In short, make sure you get real insights into the service provider rather than blindly believing their claims.
7. Customer Support
Upon completing all six of the above steps, you will be very close to your final destination. But there is still one more and the last element to think about: customer service.
Assume that the virtual contact center provider or virtual call center software has all of the features you require, as well as affordable pricing plans, but its customer service is terrible. Should you go with that service provider? We don't think so.
Instead, ensure that the provider you choose offers uninterrupted 24X7 customer support to their clients, ensuring that their work is not suffered or halted in any form because of service failure.
So there you have it– the 7 factors to consider while selecting the best virtual call center service provider. Along with these 7 elements, you should also consider whether the virtual call center software supports third-party integration capabilities or not, whether the provider offers training to your employees or not, and so on.
Summary
Finding the best virtual call center software or service is essential to ensure that your money and efforts are not wasted. Ineffective virtual call center solutions will not only have a negative impact on your customer service operation but will also harm your reputation among the masses. However, if you follow this 7 step guide to find the best virtual call center service provider, we are confident that you will be able to find the best one!