You will be shocked to know that more people in the world have access to a cell phone than to basic sanitation, says a report by Time Magazine. Six billion out of seven billion population of the world is using a mobile phone while only 4.5 billion have access to basic sanitation. Talking about the U.S.A 128% of the population has a cell phone which goes down to 46% when it comes to a landline.
According to the definition given by  federal Communication system, "Toll-free numbers are telephone numbers that come with a distinct three-digit code that can be dialed from landlines without any charges incurred to the person placing the call"
Toll-Free Phone Numbers are a crucial element of business telecommunications. A toll-free number can be recognized using the area codes – 800, 833, 855, 844, 888, etc. If the number that you're dialing has these codes, you won't be charged for the call.  People have a perception that companies with the toll-free number are big and established and operates on a national level. Toll-free number comes with endless benefits for any of the brands or businesses. Let us discuss them below:
8 Benefits of using a toll-free phone number
It helps you sound more professional
When customers call your business, you don't want it to sound like they are calling a guy sitting at home in his track pants. You would definitely want it sound like an established business with a toll-free number enhanced with virtual phone systems features. The virtual Phone System of today provides the business owners with all the power necessary to sound professional without investing in heavy and costly equipment. When customers will call your business, they will hear a professional auto-attendant similar to a $50,000 business phone system.
Makes your small business look big
Toll-free Phone numbers are an ideal choice for businesses whose market extends beyond their own geographic area. A toll-free phone number makes your company seem like a large, full-service operation, even if its a small start-up with less than 50 employees.
In a toll- free number, the cost of the calling is incurred by the business which makes it totally free for the customers. This improves the odds that the customer will call you.
You will be more scalable
As soon as you start making progress, you might move to a big office, expand new locations, welcome new members to your team and possibly switch phone service providers. Everything discussed is possible to do with a Toll-free Phone number as you can easily port or route it to meet your changing business needs.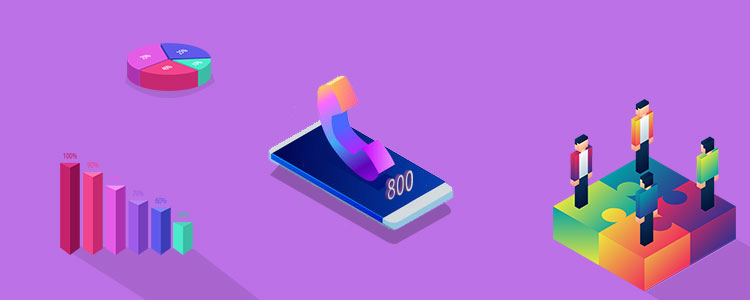 Saves you a lot of money
A decade ago, setting up a toll-free number used to be an expensive and time-consuming task. But with the advancement in technology, you can now buy an affordable Toll-Free Phone Number with all the features you need for as little as $6 per month. Signing up is immediate, no worries about installing hardware or downloading software. As your business grows you can subscribe to their premium offers that will offer you a more robust phone system.
A better customer service
The most important advantage of using a Toll-free Phone number is that it improves customer services. 57% of survey respondents prefer a Toll-free Phone number over a local virtual phone number.
With a toll-free number, you enhance your customer service by being available to them, 24/7. It can be a little frustrating and might leave a bitter experience if your customer doesn't find a free phone number to resolve their service-related queries. If a company is interested in doing business with you but has certain questions before they finalize the deal, a toll-free phone number can be the best option to call you anytime and from anywhere.
No need for a  separate business phone
You can set up a toll-free phone number on your existing device which is separate from your personal phone. As soon as you receive a business phone you will be able to distinguish it immediately as a business or a personal Phone number. This means you will always be ready to answer your phone professionally instead of an informal and unprepared "Hello".
According to a survey by GoDaddy and SurveyMonkey 89% of a business is likely to trust a business if they answer the phone in a professional manner.
It's easier to relocate with a toll-free phone number
You can take your Toll-free number wherever you go. Once you choose it,  it's yours as long as you want to use it.
Increases your business reach
Toll-Free Number gives your business a national presence which allows you to access a wider audience and thus reach out to more potential clients. Mobile advertising is increasing at an alarming rate, and toll-free Phone numbers are driving more sales than ever before.
To fulfill the requirements of toll-free numbers, FCC released a new set of toll-free number prefixes on June 3, 2017. This set consists of numbers with prefixes 833, 855, 800, 844, 888 toll-free numbers.
833 toll-free numbers are accessible for the businesses centralized in Canada. You can easily have a unique number with 833 toll-free number prefix for your business.
855 toll-free numbers are associated with North America. If you have a business set up in North America and are looking for a toll-free number to enhance your customer service, the 855 toll-free number prefix might be the perfect start for you.
800 toll-free numbers can be considered as the replacement of every other prefix. The 800 toll-free number prefix can be used by any business irrespective of its location and in addition to that the most attractive benefit is bid good bye to international calling charges as they are most affordable.
844 toll-free numbers are used by the businesses located in Canada, the United States, and any other country using the North American Plan. Almost every business has got one 844 toll-free number.
888 toll-free numbers are also based in North America. Using the "888 area code" can help you mainly target the customers in the US.
Wrapping Up
Start Concentrating on your customers, their comfort, and happiness., if you really want to go that extra mile and welcome more sales. Toll-Free Phone numbers are the best way to represent your brand and reach the heart of your customers. So don't wait any longer..!! Go ahead and grab your identification..!!
Note: Please check our updated pricing plans