Why CallHippo Is The Best CloudTalk Alternative?

Still looking for a Cloudtalk alternative? Well, your search ends right here, CallHippo is flexible, scalable and customizable! Go ahead fulfill your business requirements and gain a competitive advantage with your own leading CloudTalk alternative- CallHippo!
Compare Features & Pricing And Select The Best Cloudtalk Alternative
CallHippo – An Ideal Cloudtalk Alternative
With its customizable, scalable, and flexible VoIP services, CallHippo is the best alternative to Cloudtalk. It comes with a host of advanced business phone number features such as an IVR System, Call Hold, Custom Messages, Call Recording, Voice Mail, Contact Management, and so on.
Cloudtalk Pricing & Plans
What Makes CallHippo A Better Cloudtalk Alternative:
CallHippo stands out as one of the most sought after VoIP service providers. It equips its users with all the features they need to successfully manage and run remote teams as well as handle clients effectively.
Though Cloudtalk is a content management solution that helps businesses streamline communication, it has its limitations. It offers quote-based payments, so you need to request for a quote to avail their services. However, CallHippo has pre-defined plans priced at just $16, $20, and $30.
Also, CallHippo offers many more features than Cloudtalk.
Some of the most attractive features of this Cloudtalk alternative is the automatic call distribution, data records, working hours tracker, and priority email support.
Why Choose CallHippo As A Cloudtalk Alternative?
Loaded with features, CallHippo is touted as the best virtual phone number provider. Right from basic features such as call transfer, call recording, call forwarding to advanced features like on-hold music, voicemail greeting, call queuing- CallHippo has got you covered!
1. CallHippo Offers Intelligent Call Analytics
Track record of incoming and outgoing calls
Duration of calls
Track record of the call volume
CallHippo helps you analyze where your leads come from, while also helping you decide whether you want to upscale or downscale your usage.
2. CallHippo Offers Customizable On-hold Time
Nobody likes waiting endlessly to resolve their queries. Customers are bound to lose patience and hang up. The chances are that you have not only lost a customer, but such customers are also likely to dissuade their friends and family from dealing with you. Long hold periods during calls are a surefire way to create a negative impression about your brand. However, long call hold periods are inevitable at some point, and you must prepare for them. This is where CallHippo comes to your rescue.
This Cloudtalk alternative offers a call-on-hold music feature. You can use this feature to set up customized messages about the latest offers and promotions you are running. The messages could also talk about recently launched products or even your brand values.
3. CallHippo Has an Intuitive Global Connect Feature
CallHippo has a fantastic tool known as GlobalConnect that help you find the right time to call your clients. It helps you to determine the exact time zone of the country you want to call, in just a split-second. In this way, you
can rest assured that you are reaching out to your clients at a favourable time. Moreover, it also gives you an idea about the cost of such calls.
If you're looking for Cloudtalk alternatives, then look no further than CallHippo. It's intuitive, customizable, scalable, user friendly, and affordable.
Cloudtalk Alternative – CallHippo
-

Plans
Bronze - $16, Silver - $24, Platinum - $40, Enterprise- Customized Solutions
Pricing available by quote. Contact CloudTalk directly to request a quote.
Price Scheme
Monthly payment | Annual Subscription
Quote-based
Product Info
CallHhippo.com provides you with ultimate solution adhering to all your business requirements associated with Phone Support Systems.
A communications platform based on the cloud, CloudTalk offers Call Center business solutions.
Features

Automatic Call Distribution
IVR System
Custom Messages
Call Recording
Forward to Cellphones
Voice Mail
Working Hours Per User
Contact Management
Shared Contacts
Email Support
Priority Email
Free Calling Credits
Call from Any Number
Ring All Devices
Office/Number Opening Hours
Call Hold
Call Hold With Custom Music
Call Mute
Click to Call
Voicemail in Email
Voicemail Custom Greeting
Custom Integration
Call Notifications
Android App
iOS app
Outbound Caller ID
International Numbers
3-Digit Editable Extension
Call Conference
Call Barging
Call transfer
On Call Notes
Call Reminder
Analytics
Concurrent Calls
Global connect
Dynamic Number insertion
Auto-switch numbers

Auto Attendant
Extension Dialing
Hosted PBX
Music on Hold
Ring Groups
Directory Assistance
Number Porting
Instant Messaging
Presence
Conference Bridge
Call Recording
Online Meetings
Contacts Integration
Business SMS
Call Forwarding
Caller ID
Caller ID Blocking
Call Waiting
Call Transfers
Call Park
Direct Phone Number
Voicemail
Voicemail to Email
Skills-based Routing
IVR

Customer Support
Phone, Live Support, Ticket, Training
Phone, Ticket, Live Support, Training
Types of Customers
Small Business | Large Enterprises | Medium Business
Small Business | Large Enterprises | Medium Business | Freelancers
OS Supported
Windows, Mac, Web-based, Android, iOS
Web-based, Android, iOS
Frequently Asked Question
Which is the best substitute for cloudTalk?
If you are looking for an efficient, user-friendly, cost-effective solution, CallHippo has to be your go-to company. Designed specially to empower teams and help them achieve the best, CallHippo serves as the best possible substitute for CloudTalk.
Why should you choose CallHippo over cloudTalk?
CallHippo definitely scores one if you have to pick. CallHippo takes pride in its extensive and intelligent feature-rich services, let alone the flexible plans and the transparent pricing system. Sadly, Cloudtalk doesn't provide features that extensively.
Among CallHippo and cloudTalk, who offers more features?
CallHippo, without a doubt, provides more features. Analytics, Concurrent Calls, Global connect, Dynamic Number insertion, Auto-switch numbers are a few of the many features offered by CallHippo in addition to CloudTalk that empower you to provide the best possible service.
With the global contact center market estimated to grow to $35.3 billion by 2023, up from $17.7 billion in 2018, it's no doubt that there are already hundreds of call center software providers. This makes it even more challenging to find the right CloudTalk alternative.
To make things easier for you, we have curated a list of the 14 best cloudtalk alternatives. Let's take a look at them. 
CallHippo
CallHippo tops the list of CloudTalk alternatives because it is one of the most flexible, customizable, and scalable VoIP service providers. 
Product Highlights:
It offers intelligent call analytics while also helping you decide whether you need to upscale or downscale your usage. 

It has a customizable on-hold music feature, which you can use to set up tailored messages about your latest offers and promotions. 

The global connect feature enables you to determine the exact time zone of the country you want to call so you can stay assured that you are calling them at a good time.

Supports 100+ integrations, including Zapier, Salesforce, and HubSpot
Pricing:
| | | |
| --- | --- | --- |
| Bronze ($20/user/month) | Silver ($30/user/month) | Platinum ($35/user/month) |
| Free number, forward to device, SMS, Voicemail, call recording, and more | Everything in bronze plus IVR (interactive voice response), live call, after call work, internal team calls, and more | Everything in silver plus power dialer, 3-way calling, call barging, route to an external number, IP whitelisting, customer caller id, and more |
MyOperator
MyOperator is another great CloudTalk alternative, given its features like live calls, smart follow-up, live call transfer, and one-way outgoing technology.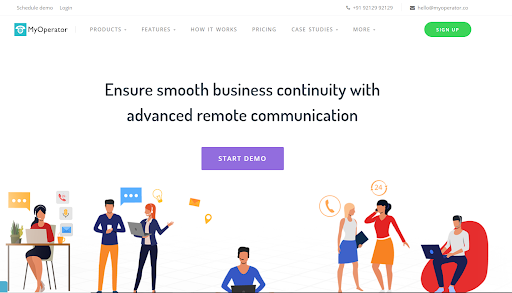 Product Highlights:
Provides detailed analytical business reports via SMS and email 

Live dashboard and call information for each incoming call 

The voicemail facility allows your callers to leave their message in the voicemail when none of your agents are available. 
Pricing: 
| | |
| --- | --- |
| Desk Plan ($45/month) | Prime Plan ($200/month) |
| 2000 minutes, API & CRM integrations, location & time-based IVR, and more | 10000 minutes, advanced call reports, call queue, custom agreement, and more |
Enthu.ai
Enthu.ai is a conversation intelligence software powered by AI and ML. It helps you deliver strong performance outcomes by enabling you to create custom QA hypothesis (like competitor mentions, slang usage, sales objections, etc.). 
Product Highlights:
Provides transcription for each call, and you can refer to dialogue text for quick quality checks.

AI-driven conversation analytics split across customizable call moments for better analysis. 

Identify the most common sales objections that your agents face every day. 
Pricing:
Enthu.ai has not made its pricing public. You will have to contact them for a custom quote. 
Zoho Desk
Zoho Desk is an all-in-one customer service software that collates interactions from different channels (social media, email, chat, and phone) into one place. 
Product Highlights:
Voicemails ensure you don't miss any of your customers' messages by logging their questions as new tickets.

Zia, Zoho's AI-powered assistant, can automatically answer your customers' queries based on the content in your knowledge base. 

Multilevel IVR menu set up to help customers find answers with simple commands. 
Aircall
Perfect for mid-size and enterprise companies, Aircall offers a range of features, including call queueing, shared call inbox, call recording, automated attendants. 
Product Highlights:
Allows agents to assign and comment on calls so they can be reviewed later.

Conference call enables you to communicate with your team internally.

Warm transfers make it easier for your agents to transfer live calls to other advisors. 
Pricing:
| | |
| --- | --- |
| Essentials ($30/user/month billed annually) | Professional ($50/user/month billed annually) |
| Unlimited calls within the US & Canada, 60+ integrations & API access, call recording, IVR, voicemail, phone support, and more | Salesforce integration, advanced analytics, live call monitoring, queue call back, power dialer, dedicated account manager, and more |
RingCentral
Launched in 2003, RingCentral provides a robust and reliable platform for phone, videos, and meetings. It offers solutions for all businesses, regardless of their size. 
Product Highlights:
Skill-based routing to ensure your customers reach the right agent.

Agent management to help optimize agent schedules and minimize hold times for customers.

Whisper coaching, silent monitoring, and barge-in features to help improve the agent's performance and customer experience. 
Pricing:
| | | | |
| --- | --- | --- | --- |
| Essentials ($29.99/user/month) | Standard ($34.99/user/month) | Premium ($44.99/user/month) | Ultimate ($59.99/user/month) |
| Up to 20 users, unlimited calls within the US & Canada, voicemail to text, document sharing, and more | Unlimited users, unlimited audio conferencing, up to 24-hour meeting duration, quality of service reports, video meetings, and more | Single sign-on, automatic call recording, multi-site admin and management, call barging, hot desking, and more | Device status reports, device status alerts, unlimited storage, and more |
JustCall
JustCall is yet another great CloudTalk alternative. With JustCall, you can get phone numbers in 70+ countries, and offer responsive, round the clock support to your customers. 
Product Highlights:
Categorizes your calls with disposition codes and notes, so you know which calls to focus on more than others. 

Provides real-time dashboards so you can monitor agent availability, live status, and last seen.

Smart call routing to connect VIP customers with their managers quickly. 
Pricing:
| | |
| --- | --- |
| Standard ($25/month/user) | Premium ($50/month/user) |
| One local or toll-free number, call recording, call forwarding, analytics, voicemail, IVR, appointment scheduler, and more | All features of Standard plus autodialer, API & webhook access, call barging, post-call surveys, priority support, and more |
Zendesk Talk
One of the popular names in the contact center industry, Zendesk, enables you to provide personalized solutions to your customers. Its multichannel capabilities allow your agents to quickly pick up the conversation from any channel and resolve complex issues. 
Product Highlights:
Provides full customer context, including voicemails and texts in one place

Allows you to embed a call button in your mobile app, making it easier for your customers to contact you.

Route calls to an available agent to reduce wait times. 
Pricing: 
| | | | |
| --- | --- | --- | --- |
| Lite (from $0/month/agent) | Team (from $19/month/agent) | Professional (from $49/month/agent) | Enterprise (from $89/month/agent) |
| Pay for usage only, answer in the browser, forward to phone, customized greetings, and more | Hold calls, warm transfer, call us from web widget, automatic ticket creation, advanced routing, and more | Conference call, request a callback feature, call wrap-up time limits, IVR, real-time dashboards, and more | Extended queue wait time, after hours routing, call history reports, agent activity dashboards, and more |
Freshworks
Freshworks is a cloud-based PBX solution that makes it easier for you to manage call center operations. From call transfer to analytics, Freshworks has a range of features that can help you improve your contact center's efficiency. 
Product Highlights:
Port your existing phone numbers without notifying your customers. 

Personalize your voicemails and route after-hours calls to voicemails.

Voice bots to provide instant answers to your customers without an agent.
Pricing: 
| | | | | |
| --- | --- | --- | --- | --- |
| Sprout ($0/month/agent) | Blossom ($0/month/agent) | Garden ($0/month/agent) | Estate ($0/month/agent) | Forest ($0/month/agent) |
| Inbound caller ID, desktop notifications, call notes, custom greetings, call metrics, and more | Number porting, basic call queues, wait queues, voicemail, warm transfer, call recording, and more | Call monitoring, IVR, advanced call queues, custom reports, and more | Holiday routing, advanced call metrics, call barging, call recording, agent availability report, and more | Omnichannel routing, speech-enabled IVR, voice bot, abandoned call metrics, service-level monitoring, and more |
Five9
Five9 is yet another all-in-one customer service solution that allows your customers to reach you via phone, web, chat, email, and social media. It also enables you to maintain a unified view of the customers' journey across all touchpoints. 
Product Highlights:
Intelligently route inbound customer contacts to the agent best suited for the job.

Its workforce management helps ensure your agents are available to effectively handle your customers. 

Advanced analytics to improve your call center's efficiency. 
Pricing:
Five9 has not made its pricing public. You will have to contact them to get a custom quote. 
Knowlarity
Ideal for small and mid-sized businesses, Knowlarity offers a range of contact center features, including an AI-powered IVR that proactively gauges your customer's pain points, automates quality checks, thereby boosting your contact center's productivity. 
Product Highlights:
Real-time data dashboard that provides insights with speech analytics 

Automatic speech recognition helps classify sales calls into hot, warm, and cold leads 

Includes employee management software that allows agents to set their availability status 
Pricing:
| | |
| --- | --- |
| Advance ($30/month) | Premium ($50/month) |
| Web interface, mobile app, dynamic greetings, voicemail, advanced call forwarding, incall transfer, real-time analytics, and more | Multi-agent login, sticky agent, hook API, CRM integration, quick dial basic, VIP number, and more |
Dialpad
Dialpad is a cloud communication platform powered by artificial intelligence. It analyzes customer sentiment in real-time, takes notes, and provides coaching.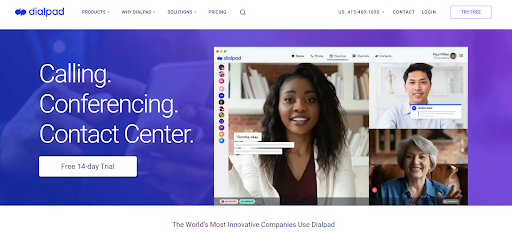 Product Highlights:
Connect with customers across all channels and skip the repetitive questions. 

Provides customer details on every call, so your agents are better prepared to answer their queries.  

Voice intelligence to provide your agents with recommended solutions while simultaneously letting managers monitor sentiment and discover trends.
Pricing:
| | |
| --- | --- |
| Standard ($15/user/month billed annually) | Pro ($25/user/month billed annually) |
| Unlimited calling, call controls (transfer, hold, mute), voicemail transcription, G Suite & office integrations, and more | All standard features, local number support in 50+ countries, custom off-hours routing, API & webhooks, Fax, 24/7 phone support, and more |
Adversus Dialer
Adversus Dialer is yet another great CloudTalk alternative. Its intelligent campaigns optimize your call center's efficiency by automating contacts and call flows. 
Product Highlights:
Built-in custom customer cards in which you can include your call scripts, iframes, customer data, and more.

Record conversations with multiple compliance options. 

Keep track of your agents across departments and campaigns. 
Pricing:
Adversus Dialer's price starts from $100 per month. All features included. 
Callcap
The last in our list of CloudTalk alternatives is Callcap. Its real-time call monitoring and fraud detection feature helps contact centers improve their efficiency and provide the best possible customer support. 
Product Highlights:
Expert call evaluation where human analysts identify customers' emotions in every call. 

Email alerts of missed opportunities and calls. 

Advanced call analytics so you can monitor your agent's performance. 
Pricing:
To get a custom quote, you will have to contact Callcap. 
What's Next?
Choosing a reliable call center software can be confusing at times, given that there are hundreds of them. But, the 14 contact center solutions are the best alternatives to CloudTalk. 
Have you used any of the call center solutions mentioned above? Which one? How was your experience with it? Let us know in the comments.