Business telephone technologies have advanced dramatically over the last decade as businesses began to focus more on customer care and assistance. The technologies have not only improved but also turned compact in size.
(source:hebergementwebs.com)
But what exactly is virtual PBX, and what are the top 10 reasons to use cloud PBX to gain a competitive advantage? Let's look into all of this in the following sections.
What is Virtual PBX or Cloud PBX or Hosted PBX?
Simply defined, a virtual PBX (Private Branch Exchange) or cloud PBX is a cloud-based phone service that allows organizations to make and receive calls as well as execute a variety of other business communication tasks over the internet. 
Unlike the PSTN (Public Switched Telephone Network) system, cloud PBX does not necessitate multiple pieces of hardware and equipment on the client-side. Instead, all that businesses require is a cloud phone and a stable internet connection.
(source:yeastar.com)
Not only is virtual PBX technology smaller in size than traditional enterprise phone systems, but virtual PBX also comes with a variety of features such as auto-attendant, call forwarding, call routing, voicemail to email, real-time data monitoring, and analytics, and so on. 
In addition to these, there are several other compelling reasons to adopt Virtual PBX for your business. The top 10 out of which are as follows.
10 Best Reasons To Use Virtual PBX Phone Service
The following are the top 10 reasons to use a cloud-based PBX for your business phone service. Let's take a deep dive into each one to get to know them better.
1. Cost-Effective Solution
The first key advantage of using Virtual PBX is that it is a low-cost business phone solution. For example, when you choose a traditional phone system, you will need to pay a variety of expenses and charges, such as installation costs, maintenance costs, equipment purchase costs, premise rent and infrastructure expenses, and so on. In contrast, when you use a cloud PBX system, you only pay for the service you consume.
You do not need to pay for equipment maintenance since you do not need to purchase anything other than a VoIP desk phone. Moreover, because there is no equipment to install, you do not even have to pay for premise rent. 
In addition, as compared to traditional phone systems, the cost of international calls is also relatively low with virtual PBX.
2. Help Project Professional Image
Another compelling reason to use virtual PBX is that it assists businesses in projecting and establishing a trustworthy and professional image of their organization among the masses.
For example, when a consumer receives a call from a toll-free number, vanity number or a virtual local phone number, they will get the impression that you are a well-established firm with a well-organized customer service department and that they value their customers.
(source:3cx.com)
All of these will eventually enhance customer trust and make your brand more credible. In short, if you want your company to appear professional, invest in a virtual PBX system right now!
3. Decent Voice Call Quality
When it comes to offering excellent customer service, call quality is a vital factor to consider. The call quality must be good and free of interruptions or noisy signals. However, since old PBXs relied on telephone lines, this wasn't easy to achieve.
But, with the help of hosted PBX, you can get excellent call quality since it operates over the internet, which is free of external noise or interference. In a nutshell, having good voice quality is another reason to use virtual PBX.
4. Maximum Uptime
The on-premise PBX phone system is synonymous with frequent connectivity outages. Since the system relies on phone lines to communicate, any damage to one phone line will eventually disrupt the entire network. But, since cloud-based PBX uses the internet for connectivity, this is no longer an issue. 
This means, when organizations implement a cloud PBX phone service, they now enjoy optimum uptime and connectivity.
You might experience a drop in connectivity only when your VoIP service provider upgrades the system. The rest of the time, you'll have the best connectivity, assuring seamless and round-the-clock customer service.
5. Third-Party Tools/Service Integration
As most organizations nowadays use multiple tools and services for their operations, integrating all of them together is crucial to ensure zero data loss as well as to streamline various processes. Fortunately, most of the leading VoIP service providers, such as CallHippo, offer third-party integration capabilities.
Businesses can use this functionality to integrate all of their tools and services with the virtual PBX phone system, making a single, full-proof and efficient enterprise phone service. This will ultimately assist them in providing their customers with an accurate and timely resolution.
6. On-demand Scalability
No company remains at the same level forever, right? They either expand or shrink with time. For this reason, it is critical that you avoid overinvesting in resources and services at the outset and instead scale your infrastructure as needed or as you grow. Unfortunately, this was not achievable with on-premise PBX since you had to acquire every piece of equipment from the beginning.
(source:babelforce.com)
However, by embracing the cloud PBX system, you can successfully overcome this limitation. As virtual PBX is a SaaS (Software as a Service) technology, you can use the service and resources based on your needs and scale them up or down as needed. This is the 6th important reason to use virtual PBX to provide your businesses a competitive edge.
7. Exceptional Portability
The Covid-19 pandemic has shifted business, especially service-based businesses, to the virtual world. Nowadays, the majority of the workforce in service-based businesses works remotely. If you are also one of them, it is expected that the business phone service you use must have the highest level of portability so that it can be accessed from anywhere and at any time by any team member.
Fortunately, since the cloud-based phone service– virtual PBX operates via the internet and does not require any hardware or equipment other than a VoIP desk phone or headset, you can access it from anywhere in the world as long as you have reliable internet access.
8. Quick & Easy Installation
Installing a virtual PBX at your home or office will take no more than 3 minutes! Yes, there are only five steps required to install CallHippo virtual PBX system. Moreover, unlike with on-premise PBX phone systems, you will not be required to purchase or install any hardware.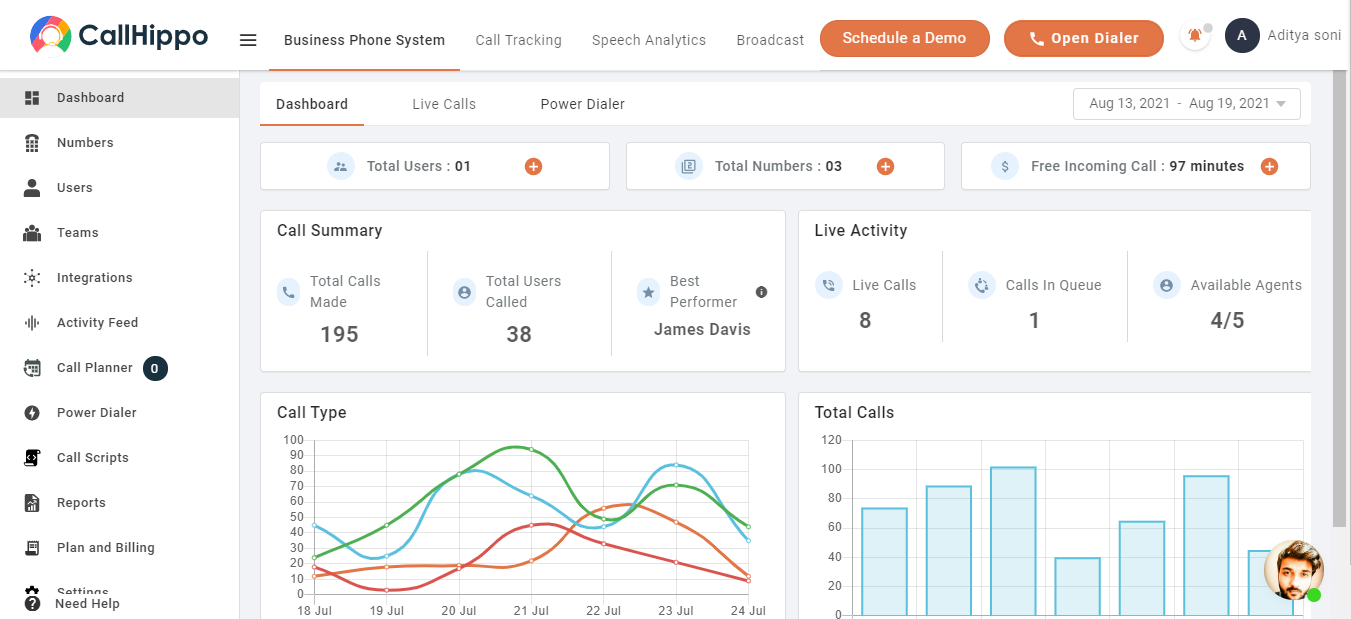 This quick and simple installation will not only save you time but also resources and recurring maintenance costs. So, if you are looking for a business phone system that can be rapidly deployed and maintained by even a non-technical person, cloud PBX is the way to go!
9. Impenetrable Security Cover
Protecting your customers' private information and preventing data breaches in your system is a crucial responsibility that every business should take care of. Even a minor data breach of your confidential business information can cost you a fortune. 
For this reason, we suggest that you must choose a virtual PBX system above the traditional phone system.
When you use a cloud PBX phone service, you don't have to be worried about system security since it is handled by your hosted PBX service provider. Your service provider will manage all software upgrades, firewalls, security patches, and other security issues, allowing you to focus on customer support operations only.
10. Real-Time Monitoring
The 10th reason to use virtual PBX is that it provides real-time data and insights into your ongoing campaigns. When you use a hosted PBX phone service, you can monitor everything that happens in your customer support operations in real-time. For example, you may see how many calls are in the queue, how many are routed, which department has the most complaints, and so on.
This information will ultimately assist you in identifying and eliminating gaps in your process, as well as finding out which tactic worked best for your campaign and which does not.
So, there you have it– the top 10 reasons to use virtual PBX over any traditional phone system on any given day. These advantages will substantially accelerate your customer support operations while also helping you project a professional and reliable image of your company among the masses, as well as assuring your company's growth.
Summing Up
The best thing you can do to streamline & improve your customer support operations and increase client retention rate is to replace your outdated, inefficient, traditional enterprise phone system with a new-age virtual PBX phone system. As explained above, this advanced business phone service has many exceptional, business-oriented features and functionalities that will play a critical role in the success of your business. Also, when you decide to buy one, you can always count on CallHippo!