Automation has found its use in almost every industry, and call centers are no different. Auto dialers have eliminated the need for manual dialing, thereby boosting your agents' productivity. 
In fact, auto-dialing systems such as power dialers and predictive dialers can increase talk times by as much as 200-300%. However, deciding whether a power dialer or predictive dialer is right for your business can be challenging. 
In this article, we will explain the difference between a power dialer and a predictive dialer. By the end of the article, you will be better able to choose the right auto dialer as per your business needs. Let's get started. 
What is a Power Dialer?
Also known as a progressive dialer, a power dialer is an automatic dialing technology that dials a contact number after the previous call ends. If a number is busy, unattended, or disconnected, the power dialer moves to the next contact in the list immediately. That way, your agents don't have to waste time manually digging the contact list and dialing the number.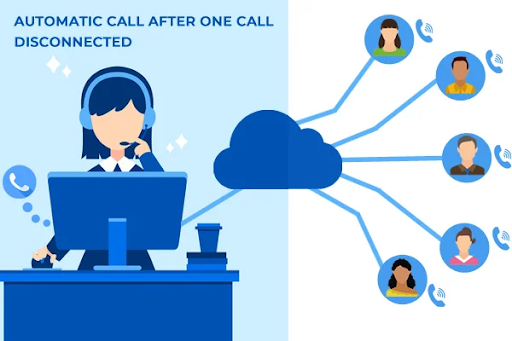 Leading dialers, such as CallHippo Power Dialer, allows you to import caller ID contacts via excel sheets. The power dialer will then automatically dial each number on the list one by one (depending on the agent's availability). This helps improve productivity across the organization. 
Pros of Power Dialer
Eliminates redundant tasks, such as adding numbers to a sheet and dialing a number, which improves productivity. 

Rings each number for 30 seconds, thereby reducing the time spent per call and increasing efficiency. 

Maximizes the time spent talking to prospects, as the agent won't have to toggle between different tools or sheets to find phone numbers. 

Increase the number of conversions. As the more calls your agents handle, the more deals they will close.

Gives agents time for after-call activity and dials the next number when your representative click on the "next call" button. 

Helps ensure dropped call compliance. For instance, in the US, if your dropped calls are more than 3%, it could invite a hefty penalty ($16,000 per violation).  

Allows you to leave a pre-recorded message when you reach a prospect's voicemail. 

Integrates with your CRM, making it easier for you to sort, search, and segment your contacts. 
Cons of Power Dialer
Agents can control the power dialer, which sometimes might negatively impact the overall call volume. 

It connects each number on the list with an agent, and if there are fewer qualified prospects, it might waste a lot of time. 
What is a Predictive Dialer?
A predictive dialer is an automated dialing system that makes multiple calls simultaneously. It filters out busy signals, voicemails, and disconnected numbers. This ensures that your representative's time is used only for calls that are actually answered by a prospect. If two prospects pick the call, it will connect the one answered first and keep the second one in the queue.
The biggest advantage of predictive dialers is that it frees up your agent's time listening to unanswered calls, pre-recorded messages, or busy phones. 
A predictive dialer uses mathematical formulas or algorithms to predict the time it takes for the call to be answered and matches it with the data on when the agent is likely to be available. In short, a predictive dialer anticipates a representative's availability and then adjusts the dialing rate accordingly. 
Pros of Predictive Dialer
Uses machine learning to anticipate an agent's availability and pairs it with the calls accordingly, thereby reducing the idle time. 

Improves productivity by connecting agents with calls as soon as they get available. 

Excludes blocked phone numbers automatically, thereby ensuring compliance of not calling on numbers that have set do not disturb. 

Cons of Predictive Dialer
Since a predictive dialer uses machine learning, it takes a lot of time to get perfect. 

An agent won't always be available as per the dialer's prediction, making prospects wait for the agent to connect. 

Potential customers might get frustrated if an agent is not available when they receive the call. 

It can't leave voicemails, so the system might make several attempts to connect the call. 

Predictive dialers are complicated. Managers might need to learn how to use it to get the best possible results. 

Difference Between Power Dialer and Predictive Dialer
| | | |
| --- | --- | --- |
| Features | Power Dialer | Predictive Dialer |
| Autodialing | Yes | Yes |
| Calling ratio | 1:1, i.e., one call per free agent | The system sets the ratio automatically. It also scales up or down based on drop rate, call timing, etc.  |
| Voicemail | Yes | No |
| Calling control | Yes | No |
| Calls per hour | With a power dialer, agents can make 100-250 calls per day | With a predictive dialer, agents can make more than 300 calls per day |
| Ideal for | Small and mid-sized teams looking to increase the sales efficiency | Large teams aiming for call volume over personalization |
Manually dialing users can be time-consuming and error-prone for a call center ringing thousands of numbers each day. This is why most of them are making a shift towards automated dialing to save time and improve efficiency. However, while choosing an auto-dialing solution, contact centers often have a hard time choosing between the two most popular types of dialing, i.e., power dialers and predictive dialers.
The power dialer vs. predictive dialer debate has been going around for since long, with loyalists from both sides advocating for their favorite. However, in reality, both automatic dialers are entirely different and have their pros and cons. This blog discusses the critical differences between power and predictive dialers to settle the debate once and for all.
The biggest difference between power dialers and predictive dialers lies in their approach to dialing. While a predictive dialer rings numbers from a preset list based on mathematical estimation of agents' availability, power dialers ring numbers one after another sequentially based on the number of agents present. Predictive dialers can dial multiple phone numbers per agent by estimating the average talk time, agents available, etc. However, there are no estimations involved for power dialers as the software dials one phone number per agent.
Since predictive dialers are more focused on optimizing your organization's time and lowering agents' idle times, they work wonders in improving productivity. In addition, predictive dialers are more efficient since they dial the following number on the list even before the agent finishes their current call. This does give predictive dialers an edge in the power dialer vs. predictive dialer discourse; however, it does have implications on customer experience.
Another significant difference between power dialers and predictive dialers is that Power dialers are based on a simple logic that connects one agent per customer. This significantly lowers the dropped call rates when compared to predictive dialers. However, predictive dialers frequently run into compliance issues due to high rates of dropped calls. Thus contact centers need to keep adjusting their calling ratios with them.
Voicemails are another critical factor in the power dialer vs. predictive dialer argument. Power dialers allow you to record and send voicemail messages to your prospects if the call does not connect. However, with predictive auto-dialers, calls getting connected to answering machines are dropped automatically. Not being able to send voicemails can significantly hamper your promotions and bring down your reach. 
Takeaways
:
 Predictive dialers are better suited for time-bound and promotional campaigns. However, if customer satisfaction and rapport-creation are your prime objective, power dialers are better since agents are connected before the call starts.
Predictive dialers are recommended for you if your products/services are new in the market, and you need to cover more ground in less time. Power dialers are better if your product's market value is higher and you already have a large user base. They improve customer experience and help strengthen connections with your audiences.
Predictive dialers are the way to go if your data quality is poor and your connection ratio is lower than 30%. However, with higher data quality and connection ratios, power dialers are a much better choice.
Which One to Choose: Power Dialer or Predictive Dialer?
The right auto dialer for your business depends on your needs. If you want to improve the customer experience while ensuring compliance, choose a power dialer. If you want your agents to handle as many calls as possible, use a predictive dialer. 
Do you use an autodialer in your organization? If yes, which one? What do you like the most about your autodialer? Let us know in the comments.