Date: November 30, 2022
What is a Virtual Mobile Number?
A virtual mobile phone is a convenient and affordable alternative to traditional phone systems or VOIP, which requires zero hardware. With virtual mobile phones, your entire business phone system runs through a mobile app, downloaded on the smartphones that your team is already using, paired with a web management portal.
Using a virtual phone system like CallHippo to host your virtual phone number, you can easily establish schedules for your call routing, dependent on the time of day or day of the week, so that all your business' calls are managed effectively, with unlimited subscribers, assign virtual extensions, set up ring groups and more.
How Does a Virtual Mobile Number Work?
Virtual mobile numbers do not require a SIM card or a physical address. It uses secure internet technology to place real telephone calls between people.
Instead, virtual mobile phone numbers accept calls through Voice Over Internet Protocol. VoIP has flourished because it can provide real-time communication using existing broadband connections. With the help of cloud-based virtual phone service providers, your phone calls are digitized and connected over the internet and across traditional phone networks.

A regular number is tied to a phone line or SIM card provided by a local or national phone service provider. For office systems, this means installing telephone lines throughout the building to connect each phone, which is expensive and needs regular maintenance. 
Virtual Mobile numbers, on the other hand, allow you to access the phone through multiple devices and locations like you have Virtual Mobile Number of UK then you can access that from any device and anywhere in the world. The infrastructure needed for a virtual mobile phone number, such as data backup and software, is usually hosted by the service provider, leaving minimal maintenance at your end.
What Are The Benefits of Virtual Mobile Numbers?
Cost Savings

Virtual mobile numbers are generally much more cost-effective than standard phones, especially once you factor in the cost of hardware associated with landlines, VoIP systems, and secondary mobile devices.
Flexibility
A virtual mobile number can also allow you to operate your company by phone anywhere, anytime. You can also benefit from access to voicemail services with 24/7 voicemail and call diverts.
Real-Time Control
One of the major benefits of using a virtual phone system is being able to dynamically manage what happens when a call comes in. With CallHippo, you can easily log into the web app and re-configure call flows at any time.
Privacy
With a virtual mobile number, you'll never have to give your personal number out to a client again. Clients can reach you on your business number any time, without having any clue it's a virtual mobile phone. And you have the benefit of being able to tell which calls are coming into your business number, so you can answer professionally every time.
Better Work/Life Balance
With virtual mobile phones, you configure your schedule and determine what happens with calls that come in outside of your office hours. Maybe they route directly to voicemail, or maybe you just route callers to another user on the account who is available.
One way or another, virtual mobile phones give you the ability to compartmentalize your work life, so that it doesn't bleed into your personal life.
Better Accessibility:
Today's world is highly digitalized and an online phone number is the best way to hike up mobility levels amongst team members. People across the globe using Virtual mobile numbers can be accessed from any geographical location, and are very useful as they help your scattered remote workforce remain in constant communication with the organization irrespective of their geographical location.
VoIP is again a great solution for organizations whose team members travel to field locations for work purposes as it helps them remain productive on the move!
Advanced Features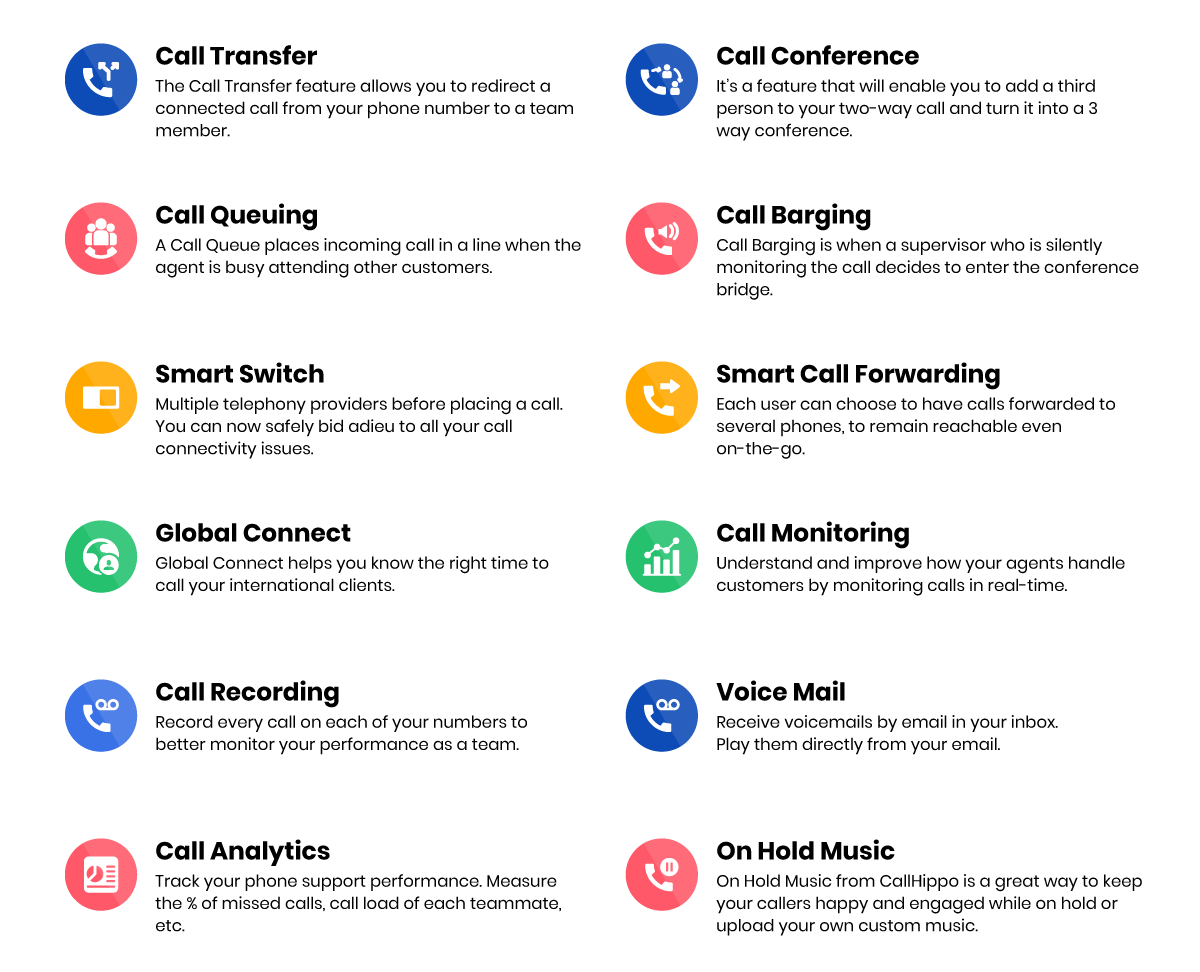 Virtual mobile numbers have an array of useful features that help employees in performing routine tasks and enhance productivity exponentially. Facilities such as call forwarding and voicemail ensure that important calls are not missed as they can be redirected to available team members for better service. Call recording keeps a track of customer conversations so that support representatives can identify potential issues and enhance the quality of their work performance. call planner, interactive voice response, and personalized greetings are other essential features that make virtual mobile numbers a must-have in your business communication suite!
How Can a Business Use a Virtual Mobile Phone?
Remote Work
Recently, many businesses, both SMBs, and enterprises are using virtual mobile phone numbers to enable remote work. With a virtual mobile phone number, remote employees can access the business phone system the same way they would while they are in the office. Call routing with virtual numbers can merge field staff seamlessly with office teams and assign calls appropriately. 
Lead Engagement
Virtual mobile numbers not only help to identify the source of leads but helps to convert them by locating them within an appropriate call flow. You can set up prioritization based on the lead score. You can also set up notification triggers to ensure that agents follow up faster.
Track Offline Marketing Effectiveness 
You can assign a different virtual mobile number to each advertising campaign, channel, location, language, etc. to get an accurate idea of the leads generated by each. It also helps track the RoI of offline campaigns.
Customer Disputes
Using a virtual number for business through a cloud platform that automatically records all incoming and outgoing calls can help maintain records to resolve customer disputes. 
Superior Customer Service:
The customer is king, and keeping your clients delighted through innovative and superior service is vital! One major advantage of investing in toll-free phone numbers is that they keep support representatives available to customers round the clock – this means no more frustrating endless hours in telephonic lines and clients remain super thrilled as they get speedy service and query resolution.
So do not even think twice, just research and get the best virtual phone service to escalate your customer satisfaction levels and retain valued clients in the long run!
Employee Training
If your sales and customer engagement is done entirely, or even largely, through the telephone, you can use the virtual number-based system as a training resource too! You can use call analytics to measure KPIs and identify training opportunities. You can also use call recordings of the top performers as samples during the onboarding process and to help other agents perform better.
Virtual mobile phones offer flexibility and convenience, along with advanced features that allow you to customize your business phone experience. With all the benefits of virtual mobile phones and the enormous cost savings that come along with them, it's easy to see why so many businesses are making the shift. 
Ready to transition to a virtual phone system? Click here for a Free Demo