Reading Time:
8
Minutes
Published :
June 21, 2019
If you too are using your number or landlines when making business-related phone calls, it's high time you upgrade your calling system. Now that we are in the days of forever connected internet from every device, you'll no longer need to use the traditional phone networks. With this, we mean to set up a VoIP system or a business number for you.
What is a Business Number?
A business number helps you in separating your number from work. It aids your company to create a more professional presence and also offers it a competitive edge. With the right provider, you can set up a business telephone number in a few minutes.
Now that you know what a business phone number is and how it works to help your business outstand in the market, let's move forward to comprehending how you can get it.
How can you get a phone number for your business?
Depending on your business needs, you can choose what type of business phone you require. Some of the providers like CallHippo provide you with multiple options of virtual business numbers like the  Local Number, Toll-free Number, or Mobile Number.
Investing in a business phone system is a straightforward process that does not take much time. In fact, a reliable service provider can guide you through the entire process effectively, answer all your queries, and ensure that you get a value-for-money deal. Here are some pointers that will serve as a blueprint in your quest to get the perfect business phone system for an organization:
Choose The Kind Of Business Phone Number: The first step towards implementing an office phone system is to research your corporate communication requirements. This will give you a clear picture of your needs and help you choose the best kind of business phone number. If your organization receives a lot of customer calls from people across the globe, it would be a smart idea to get a toll-free number. This would provide superior support service, and boost your brand image, as customers will not have to pay even a penny for calls dialed on a toll-free number.
However, if your business is located in another city or country, whereas your target customers are in a separate geographical base, it would be a smart idea to invest in a business phone number with a local area code.
Kingdom, and it has recently expanded to the United States of America. In such a scenario, it would be a good option to purchase a business phone number that has the local area code of the city where your business has expanded in the USA, such as New York, San Francisco or Dallas.
Getting a phone system is a tremendous responsibility as it is a long term decision and will have a lasting impact on your business. So make sure to at least have a clear idea about what type of phone number will be the best for your business so that there are no regrets at a later stage.
Check If Your Desired Phone Number is Available: Once you have made up your mind about which type of phone number you will be purchasing, the next thing that you need to do is check your desired number for availability. You would want to choose a phone number with an easy sequence of digits that can easily be remembered by your customers.
Modern VoIP service providers allow business organizations to customize their vanity numbers so that they can buy a phone number that gives them maximum visibility amongst their target audience. We know that toll-free numbers come with area codes such as 800,888,877,866,855,844 and so on. You will need to check which prefix your organization would want for its toll-free number and ensure that it is available for purchase. Choosing a number should be taken seriously as it can have a strong impact on return on investment and brand image in the eyes of your client base.
Add A Customized Greeting Message: Personalization is a key aspect that can make a tremendous difference to your rapport with clients. Hence, once you have finalized your business phone number, the next thing that you need to focus on is your greeting message. Most modern VoIP phone systems enable users to record a customized greeting where you can share a message or instructions with customers. Since this personalized message is the first thing that customers will hear when they dial your toll-free number or business phone number, it is important to ensure that your greeting is powerful, personal in nature and creates a lasting impression.
Add Extensions or Phone Lines For Employees: This is an extremely handy feature of all business phone numbers that enables users to add a number of extensions for different departments. Clients can use these extensions to get connected to the correct executive for required technical assistance. Most business phone systems have integrated interactive voice response features, hence they can give simple instructions such as 'For Sales Press 1, For Support Related Queries Press 2'.
Adding phone extensions is a necessity as it expedites business operations and results in a seamless flow of external communication. Phone extensions also ensure that your customers will not keep waiting endlessly in telephone queues for service, and redirects them to the appropriate department at the earliest.
Install and Test Your Business Phone Number: Once all the preliminaries have been taken care of, it is time to consult your service provider and start the installation process. Contrary to popular myths, installing a business phone system is quite a simple process and hardly takes a couple of minutes. There are no complex hardware or software requirements; the only major element is a high-speed Internet connection.
Your service provider will test your toll-free number or local phone number to make sure that there are no technical glitches. Since it is a minimalistic platform, there is not a very intense learning curve and most employees will easily adapt to using an office phone system in a couple of days. Make sure to discuss the provisions of after-sales support, system up-gradation, and maintenance with your service provider. Once the installation is completed, you can immediately start making and receiving calls with clients, suppliers, vendors, and organizational stakeholders.
To pick the best, first of all, let's familiarize you with what each of these business phone numbers has in store for you and how it can assist your business in achieving heights.
Understanding Different Types of Business Phone Numbers
As mentioned earlier, there can be three types of business phone numbers.
1. Local Phone Number
If your business requires getting friendly with the locals, a local phone number could be of great help.  It helps you convey your local presence in the country, even when you are running your business from some other place. For example, if you have clients in the US, you can reach them with a US local number even if you're running your business Bulgaria. Local phone numbers are tied to a single geographic location with the area code of your choice. You can set it up quickly and start using it on the same day. It is often provided free with the phone service, but its cost varies from $0 to $10 every month.
2. Toll-free Number/800 Number
Toll-free numbers act as a useful tool for businesses. It not only enhances your customer service but also improves your marketing efforts. Your business can attain credibility and recognition in the market with a toll-free number. The prime advantage of having a toll-free number for your business is that it makes your business appear more professional and improves customer support as your caller won't be charged for calling. You can even get it forwarded to your existing line. However, you'll have to pay for all the calls, and the price is $10 per month.
3. Mobile  Number
The last type of business phone number you can get is the virtual mobile number. A virtual mobile number is a phone number without any physical existence or a SIM card. One can set it up quickly with the help of his phone provider. If you want your phone number to accompany you wherever you go, having a virtual mobile number would be of great help. The price of the virtual number ranges from $0 to $10 per month.
You can make use of virtual business numbers for call forwarding, call conferencing, and a lot more. It is cost-effective and perfect for entrepreneurs and small business owners. By now, you would be well aware of the different business numbers available. The above information will help you gauge which type of business number you should be buying. Once you have decided, the next step you need to take is choosing your phone number.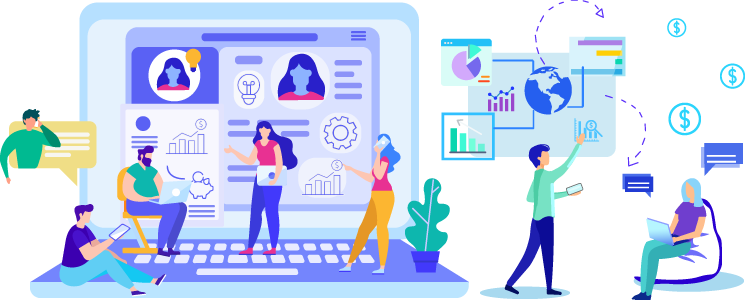 Selecting Your Phone Number
Most of the service providers will give you an option to choose your area code number. CallHippo offers virtual phone numbers of 50+ countries. Whether you want to stay connected to a single location or require having the appearance of several, CallHippo enables you to build your availability across the globe with its services.
So, confirm with your service provider what area codes and numbers are available with them and choose the number as per your preference. Your VoIP business phone system is all set to get started. Now, you can begin adding extensions.
Putting on Extensions
Extensions help business owners manage multiple users within the business phone system. Specifically speaking, an extension is a short internal number assigned to an employee or a department of your business. As it takes the source from your main business phone number to various divisions in your company, it is called an extension.
Adding extensions can be immensely useful for any business. Let's take an example of a small business like a retail store. A customer calls and wants to connect to a specific department or employee; the VoIP-based phone system automatically routes them to the right destination just by knowing which extension to follow. Thus, extensions can help retailers deliver outstanding customer service and also personalize customers' shopping experience.
Many service providers assign these extensions with no hassles and also enable the extension to forward to a personal number.
After choosing your phone number and adding extensions to it, you are all set to make or receive calls from your business telephone number. To amplify your experience of using a phone number for business, it is crucial to have some features associated with it.
Exceptional Business Phone Features that can Do Wonders
The prime benefit of having a business phone number is availing excellent features along with it. CallHippo offers a multitude of features for VoIP business phone system. Below listed are the most sought after business phone features CallHippo offers:
1. Smart Call Forwarding
With this feature, the user can forward incoming calls to an alternate number so that the caller doesn't return unanswered when the user is busy. It forwards the call without even letting the caller know what is happening in the background. Forward your call to any landline, cell phone, or virtual phone from anywhere and at any time. You can even integrate smart extension menus to forward calls to the right person with the help of customer's input.
2. Voicemail
Virtual voicemails help a business stay organized and productive. For every number, you get a different voicemail so that you never miss the details of a call. The voicemail gets directly delivered to your email, and you can access it from there.
3. On Hold Music
When any customer is kept on hold, they usually have to listen to the annoying beeps. But, CallHippo offers its clients to make their customers listen to peppy music with its on hold music feature. This feature dissuades customers from hanging up and helps them stay longer online. You can even customize this feature with a specific song that fits in your business or a personalized message. It also enables you to uphold the image of your business.
4. Ring All
With this feature, all users associated with a number receive a call at the same time. Whoever among them is available can answer the call and start a conversation. This feature is useful when some of the employees are busy attending other clients or outside the office for work. Features as such ensure that your client never hangs up unattended.
5. Call Analytics
Determining the marketing policy of your company is utmost important. Features like Call Analytics provides an in-depth report on Call Volume, Duration of calls, and Routing incoming & outgoing calls. It lets you optimize the sales process and build data-driven strategies.
Having a separate phone number can make a lot of difference in your business. Whether you need to establish a local or global presence, or require additional features to enhance your business, investing in a business phone number can undoubtedly benefit you.