Handling a business is not as easy as it seems to be. It means living two separate lives – one private and one professional. Having a separate business phone number is one of the best ways to keep your personal life different from a professional one. Only a few minutes are needed to set it up and can also be obtained for free at times!
A toll-free business phone number can be an indispensable asset for your business. The benefits of having a virtual phone system are endless. It does not only give you the credibility and recognition, but it can also play a huge part in increasing your sales and ROI.
According to a report, only 24% of customers are satisfied with a web form. In contrast to this, 65% of customers prefer to contact a business by phone! Another survey by NewVoiceMedia found that more than 75% of customers believe calling is the most effective way to get a quick response from companies.
Hence, if you don't have a business phone number yet, get a business phone number and never miss any sales opportunity you are missing out in terms of customer satisfaction which in return affects the sale of your business.
What Is A Toll-Free Number?
The phone numbers pre-assigned with 3-digit codes in place of area code are known as toll-free numbers. Those codes can be : 855, 800, 877,855 etc. These are typically used for customer-service calls.
One thing to keep in mind while opting for a toll-free number as your business phone number is that you'll be paying for all the calls. The calls for your customers are free of cost.
| NATIONAL | DIAL CODES |
| --- | --- |
| USA/TOLL-FREE-PAYPHONE | +1-855 |
| USA/CANADA TOLL-FREE (TRUE 800) | +1-800 |
| USA/CANADA TOLL-FREE (800) | +9-999 |
| USA/CANADA TOLL-FREE | +1-855 |
| NORTH AMERICA TOLL-FREE US VIRGIN ISLANDS | +1-800 |
| NORTH AMERICA TOLL-FREE CANADA | +1-800 |
| NORTH AMERICA TOLL-FREE BRITISH VIRGIN ISLANDS | +1-800 |
| NORTH AMERICA TOLL-FREE 48 CONTIGUOUS | +1-800 |
| NANP TOLL-FREE | +1-800 |
Why Do I Need A Business Phone Number?
As mentioned above, you are missing out on customer satisfaction if you don't have a business phone number yet. But here are five main points why you need the best virtual phone number.
1. Credibility: A business phone number is not just for big corporations but for companies of all sizes, especially for those starting a business. A startup requires all the help it can get and having a business phone number is a great authentic hack for them to look credible. Little things matter.
2. Customer Satisfaction: One of the inferior circumstances you can face while searching for the contact info of a business is not to find one at all. It could be very frustrating for customers and can leave a wrong impression on their mind about the company.
A virtual phone number allows you to be available for your customers which leads to better customer service and satisfaction. When customers find out they can get their questions answered by simply calling a number, they are more prone to persist to your business.
3. Sound More Legit: When an individual wants to connect to your business, do you want it to sound like they are calling a guy sitting in front of his TV in his pajama, or do you want to appear like you are a Fortune 500 company?
Sounding legit is just as relevant as looking legit. You want to sound like an entrenched company. A business phone number enables you to sound more legit.
Virtual phone system providers like CallHippo, give your business all the power of sounding professional without the high cost or need for equipment.
4. Scalability: Establishing a virtual phone number as your primary business phone number is a genius move as it ensures you can scale. As your business grows, you may expand, move, and need to switch service phone providers. If you are using a virtual phone system, you can easily port or route it to meet the needs of your business.
5. Portability: With a virtual phone number, location doesn't matter. It is easy to relocate if you have a virtual phone system. Your customers won't even know! You can still be reached by your business phone number regardless of your location.
Why use CallHippo For A Business Phone Number?
Virtual phone system providers (like CallHippo) allow business owners and entrepreneurs to run their respective businesses via cell phone and still have all the power of a professional business telephone system.
CallHippo is essentially a cloud based virtual phone system that works with your existing phones (office or home). You can select a local number or a toll-free number as your main business phone number.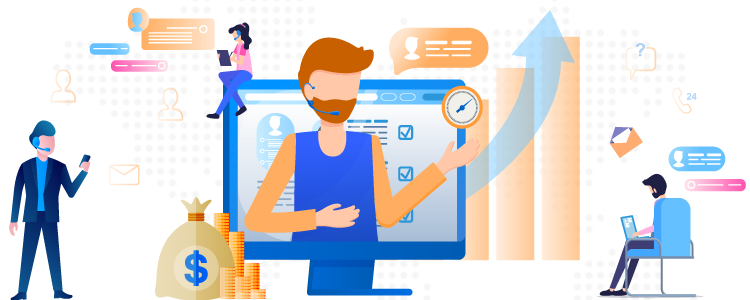 Pros Of Choosing CallHippo
You own your numbers and can port them to another provider at any time.
No equipment is required. Your virtual phone number is easy to set up and works with your existing phones.
An inexpensive way to get a virtual phone number loaded with system features.
Find the records of calls made to a customer.
Design your sales script by analyzing call recordings.
CallHippo offers multiple phone numbers with every plan, so you get as many online numbers as you require or even 1 toll-free number.
How To Get CallHippo Business Phone Number?
CallHippo works in three easy steps to enable you to buy virtual phone numbers and start making and receiving calls.
Step 1 – Buy numbers of up to 50+ countries around the globe.
Step 2 – Add multiple users on the same number for your convenience.
Step 3 – You can now start calling and receiving calls all around the world.
Yes! It is that simple!
Best Plans For Business Phone Number In CallHippo
The pricing for the virtual phone system starts at $0 per user per month and goes up to $35 per month for the platinum plan.
Here are all the advantages of each plan-
1. Basic – $0 Two Users/Month
Free SoftPhone
Forward-to-device
Custom Voicemail Greeting
Voicemail Transcription
Free Integration
Free Android/iOS App
2. Bronze – $8 Per User/Month
Everything in Basic +
Free SMS
Call Recording
Call-Hold Music
Country Blocking
Create Teams
3. Silver – $15 Per User/Month
Everything in Bronze +
Free Number
Free Incoming
Free SMS
Free $2 Credit
Call Transfer
Call Queuing
4. Platinum – $35 Per User/Month
Everything in Silver +
Additional $3 Credit
Premium Support
Custom Integration
Add. Free Incoming
You can supercharge your organization using business phone number which results in empowering your customer services. Digitization gives the essential boost to your business globally with business phone numbers by being competitive, adding value and rapid interaction with clients. Therefore, having a business phone number is the need of the era.
So what are you waiting for? Go get a business phone number instantly for your business right now and get going!
Note: Please check here for updated pricing.