Get Australian Virtual Phone Number
A virtual number is an actual phone number that lets the people calling your virtual phone number get the same experience as calling an Australian local number. When you make outgoing calls, your virtual phone number gets displayed to your customers before answering. You can buy an Australian virtual phone number from CallHippo and start making calls from anywhere in the world.
Awards and Reviews
Just 3 Minutes and You Are All Set to Use Your Australia Phone Number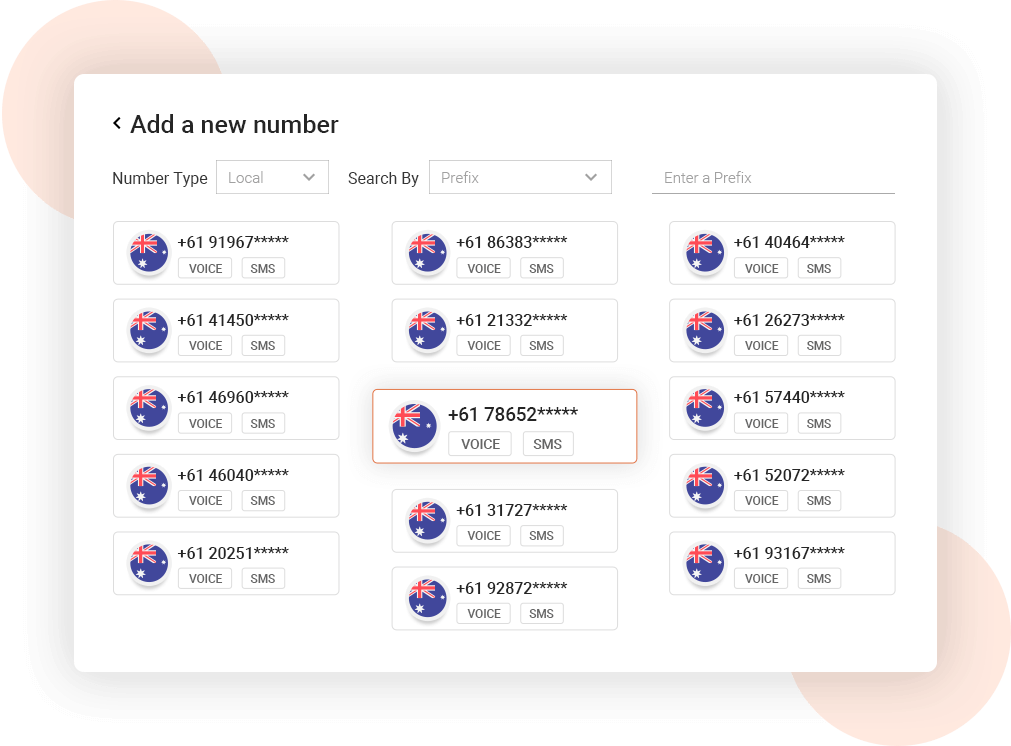 Australia is the region for investors and start-ups, and of course, the growing economy. Are you fascinated by the Australian market and planning to start a business in Australia? Do you want to communicate in the Australian market? Need an Australian local phone number? If you answered these questions in affirmation, then read on.
Need an Australian Phone Number? Contact Callhippo
Australian local phone numbers can help your business benefit from a local presence in the Australian market. Local sells better, so here comes the need for you to grab a virtual Australian phone number without any delay.
Wondering How To Get Australia Virtual Phone Number Without Having A Physical Office There?
Contact CallHippo, and our experts are there to help you. The CallHippo team will guide you through easy and quick ways to do so, providing you with the best services. CallHippo helps businesses connect better in minutes.
Benefits Of Investing In Australia Virtual Phone Number
Australia is a buzzing international destination, and getting an Australian phone number can take your business to the next level. CallHippo is the best service provider to get an Australian virtual phone number to manage all your calls from one single platform.
1. Better Team Collaboration
An Australian phone number can help your team members gain access to real-time information to make informed quality decisions. Call distribution can prioritize high-value callers to increase first-call resolution and boost customer satisfaction.
2. Monitor Team Performance Effectively
Investing in a dedicated Australian virtual phone number can help managers monitor the activities of a remote team effectively. Customized reports can give real-time feedback on agent performance to increase training efficacy and ultimately improve customer service.
3. Establish A Strong Local Presence
Businesses can instantly gain the trust of local clients by getting an Australian phone number as it will display the local area codes. Your business can compete in the Australian market and show that it is established in the region by getting multiple city numbers.
4. Cost-Effective Calling Solution
Organizations can save tons of money by getting an Australian virtual phone number. It enables users to make calls from any part of the globe at local rates. There are no major hardware or installation expenses, and that makes it a cost-effective solution.
5. Seamless Portability
The best part about Australian phone numbers is that portability is never an issue. This enhances their flexibility and allows businesses to choose the best service provider for their unique requirements. Relocating is never a problem as number porting makes sure you never have to change your phone number.
Set up your business phone system in a breeze
Schedule a free product consultation call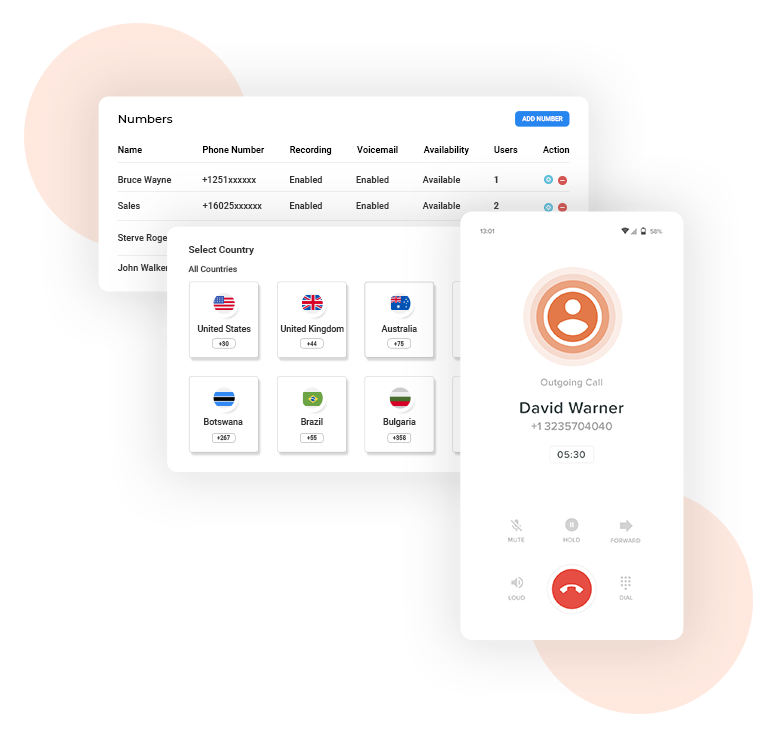 How Does It Work?
Get Your Australia Virtual Phone Number
Be global with virtual numbers.
Set Up The Number Of Users
Add multiple no. of users as per the needs.
Start Making Calls With Your Virtual Number Australia
Set up your phone system in less than 3 minutes and start calling.
Get Australia Local Number
Select The Country (Australia)
Choose the city/state for the required number.
Select Local Number Or Toll-Free Number
Give your business a unique identity by Australia toll-free and local number.
Get Your Virtual Phone Number
Get your virtual phone number Australia at the best prices!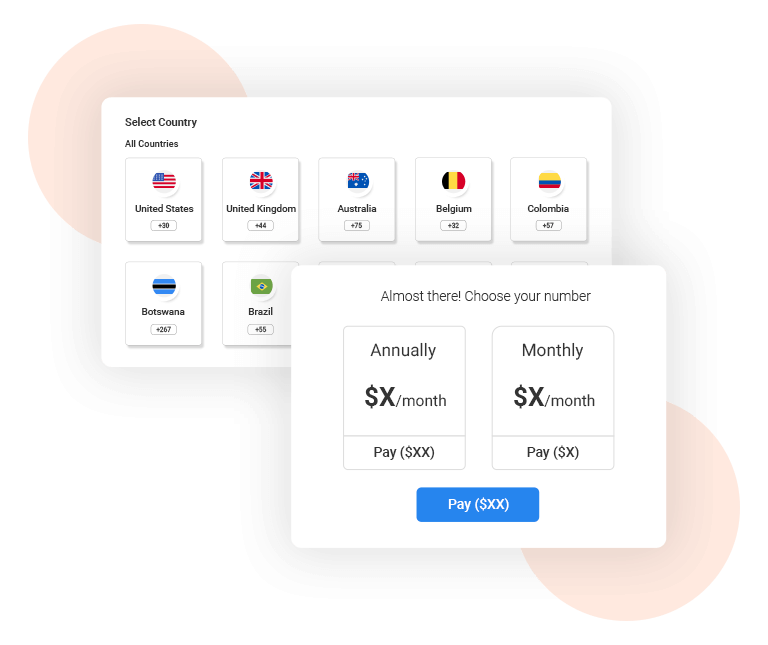 Own Your Support Center In Australia In Less Than 3 Minutes
Set Up A Toll-free Number For Australia-based Client With Ease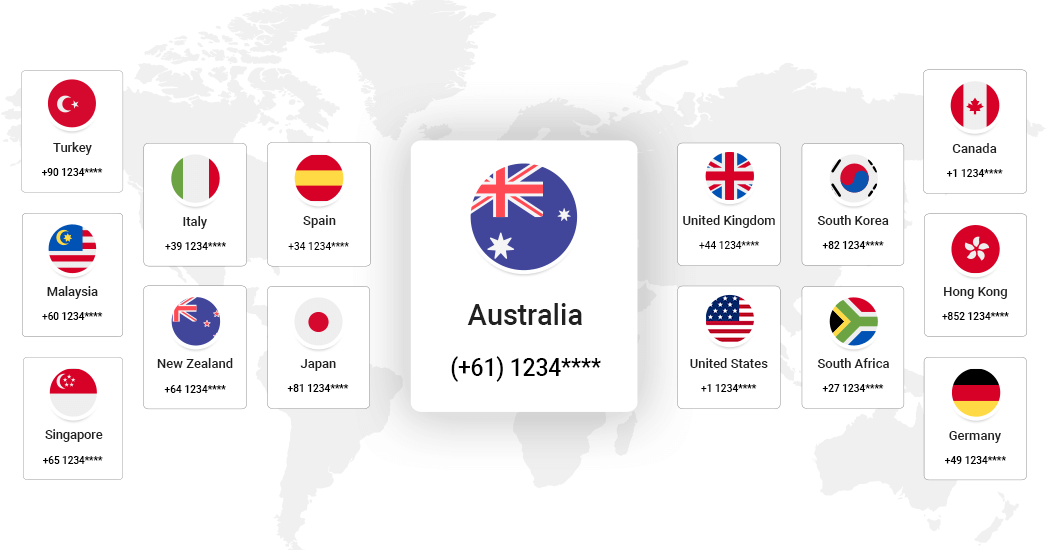 To bring transparency in communication, companies are opting for Australian virtual phone numbers. The market is flooded with several companies providing these services, and CallHippo has emerged as one of the leading brands in this field. If you want to get an Australian mobile phone number at lightning-fast speed, CallHippo is a perfect choice.
You can buy Australian VoIP phone numbers, Australia toll-free numbers, and other call-related services from CallHippo at affordable prices.
Services offered by CallHippo in Australia:
VoIP Phone Numbers
Australia Toll-free numbers
Virtual landline numbers
Virtual mobile phone numbers
Area Code In Australia
The international country code for Australia is +61, and its toll-free number starts from 1800. Here are a few area codes of Australian cities:
Adelaide – 08
Brisbane – 07
Canberra – 02
Darwin – 08
Hobart – 03
Melbourne – 03
Perth – 08
Sydney – 02
Avail local phone numbers for Australian cities such as Adelaide( +087), Brisbane(+073), Melbourne(+038/039), Sydney(+028/029), and Perth (+086). Get access to a virtual Australian mobile number to streamline calling functions and reduce telephone costs.
How To Get An Australian Phone Number?
CallHippo makes it easy for you to get an Australian virtual phone number and start making your local presence felt instantly. You can set up your call center in less than three minutes without any hassles. Just follow these simple steps and start making calls!
Enter your details and sign up with CallHippo.
Log in with your username to view the main dashboard.
Assign a unique name to your Australia phone number.
Click on add number and select Australia as the country.
Filter the various numbers to choose an Australian phone number of your choice from the available number pool.
Make the payment and start making calls instantly!
Why Should You Get A Virtual Phone Number For Australia?
In today's hyper-competitive environment, managing a global business spread across various geographical locations, especially conducive business countries such as Australia.
With the advent of technology, you do not need to worry about purchasing a physical phone connection for your Australian business. Investing in a virtual phone number in Australia is the perfect solution to stay connected with your international clients at all times. You eliminate the need to set up a physical office set-up or infrastructure in Australia - a virtual mobile number Australia gives round-the-clock connectivity and top-notch business features.
The best part about getting a virtual phone number Australia is that you can provide customer support 24*7 to clients and establish long-lasting business relationships. You don't need to think about time-consuming installation or maintenance - CallHippo makes sure that you get your virtual mobile number Australia instantly so that you can start making or receiving calls without any delay!
A good telephony service provider can help you build a credible image and boost bottom-line results. With IP telephony, your business will not need to set up traditional phone lines in Australia. So go ahead and invest in a virtual phone number in Australia to get your business's best voice quality and features!
Get Pre and Post Telephony automation with CallHippo
Schedule a free product consultation call
Automate pre and post telephony tasks with CallHippo's 100+ app integrations
Frequently Asked Questions
Australia Phone numbers can really do wonders for your business. They use IP telephony means you don't at all have to worry about setting up traditional telephone lines. They come with great Voice quality and above everything are affordable to use.
Buy Australian Virtual Phone Number from CallHippo, this will prove out to be one of your best decision. They will set your call center in less than 3 minutes.

Just Follow these simple steps:

Sign up with CallHippo
Log in with the username and password and this will take you to the dashboard.
Assign the name you want like to your Australia Phone number
Click on Add Number select Australia as the country, you can filter the numbers as per your choice and select a number from number pool.
Make the payment
Yes, you need to integrate Australia mobile number with CRM. The process is very simple. By integrating our calling system, you can make and receive calls from the CRM itself.
Australia Phone number comes with a lot of extra features besides just making and receiving calls. The voice clarity is extremely good and the support team is available 24/7 to help you in case of any troubles.
Setup Your Phone System In Less Than 3 Minutes