Home » Kenya Virtual Phone Number
Get Kenya Virtual Phone Number
Make your business local with a Kenya virtual phone number from CallHippo. With zero setup cost, you can get started in just 3 minutes.
CallHippo helps build trust by enabling you to answer calls from anywhere using a Kenya virtual phone number. Apart from that, getting a Kenya virtual phone number helps you set up a local presence that provides various benefits for achieving your business goals.
Get Kenya Virtual Number In Less Than 3 Minutes
If you are looking to expand your business in Kenya, CallHippo is the best choice. It comes with numerous features such as Call Recording, Call Forwarding, Call Routing, and more. Some of its advanced features include Power Dialer, Interactive Voice Response (IVR), Advanced Analytics, On Hold Music, and more. 
CallHippo's Kenya virtual phone number can help you boost your business sales by establishing effective and streamlined communication. The best part is that following the signup, it doesn't take more than three minutes to get running and start making calls. 
When you have a Kenya virtual number from CallHippo, you can add as many users as you want and get separate extensions to make multiple calls simultaneously.
How It Works
Get Your Virtual Business Number For Kenya
Let your business thrive on a global scale with CallHippo Kenya virtual numbers.
Set Up The Number Of Users
Add as many users as you need.
Start Making Calls
Set up your phone system in less than 3 minutes and start calling and targeting your high-value prospect.
How To Buy a Kenya Virtual Phone Number
Select The Country (Kenya)
Select the city or state for the required number.
Select Local Number Or Toll-Free Number
Give your business a unique identity by Kenya toll-free and local number.
Get Your Virtual Phone Number
Get your Kenya virtual phone number starting at the best price!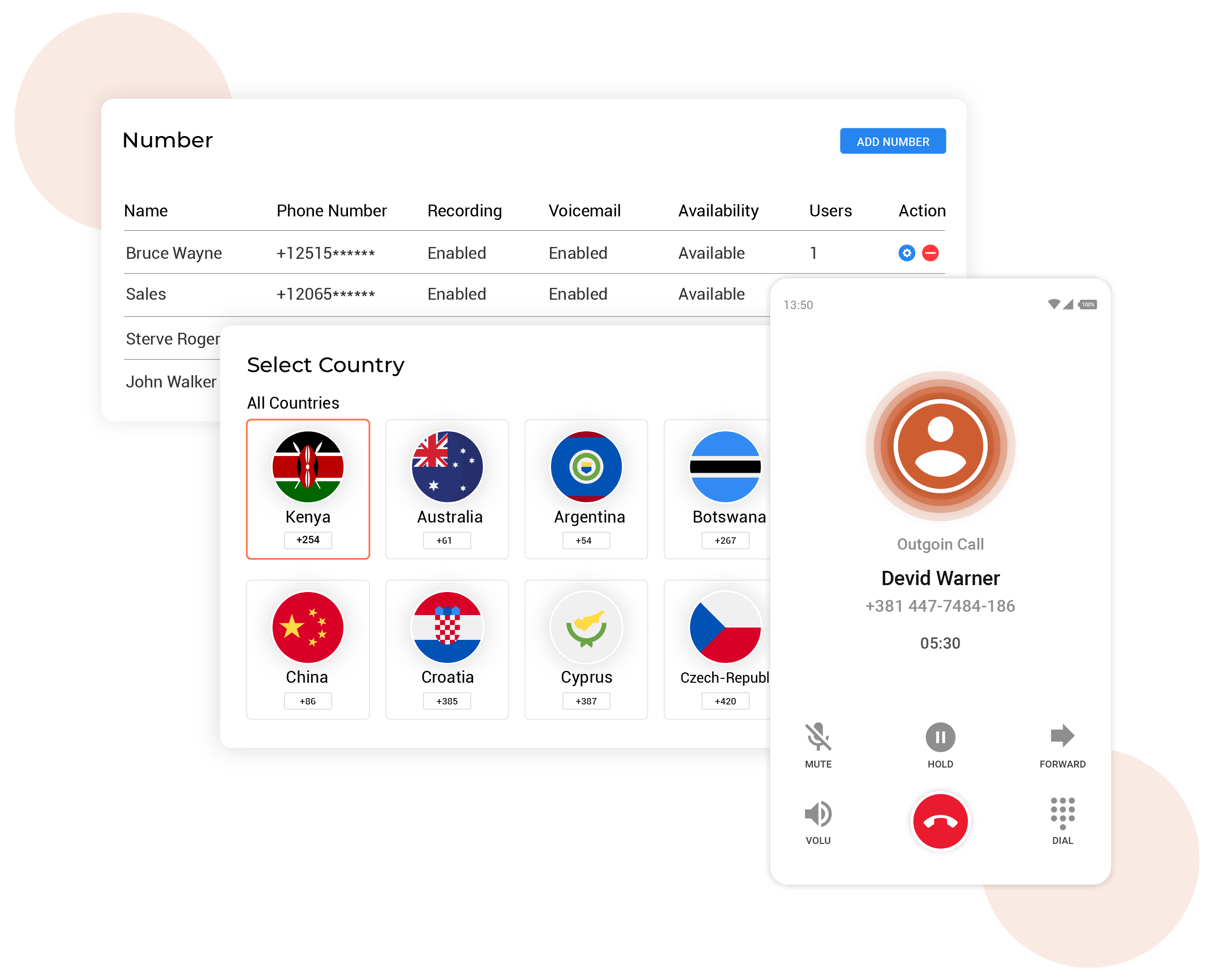 Features of Kenya Virtual Phone Number
Best VoIP Features Included in Your Kenya Virtual Phone Number
CallHippo is the first choice of many businesses looking for a Kenya virtual phone number as there is a long list of powerful features.
Frequently Asked Question
Why should you get a virtual phone number for Kenya?
Having a Kenya virtual phone number allows you to establish a local presence that helps build trust amongst your customers. In this highly competitive market, you can use CallHippo's powerful calling features to provide a seamless customer experience regardless of your location.
Should you integrate your virtual mobile number for Kenya with your CRM?
CallHippo makes the whole process of integrating your Kenya virtual number with other business applications seamless. It enables you to streamline all your activities and handle all customer data and queries with complete efficiency. Moreover, you can receive and make calls directly from your CRM without switching applications.
Why should you use CallHippo to get a Kenya phone number?
Getting a Kenya virtual phone number from CallHippo should be your first choice as it helps establish a unified communication channel with all your customers worldwide. In addition, it offers various features, including call forwarding, call recording, call routing, and more that allows your team to provide the best-in-class service to customers.