Home » Honduras Virtual Phone Number
Get Honduras Virtual Phone Number
Register and get yourself a Honduras virtual phone number in 3 minutes. CallHippo virtual phone number will make your brand more recognizable and trustworthy to customers. 
Besides, when you buy Honduras virtual numbers from CallHippo, you get advanced features like IVR, Power Dialer, Smart Switch, Smart Call Forwarding, Advanced Analytics, Call Monitoring, On Hold Music, etc., at no additional cost. 
Get Honduras Virtual Number In Less Than 3 Minutes
Get CallHippo's Honduras virtual phone number to boost your business revenue and increase market penetration. Our innovative business phone system encompasses a range of features that makes your communication more effective and streamlined. 
In addition to enterprises, we also offer a powerful yet affordable Honduras virtual phone number system for startups and small businesses aiming to achieve more with minimal investment. The slew of CallHippo's Honduras phone number features ensures that businesses can customize the services according to their requirements.
Some of the advanced features of the CallHippo virtual phone system are: Interactive Voice Response (IVR), Power Dialer, Smart Switch, Smart Call Forwarding, Automatic Call Distribution (ACD), Advanced Analytics, Call Monitoring, Call Recording, Call Queuing, On Hold Music, etc.
Set up your Virtual Phone Number in a breeze
Schedule a free product consultation call
How It Works
Get Your Virtual Business Number For Honduras
Let your business thrive globally with CallHippo Honduras virtual phone numbers.
Set Up The Number Of Users
Add as many users as you need.
Start Making Calls
Get your phone system up and running in less than 3 minutes, and start contacting and targeting your high-value clients.
How To Buy an Honduras Virtual Phone Number?
Select The Country (Honduras )
Select the city or state for the required number.
Select Local Number Or Toll-Free Number
Give your business a unique identity by Honduras toll-free and local number.
Get Your Virtual Phone Number
Get your Honduras virtual phone number starting at the best price!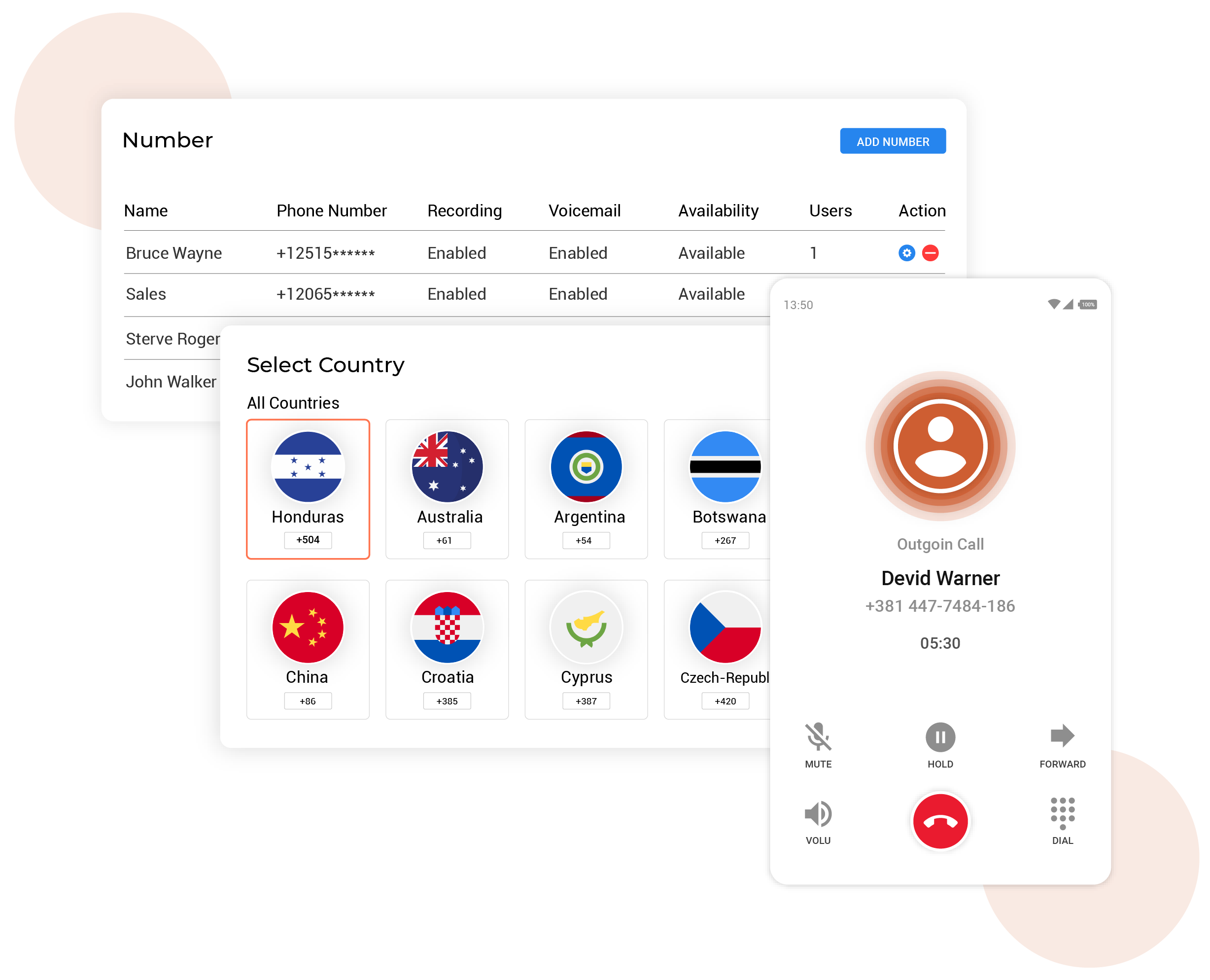 Features of Honduras Virtual Phone Number
Best VoIP Features Included in Your Honduras numbers
CallHippo is the first choice of many businesses looking for a Honduras Virtual Number as there is a long list of powerful features.
Frequently Asked Question
Why should you get a virtual phone number for Honduras?
Honduras virtual phone numbers have many benefits, including helping businesses to break into highly competitive Honduras markets regardless of their location. Besides, CallHippo's local area numbers and toll-free numbers offer powerful calling features for companies to make the most of virtual telephony technology.
Should you integrate your virtual mobile number for Honduras with your CRM?
Integrating a Honduras virtual phone number with other business applications can make the system more efficient. The remote working teams can easily handle all customer data and queries and provide high-end services. In addition, harmonizing third party apps and virtual telephony eliminate communication lapses.
Why should you use CallHippo to get a Honduras phone number?
You should choose CallHippo for several reasons. Firstly, Honduras's virtual phone number enables companies to establish a seamless communication channel with the abroad customers. In addition, the numerous features of CallHippo virtual phone numbers allow teams to provide the best service to customers.