Date: November 24, 2022
Is your company or start-up enterprise planning to grow its business in the American market? Or maybe your global business enterprise wants to reach out to American citizens with innovative products or services? Having an efficient communication system is critical for any America-based business.
Empowered by the Voice-over-Internet-Protocol (or VoIP) technology, global enterprises are gradually switching from traditional phone systems to more innovative virtual phone numbers. Easy and fast to set up, a business phone number is one of the most convenient ways for your customers to communicate with your business. But now, you don't need to worry because CallHippo will help you get american number in the America for your business.
Among the leading VoIP Providers in over 50 countries, CallHippo provides various virtual phone numbers suited to your business needs. With advanced features, the CallHippo virtual phone platform is a convenient mode of reaching out to local and global customers without physical office space in the American market. So if you need to get an American phone number for your business, try CallHippo.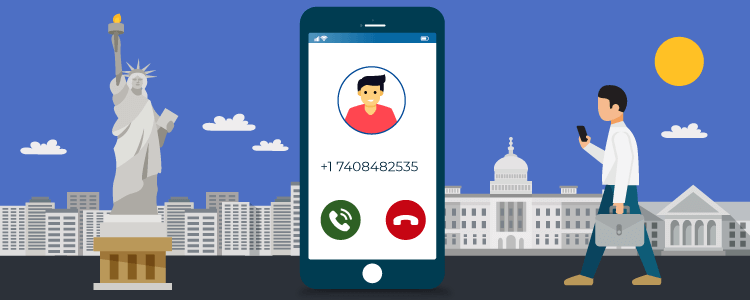 CallHippo makes acquiring american numbers easy
The american telephone number from CallHippo allows you to grow your business in any American city (for example, New York) using the local America area codes for the place. This makes it convenient for domestic customers (for example, customers in New York) to dial up your business number without incurring any long-distance charges.
Therefore, a US virtual phone number is, as the name says, the virtual phone number that allows you to have a local presence in the America without actually having your physical offices in the America all through the use of a VoIP.
How to call the America using your phone?
The America country code is +1. You will add the America number code to the beginning of any phone number you are dialing that's in the America. So when you save your American contacts to your phone, make sure to include this number as part of their phone numbers!
Calling American numbers from your phone number is now possible with CallHippo
While dialing American numbers, don't forget to add the America area code 2nd line, a three-digit number that designates the city you want to connect to. By following the correct  American telephone number format, you won't have to add these details every time you call. In short:
Dial the international exit country code (or replace it with + on a cell phones)
Add the America country code (1)
Add the America area code (three digit area code) from the list below
Complete with the local phone number.
How To Get an American Phone Number: 4 Easy Steps
Setting up a VoIP system or getting an american phone number is a simple process. All you have to do is follow the four steps outlined below.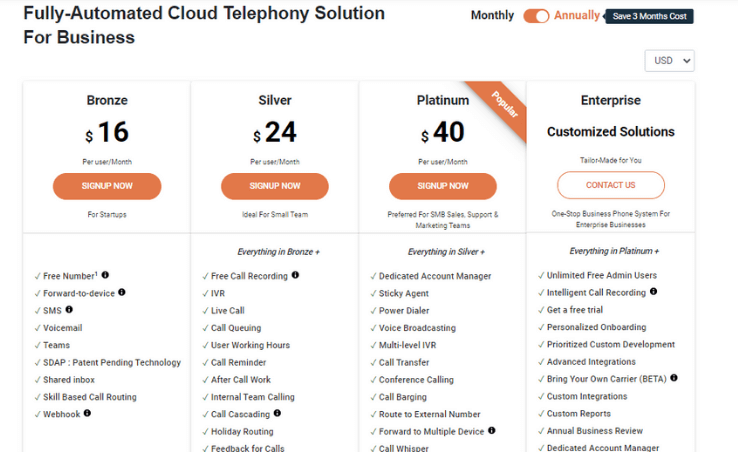 CallHippo's International Calling Plans
Click on 'Add Number,' select the US as the country. After that, you can filter the numbers as per your choice and select a number from the number pool.
Make payment.
Once you've established a centralized virtual phone number for your business, you'll need to add the rest of your team members.
Next, you must connect your own phone number to the virtual number. This will allow you to make and receive calls from the America.
That's all! However, note that the users who will be responding to the calls must be entered into the system.
Thus American phone number is an ideal choice to grow your business in the America. And now is the right time to invest in a America number.
Types of Virtual Phone Numbers Provided By CallHippo
CallHippo can provide the following three types of virtual phone numbers that you can select according to your business requirements:
1 ) Local phone number
An American telephone number with a local phone number (with America area code) is typically used to establish or grow a American business based in a particular city or state. A local phone number makes it very convenient for your local customers to dial-up with any complaints or inquiries. For example, your business can reach out to customers based in Philadelphia through a local desired phone number starting with the Philadelphia area code, which is +1 215.
Additionally, your marketing or customer service agents can reach out to local customers by searching them based on a city name or the united states area code. Call-receiving customers are also more likely to respond to local calls than an international calls.
You can access any local number of any area code in the America with CallHippo. Listed below are the local American calling codes of some of the popular business destinations in the United States:
929 and 646 (for New York City)
312 (for Chicago)
415 (for San Francisco)
617 (for Boston)
305 (for Miami)
2 ) Toll-free number
Your American business can benefit a lot by providing a us toll free phone number to its clients. Being completely free for customers, toll-free numbers (or +1800 numbers) is a great business tool for improving customer satisfaction and overall marketing. Along with efficient communication, toll-free numbers provide an increase in market credibility for your American business.
3 ) Online phone number
The cloud-based phone system also allows your business to make or receive calls in the America from any other country on your Internet-connected devices like mobile phones and tablets. Online phone numbers are also instrumental in providing 24×7 service to your American customers and improving external communication with global customers.
How can your American virtual number provide business benefits for your America-based business? Let's now look at the various benefits.

What Are The Main Features And Functionalities Of American Telephone Number?
The american telephone number comes with a variety of features and functionalities that significantly assist organizations in streamlining, optimizing, automating, and monitoring their customer service operations in a better way. The following are some of the most notable features of the virtual American telephone number system:
1. Advanced Call Management
As the name implies, advanced call management is a virtual phone system feature that manages all inbound calls efficiently, ensuring that no calls are missed and that all calls are attended without fail.
The system provides various call handling options, including busy tone, busy tone, and SMS auto-reply, and mutes the ringtone, allowing you to notify callers of your availability. Furthermore, you may always set a personalized message for the users to increase engagement. The system also ensures that each caller has a minimal wait time.
2. Call Routing
Call routing is a virtual American number feature that directs incoming calls to the appropriate department, team, or individual who is in charge of handling that specific type of query or complaint. In other words, it is a call management feature that is intended to route each call to a specific individual, hence minimizing unnecessary transfers from one person to another.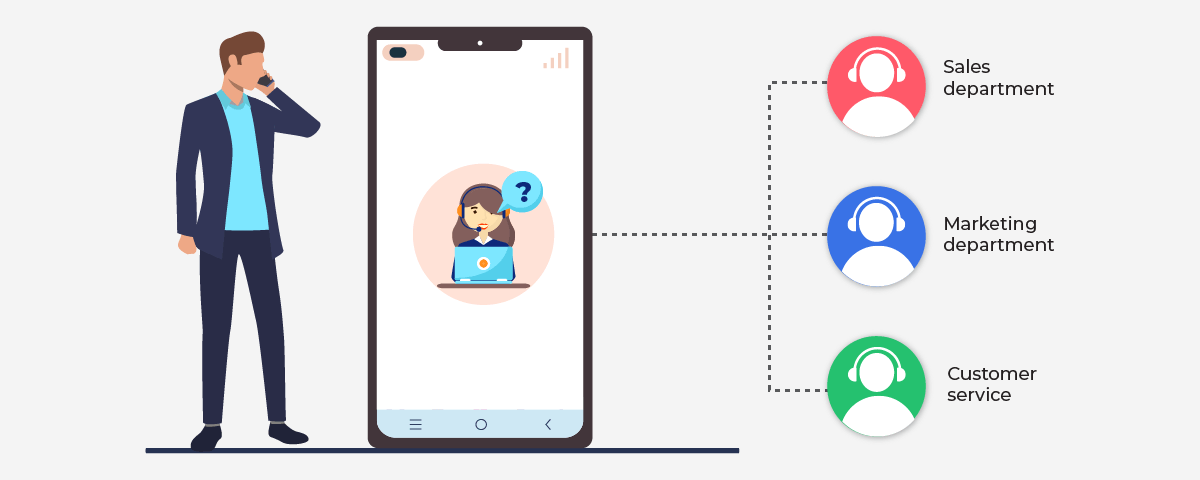 For example, if a caller has a technical problem, they will be required to provide certain inputs when the IVR prompts them. After they provide the necessary information, their call will be forwarded to the technical team, who will address the issue promptly.
3. Call Analytics
Having a better understanding of your performance is just as critical as having the right workflow and strategy.
The call analytics tool of the virtual American number will provide you with detailed information about how well your workforce is performing, including the number of calls they handle, the number of minutes they spend serving customers, the number of calls missed, dropped calls, unresolved queries, and much more.
All of this real-time information will ultimately assist you in revising your plan or providing appropriate training to your agents.
4. Call Forwarding
Call forwarding, also known as call diversion, is a system that enables agents to divert or transfer calls to another number, which could be a American mobile number, another American phone number, or another American telephone number when the desired person is available.
This feature of the virtual phone system boosts accessibility considerably. For example, this functionality allows your remote employees to answer calls anywhere. It removes the constraint of being available at work all of the time. You can take the call while in the workplace as well as while on holiday!
5. Auto Attendant
The auto-attendant, also known as the automated attendant, is a virtual American telephone number system function that allows calls to be forwarded to an extension without the assistance of an operator/receptionist.
For example, if a caller has a problem with a product or service, he has to provide relevant details when the Auto Attendant asks. When he knows the necessary information, his call will be routed to the customer support team or the employee who is responsible for handling such kinds of cases. This functionality will save both the organization's and the customers' time.
6. Conference Calls
Most of the reputable virtual US phone number providers, such as CallHippo, have a Conference Call functionality in their system. This functionality will enable businesses to communicate with multiple people simultaneously. However, the maximum number of participants varies per supplier.
Additionally, some American phone number providers only provide audio conference calls, whereas others provide both audio and video conference calls. You can use this function to connect multiple persons at once and better address any issues.
7. Follow Me or Find Me
The Follow Me feature is similar to Call Forwarding. This function allows you to enter multiple contact numbers into the system in addition to your office phone number.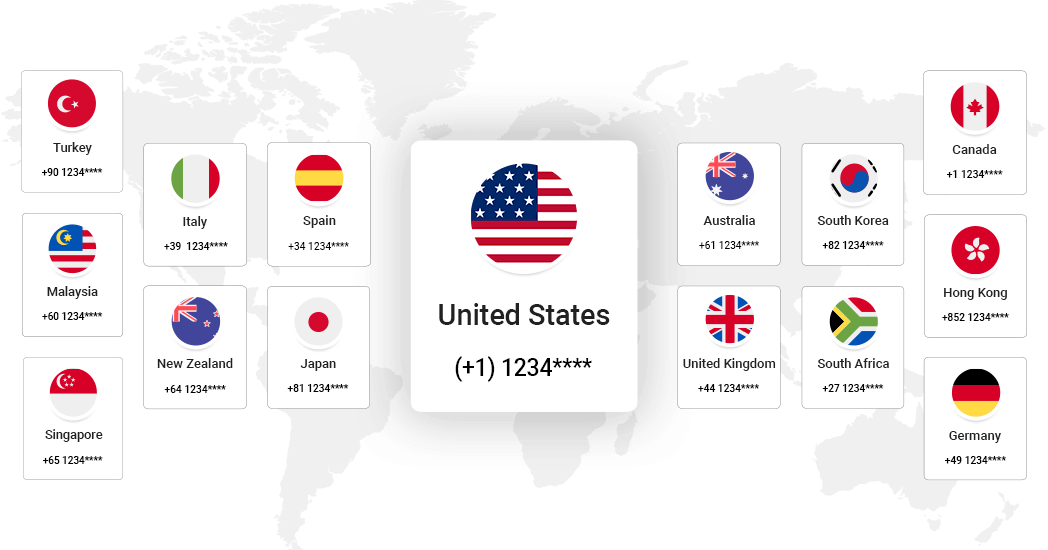 For example, if you do not answer a call when it is dialed to your official American number, the call will be forwarded to another American phone number added to the system. If the call is not answered on that number, it will be routed to the third available number i.e American telephone number. This will continue until all numbers have been contacted or you answer the call.
8. Music On Hold
Music on hold is a virtual phone system function that plays pre-programmed tones or messages when a caller is in the queue or placed on hold. This function will prevent callers from boredom while allowing businesses to easily promote their products or services.
For example, you can market new products, Christmas deals, or anything that you believe should be advertised among the masses. Music On Hold, when implemented correctly, may keep customers engaged and entertained while also reducing call drop rates.
9. Call Queuing
Call queuing is a technology that handles inbound calls that callers have placed but are not answered by the customer support team. All such calls are stored in the virtual American phone number system and routed to the appropriate person or team as soon as they become available.
The call queuing system also ensures that the first call received is served first. This technology is critical, especially for businesses with high inbound call volumes.
10. Voicemail To Email
Voicemail to email is a virtual America phone number system feature that delivers voicemail messages directly to your inbox. When a new voicemail is left, recipients will receive an email containing call details and an audio file of the message.
This feature is helpful since it ensures that no calls are missed, and all calls are handled by a suitable person or team.
These are the 10 major functionalities of the virtual American number system. All of these functionalities work together to make the VoIP system a comprehensive, modern business communication management system that will significantly assist organizations in managing their customer support related operations and, ultimately, improving customer satisfaction and retention rate.
Now let's move on to the next section to understand how to find the right virtual phone number for your American business.
Summing Up:
Getting an American phone number is a simple process. As businesses are becoming more global, it is critical to stay in touch with your international clients and provide them with the necessary customer support. Using a American virtual phone number, you can get a lot closer to your goal. If you have a considerable customer base in the United States, we strongly advise you to get an American phone number.